In this article, we will discuss a very basic topic, where to open a Demat account? We will try to provide basic and elementary information on this subject of Demat a/c. In fact, this is the most basic subject for a newcomer who wants to start trading or investing in the stock market.
Not sure, where to open a Demat account? Fill up the form below to get a call back from our representatives.
Where To Open Demat Account?
We have many options while we try to find out the answer to this basic question. There are many big names, medium names or even small names who are offering the Demat service. There are many stockbrokers, there are many banks, who are offering this service.
Nowadays, brokers are of two types. Few are full-service brokers, i.e, they charge high brokerage but offer personalized service to the clients.
Full-service brokers keep dedicated relationship managers for the clients, provide trading calls and good trading platforms for them.
On the other hand, few brokers are discount brokers, they charge low brokerage, but the service may be limited. Discount brokers are much like low-cost airlines, who are flying you in the same destination as full-service airlines but provide limited service while onboard like they will not provide complimentary food, etc.
So, there are many options in the big cities. In small cities may be the option can be a little limited, still, in the age of the internet, even small towns have many options. So let's discuss what are the basic things to consider while choosing a trading account provider. Let's discuss where to open a Demat account and also discuss the pros and cons of different service providers. We enter the stock market for profits, this initial step can be a major decision as we as a trader or investor must be in a win-win situation after choosing a trading and Demat (T&D) account.
What Is A Demat Account?
Previously also we discussed that this T&D account is the first and foremost thing we need to open if we want to enter the stock market. This is exactly like a bank account if anyone wants to save his money in the bank. In the bank, a/c our money lies while in Demat a/c, our stocks lie. So choosing a T&D account is of utmost importance. We must choose the best bank or best broker who will provide us with the best Demat account with more facilities at the lowest cost.
Demat Account FAQ
Which is the best bank to open a Demat account?
It is an old habit to go to a bank for opening trading and a Demat account. But nowadays there are many discount brokers available. With the advancement of technology, traders can trade easily from their mobile or PC without aby help from any Relationship Manager. So we suggest opening your Demat a/c with good brokers like Zerodha, Upstox, 5Paisa, Fyers, etc.
Where should I open a Demat account?
In our last answer, we already recommended discount brokers like Zerodha, Upstox, 5Paisa, Fyers, etc for opening your Trading and Demat a/c.
How can I open a Demat account?
You need to contact a good broker for the opening of the Demat a/c. They will ask for some documents. Nowadays accounts can be opened online or offline. The online account opening process is much faster. In either case, you need to provide your Photographs, PAN card, Aadhaar card, cheque leaf and bank statement for opening the account.
What is the use of a Demat account?
We need a bank a/c to keep our money. Similar we need a Demat a/c to keep the share that we possess. These shares are kept in this account in a dematerialized form. When we sell these shares, the shares go out of the Demat and the sold value (money) is credited in the linked bank a/c.
Is Demat account free?
Few brokers offer the opening of free Demat a/c. Some of the names on this list are Upstox, 5Paisa, Fyers, etc.
Which is the best Demat account for beginners?
We recommend Zerodha to beginners. Once you open an account in Zerodha you can get access to Zerodha Kite, which is their web-based flagship trading platform. It is extremely easy to use and suitable for beginners.
Important Update on Where to Open Demat Account
SEBI has come up with new margin compliance rules from 2021 December onwards. Therefore all the brokers havre to abide by their guitdelines. The new guideline is all about margin money and leverage. After the Covid effect, SEBI has decided to bring up new risk regulatory management is the system. As per the rules, the margin necessary for trading will be increased. After Setember 2021, every trader will have to proce 100% money upfront before every trade. So leverage will come to zero. Presently a trader has to provide 50% of total trading value for intraday trades. A trader will not get any leverage on delivery trades in all segments.
Therefore all the brokers have stopped giving this facility to their customers. Earlier, we also looked into the leverage money before choosing any broker. It is now flat for every broker. So the criterion of margin money will not be there when deciding where to open a demat account. Traders, from now on need to focus on the other pros and cons before choosing a broker.
Where To Open Demat Account – A Case Study
So we understood that nowadays there are so many options that a newcomer can open a T&D account in many places and there is a wide choice. There are many institutions or even your bank can approach you to open A T&D account. Let's check a case study. Ravi wants to open a trading and Demat a/c but he is confused about where to open a Demat account. He has a bank account at ICICI Bank. His bank already has approached him to open a trading a/c with their broking wings named ICICI Direct. Ravi checks that the brokerage charges in his bank are too high. He needs to pay a very high brokerage for buying and selling once he starts trading.
Banks
Like ICICI Bank, other banks like HDFC Bank, Kotak Bank, Axis Bank all provide this service to their clients and all have the issue of high brokerage charges. Previously people used to work in the bank's trading account, but nowadays there are many other options. Why should Ravi pay a high brokerage when he has many other options? Rather he can approach a stockbroker, who is not a bank and open a trading account, where he needs to pay much lower brokerage. In fact, the brokerage charges with a stockbroker can be as low as 5% of that charged by a bank. So Ravi discards the idea of opening his Demat a/c with ICICI Bank.
The only advantage of opening a trading account with a bank is that time to time banks give a higher margin to the traders. And another advantage can be that the investor sometimes feels a sense of safety, that his money is lying in his own bank account. But these benefits cannot compensate for the high brokerage the banks are charging.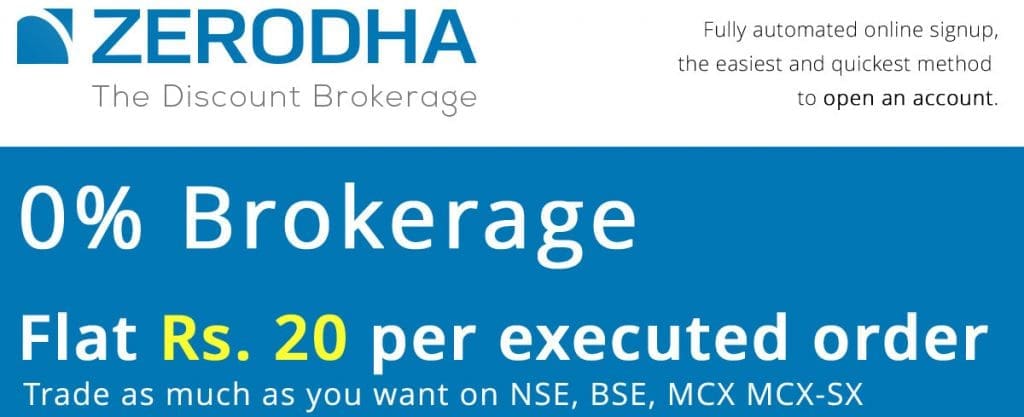 Why Traders Need A Lower Brokerage?
Before finding the answer to this question, let's ask another question, why brokerage is so important for Ravi in trading or investing? There are 2 options in trading or investing, either Ravi can make a profit or Ravi can make some loss. If Ravi makes a profit of Rs 1000 his actual profit will be Rs 1000 – brokerage. And if he makes a loss of Rs 1000 his actual loss will be Rs 1000 + brokerage. So if the brokerage becomes high it can severely affect the profitability of a trader and investor.
Full-Service Stock Brokers
Ravi has many choices while choosing a broker. There are Sharekhan, Angel Broking, Edelweiss, Motilal Oswal, Nirmal Bang and many others in this field. He can approach any of these brokers for the opening of his trading account. All will give them a relationship manager, trading terminal like ODIN or Nest Trader, etc and also accepts trading over the phone. Many of these brokers also have local franchise offices even in small towns, where Ravi can go and sit in their offices for offline trading. The brokerage will be decided on the volume and turnover of Ravi's trading. So if he trades more, the brokerage will be more. So still there is an issue, brokerage can't be controlled if you are trading on high volume.
Also, there is a chance that Ravi will not win every trade. As trading is a game of probability, it is always true that the more you trade, the more you win provided you are trading logically. So less brokewrage means you will profit more. There's no alternative to that.
Discount Brokers
The third option for Ravi is to open an account with any discount broker. The discount brokers will allow Ravi to trade unlimited for a fixed brokerage. Like few brokers offer to trade any quantity for a brokerage of as low as Rs. 20. So this is the best option for traders trading big volumes as the brokerage part almost becomes zero in this case. Discount brokers also have zero brokerage plans for investors. For low volume traders, they charge as low as 1 paisa brokerage per 100 rupees trading volume. Few discount brokers are Zerodha, RKSV, Samco, Trade Smart Online, etc. These brokers mainly have their setup online and so they can offer to trade at a very low brokerage. See the image below to understand how Ravi can save brokerage with a discount broker account.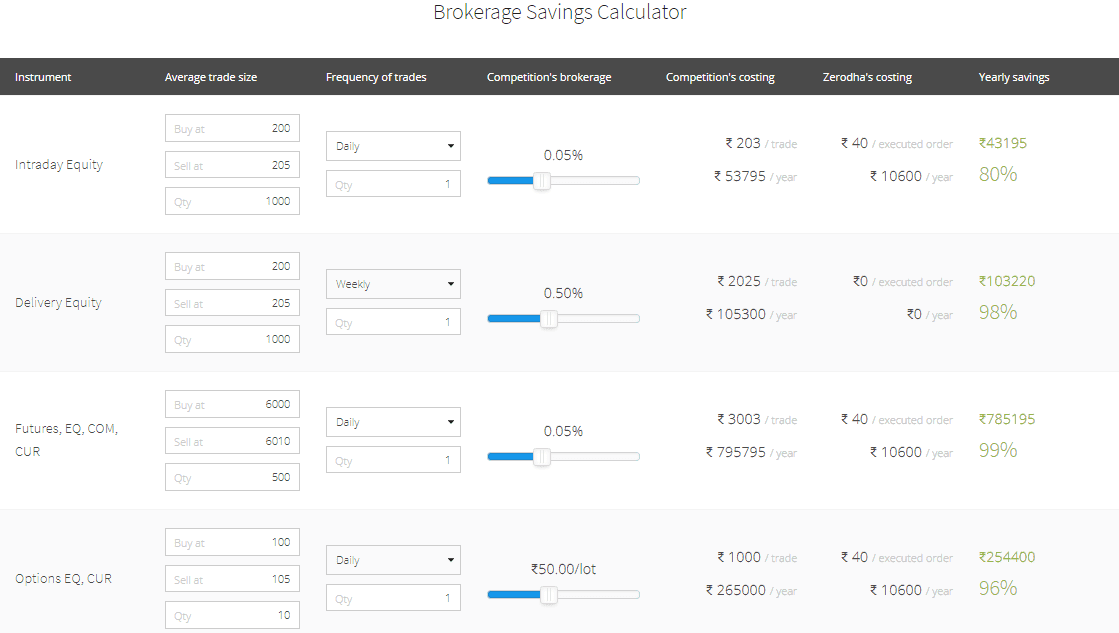 What are the Top Discount Broking Companies in India?
Here, I present the top three discount brokers in India. Let's have a look at it.
Zerodha
Though Zerodha started its operation on the 15th. of August 2010, it has reached no.1 position within a few years. Zerodha truly changed the landscape of brokerage firm operation on India. Important features are as follows:
Important Features
The brokerage should be the primary criterion for choosing a broker. Here, in Zerodha, charges are 0.01% or Rs.20 per trade (whichever is lower).
It doesn't charge any brokerage charge in delivery trading.
With the help of the Aadhaar card, one can open an account within a few minutes.
The broker covers all segments like equity, commodity, FnO
Black Scholes Calculator for calculation of Option Greeks.
First online broker to allow the NRI clients to directly trade in the Indian stock market.
Highly advanced software for desktop trading – Zerodha PI
Low bandwidth, lightweight web-based platform for trading supporting multiple languages – Zerodha Kite 3.0
Zerodha Kite for the android based mobile trading platform.
Kite for iOS ( Apple/ Mac ) platform.
Zerodha Kite Connect for creating python APIs for automated trading using AI
app Sentinel
Options strategy guide and execution through Sensibull.
Zerodha has a very rich online library that is very helpful for all traders, amateurs as well as advanced traders. It is named Zerodha Varsity.
Zerodha New additions in tolls
After 2020 some new and unique features have enriched the Zerodha platform. Consequently, traders can use these new tools to make more winning trades.
Candlestick patterns on the chart
RSI divergence.
MACD divergence.
Stochastics divergence.
Stochastics RSI.
Central pivot range.
Anchored VWAP.
Adding indicators over other indicators
You can click here to open an account in Zerodha.
Alice Blue
Though it started business in 2007, it started as a full-fledged broking house in 2012. It went to the top very fast because of its customer-centric approach to broking business as a whole. Today it is one of the top broking houses in India. Lets' talk about its features.
It has a well-integrated live trading platform for live trading.
ANT is their very modern trading platform for analysis and trade. They call it Trade with Technology. It helps its customers to stay ahead of others through software-driven market analysis.
Their advanced mobile trading platform is ANT Mobi.
Traders, even with slow-speed internet can access this mobile trading platform.
In the ANT platform, you can access very modern software like aNT Meta, ANT Desk, ANT Mobi, ANT Web and ANT Scanner. All these platforms are tailor-made to suit the requirements of their subscribers.
They also provide the BOT, the back office transformation software for personalized back office use.
Like some other top brokers, self-study module videos are there to learn to trade in the stock market.
Alice Blue has different brokerage structures, traditional and freedom 15 plan. Subscribers can opt for any of them.
In the freedom 15 plan, subscribers get the advantage of flat Rs 15 brokerage or 0.01% whichever is lower.
You can click here to open an account in Alice Blue.
5Paisa
India's 2nd largest discount broker 5paisa is a Mumbai based company. In late 2016, 5paisa was re-launched with a new brokerage model for online retail broking services. The company is a part of IIFL (India Infoline).
Features
5paisa has an online trading website of 5paisa brokers. The web browser-based trading platform is compatible with Chrome, Firefox and Safari browsers. Users can use their personal computers to access the website and trade. It offers a wide range of features such as:
Access in both NSE and BSE and trade across equity, derivatives, and also currency.
There is a market watchlist to monitor scrips.
Also Comprehensive portfolio tracker available.
It's advanced charting tools for an in-depth scrip view.
Detailed scrip data that includes market depth and Option chain.
Order slicing option for better prices
Consolidated view of traders' positions and holdings across instruments
Ease Fund Transfer facility
Access to multiple reports, PL and lots more.
Multilingual app for trading.
You can click here to open an account in 5 Paisa.
Upstox
Upstox is, of course, the third-best company. It has many features.
Upstox is no brokerage on the Equity delivery segment.
The mobile trading platform of Upstox is available for both iOS and Android. Moreover, there are no charges applicable to the software traders are the use of Upstox.
There are all the facilities like Cover orders and aftermarket orders.
On both the web and mobile platforms, there are Trailing-stop/stop-loss orders available in Upstox.
Upstox has multiple indicators in the Upstox Pro trading Platform.
Margin against shares is also available which is a great benefit in Upstox. Kindly follow the new SEBI guideline on this aspect.
There are various tools and products for the benefit of the users are available includes Bridge for AmiBroker, MF, Developer console, etc.
A customer of Upstox can trade directly from the chart. That is a distinct advantage.
You can click here to open an account in Upstox,
Fyers
Let's come to the most important point of fyers review.
Lowest Brokerage.
Free Trading And Demat Account Opening Charges.
Discount Brokerage Rs.20 Per order or 0.01% whichever is low in all other segments including Equity Cash Intraday, Future, and Option, Currency, and Commodity.
100 % Transparency No Hidden Charges.
Thematic Investment Option Free of Cost which is the client can choose base on investment ideas and invest in a market free of cost no delivery charges applicable.
Free of Cost Trading Terminal.
Refer and Earn – 20% sharing on Brokerage.
Fyers provide stock screeners to their customers.
Also, you can use intraday scanners to trade more efficiently.
You can click here to open an account in Fyers.
Blacklisted Brokers
There are so many companies that are not worth account opening with. These are the companies that do not have good credibility in the market. Such companies are 1) ProStocks, 2) Astha Trade
ProStocks
Initially, the company was providing so many facilities that traders gravitated towards them for account opening. But lately, the company has failed to provide their up to the mark services. That is why people are not anymore interested to open an account under them. Because they know when the time will come the company will not gonna help them out through their support system. This is also a reason that Pro Stock is losing their credibility and the company is left with no value in the market.
Astha Trade
According to the SEBI rule, all brokerage houses were required to have a 25% margin in the first phase from September 1, 2020, to August 31, 2021. Then, in the second phase, they had to meet a 50% criterion, and in the third step, they had to meet a 75% need. It has now reached 100 percent. Astha Trade was unable to comply with this SEBI guideline. Day by day, they've cut their service, support, and trading margin. Their service has now been compromised, as has their assistance.
I don't think it'll be a good idea to rely on a corporation with such a horrible track record.
As of September 9th, 2021, I am updating this post. I thought you might be interested in knowing where Astha trade stands in the present market. Because if you consider opening an account with this brokerage firm, you will be making a grave error.
Conclusion
So, before reading this article, Ravi was confused about where to open a Demat account? But now he has a clear choice of opening an account with a discount broker. He can even find the best facilities among discount brokers. He can compare their trading terminals and charting platform and then finally take a call. Zerodha has a robust trading platform called Zerodha Kite and we recommend opening an account with Zerodha. Another broker, RKSV offers a free demo of Upstox Pro, their trading platform. To register your name for trading and Demat account opening click here.