In 2010 August Zerodha has started the concept of discount broker in India. Till then brokerage was calculated on the basis of total trading volumes and traders were ending up paying really high brokerage end of the day. Zerodha has come up with the discount brokerage model where the brokerage part remained fixed irrespective of the trading volume. After Zerodha few other companies also implemented this model. RKSV Securities was one of them. RKSV has now been renamed as Upstox. In this post, I will discuss Upstox Pro login, demo and also will post the review with it.
Upstox Pro terminal is available in both web and mobile versions. Here, in this content, you will get both explanations in details. Before step into the demonstration, let's get to the most vital point that is how can you access them.
How to Access Upstox Pro in a Click?
So, let's start with the most primary quarry that is how to access Upstox Pro. You can get access in both mobile and web-based platforms just in a click. The process is quite simple. In order to do a hazard-free process, I add a shortcut and easy method below to get access in Upstox Pro.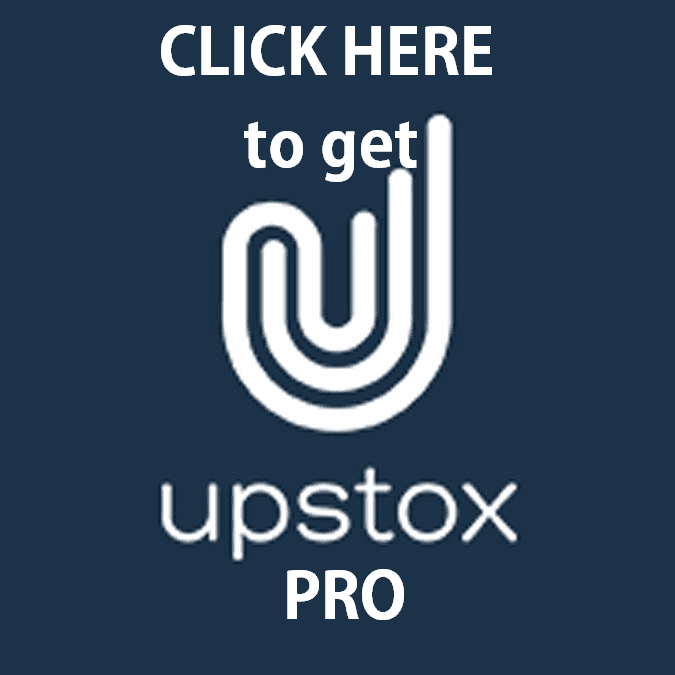 Range of Services
Advanced and fast search tool to search for desired stocks.
It is a single platform for trading in Stocks, Futures and Options(derivative), and Currencies.
Powerful charting tools with more than 100 technical indicators to apply on any script.
Charts of various intervals, types and drawing styles
There is a facility to trade directly from charts
One can create unlimited price alerts and get instant updates
Besides the above, one can create unlimited customized watchlists
Also can get real-time market feeds to be updated on your scrips
Get access to predefined watch-list of all indices.
What is Upstox Pro Web?
Upstox Pro Web is Upstox's web-based trading platform and it is much similar to the Zerodha Kite. But it has some other features which can be helpful for algo traders. You can trade as well as do the charting in Upstox Pro Web.
How to do Upstox Pro Login?
First, go to the login page of Upstox Pro Web. Login with your id and password or click TRY LIVE DEMO. The Upstox Pro login process is quite simple and easy.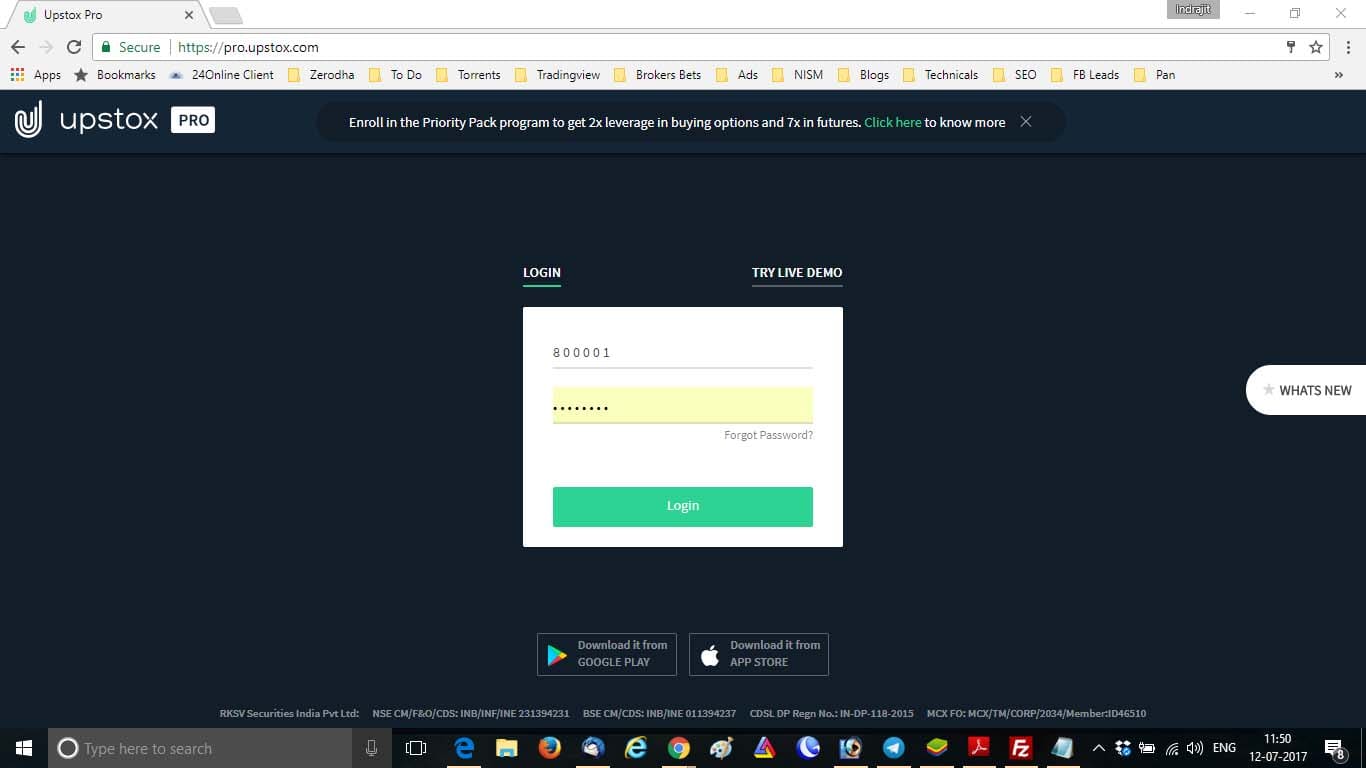 It will then ask for your year of birth as your passcode. Please enter your year of birth to continue.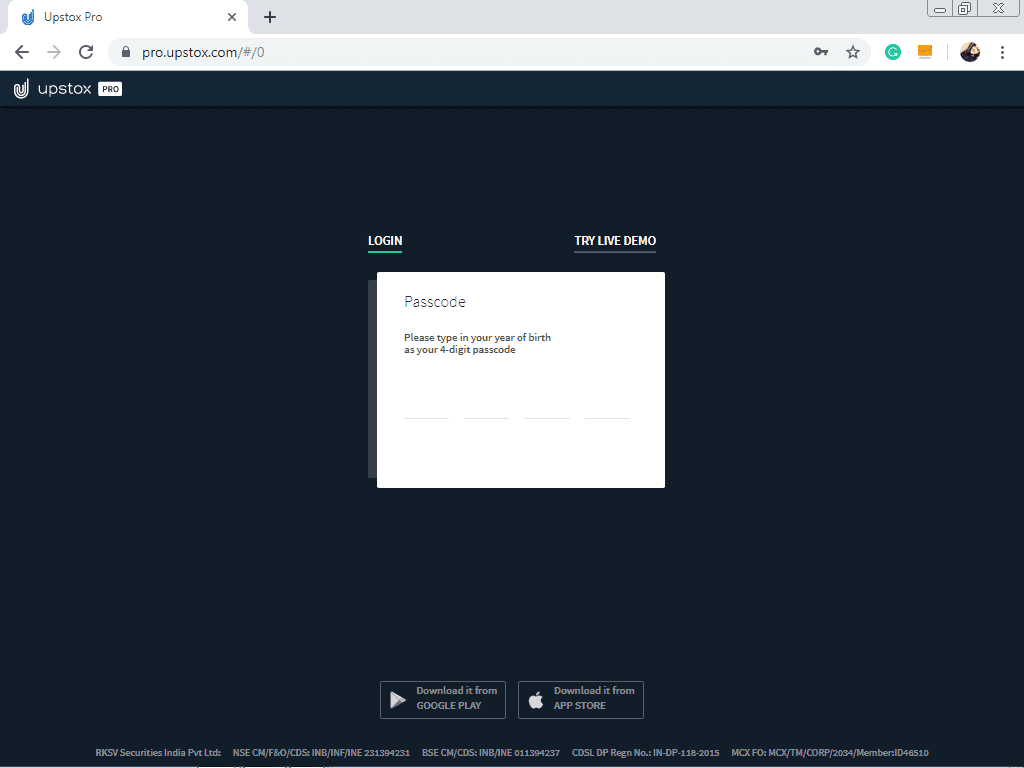 What to do if you failed to access Upstox Pro Login?
Suppose, due to some reason, you forget your id or password. In that case, you just simply click on the forgot id/password. Look at the picture below, there the red highlighted sections reflect "forgot id/password options.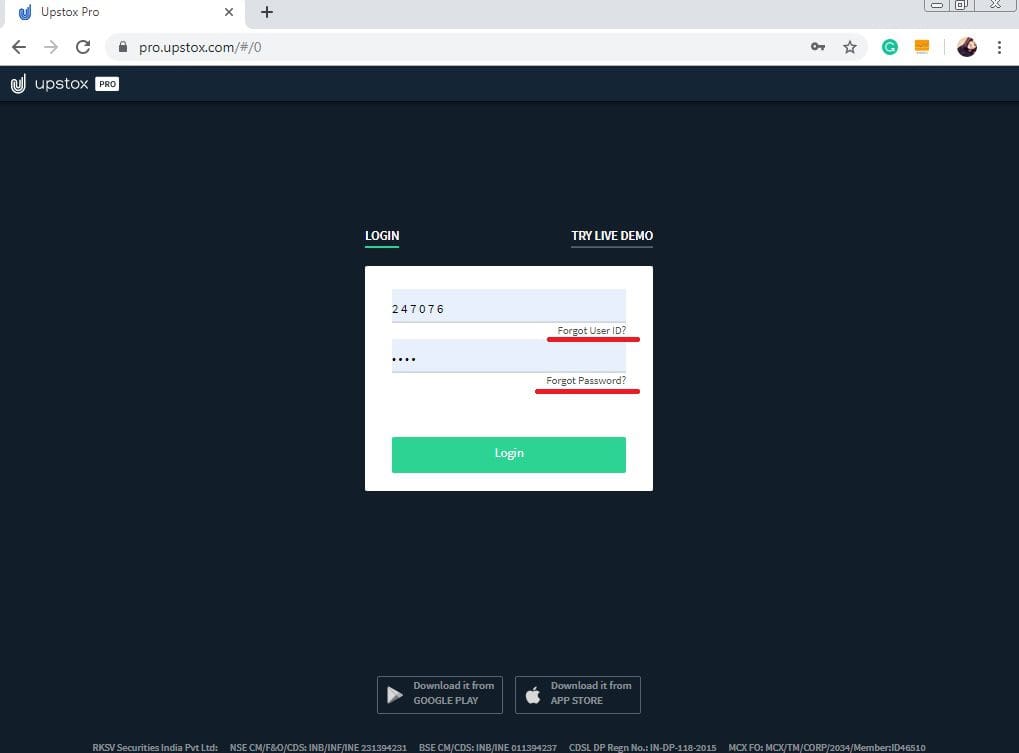 For example purpose, I click on the forgot password option and a window will open like this. Here, you will get to see a statement "Recover your password/id with the followings" or year of birth.
Key Features of Upstox Pro
Charts
The terminal offers amazing charting features along with access to Charts of multiple intervals, 13 types and drawing styles. Traders can apply more than 100 technical indicators on charts(real-time based). They can also open up to 4 charts on a window. And can also directly place orders from the charts.
Customization
Upstox offers excellent customization options to suit different trading requirements. You can create up to 5 separate workspaces. Each workspace consists of multiple widgets and configurations. You also have options to customize layouts, alerts, and themes according to their preferences.
Price Alerts
Traders can even set price alerts on their scrips. They can also set an alert for the breach of the price which they want the scrip to achieve. Those alerts can be set for both falling and rising scrips. The alert is sent in the form of a notification on your phone.
Web Version Full Demonstration
Now this will login to the Upstox terminal and go to the home screen.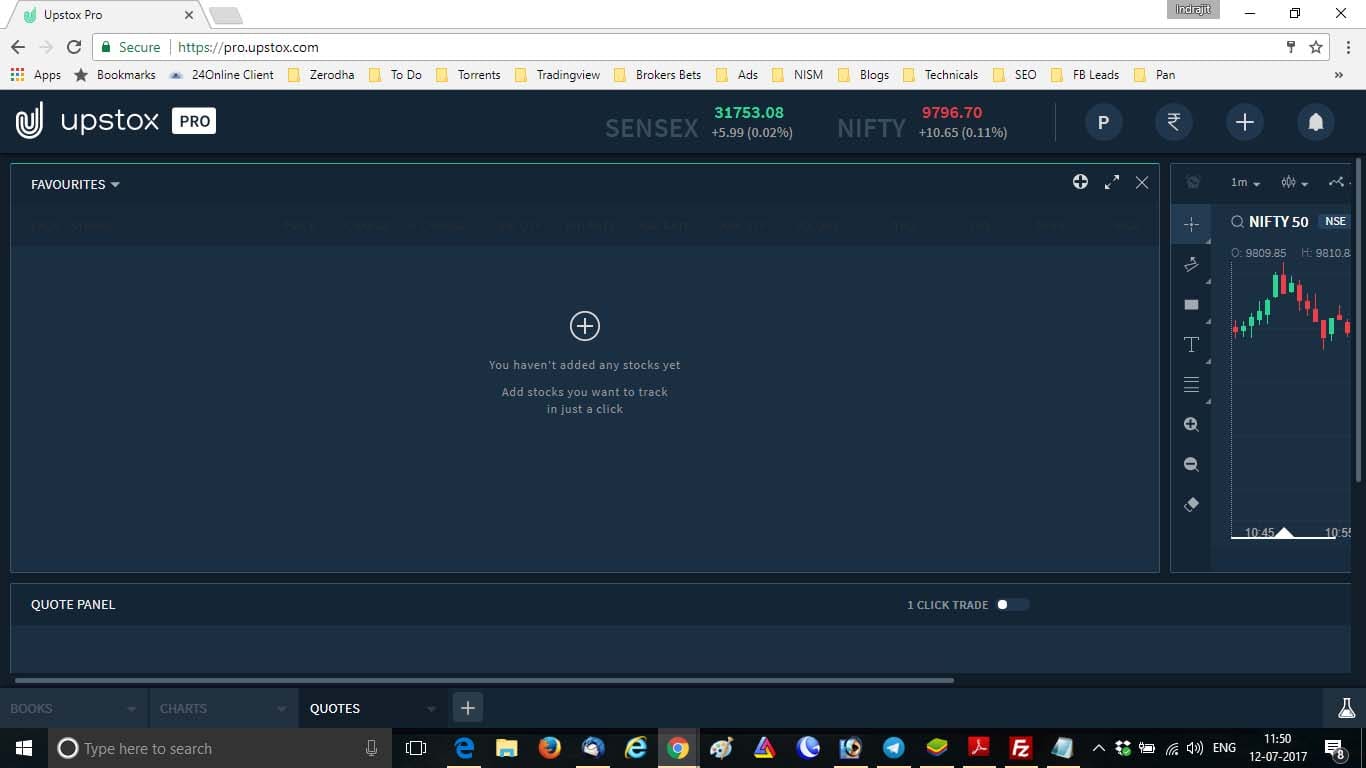 The home screen will be a blank screen unless and until you add few scrips there. You can click the plus symbol and write the name of scrip to add it in the terminal.
Workspaces allow different customization on the platform interface. Traders can create a maximum of 5 different workspaces. Each workspace can include different multiple widgets and configurations too. Traders can have one workspace which is dedicated to multiple charts, one arranged for order, trade, position books. And another one for watchlist and quote board based trading.
Besides this, it also offers customizable layouts, alerts, and themes as per the user's preferences.
See the image below: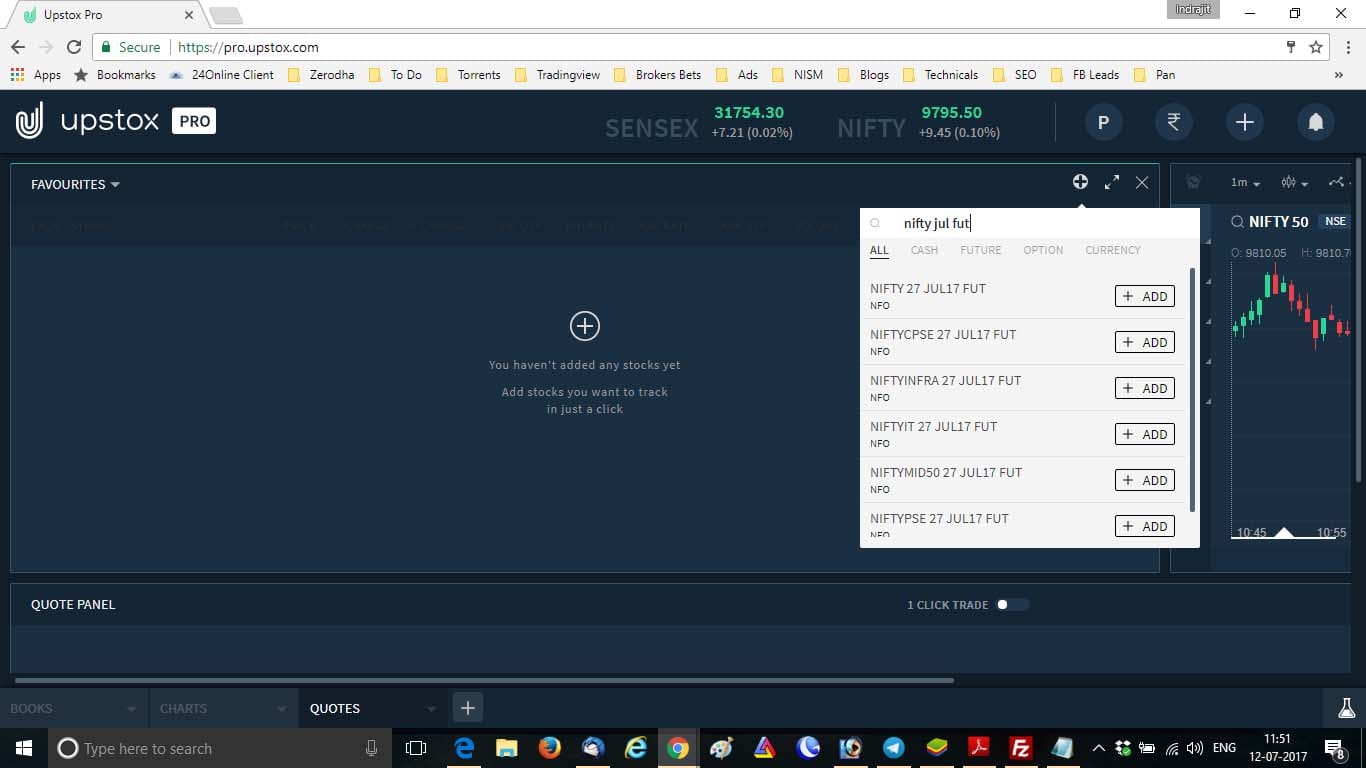 Once the scrip is added you can also remove a scrip by clicking on the REMOVE button as shown in the image below: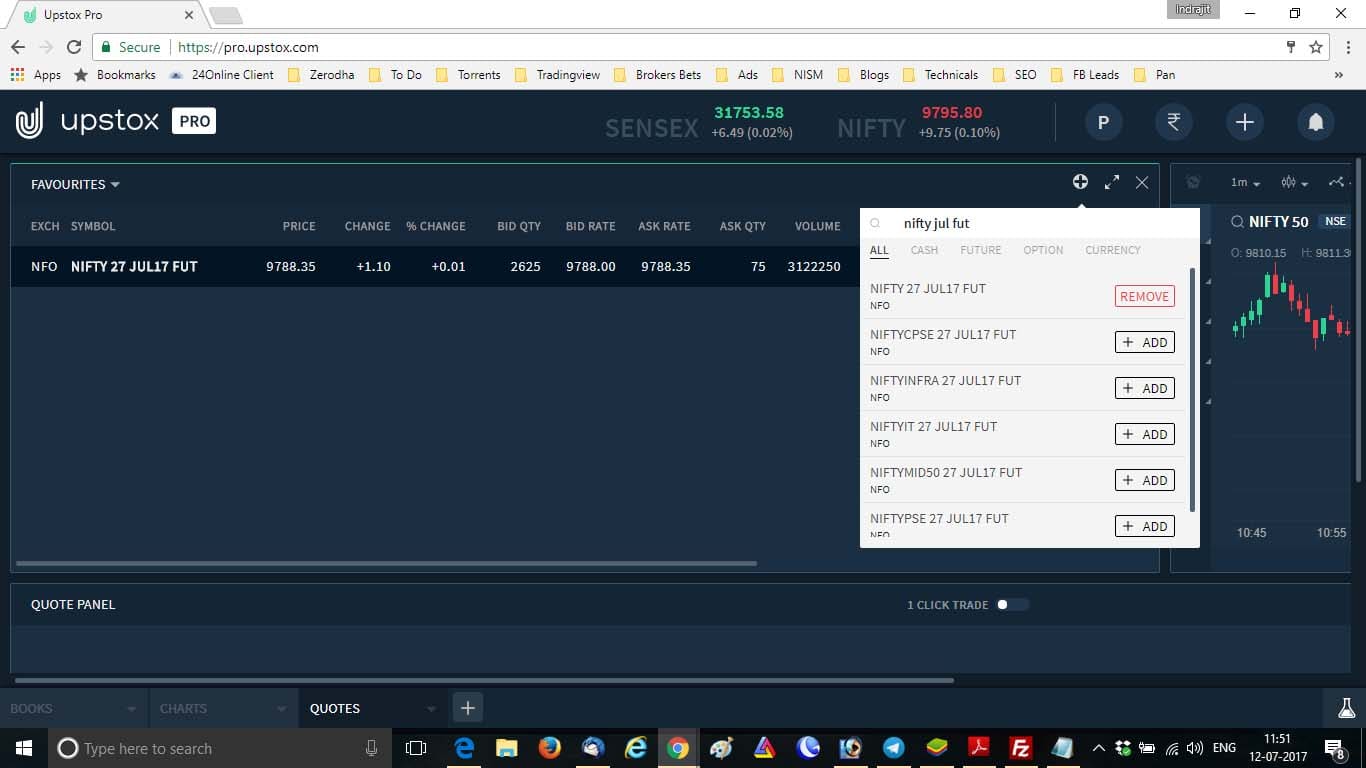 There are few menus on the top right corner of the Upstox Pro terminal. Click on the first menu denoted as "P" or profile. You can find the following options there:
Market Status
Change Password
Legal
Keyboard Shortcuts
Terms of Service
Contact
Sign Out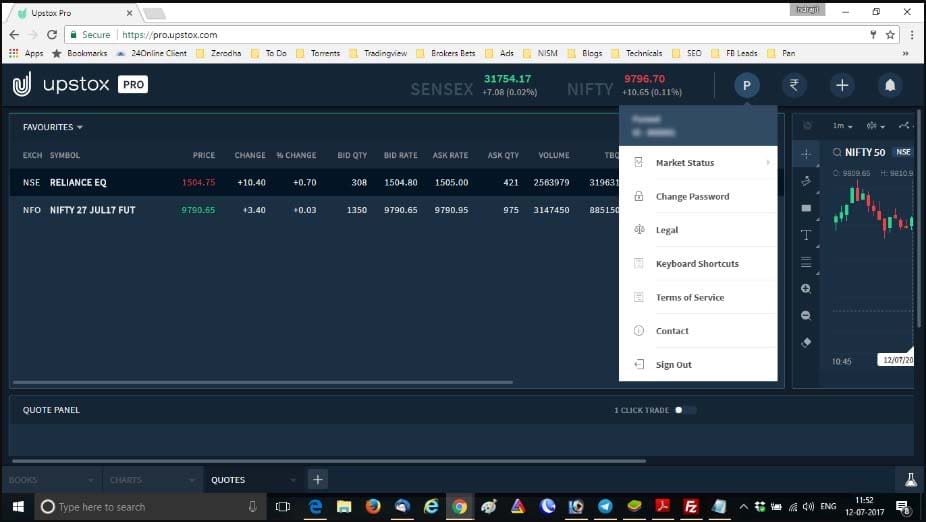 The next menu is denoted by a Rupee symbol and that is the funds' section. You can see your funds status like the following:
NET BALANCE
TOTAL BALANCE
USED MARGIN
MTM
INSTANT PAYIN (ATOM)
ADHOC
SPAN MARGIN
EXPOSURE MARGIN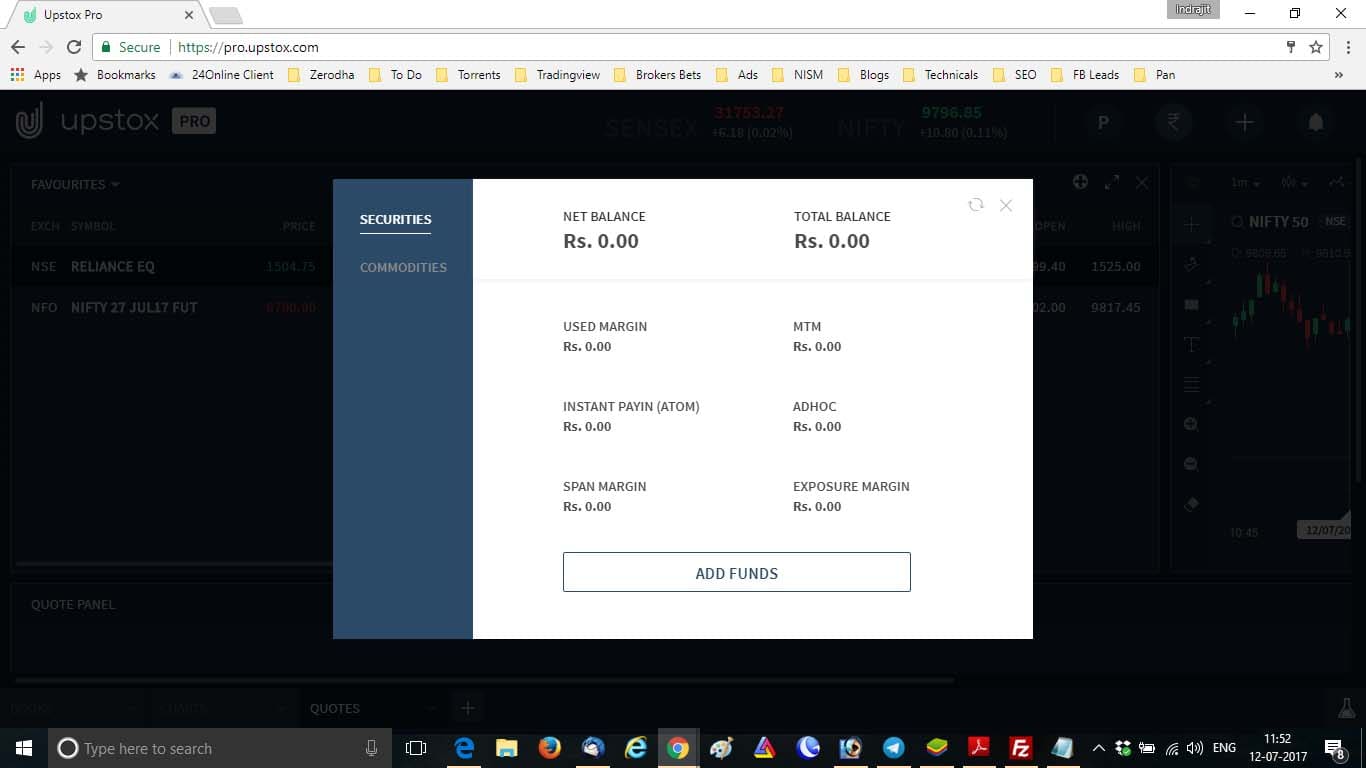 The next menu is denoted by a PLUS symbol and that deals with the watch list, charts, report books, etc. The menu consists of the following:
Watchlist
Chart
Quote Panel
Order Book
Trade Book
Position Book
Holdings
Option Chain
Option Strategy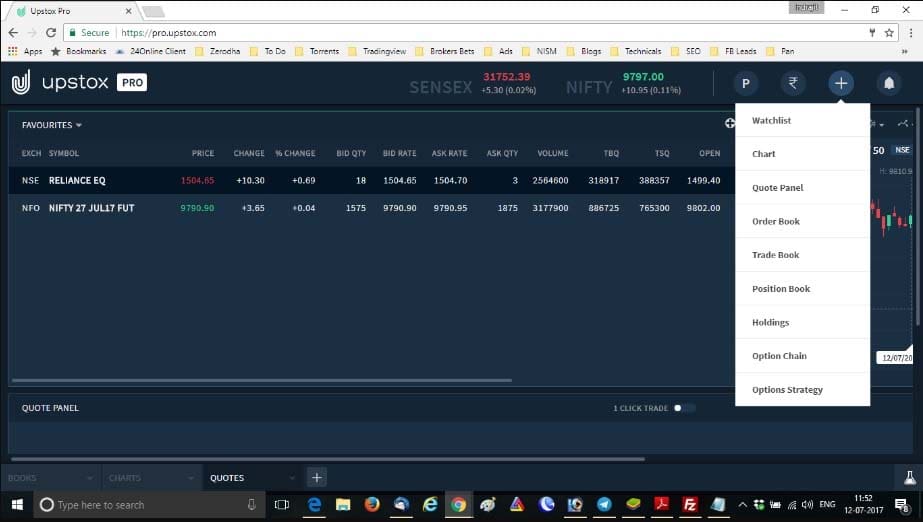 Order Types Offered by Upstox Pro
Upstox Pro allows placing different types of orders on the web and mobile versions. Here is the list of types of orders that one can place:
Limit Order
A Limit Order is used to buy or sell any scrip at a certain price (price as per your wish).
Market Order
A Market Order is a type of order which allows buys or sell a scrip at the current market rate.
Stop Loss Order
It is such an order placed with the system to automatically sell a scrip when it reaches a certain price level.
Stop Loss Limit Order
A stop-loss limit order is executed at the price that you want to be executed at.
Stop Loss Market Order
The stop loss market order is executed at the current market rate after your stop-loss is triggered.
Cover Order
Cover order is only used in intraday tradings. It is a two-legged order type. The first leg of the order is the normal type order. It is about buying or selling scrip. The second portion of the order is to square off the scrip in case one start making losses.
Bracket orders
This order can be used to limit losses and lock profits along with two opposite-side orders. Through this order type, one can place three orders at once:
Buy or sell order
Lock Profit Order
Stop Loss Order
After Market Orders
This order allows you to plan and place orders at their leisure time. The orders can be placed anytime between 6:30 PM and 12:00 AM or between 4:00 AM and 9:00 AM. The orders will execute at 9:15 AM on the next trading day.
In the Upstox Pro, Web demo lets now see the charting. To open a chart just right click on a scrip on the market watch and click on OPEN CHART.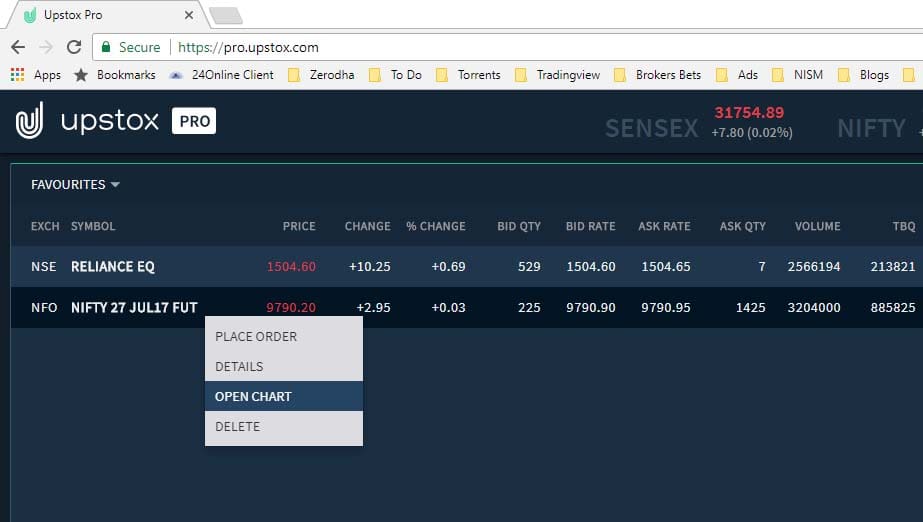 This will open the chart of the scrip in the Upstox Pro Web. In the chart you can change chart time frame (1 minute, 5 minute, daily etc), change chart type (bar/candle etc) and attach all major indicators.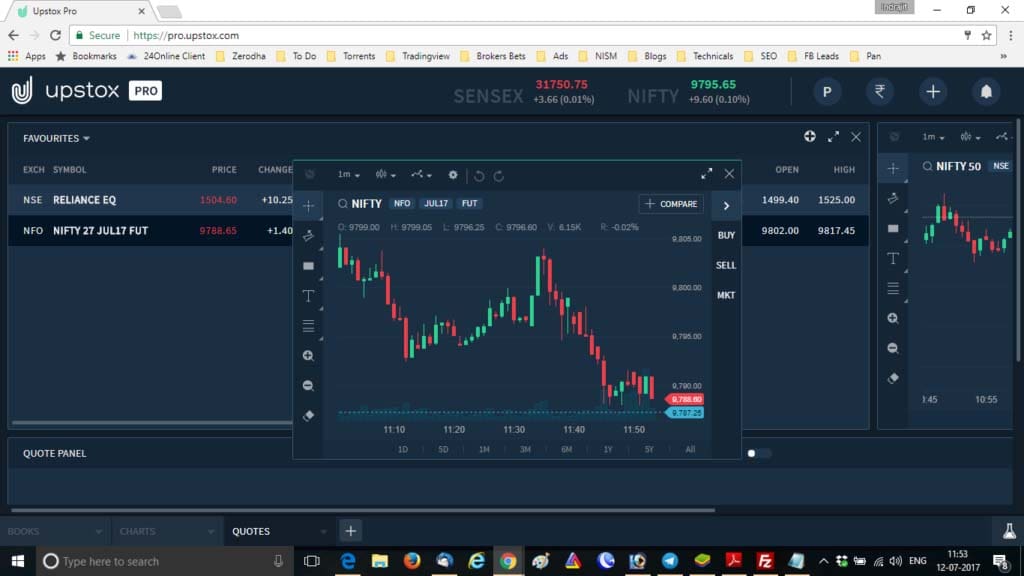 Now we will see how to punch an order in the Upstox Pro Web. Same like opening a chart, just right click on a scrip in the watch list and select PLACE ORDERS. This will open the buy OR sell order window as shown below: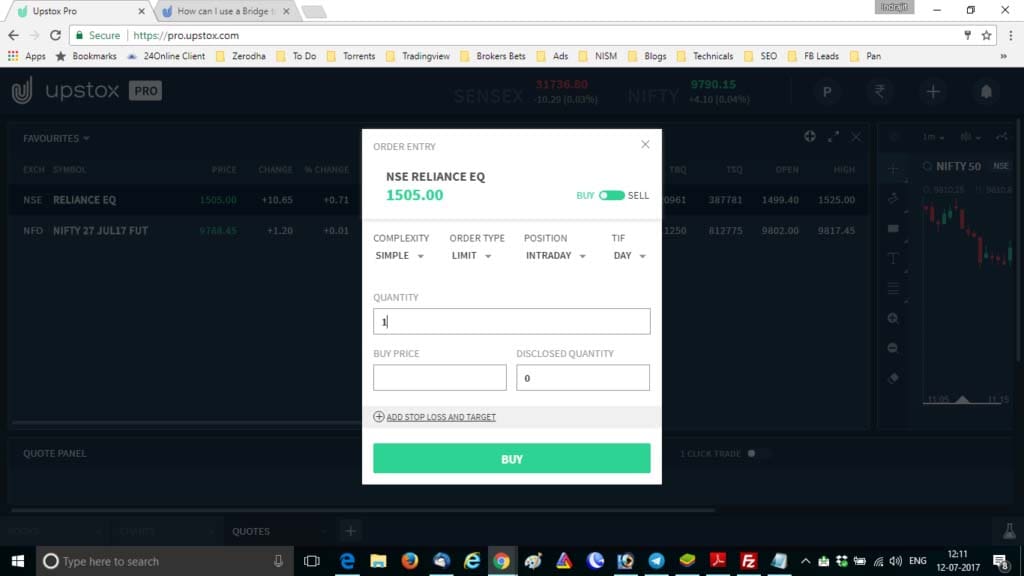 In the order window, you can click on ADD STOP LOSS AND TARGET to send advanced orders like bracket or cover orders. See the image below: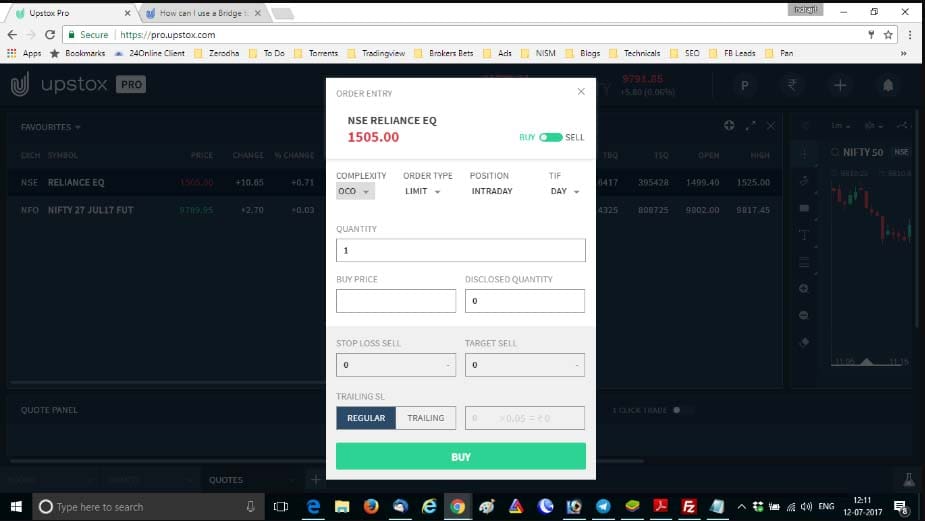 I have touched almost all aspects of Upstox terminal in my Upstox Pro Web demo.
Upstox Pro Reports
Upstox Pro offers different types of reports including-
Order Book
Positions Book
Trade Book
P&L reports
Holdings
Upstox Pro Mobile App
After Upstox Pro web version, we will continue with its mobile app version too. So, let's start with this. As you know, here also, to get full access in this app, you should have an account with Upstox. This is the first criteria here.
How to do Upstox Pro login and Installation?
First, go to google play store from your mobile, then search for Upstox Pro and install it on your mobile. See the picture below: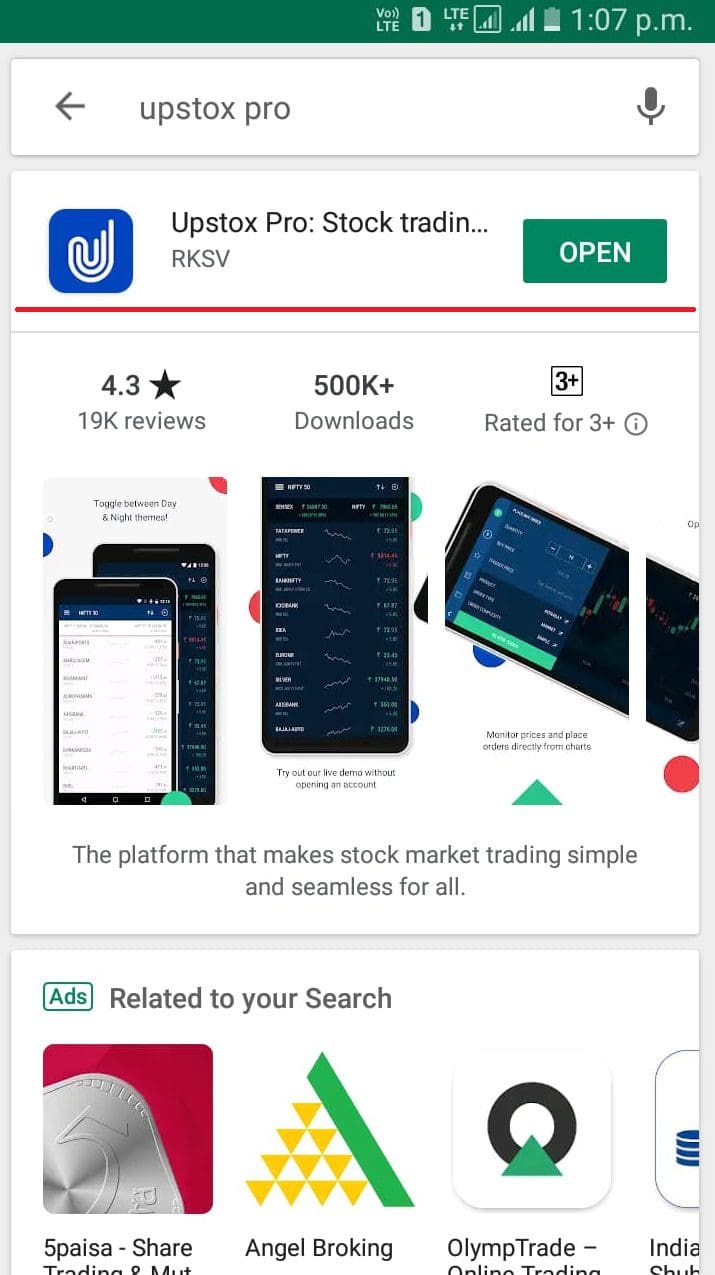 After completing the installation process, open the app. Once you open the app, you will be asked for id and password. After putting the required information, it asks for your year of birth. Then, finally, the app will open.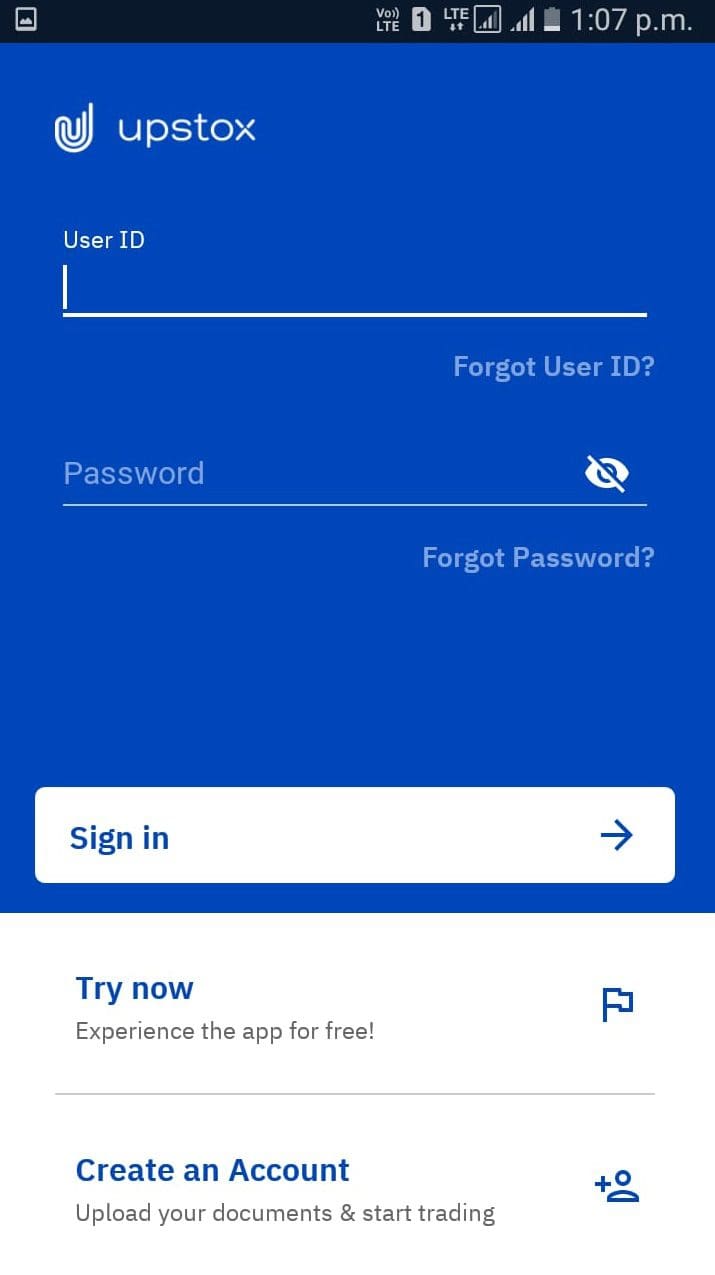 Like the web version, in mobile also you will get options like "Forgot your id/password" options during Upstox pro login.
Mobile App Version Demonstration
Once the app opens, it will look like this.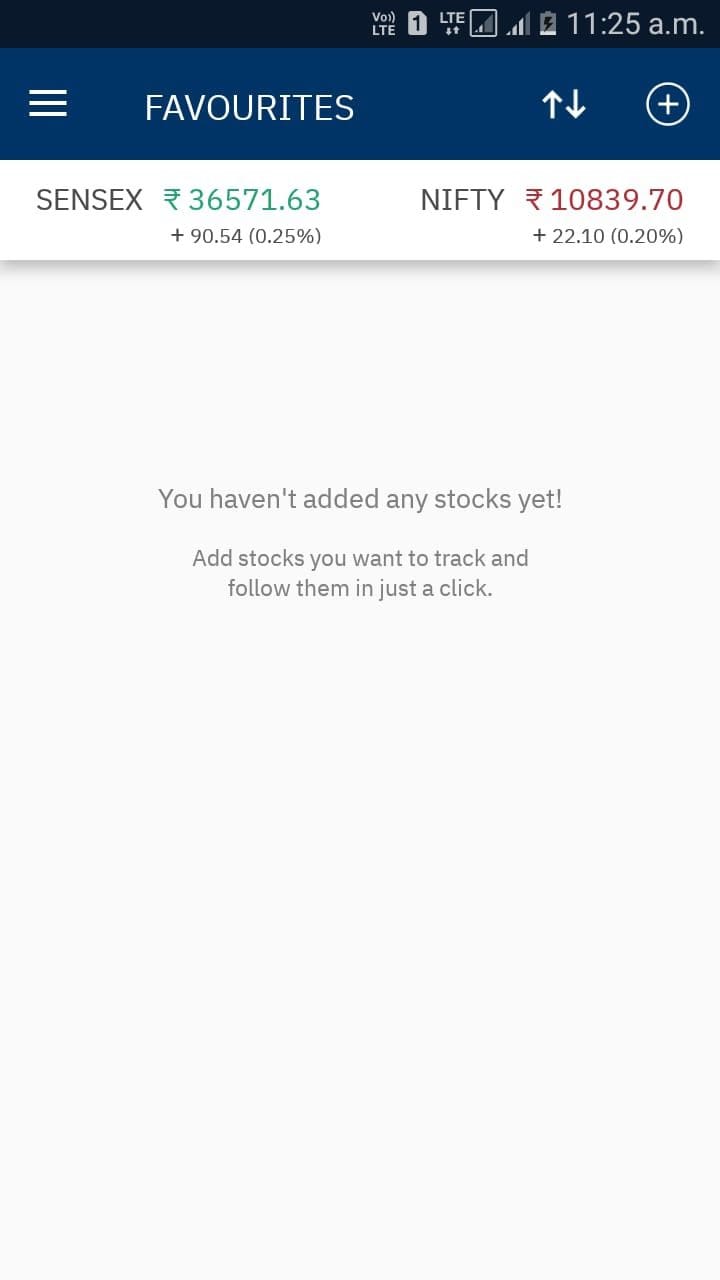 Here, you can add any of your preferable scripts names by clicking on the (+) option. Like I search for AdaniPower. The screenshot is as follows: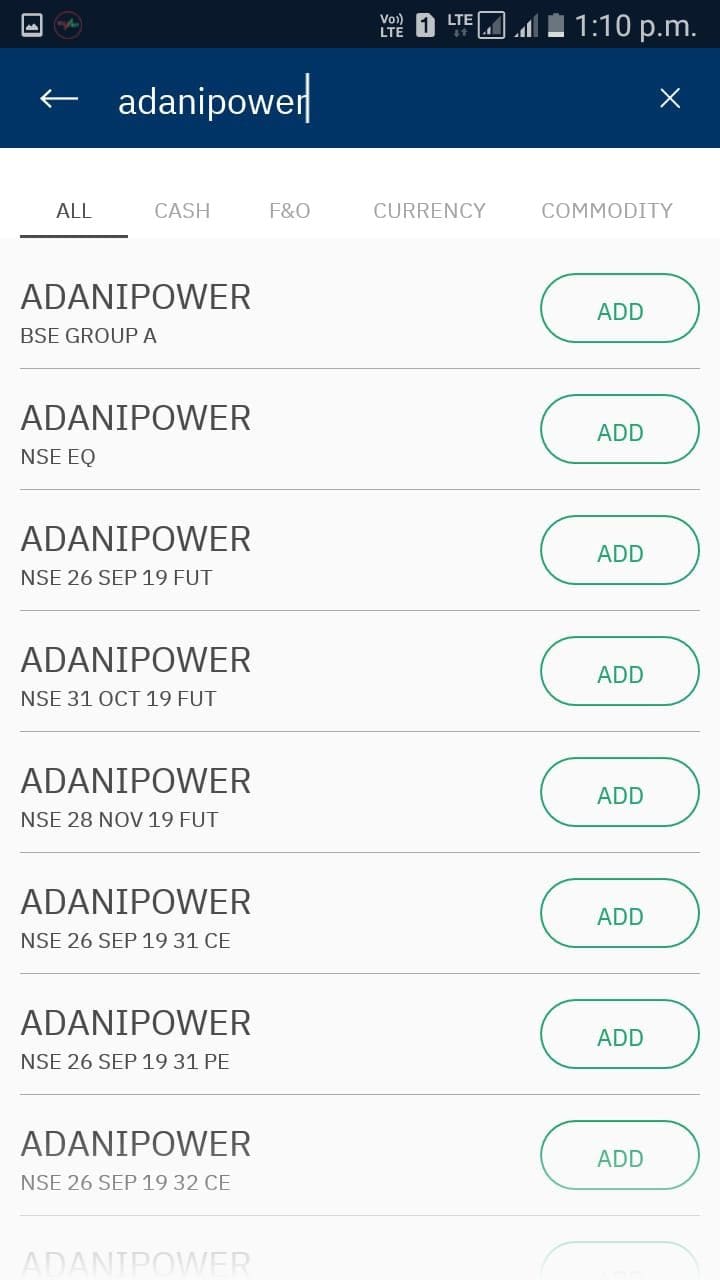 After typing your script name, just click on the add option and it will automatically come to your market watch window.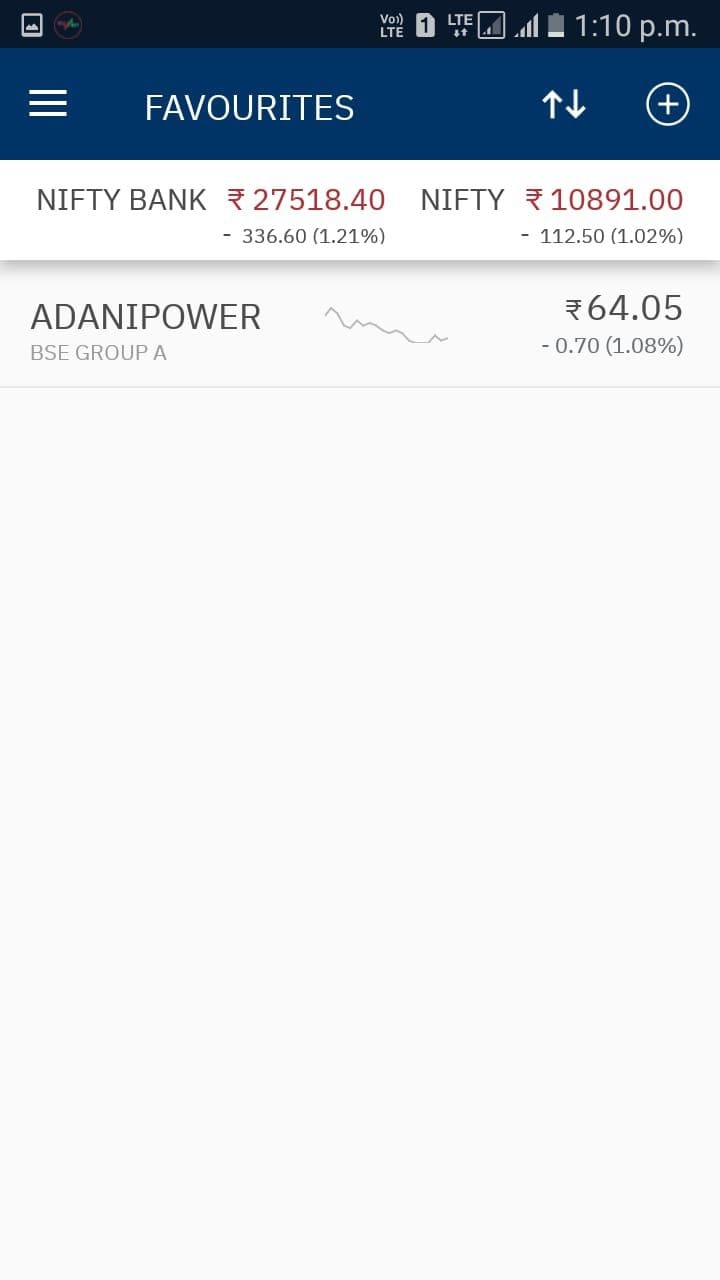 Now, if you want to remove the script from your added list, there is remove option too. Just click on it and the particular script will remove.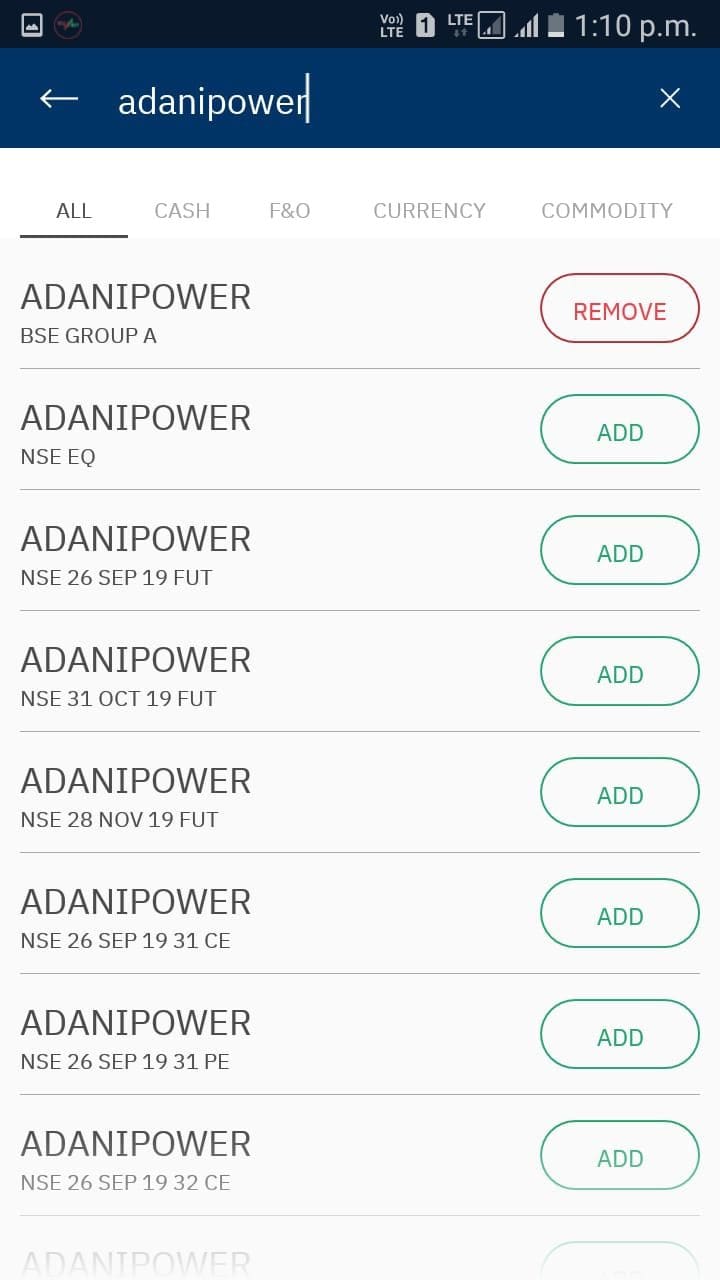 Can you see 2 arrows on the top right corner of the screen, sort by options like alphabetically 'A – Z', alphabetically 'Z – A', price low to high, price high to low, percentage high to low, percentage low to high are available.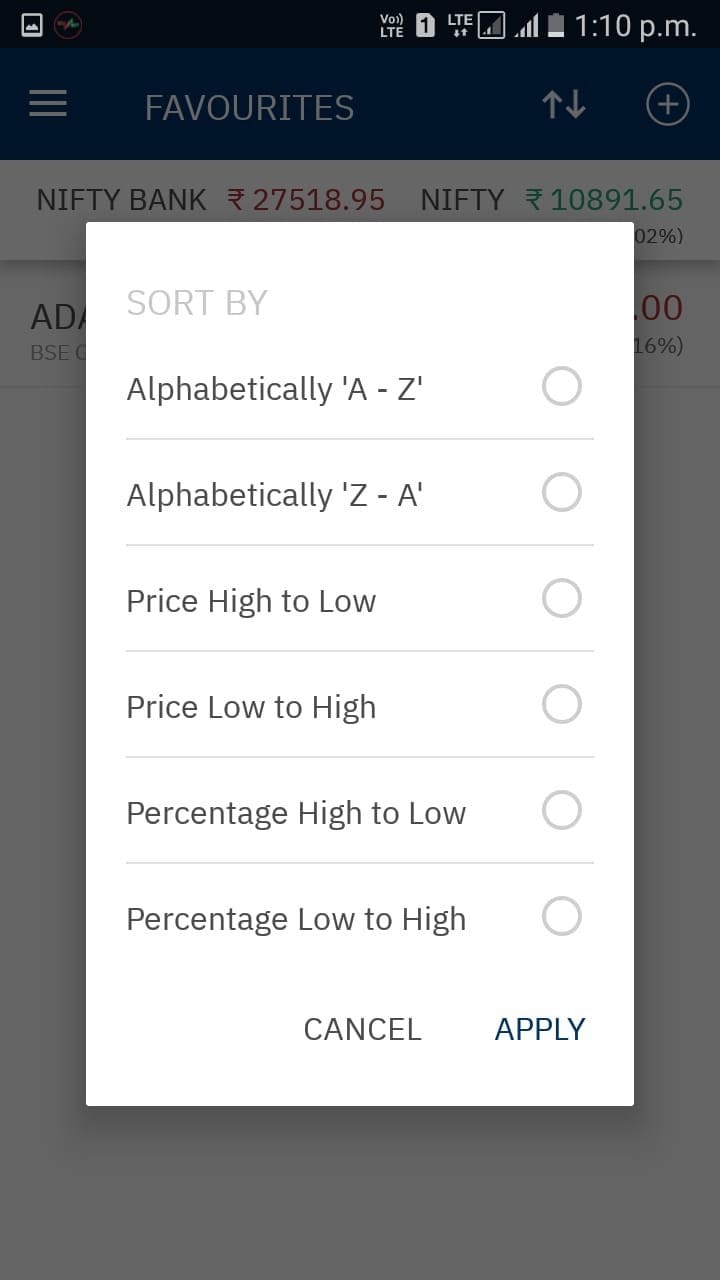 On the home screen, there is a ticker line which can also modify. Like, for example, I've shown you how you can change the indices in the ticker.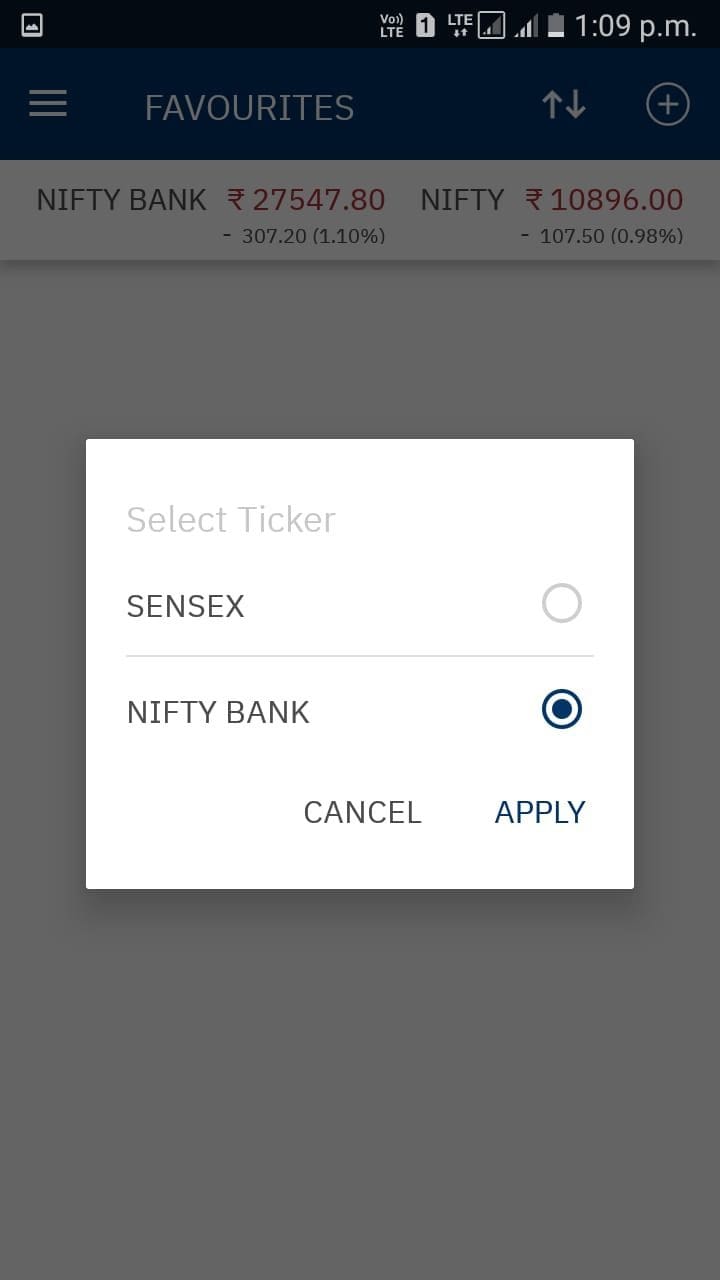 Now, have a look at the other options of the app.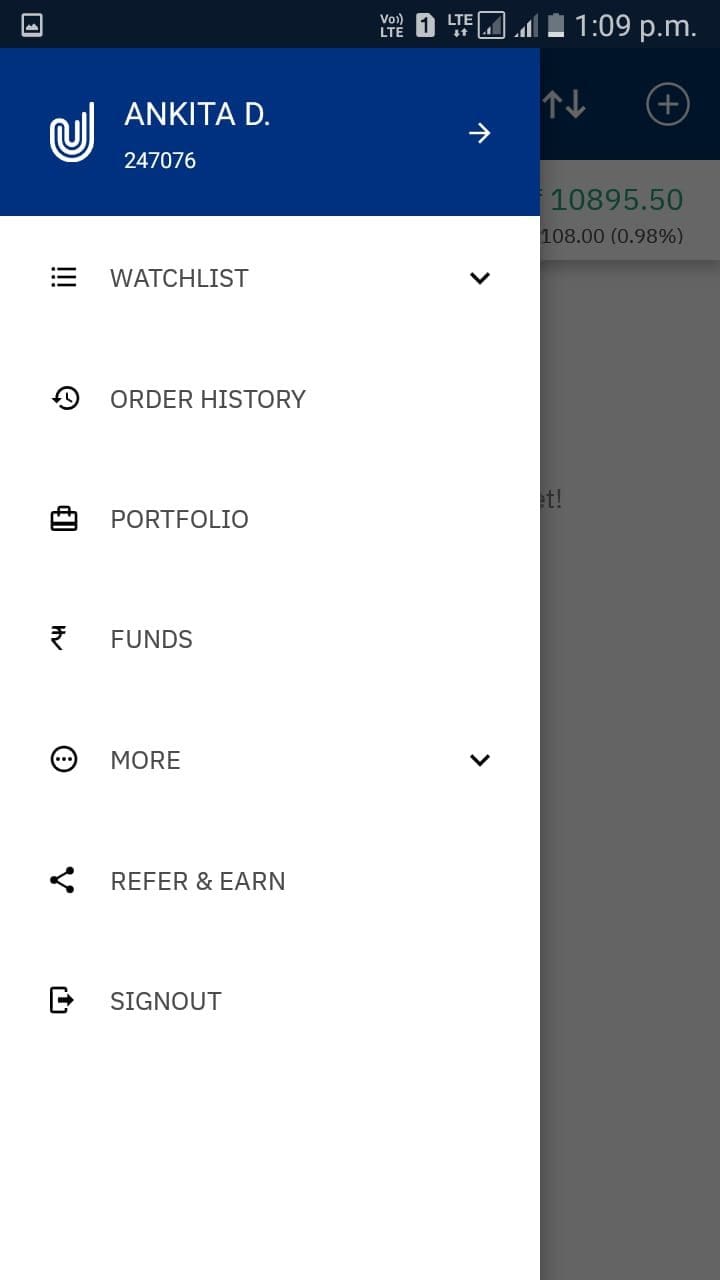 By clicking on the lines of the left-up corner of the screen, we can get the entire options list. The options include watchlist, order history, portfolio, funds, more options, refer and earn, sign out. The functions of these options are as same as the web version.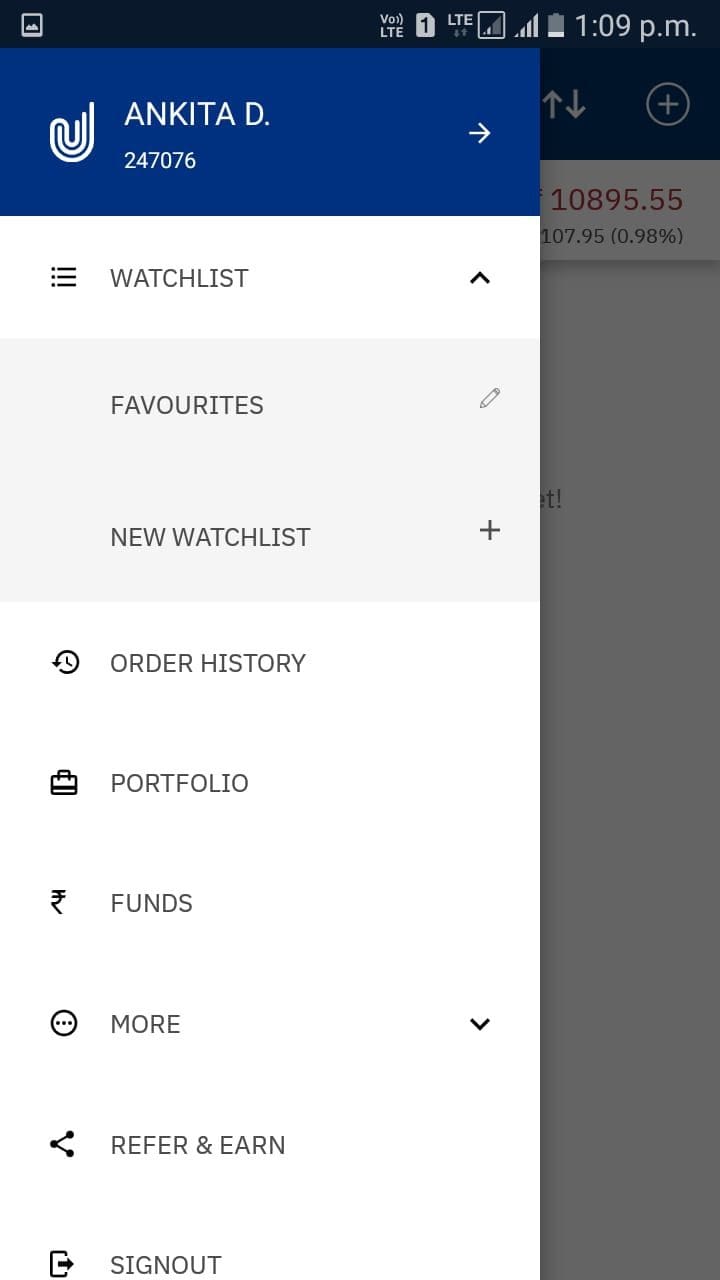 Marketwatch section has its own division, favorite, and new watchlist. From here, you can create new watchlist or add up any script under the favorite section.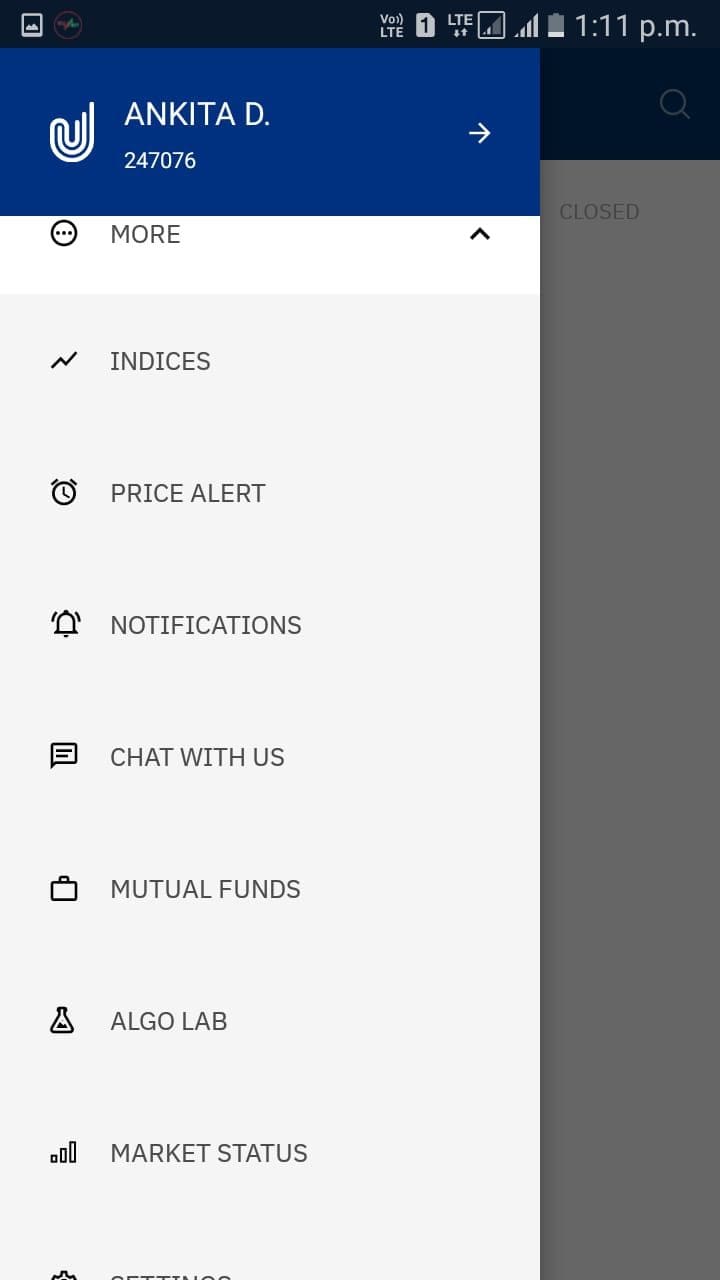 Under the more option, there are indices, price alert, notification, chat, algo lab, market status, mutual funds, settings, etc.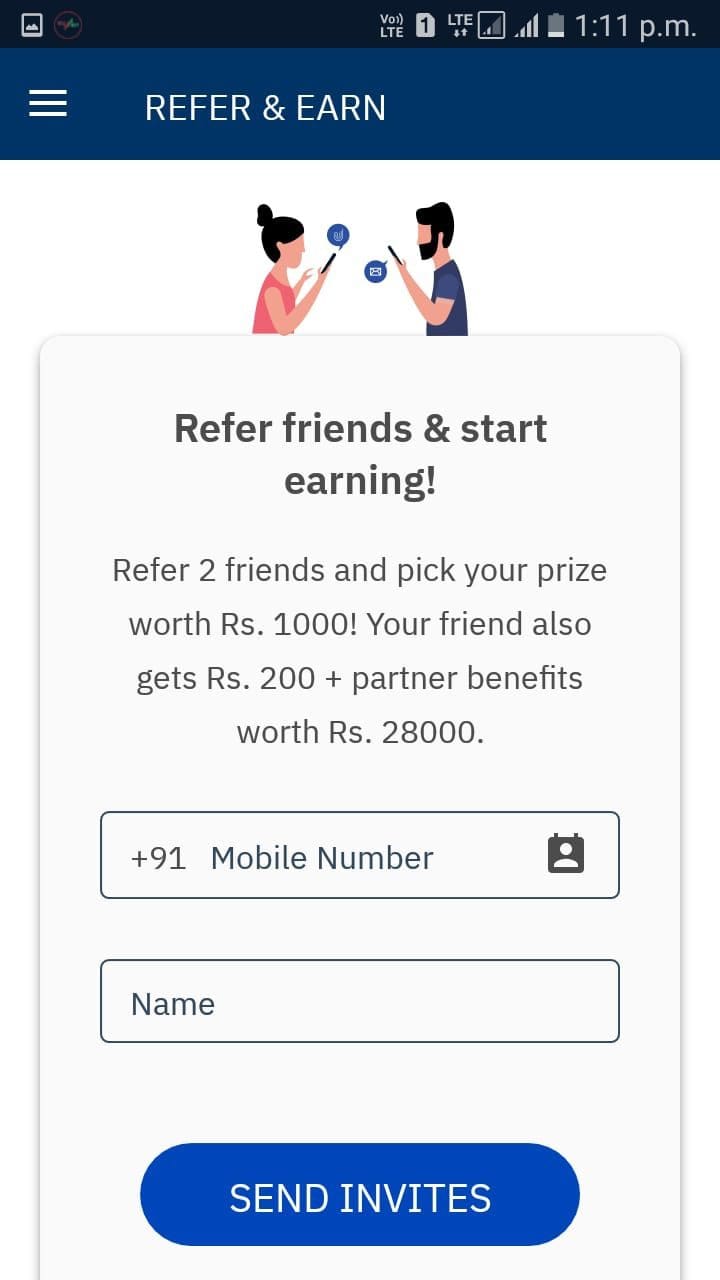 Here, through refer and earn option, one can refer to one's friend or family member to open an account in Upstox and can get eye-catching monetary and service rewards.
Upstox Pro FAQ
How is Upstox for trading?
Upstox is one of the most popular broker company for its terminal. It has Upstox Pro (fast and advance trading terminal) which consists of different tools, techniques that help traders to analyze the market properly. Apart from this, there is Dartstock too (another advanced trading platform) with multiple technical tools.
How do I transfer money from Upstox?
After login in the Upstox account, you need to go to the "Add Funds" section. There you can add or transfer funds for securities. There are more than one options available in add or transfer fund.
How long does it take to withdraw money from Upstox?
Though it depends on various factor. Both bank and DEMAT accounts have the same responsibility here. Generally, NEFT transfer will take around 3-4 hours to transfer the funds from your account to the bank account.
How can I change my phone number in Upstox?
The process is quite easy and simple. To change your existing mobile phone number or registered mail id, a KYC form have to be sent to them. The KYC form is available on their official site.
Upstox as a company and in comparison to its peers?
Upstox has made a lot of improvement in their trading terminal.
The Upstox Pro is algo ready.
The brokerage rate is zero for equity delivery and Rs. 20 maximum for FNO and intraday.
Hassle-free account opening with Aadhar.
Conclusion
However, Upstox is almost similar to India's other leading brokers. Gradually, it is rising up its level. Upstox is popular not only for its quick and helpful services but also its advanced terminals like Upstox pro and Dartstock. From different technical tools to multiple customizable options, Upstox pro is such a quick and easily accessible trading platform with lowest brokerage facilities.