Zerodha has been able to build several versatile products over the last few years. One of the main objectives of launching these products is to make the right product visible to the right users. Though some of these are the premium app, Zerodha users can get FREE TRIAL in almost all the app. Today the center point of the article will be on Zerodha Varsity Review. Here, we will guide you in every way to utilize Zerodha Varsity in a simple way.
Basically, Zerodha Varsity is one of the popular educational E-Portal. The platform is completely Free for users. The entire E-portal set is divided into 10 chapters along with multiple topics. Users can get very basics to advance concept from the portal.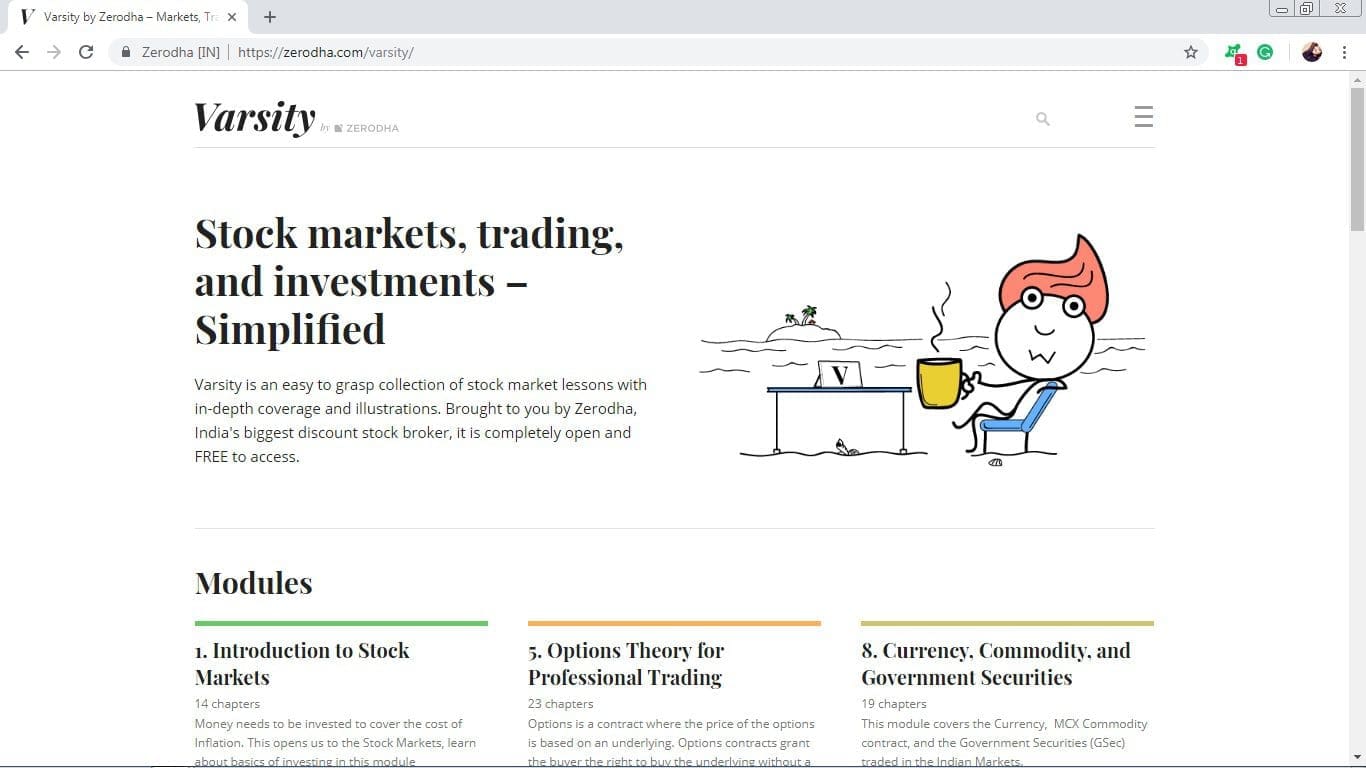 Zerodha Varsity Review and Guidance
Here, in this article, Zerodha Varsity Review, you will get the list of Zerodha Varsity Modules.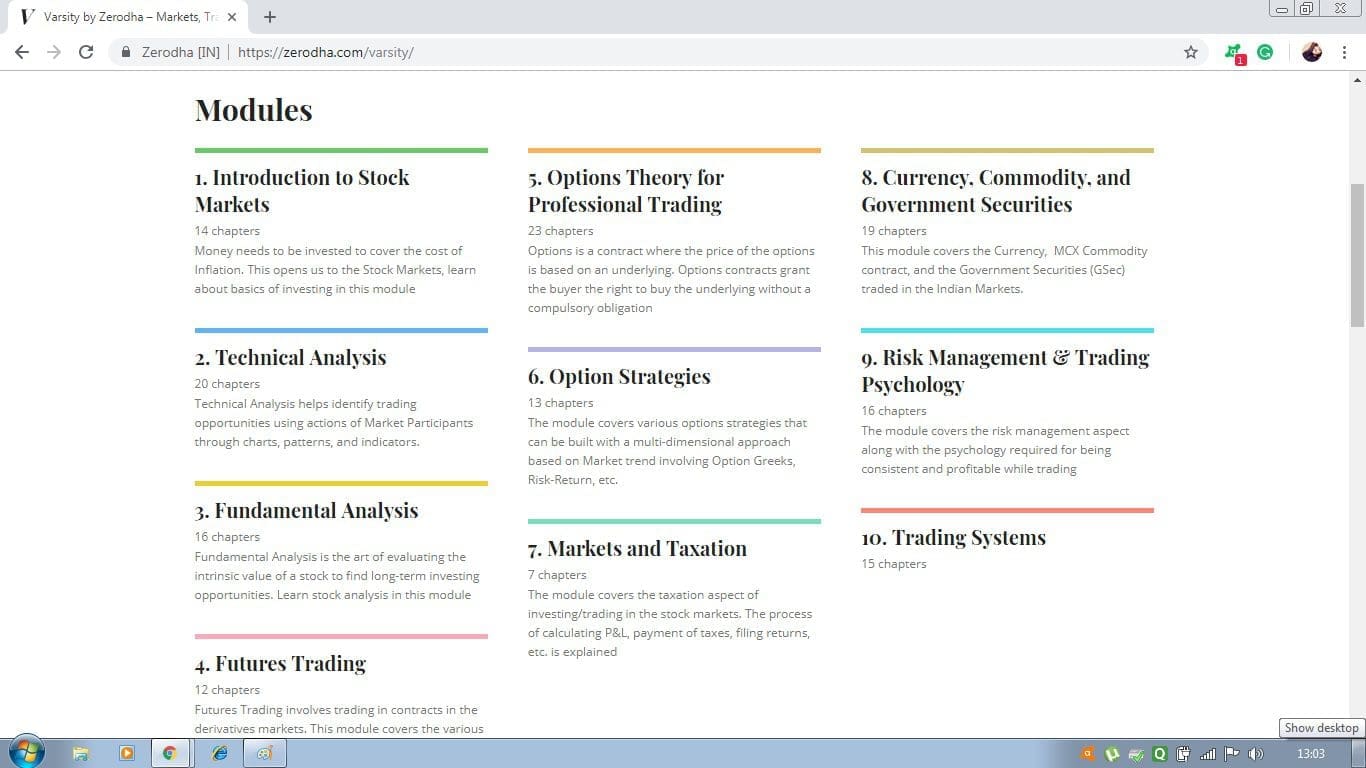 Introduction to the Stock Market-Module 1
This specific module demonstrates the basic concept of the stock market along with investment strategies. It depicts several market entities like:
Regulators
IPO Markets
Trading Terminal
Clearing and Settlement Process
Financial Intermediaries
Corporate Action
Events Impact on Stock Market
From this chapters, you get to know about the fundamentals of Stock Market Eco-System in India. By the end of the module, anyone from any field will easily get understand the necessary theoretical aspects related to the Indian Stock Market.
Technical Analysis-Module 2
The people who are dealing with the stock market, have to have knowledge of technical analysis to identify the market trend correctly. Here are the chapters:
Introduction to Technical Analysis
Volumes
Support and Resistance
Moving Average
Indicators
Dow Theory
Technical analysis is best for short-term as well as intraday investors. Traders use a variety of technical tools and indicators for analyzing the current and upcoming market and price trend. These chapters can provide basic guidance regarding technical analysis.
Fundamental Analysis-Module 3
Just like technical analysis, there is another part of the analysis in the stock market, termed as Fundamental Analysis. Long-term investors prefer this more. Though in some respect fundamental analysis is important for short-term investors, mainly it works best for the long-term. Here is the list of chapters under this module:
Introduction to Fundamental Analysis
Profit and Loss Statement
Annual Reports
Balance Sheets
Financial Ratios
Equity Research
Cash Flow Statement
Future Trading-Module 4
Zerodha Varsity also covers the derivative market. This module is apt for the derivative market traders. The module covers basic as well as the advanced level of the derivative market. In the derivative market, there are multiple segments like future, options, forward, swaps etc. This module focus on future trading.
Future Contract
Margin Calculation
Hedging
Shorting
Open Interest
Nifty Futures
Leverage of Exposure
Options Trading-Module 5
Without knowing exact trips and tricks one cannot move forward in the options trading. This module provides accurate guidance to options trading.
Call Options
Call Options
Put Options
Bull Put Spread
Bull Call Spread
Bear Call Ladder
Call Ratio Back Spread
Synthetic Long and Arbitrage
Bear Put Spread
Bear Call Spread
Delta
Theta
Gamma
Put Ratio Back Spread
The Short Straddle
the Long Straddle
The Short Strangle
The Long Strangle
Volatility
Options Strategies-Module 6
The particular module opens up some specific strategies about options.
Bear Call and Put Spreads
Bull Call and Put Spreads
Long Straddle
Short Straddle
Put Ratio Spreads
PCR Ratio
Markets and Taxation-Module 7
Traders must be acquainted with the taxed and returns of the market.
Taxation for Traders
Taxation for Investors
Turn Over, Balance Sheets, Profit-Loss Statement
ITR Forms
Currency and Commodity Future-Module 8
Risk Management and Trading psychology-Module 9
Trading System-Module 10
You may check the modules directly from the GIVEN LINK of Zerodha Varsity. However, the Zerodha Varsity Review only provides a basic brief idea about the tool. You have to go through it to know more about trading and the stock market.