Algorithmic trade placement is widely known as Algo trading. It is not a new thing among traders, as SEBI allows this kind of trading in 2008. But to find the right Algo software can be a time taking work to do. As it helps to get the most benefit possible out from the market. That is why it is getting popular among traders and investors. For those people who are searching for an Algo trading software, I would suggest you take a look at this Aliceblue Tradestore Review. It is a one-stop destination for traders and investors to earn and book profit from the market. Aliceblue Tradestore provides a wide range of trading strategies that will help you to understand the market.
Through this blog, we shall know why Aliceblue Tradestore is a one-stop trading destination for every trader and investor? Why it is becoming so famous among the traders? We shall also emphasize the key factors and features of this web store.
Frequently asked questions about Aliceblue Tradestore
Is Aliceblue a secure site?
Alice Blue is a reputable and low-cost stock broker in India, incorporated in 2006. It has a significant physical presence in India. Alice Blue is a SEBI-registered member of the NSE, BSE, MCX, and MCX-SX exchanges (now known as MSE).
What is Aliceblue Tradestore?
Tradestore is a one-stop trading destination where you will find various kinds of software to improve your trading skills. You can buy different kinds of Algo software under an annual subscription. They put options as investors, traders, strategists so that you can decide what kind of algo software you are looking for.
How much software is there in the Aliceblue Tradestore?
After their last update, you will find Tradestore gives 32-kinds of Algo software. This all software are different from each other. Most of them have come under the one-year subscription but the price differs from high to low.
How many Algo software's are free to use?
There are five Algo software's which are free to use. The website is providing two major software for free nowadays. But this free Algo software cost 1k to 2k on a monthly basis.
Is it legal to trade algorithms in India?
Fully automated trading is still not permitted for retail traders in India. Rather, they have a semi-automated approach to automate their deals. Retail traders can begin algorithmic trading, but every time their orders are sent to the system, a pop-up confirmation box will appear. As a result, it's a semi-automated procedure. In India, this procedure is completely legal. Dealers, on the other hand, can trade entirely automated, but they must have their strategy approved by the exchange.
History of Aliceblue Tradestore
Aliceblue is a well-known sub-broker house. It was established in the year 2006. Sidhavelayutham Mohan is the CEO and Managing director of Aliceblue. He also owns the Algo software website named Aliceblue Tradestore. From there You can buy different kinds of software. This software will be helpful not only for intraday traders but also for Futures and Options traders. The sub-broker house started its journey from 2007 to 2008. Aliceblue was not a discount broker from the very beginning. They initially start their business by taking the membership of different exchanges such as BSE and NSE. Finally, in the year 2015, they come across as a discount broker by getting the CDSL authorized membership.
To make its client's trading experience more prominent the website introduced its own trading store. Tradestore contains more than 25-types of different Algo software ( the number of algo software changes on daily basis) to gain more profit from the market. Some of the Algo software was also free to use.
Example of an Algo-software
Investors, Traders, and Strategists are the three parts that Aliceblue Tradestore has used to classify their Algo-software. All the Algo-software are designed in the same pattern. So that it will be easy for you to understand and navigate through it. If you are able to navigate through one software you shall be able to go through the others as well. For example, here I'm am taking "Ready to get algo strategies". Here in the above picture, I have highlighted a blue box with a yellow border. If you click on it then you will get the details about the software.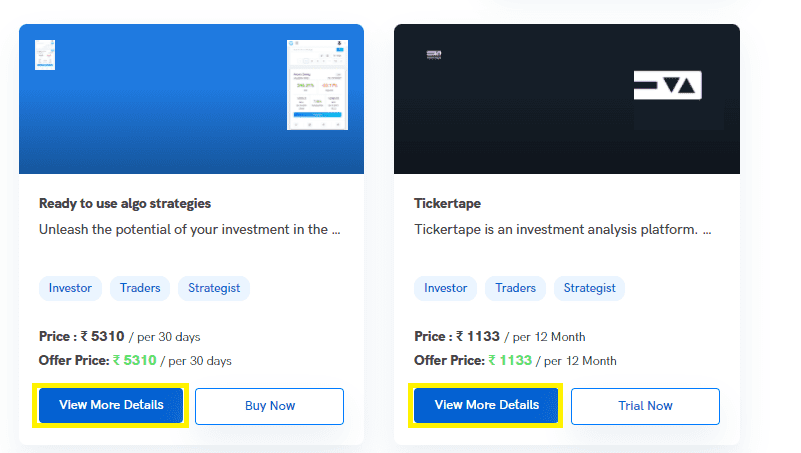 This is the first page of this algo software which will pop up as soon as you click on the view details option. Let us navigate through the Algo software. So that we could learn how to check any software from here before buying it.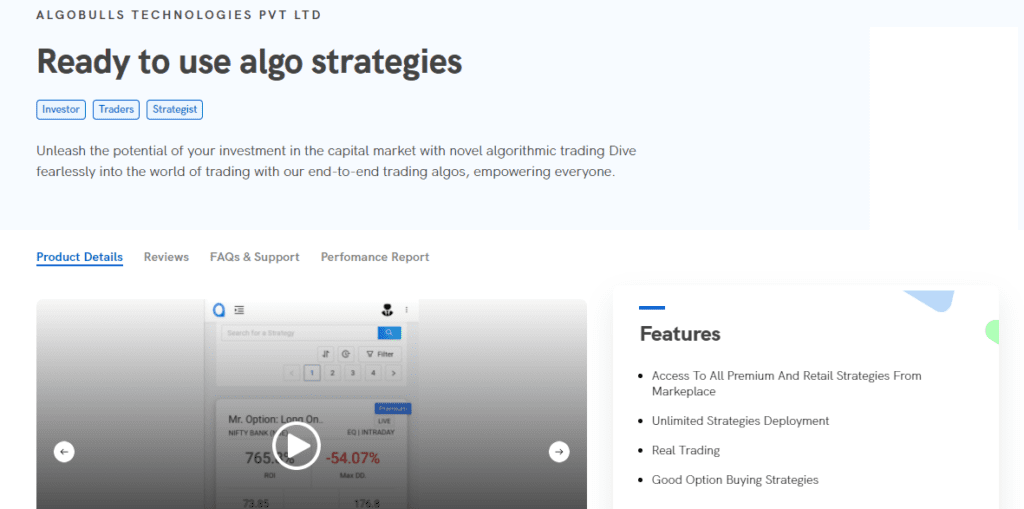 Algo-software features
Let us take a look at the features and navigate through the very first Algo software
As you can see at the top of the video, the company has mentioned its name. As an example "Ready to get algo strategies" is the software which is owned and sold by "Algobulls Technologies Pvt Ltd". The company name will be mentioned every time you open any specific software.
You can also check the about section if you want to know more about the company or the software. If you have any queries about that algo software you can go through the about or the blog section to know more about it.
The provided softwares will be in video format. So it will be very easy to understand. They will give an elaborate description of it so that it won't be a problem for you to decide whether you want to invest in it or not.
There is also a feature section when you will open the algo software. In that section you will see all the specific features of that algo software. What are the key factores and usp that makes that specific software different from others.
Account opening process in Aliceblue Tradestore
As I have already told you without an account in Aliceblue you will be unable to use the Tradestore website. In the following, I am providing you a link that you can use to open a new account in Aliceblue,
Use this link to open an account on Aliceblue
Direct link to open an account in Aliceblue
Sign up process in Aliceblue Tradestore
If you do not have an account in Aliceblue then you first have to open an account under them. As I have told you in the earlier paragraph. To do so click on sign up which is written on a blue box of your righthand corner.

A new page will pop up on your screen which will ask you for your personal details. Fill that form up. Then follow the instructions to complete the full process.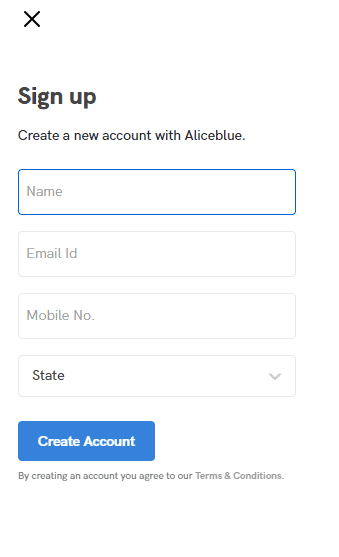 Login process in Tradestore
If you already have an account in Aliceblue then use that login id and password in the given place. You will see the website will allow you to access the algo software. You can buy any preferable software after that.
Aliceblue Tradestore Website Navigation
As we start from the top of the page we will see there are four options which are Marketplace, Resources, Contact, and Blog. Let us take a look at each of the options more preciously to understand it.
i) Marketplace
Under this option, you get the whole scenario of the website. First, click on Marketplace. Now Aliceblue Tradestore will show all the algorithmic trading software which they have on their website. You can choose any algo software also known as bot software according to your preferences.
The Filters of the Marketplace section
Segment:
The website here provides six different segments to choose from. Filter them according to your need and preferences. Suppose you want an Equity delivery related to Algo software then click on the very first option that is Equity delivery the website will provide you with some options to choose from. Equity Intraday, Commodity, Future, Options, and Currency are also some options that you can use if you are surfing through those trading options.
Rating by:
Suppose you want to take a look at all the 5 stars rated algo software. Then simply click on the five-star sign. The website will sort and present all the software which has been rated as 5star lately. There are also four-star, three stars, two stars respectively you can choose whatever you want from there.
Application type:
If you want a specific type of software that you are looking for on your phone then choose "Mobile Application". But if you are looking for your personal computer or laptop then click on "Web Application". Because you will find the website is providing both kinds of algo software which will support on your phone and your computer or laptop as well. Suppose you are looking for an algo software that can be supported both in the web version and mobile version then click on "All". This will help you to access that software which will be supported in both versions.
Price type:
The website often gives free access to the software or provides trials to Algorithmic trading software to their clients. You can adjust the price amount according to your needs
Trade Store Price:
You can adjust the price according to your preferences using this filter. You can search for free software to low-cost software.
Sort By
This option will appear in your right-hand corner when you open the website. By default, it is set on recommended. Click on the dropdown arrow which is placed right beside it. There will be several filers to choose from. In the following, I have put an image of those options,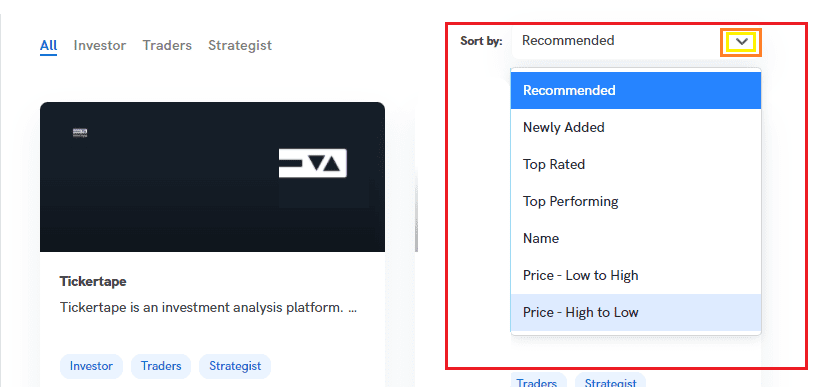 In this section, you can adjust according to your preference as the website will present you with seven options to select from. As you can see in the above image there are price-related filters, performance-related filters and so on to choose from.
ii) Resources
Videos, Webinars, Blogs, and Performance Reports are the topics that lay under Resources. Their video section is still empty. As they do not have to post any video. Though the website has many webinars videos which are very helpful for the newbies and old traders as well.

iii) Contact
This section is quite easy to understand because you can see it in the following image. They provide their phone number in which you call and talk to them. Through the provided remain address you can also send them a mail about your queries. You can also send them a message for that you have to fill the form. The website will ask you for your name, Email address, mobile number, and State at finally in the last box you are able to ask your question regarding trading or any other website-related issues.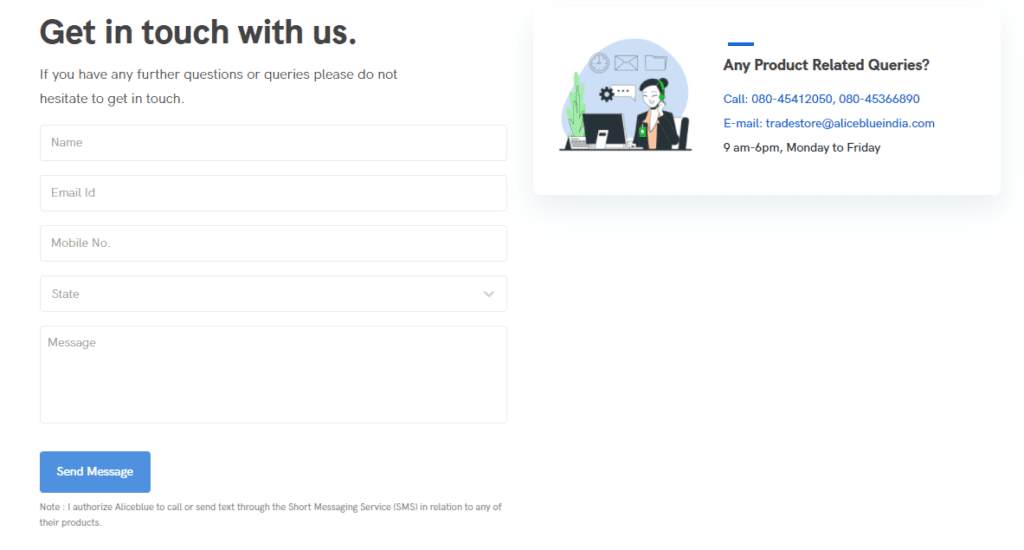 Then click on "Send Message". After receiving your question you will see the website will answer that as soon as possible.
iv) Blog
In the blog section, the company provides its personalized blogs. Usually, these blogs are very informative as they contain many algorithmic trade topics. Not only that the website also elaborates on different investment strategies.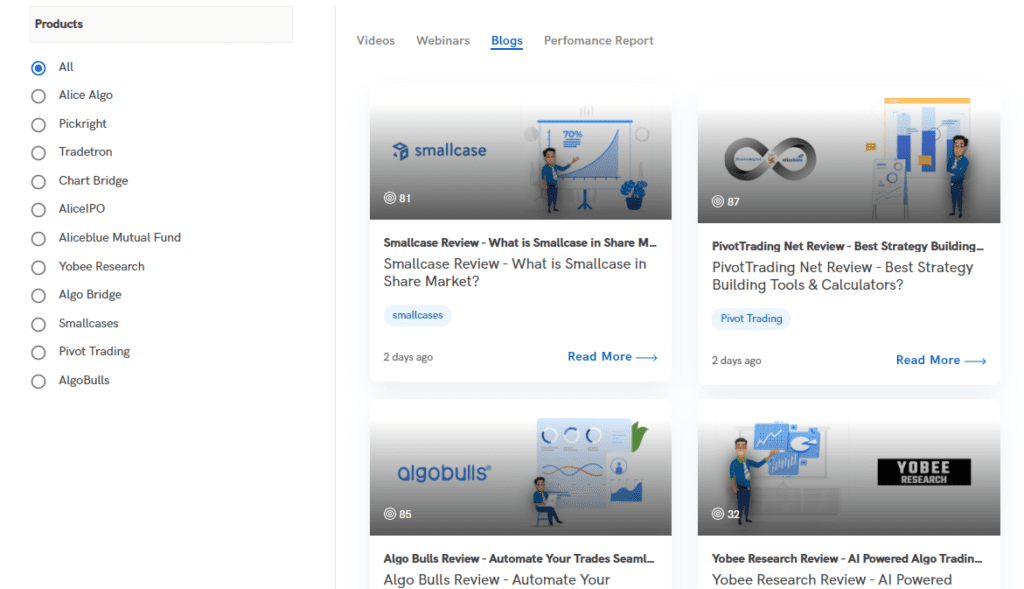 As you can see in the above image, there are many filters to choose from. If you are looking for Aliceblue Mutual Funds or Pivot Trading the website provides every kind of blog. That will help you to increase your knowledge about trading-related factors.
How to earn monthly 4-5% returns?
There are many products in Aliceblue Tradestore. We can specifically name one company "MiBots". They know the market is very volatile and changing. Earning a fixed profit is not possible every time especially if you are a newbie. So the company has come up with this idea of monthly fixed returns that is also up to 4 to 5%. Let take a look at how this works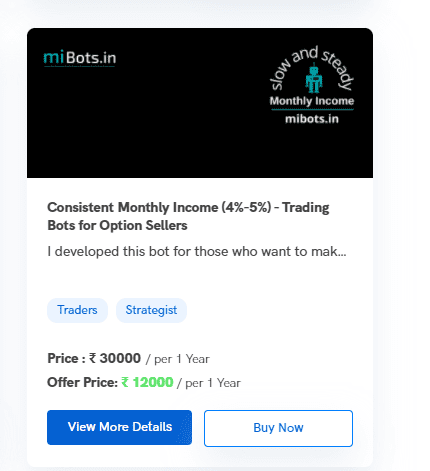 Suppose you buy MiBot algo software worth 12K. You might gonna think it is not a cheap amount to pay at once. But you are not thinking about the other aspect that is you might gonna earn 12K after using this software that is also just in a month. That means the rest of the year it becomes free for you as you have already booked your investment just in one month.
Calculation
Let us calculate how this strategy will benefit us. We shall take a look on the mathematical figures to understand that. In the following, I gave two examples how this software help us to gain profit.
First example
Let us understand how this works. Suppose you had a capital of 40k and you buy this algo software worth 12k. That means your total investment is 52k. Now your target is to recover that 12k which you have invested more. so as Tradestore claims they will provide you 4% to 5% of return. Now for the mathematical calculation, we take that as 5%. so if you earn 5% on a monthly basis that means you are having a fixed income of 2000.

That means it will take only 6 months to regain your investment in the software that was 12K. The money you have put as a trader in the market using the "MiBot" software's provided strategy will also earn you profits from the market. So it is a win-win situation in every aspect.
Second example
On the other hand, people usually put their money in the bank to get the best returns possible but in today's world big bank such as SBI gives only 2.7% of the interest that is also every 6-months. if you put 1 lac rupee in the bank you will get the return of 5400 rupees after one year.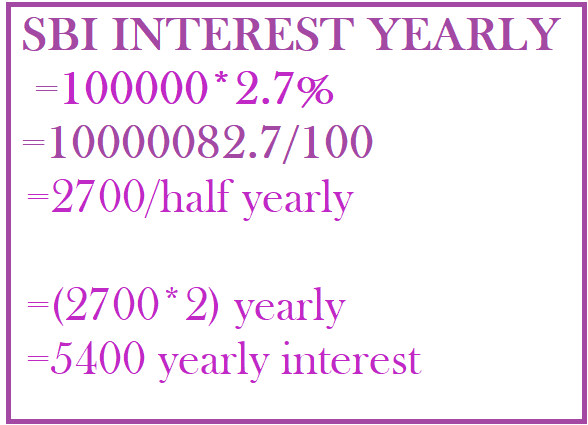 But if you invest 1 lac rupee through the Aliceblue Tradestore's "MiBot" algo-software you will earn 4%-5% as they claim. If we calculate 5% of 1l ac rupee that would be 5000 rupees per month. The cost price of the software will be recovered just in 3-months. Then rest the 9 months 45K will be totally your profit. Let us take a look at the mathematical figures,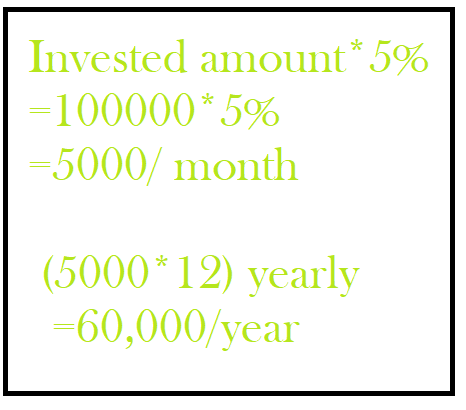 Features of Aliceblue Tradestore
Tradestore has so many features because of their variety of clients. Every client is different from others and satisfying every customer can be a tricky job to do. To manage every customer's requirement they come across an Algo software selling store called Tradestore. In the following, we shall take a look at the features of Aliceblue Tradestore and those are,
i) Easy to understand
This algo Tradestore is very easy to understand and easy to use as well. As soon as you visit this site you will find various kinds of Algorethemic software which starts from a very basic amount. If you are an Aliceblue client then you can find this on the Aliceblue website as well.
ii) Charge-free application
This application is free on every site you can find it in Google Play Store where you don't have to pay any extra charges to download this application not only that they also have a website for your PC.
iii) User-friendly interface
the interface is very easy to understand. As soon as you visit the website you will see they have arranged it in a very easy and understandable manner you can strategize as you want if you are an investor or a trader or a strategist the website will provide every kind of facility to have a better trading experience.
iv) Updates
The website regularly updates its page so that you can get an error-free experience. The website also takes care of any kind of complaint regarding the website's function issue. Tradestore management not only listens to their client's problems but takes good care of them. That is why the website always works smoothly.
Pros of Aliceblue Tradestore
While trading, you do not need to switch between trading applications. Because all of the applications are available on this one platform. You may choose which one you want to trade with. Except for the Trade Store application, there are no downloads required. Other than that, no other downloads are required.
The user interface is really fast and intuitive. You won't have to face any problem understanding this website or using it according to your preference.
Trade Store app takes up very little space on your smartphone and may be used even with a slow internet connection. That means the website knows today's world's problem with a mobile or a smartphone. They develop the website keeping that problem in their mind.
There are several categories to choose from. You can choose according to your preferences as they provide various kinds of strategies to choose from.
They priced the software from a minimum to maximum approach. So that a small new trader who is intending not to invest very much in the market can utilize this website. As well as a professional trader who is looking for an algo software and ready to pay a decent amount can also utilize the websites providing software.
Cons of Aliceblue Tradestore
If the Algo software can available for 3-day trial option. It could be better for the trades to understand if they want that specific algo software or not. Many people feel reluctant or hesitant to give a lumpsum money at once for something they do not even understand.
Conclusion
After reading the features and advantages of the website. There is no doubt that the website is really useful for traders and investors. Because it provides various kinds of software to do algo trading. The website helps you to grow more through that algo software that is provided to you. You can also buy low-cost to high-cost software by putting in small amounts of money. Then if that becomes profitable to you then invest in the software of large amounts. At the end of the day, it is your hard-earned money, and choosing the right place to invest in should be your decision.