Astha Trade is no longer provide their popular high margins or leverage for trading. Their service and support are cracking down day by day. This is an India-based broking company since 2005. While many companies have limited margin facilities either in intraday or in delivery, Astha was giving an ample amount of leverage for both intraday and delivery trading. As we blacklisted this company it is important to let you know why the reason for telling so.
Trading with Astha Trade Discount Broker
FREE call and trade option available here.
They do not charge anything for auto square off on intraday trades.
Here you can get high exposure and best leverage facilities in multiple segments in the market.
Low brokerage plan available.
You can open an online Demat account within just a few minutes easily.
Initially, the company promises to present a good presentation of it. But as soon you open an account under them, you will realize that all the so-called benefits they promised earlier were fake. Their support system is awful the support system is not ready to help you out at all.
FAQ on Astha Trade
Is Astha good to trade?
Yes, Astha is not good but better than any other random broker company for trade. Generally, traders and investors open accounts in Astha for their huge margin facility intraday and delivery. There you can get up to 40x margin in the equity segment also.
How can I trade in Astha trade?
They have their trading software by which you can trade in Astha. They provide both mobile and web-based software to their clients. Besides this, if you want to avail of their call and trade facility, you can diel their trading department number and they will place your trade on behalf of you.
How to open an account in Astha trade?
To open a Demat account under Astha trade, you just need to visit their account opening page. The link is given here. And after that, you will get a call from their relationship manager or you can proceed by yourself. And after all your documents submission and verification process, your account will be opened within the next 24 hours.
New SEBI Rules
The new SEBI policy has introduced certain new rules that were not previously in place. The new rule will take effect in December 2020. For enhanced risk management, there is now peak margin regulation in place. Traders must pay 25% of the total trading value in the intraday position until February 28, 2021.For intraday positions, a trader must pay a 50 percent advance margin from March 1 to May 31, 2021. For every trade in the intraday position, 75 percent upfront margin will be required from June to September quarter, and 100 percent upfront margin will be required from September 2021 forward.As a result, unless a trader is well-equipped, any tiny trader in the intraday section will experience margin concerns. So, let's have a look at which brokers offer the best options selling margins.
Details of Astha Trade Margin and Brokerage Review 2021
Firstly, I will disclose their margin facilities. Magin means borrowing money from the brokers at the interest rate. That means you can trade more with low capital. It is listed in multiple stock exchanges like NSE, BSE, MCX, NCD-EX, etc.
Astha Trade Margin
As the new SEBI rules have emplemented that is why the Astha trader is no longer provided their high margin facility anymore. Still I am giving you a list of their margin in the following,
The following are the margin exposure levels for various segments:
| | |
| --- | --- |
| Segment | Margin |
| HIGH LEVERAGE PLAN | |
| Equity Intraday | 5X |
| Equity Delivery | 3.4X |
| F&O Futures | 40X |
| F&O Options | 20X |
| MCX | 20X |
| LOW LEVERAGE PLAN | |
| Equity Intraday | 20X |
| Equity Delivery | 5X |
| F&O Futures | 35X |
| F&O Options | 10X |
| MCX | 10X |
Now, see the above table. There are two plans in the Astha trade margin and brokerage. One was a low leverage plan and the other one was the high leverage plan. For obvious reasons, if you choose the low leverage plan, you will get less margin facility to compare to the high leverage plan. In the high brokerage plan, the equity intraday margin is almost double that of the low leverage plan and that is 40x. The equity delivery margin is the same for both. In the derivative trading and commodity segment also the margin is much higher in the high leverage plan.
Astha Trade Brokerage
the Astha trade offers the lowest brokerage plan for different trading segments.
Service
Brokerage
Equity Intraday
0.01%
Equity Delivery
0.1%
Equity Futures
0.01% of Turnover
Equity Options
Rs.10 – Buy; Rs.30 – Sell (for index option, Rs.10 for Buy and Rs.15 for Sell)
Currency Futures
0.01% of Turnover
Currency Options
Rs.15 per lot
Commodity
0.01% for MCX Intraday
0.01% for MCX Carry Forward
Astha charge is only Rs.500 for opening an account. The charge applies to the segments of equity, F&O, and also on the commodity accounts. So, there is no charge imposed on the annual maintenance of trading accounts. Demat account charge is Rs.300 per year. However, the per-year fee is charged as the annual maintenance charge. Apart from this, there are also STT, Govt charges, transaction charges, stamp duty.
How to Open Account in the Astha?
To open a paperless account in Astha, you need to keep some documents with you, like:
PAN NO
AADHAAR CARD
CANCELED CHEQUE (FOR OFFLINE)
INCOME PROOF (FOR DERIVATIVE)
Open online account in Astha is quite easy and less time-consuming.
CLICK HERE to open an account.
Then put your email address and phone number.
Confirm the OTP (One time password)
Select segments such as equity & FnO or commodity or select both of them.
Make payment with your Debit or credit or through internet banking.
Upload required documents like income proof, in-person-verification, or IPV and signature.
If you will face any confusion you can avail of their customer service. In case, if you choose the call-back option, then a relationship manager, who is assigned to you, will call you and guide you with the KYC process.
And, once Astha receives these documents and continues to processes your application, you will get a call from their sales team for verification purposes. After all your details are verified, your account will be opened within 24 hours.
What are the Trading Platforms of Astha?
Astha offers new and advanced technology for their customers. They have trading platforms for windows, android, ios. Their trading platforms are ODIN Diet, IWIN App, NSE Now, NSE mobile, Web-based software.
ODIN Diet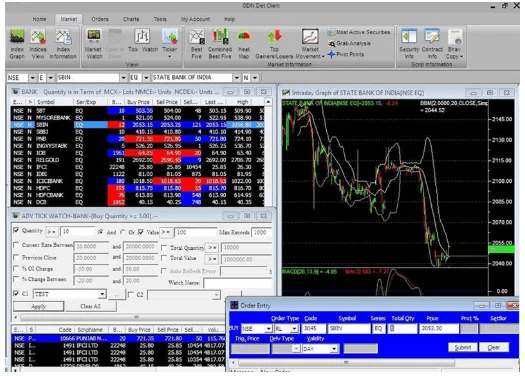 The ODIN diet can be downloaded in both laptops and desktop. It is an easily downloadable software program. ODIN Diet gives real-time information from different indices on the stock exchanges. You can place an unlimited number of scrips here on your watch list. Moreover, the terminal can be easily coordinated with mutual fund investments and IPO purchases. You can also customize the terminal interface there to a certain degree.
IWIN App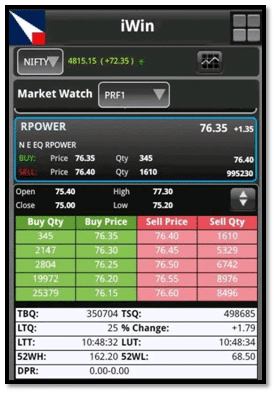 If you do not want to use any trading app on your desktop or laptop but you want it on your mobile, the option is also available here. By using the IWIN app, you can get all the trading facilities on your mobile. With the IWIN app, you can easily place an unlimited number of securities on your watch list just like ODIN. Also, you can get multiple advanced technical tools on the app. Orders for trading securities can also be easily placed through the app.
Web-based software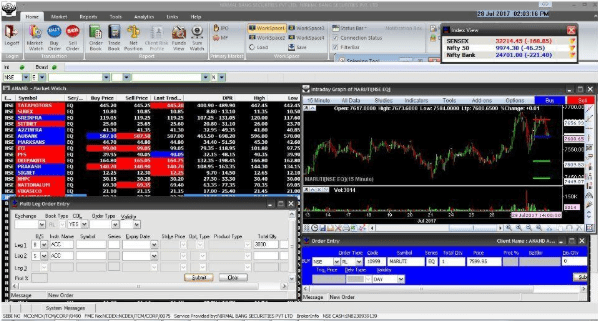 To access the web-based trading platform, you only need a web browser. You just simply open the link of the trading app and enter the login credentials. And the trading app launches itself from the browser.
If you are an Astha Trade user, you will automatically get a license for the web trading platform. So, there is no need to download or install anything here. You can set the language as per your requirement.
NSE Now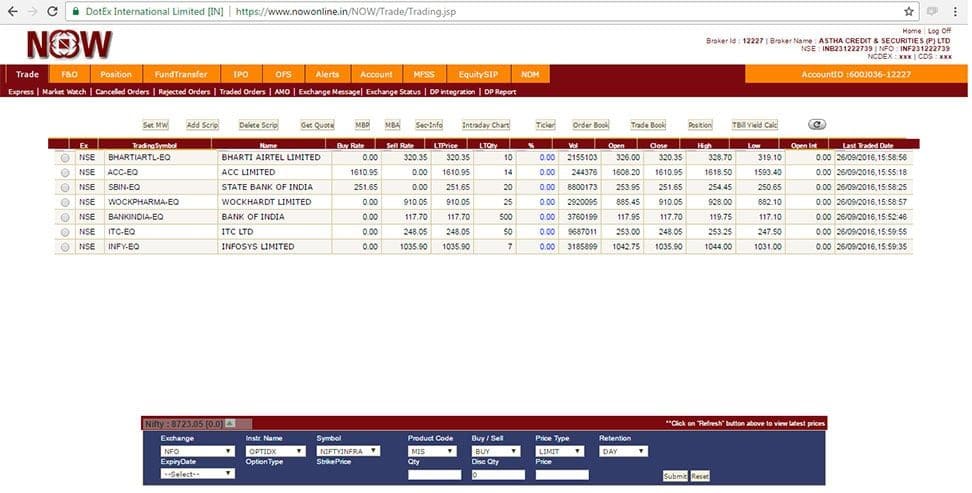 Another product of the Astha is te NSE now. They have tied up with NSE to offer its users the NSE Now platform. Basically, it works similarly like the other web-based platform offered by Astha broker. You need to open the link and fill up the login credentials the app will launch itself.
Here, you can enjoy great features such as smart order routing, historical, intra-day, and real-time advanced charting tools for trading and technical analysis. Moreover, it has also a robust risk-management setup. It makes your entire trading experience safe and secure.
NSE mobile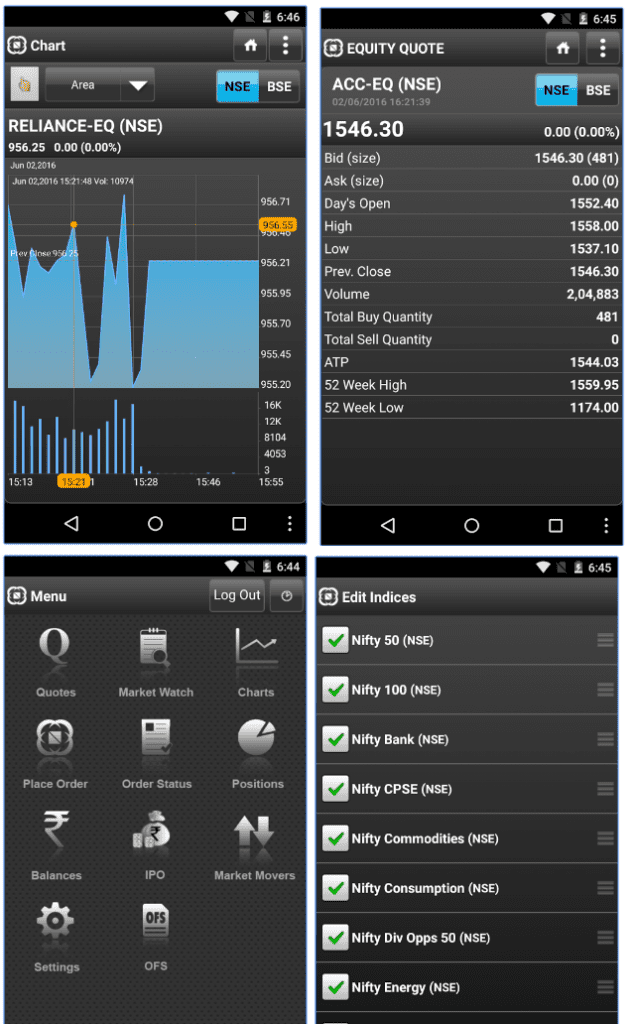 NSE Mobile is easily compatible with Android, iOS, Windows, and Blackberry also. The particular Mobile app has a very smooth user interface. It also shows company news as well as real-time market data. Furthermore, traders and technical analysts may access various multiple charts and charting features too.
Conclusion
There are so many other better broker houses other than Astha traders in the market. So as a newbei you should look forword to thoes company. Because after the implementation of new SEBI rule Astha trader's support has cracked. They have lost their credibility. As their whole service evolve around the high margine factor. But now as the new SEBI rule come to act that is why their whole service system has crashed.