You may find basic information on the Price to Earnings (PE) ratio from our former blog post. Here, we come with the Nifty PE Ratio Chart page for some purpose. If you are related to equity investment, you must know the importance of the analysis of the Nifty PE ratio chart. From this page, you will get live and historical updates on Nifty PE. Here, besides observing the chart, I will also discuss the importance of the Nifty PE Ratio. Before step into the Nifty PE, let's see what the PE ratio is.
What is Price to Earnings (PE) Ratio?
The price to earnings ratio or PE Ratio is the measurement of the share price that is relative to the annual net income, earned by the firm per share. The ratio shows the current investor demand for a company share. A high PE ratio generally means increased demand. This is because of investors predict earnings growth in the future. Moreover, the PE ratio has units of years. This can be interpreted as the number of earnings years to pay back the purchase price.
Nifty and its PE Ratio Chart
The chart above plots Nifty PE Ratio with the underlying index. So the reader can understand how in an extreme condition of price to earnings ratio, the index is likely to show a correction and it recovers after a fall in the price to earnings ratio chart.
Nifty's P/E Ratio with its Standard Deviations Chart
This chart above plots the Nifty PE Ratio along with its 5-year moving average. It also plots 2 standard deviations. One is 1 standard deviation above and below the moving average and the other is a 2 standard deviation above and below the moving average. Anytime the PE ratio crossing the 2 standard deviation lines on either side can indicate that a reversal in the price is also inevitable. PE line crossing the bottom 2SD line indicates an oversold market and the PE crossing the top 2SD line indicates an overbought market.
Nifty P/B and Dividend Yield Chart
This chart plots the price to book value ratio of the index along with its dividend yield. The chart is self-explanatory.
Nifty P/B with its Standard Deviations Chart
Nifty price to book value ratio chart with its 5-year moving average and 1SD and 2SD lines above and below once again gives an idea of whether the market is oversold or overbought. P/B ratio line crossing below the 2SD line below is oversold and it crossing the 2SD line above is highly overbought.
Nifty Dividend Yield with its Standard Deviations Chart
This chart is inversely proportional to the price. This plots Nifty's dividend yield with its moving average and standard deviations. A low dividend yield indicates the market is overbought and a high dividend yield indicates the market is oversold.
What is the Nifty PE Ratio?
So, the Nifty PE ratio measures the average Price to Earnings ratio of the Nifty 50 companies. And it is covered by the Nifty Index. You can also call the PE ratio as "price multiple" or "earnings multiple".
Generally, if P/E is 15, it considers Nifty is 15 times its earnings.
And Nifty is in the oversold zone when Nifty PE value is at or below its 2 standard deviation line.
It's taken as an overbought range when Nifty PE is near or above its 2 standard deviation line.
You can assume that the market tends to bounces back from the oversold region as wise investors start buying stocks looking to snatch up bargains. Reversely, they do the exact opposite doings once Nifty P/E is in the overbought region.
Some Important Factors of PE
Moreover, you must remember some important points that there is not any particular set rule you can apply. You must keep yourself updated that what is going on in the world. For instance, if the global economy is in trouble or there is a global health crisis, then the corporate earnings can be worse than expected. And this lowers investor expectations to many extents, and share prices will go down.
Even you see the market seems fairly valued at a P/E ratio below it's 2SD level, once bad times come, it causes the market returns to continue on a downward. Hence the P/E ratio may go much lower.
On the other side, during the time of booming economies, corporate earnings can continue to go upward. And share prices can increase for many years continuously. A P/E ratio much above the top 2SD line, does not always mean the market is overpriced or overbought.
Can You Catch the Markets at Extreme PE?
Ideally, if we analyze and see historical data of Nifty PE, it makes sense to buy more when valuations are low. Isn't it? Buy Low. Of course, that is the whole idea of investing. But in real life, it is not that as simple as analyzing. It is so much difficult to catch markets on their extremes high and low levels. It's like a pendulum – it keeps oscillating continuously between overbought and oversold levels.
So at which point should you wait to invest? It is still so much difficult to wait for extremely low PE markets. And extremely low PEs are extremely rare. Still based on our prolonged analysis, we are able to sort out some of the best levels of Nifty PE Ratio. Here are the details:
Important Levels of Nifty PE Ratio and Investment Suggestions
When the Nifty PE is below its bottom 2SD line, you can consider this as oversold. And the range of 12 to 10 is historically extremely oversold or undervalued level.
At these oversold zones, you can buy shares at discount prices. You can also invest in equity-based mutual funds. Besides this, index funds can also be a good investment at these levels.
Oppositely, when Nifty PE is above its top 2SD line, it is overbought. And range above 30 is extremely overbought or overvalued level.
At this zone, you should sell all your equity-based investments and hold this capital for the undervalued level of Nifty. During this time, you should not do any further investment.
Real Live Examples from Nifty PE Ratio Chart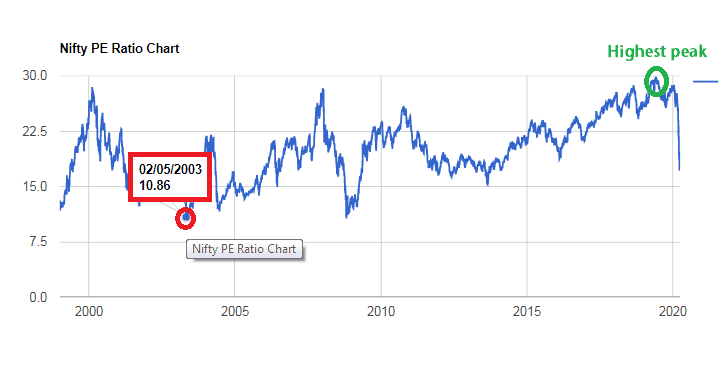 Now, have a look at the above Nifty PE Ratio Chart. There as you can see Nifty PE touched the oversold levels in the year 2001, 2003, 2004, 2008. Among them, 2003 had the lowest PE. And you can see each time Nifty bounced back and rallied fast. Reversely, 2000, 2008, 2010, 2019 overbought levels were there. Among them, 2019 had the highest PE. And from these zones, the market dropped drastically. So from these examples, we could be sure that the market maintains a cycle. And investors who are able to recognize the market at or near these levels can be beneficial from it.
Conclusion
Obviously, no one can predict the exact top or bottom of the market perfectly. But in comparison to the current price, EPS (Earnings per share), PE ratio live and the historical data can be helpful in the analysis process. During this investment journey, those who enter the stock market at the lower PE levels in the right instruments; can have a pretty good return over the long term horizon. Here from Nifty PE ratio historical and live data charts, you can easily track the levels.
So in brief, at overvalued levels, wise investors start booking their profits. And at undervalued levels, the investors may start the accumulation process.