There are two types of trading. One if offline and another is online. As we know offline trading is the old method of trading when you call your broker and informs him that you want to buy a few shares of a particular company. The broker buys the share for you and once the process is done the share is transferred to your Demat account. But in this article, I will discuss the basics of online trading in India.
Before we discuss the basics of online trading in India, it is necessary to know, what exactly is online trading? Kiran trades by calling her broker. So, she is doing offline trading. But Raghu trades on his own. Raghu has downloaded software on his computer that is given by his broker and he can himself buy or sell shares using that software. So Raghu is trading online. This is same as we buy items from an online shopping platform like Amazon. We open their website or mobile app and place our order and the item gets delivered after a few days.
Same happens in online trading. Once Raghu opens the trading terminal given by his broker, he can see the prices of the shares. He can buy or sell there. If he buys a share, it will be delivered to his Demat account after 2 days and if he sells shares that will be taken out of his Demat account after 2 days. Nowadays, we can buy almost everything online, we can buy a TV or a mobile phone, similarly, we can also buy shares online. You need not approach anyone for this.
How difficult is online trading?
Trading online is not at all difficult.
If a person has basic computer knowledge, he can trade online.
If he can use his phone and can use simple apps like facebook, WhatsApp etc, he can trade online even on phone.
Apart from stocks, a trader can trade bonds, mutual funds, commodities or currencies online. Whenever a trader opens a Demat account his broker provides him with a software. The software can be of different type depending on the broker. As Zerodha has Zerodha Kite and Zerodha Pi, Angel Broking has Speed Pro, RKSV has Upstox Pro, Sharekhan has Trade Tiger or they also have their Share Mobile app, etc.
Basics Of Online Trading In India – How To Start?
First, you need to open a Demat account with a broker. We suggest Zerodha, India's leading discount stockbroker. To open an account with Zerodha, CLICK HERE.
Once the account is opened you can transfer funds to your account.
The broker will give you a trading terminal or software, you can start trading once your account is active and the fund is placed.
As we know Raghu trades with Zerodha. He himself can place his buy or sell orders. If he places a buy order the order window is generally blue or green. He can specify the number of shares he wants to buy and the buy price there.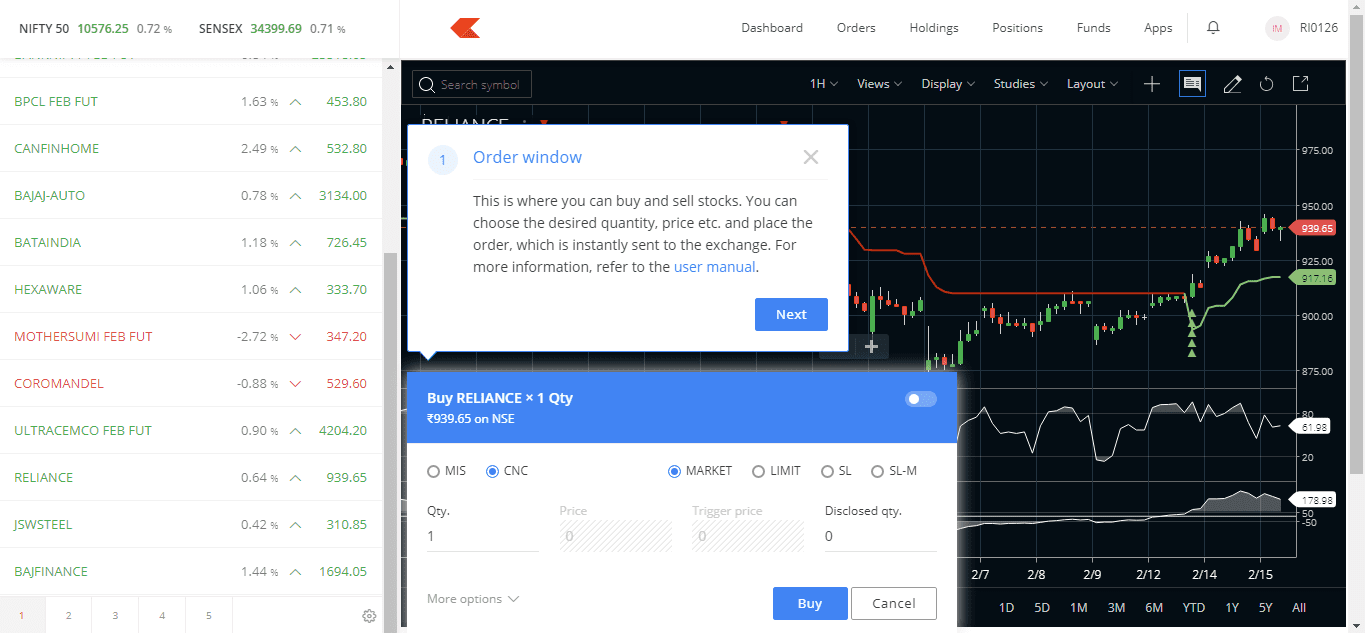 On the other hand, if Raghu places a sell order the order window is either red or orange-colored. He can again specify the number of shares and the selling price there. Check the sell order window in Reliance Industries stock here.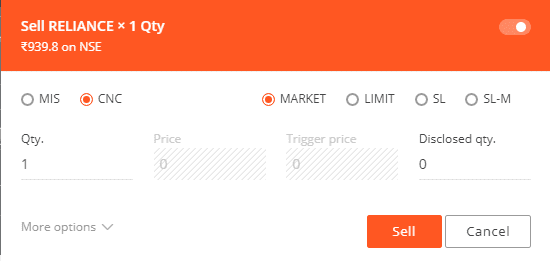 The trading terminal also shows the market depth at once. This denotes how many buyers or sellers are bidding for a particular scrip. Mostly all trading terminals will provide the market depth information. It will show the best 5 bids and offers, that means how many buyers and bidding for stock and how many sellers are asking to sell their holding. The best or top 5 of bids and asks will be shown in market depth.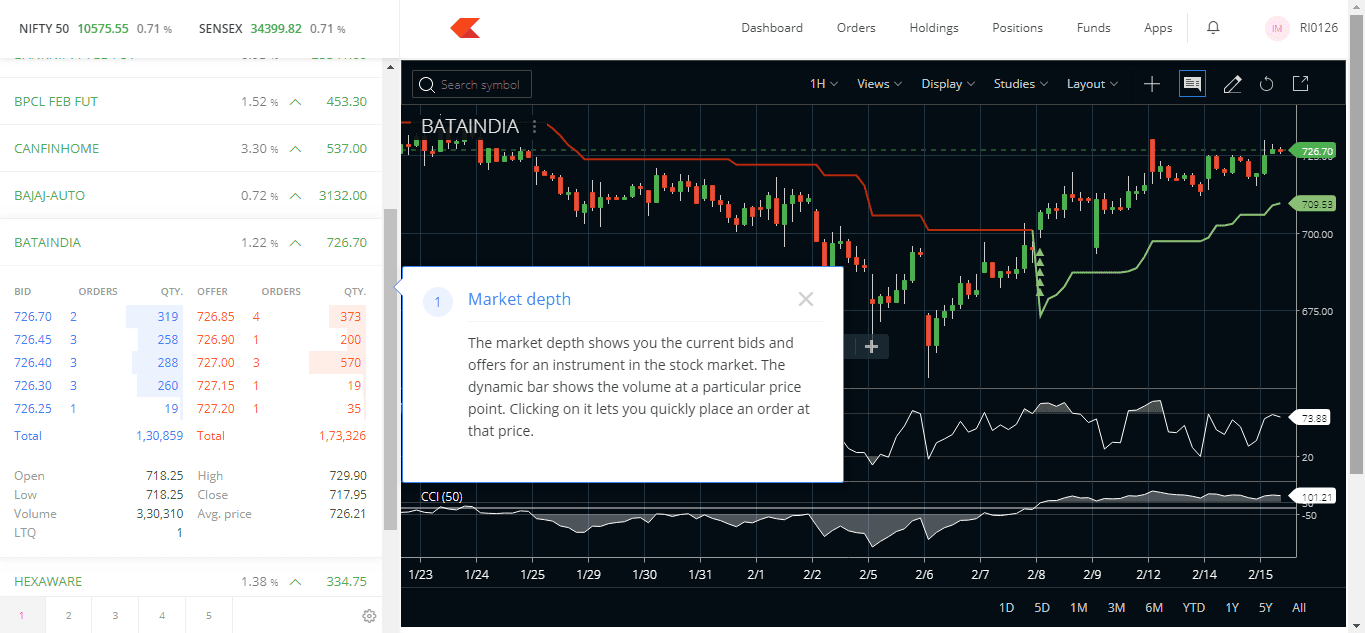 The online trading platforms also show the order book, where the executed or pending orders will be shown. From order book, a trader can modify or delete pending orders. There is also another section called trade book where one can see only the executed trades, and he can square off or exit open trades. So we have already discussed the basics of online trading in India. Now we will check the advantages and disadvantages of online trading.
Advantages Of Online Trading:
Online trading can be carried out from anywhere in the world.
No need to involve the broker, who can try to manipulate the client's trading for his own benefit.
Can be done from a computer or mobile.
You can do it while you are traveling or even when you are in your office.
A nice home-based business can be started with this without the need of much capital or a big infrastructure.
Disadvantages Of Online Trading:
Online trading depends on internet connectivity, so if anytime connectivity is not stable the trading can be in problem.
Trading online can be hampered by technical glitches in the stock exchanges or in the broker's end.
Conclusion:
Trading online has taken over the old way of offline trading by miles. The trading volume has increased a lot by traders participating from anywhere in the world from their PC or mobile. NRI participation and office goers participation has also increased with the advancement in the technological front. So, now you know the basics of online trading in India. In the coming days, I will discuss more details on online trades. Till then if you have any queries on online trades, you can ask me in the comments section below this post.