Zerodha Vs Sharekhan, I receive this question many times. In fact, Sharekhan is a broker who is there for more than a decade. Even I have my account in Sharekhan since 2003. In fact, it is Sharekhan who has brought the technology to the traders of India. Remember the good old days of Trade Tiger when it was the only technologically advanced platform.
Zerodha Vs Sharekhan Common FAQ
Which is better Zerodha vs Sharekhan?
The first and foremost difference is Zerodha is a discount brokerage firm while Sharekhan is a full-time broker. Hence, Zerodha brokerage is Max Rs 20 per trade while the brokerage of Sharekhan is between 0.1 to 0.5%.  Zerodha is having an overall higher rating in comparison to Sharekhan.
Which is the best stock broker in India?
As per the overall ratings, Zerodha comes before compared to Sharekhan. The rating is given below:
Sharekhan 4/5
Zerodha 4.5/5
Zerodha Vs Sharekhan – Whom Should You Choose?
Now Zerodha has taken over Sharekhan in 2 ways. Number one is a brokerage.
Here,
You can save a lot in brokerage switching to Zerodha from Sharekhan. And number two is technology.
Zerodha's back-office Q/Quant is definitely the best reporting platform among all Indian brokers.
Tax ready P&L statements, very simple to understand reports In Quant, one can easily analyze his / her own trading history and find out in the area in which his / her best of odds of winning exists.
One can also check Zerodha Brokerage Calculator that can tell you his expected profit or loss in advance.
PI is the Zerodha-house trading platform which is definitely much advanced than the Sharekhan trade tiger. There is intraday continuous data for up to 1 year, even more than amibroker, etc where a trader has to pay and get only 3-6 months of intraday data. Traders can trade directly from the charts, backtest, and can also write their own strategies and perform semi-automatic trading.
Initiatives by Zerodha
Newbies can also check Varsity and Tradingqna in Zerodha site. Option writers must check Zerodha SPAN calculator. Zerodha is the only one in India who have a tool that lets a trader calculate margin even before taking a trade. For intraday traders Bracket orders and Trailing Stoploss is an added advantage. Now, we will look forward to the comparison of Zerodha and Sharekhan in mobile platforms.
Zerodha Vs Sharekhan in Mobile Platform
In the mobile platform, Zerodha's Kite app is was ahead of Sharekhan's Share Mobile. While Share Mobile only offers you basic charts, Zerodha's Kite clearly shows advanced charts with even buy sell signals and all major indicators. Hence we recommend Zerodha over Sharekhan.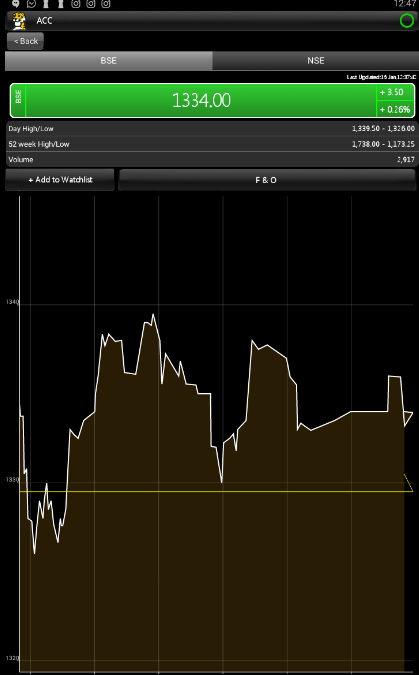 Check the image above for the ShareMobile chart of Sharekhan. Only some basic line charts are available which makes it impossible to analyze professionally. Now take a look at the Zerodha Kite android app chart below where we can clearly see Zerodha mobile charting is way ahead of Sharekhan.
We can assist you in opening a trading account in Zerodha. If you are interested please click here to open an account in Zerodha. You can visit this post to know: How To Open Account In ZERODHA Within 3 Days?