India's 2nd largest discount broker 5paisa is a Mumbai based company. In late 2016, 5paisa was re-launched with a new brokerage model for online retail broking services. The company is a part of IIFL (India Infoline). Previously, we've written multiple contents on 5paisa and this topic also no exception. Sometimes, if customers get confused about anything, they should know where they can get help. This content serves 5Paisa review, trading terminal demo and all. First, start with the basic info of 5paisa.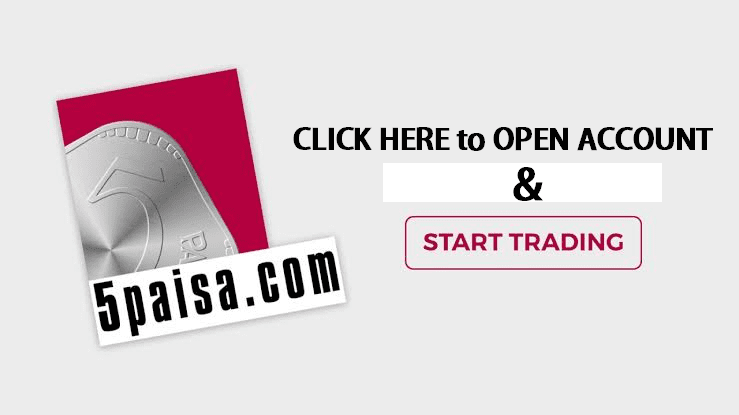 5Paisa Review FAQ
How do I trade with 5paisa?
First, log in to 5paisa, then click on the menu. After that, go to the trade option, then add funds. Finally, you are ready to go for trading. In the account, there are buy-sell options available.
Is 5paisa good for trading?
5paisa is India's 2nd largest discount brokers who provide multiple services, trading terminals and lots more. There are customers of 5paisa all over India. The terminal is quite easy to use. Their customer services are so helpful and easy to reach.
What is square off in 5paisa?
The term square off is mainly used in day trading. In intraday trading, traders buy or sell assets and later in the day reverses the transaction. The closing of those orders before the closing of the market hour on the same day refers to as squaring off.
Who is the owner of 5paisa?
5Paisa, the popular broker derives its growth from mobile-savvy millennials and small towns. This is said by the chairman, Nirmal Jain, founder, and chairman, IIFL Group. IIFL had invested Rs 100 crore in the company 5Paisa, a digital platform for all financial products. It includes equities, derivatives, mutual funds, AIFs, bonds & debentures, insurance, and personal loans.
5Paisa Review of Trading Terminal
5paisa has an online trading website of 5paisa brokers. The web browser-based trading platform is compatible with Chrome, Firefox and Safari browsers. Users can use their personal computers to access the website and trade. It offers a wide range of features such as:
Access in both NSE and BSE and trade across equity, derivatives, and also currency.
There is a market watchlist to monitor scrips.
Also Comprehensive portfolio tracker available.
It's advanced charting tools for an in-depth scrip view.
Detailed scrip data, it includes market depth and Option chain.
Order slicing option for better prices
Bracket Orders (BO) and Cover Orders (CO) present.
Consolidated view of traders' positions and holdings across instruments
Ease Fund Transfer facility
Access to multiple reports, PL and lots more.
5Paisa Review with Trade Station Demonstration
So this is the first part of the 5Paisa Review. Once users log in to the application, the dashboard gets displayed to the user. In the dashboard, the following information is listed:
Indices brief information
Default watchlist along with the details of bid quantity offer rate, rate, open-high-low price, etc.
You can get buy-sell options directly from the dashboard.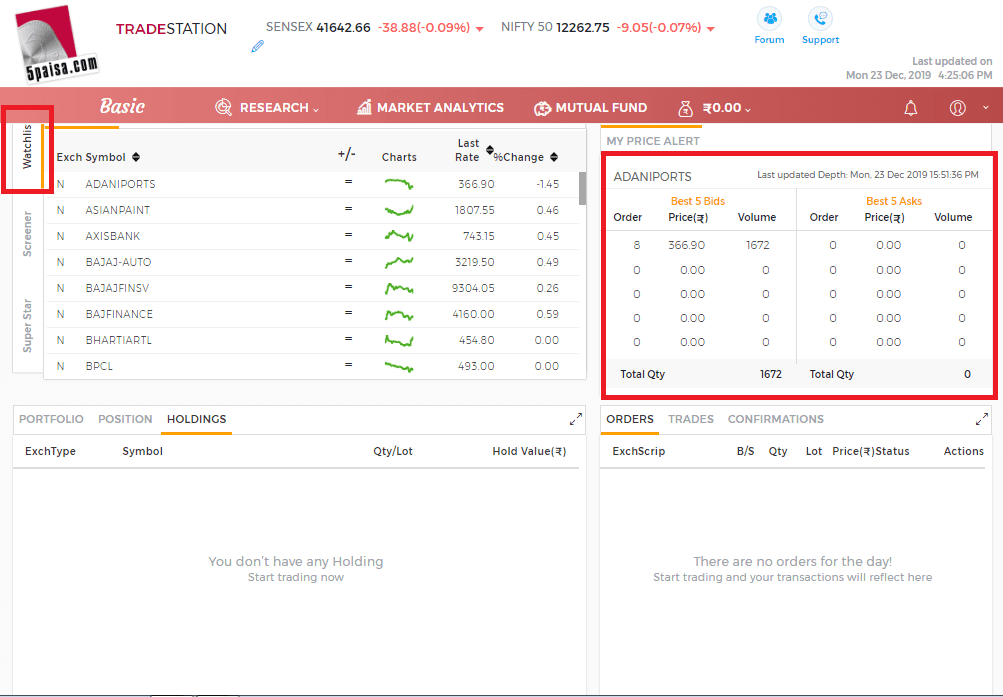 Under the superstar option, one can get a certain special stock list.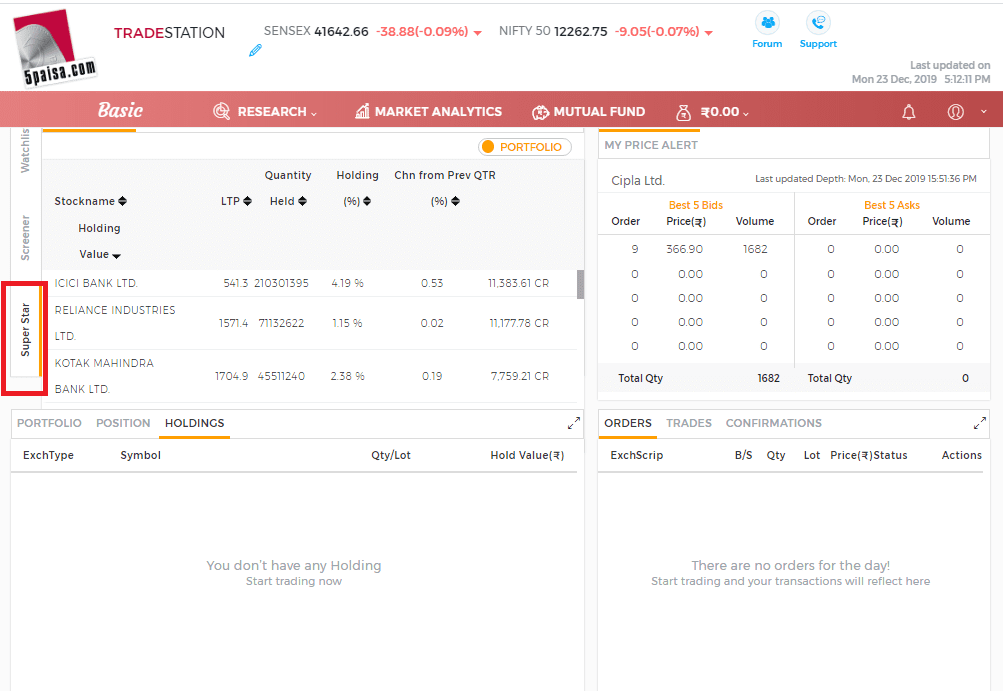 Top 5 bids and offer price is available with each and every script on the watchlist.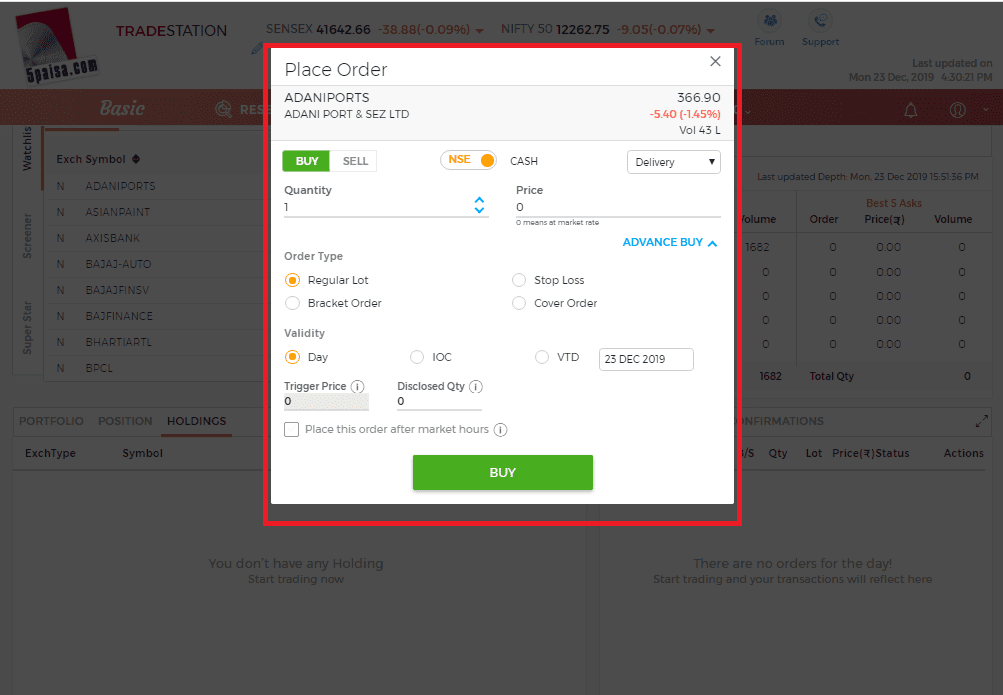 Multiple types of orders are also available there.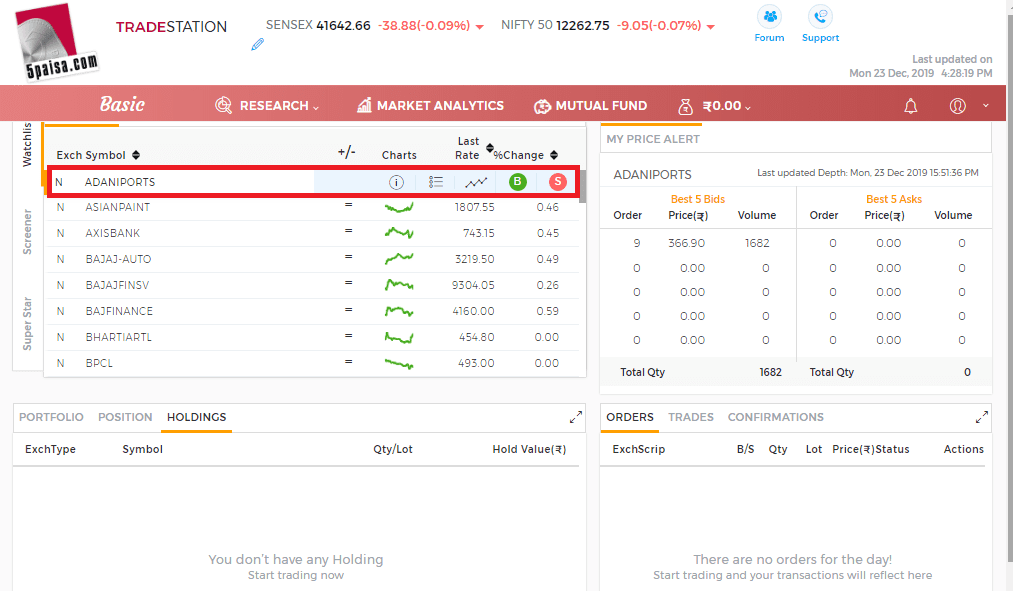 For technical and fundamental analysis, users can get access to charting tools as well as historical data.
Here, apart from the stock trading, there are also SIP, mutual fund investments.
Apart from the above features, there is an additional provision to buy and sell mutual funds directly from the listed entities.
The fund transfer process is quite easy and accessible. Here, you can add a fund or withdraw it seperately from equity and mutual fund account.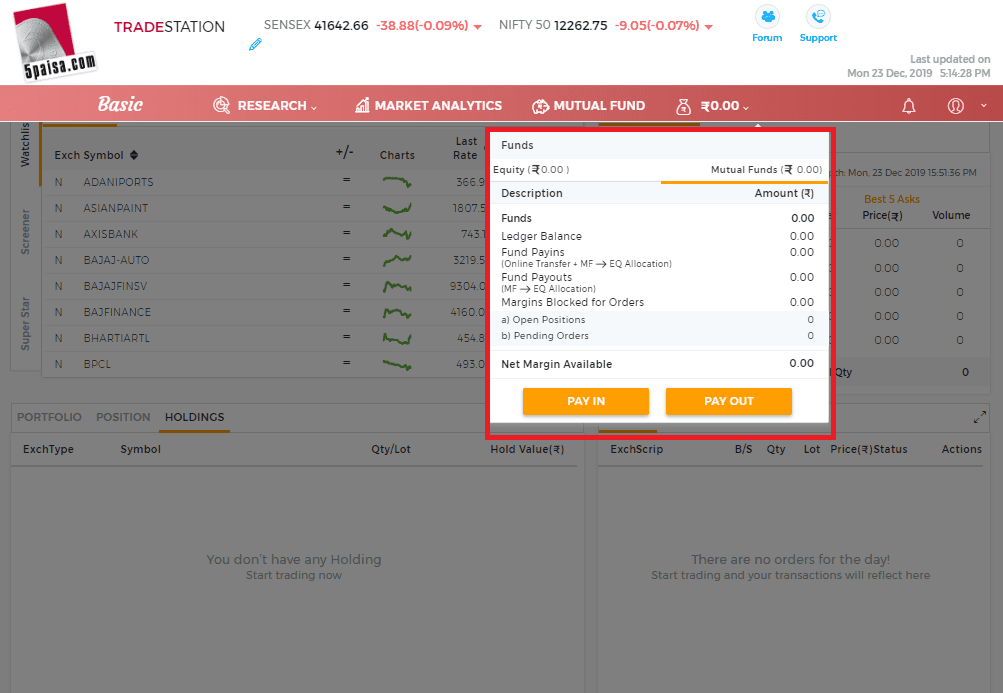 Brief Key Features of 5Paisa Review
The second portion of the 5Paisa review is key features. If you choose the basic options, the 5Paisa subscription plan will come. Basically, there are three types of plans, basic, gold and platinum.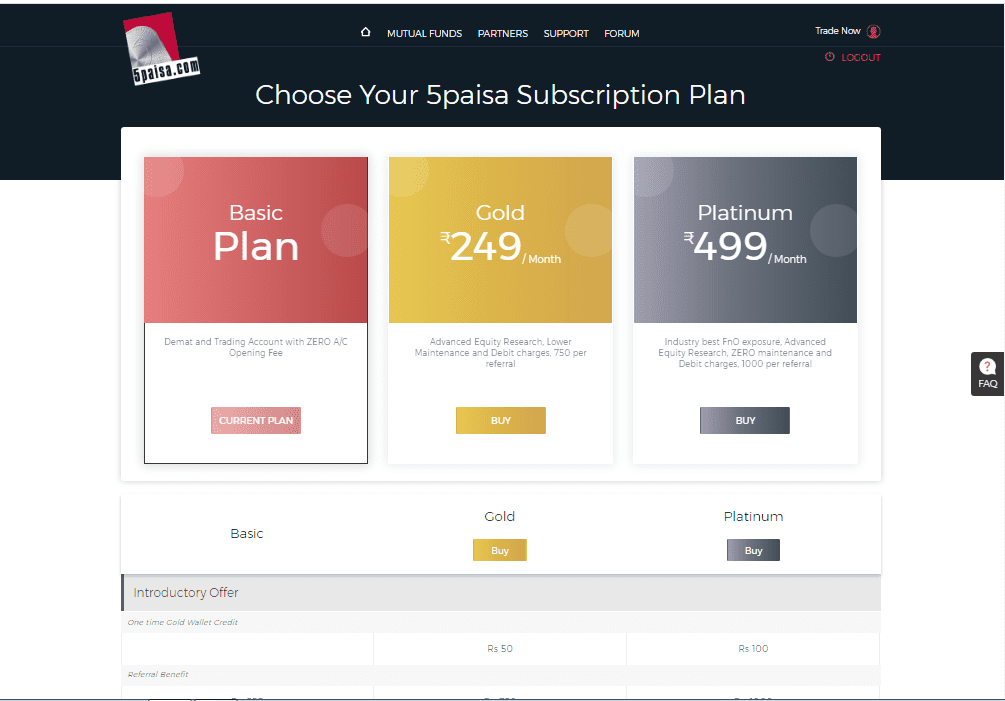 Next is the research option. There you will get many investment segments like smallcase, sensibull, smart investors, swing traders.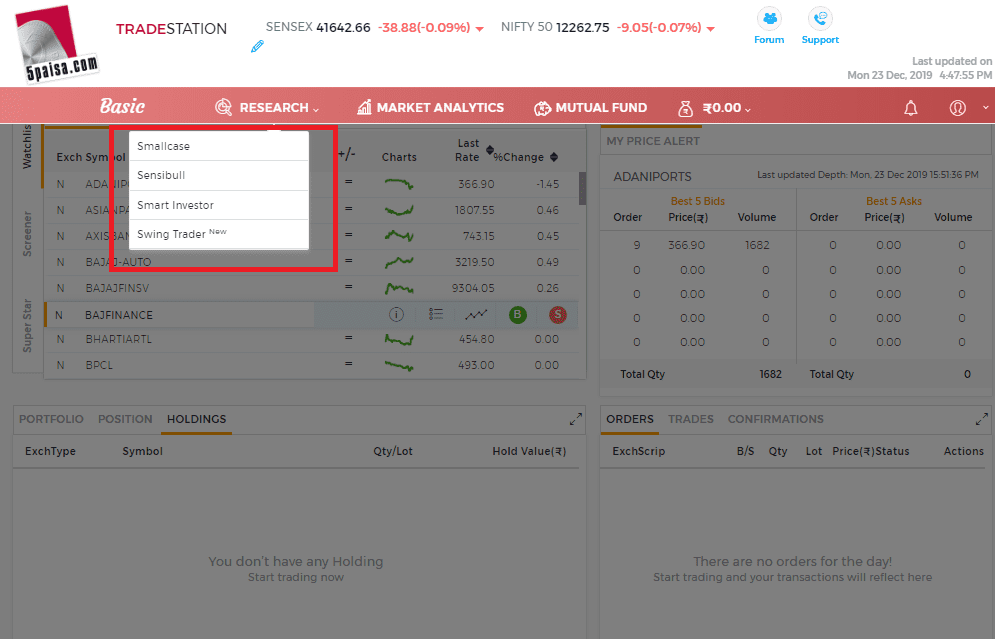 Under the section of the smart investor, there is a model portfolio, actionable buy, recent addition, recent removal, buy watchlist, sell watchlist. Though these are payable or subscription basis, still there are some free of cost analytical tools.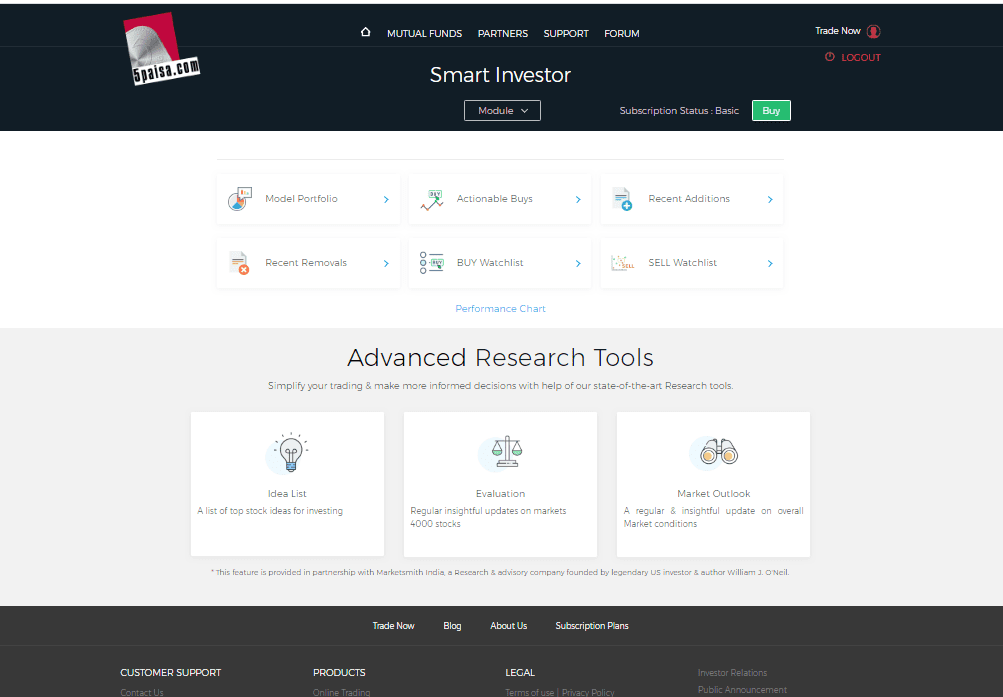 Among their free of cost analytical features, market smith is important. Here, you can search for any of your favorite scripts and can see its fundamental and technical data. Just go to a smart investor and click on any of their features, you will find a search option on the left corner of the window.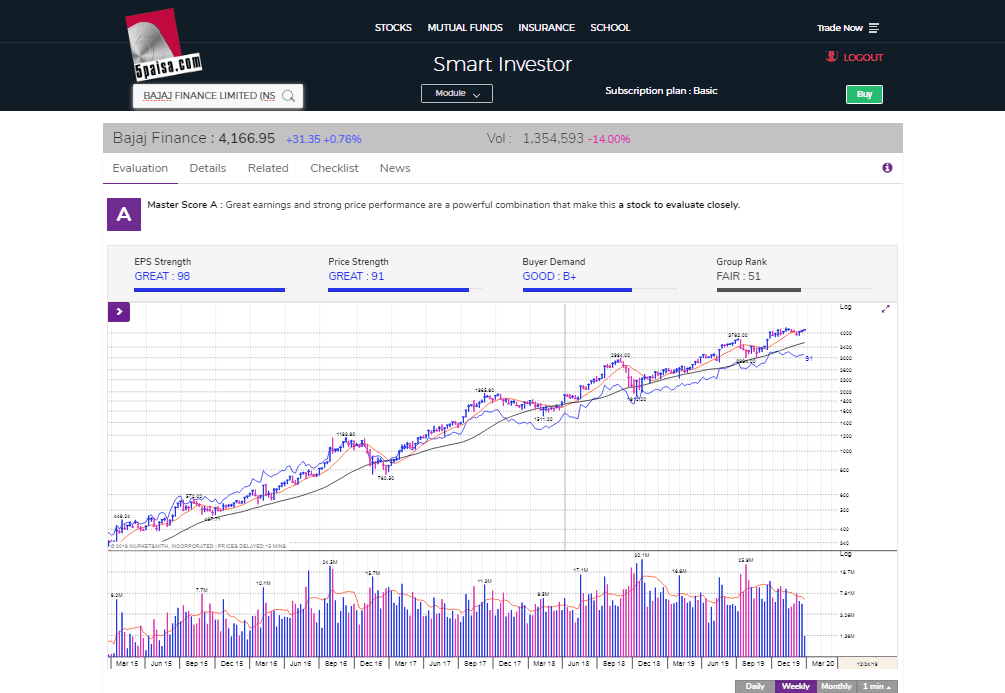 In the market analytics, there you find all the listed stocks names, indices, derivatives under one roof. Market analysis free tools are available like gainers & losers, 52 weeks high-low, volume toppers, and upper-lower circuit.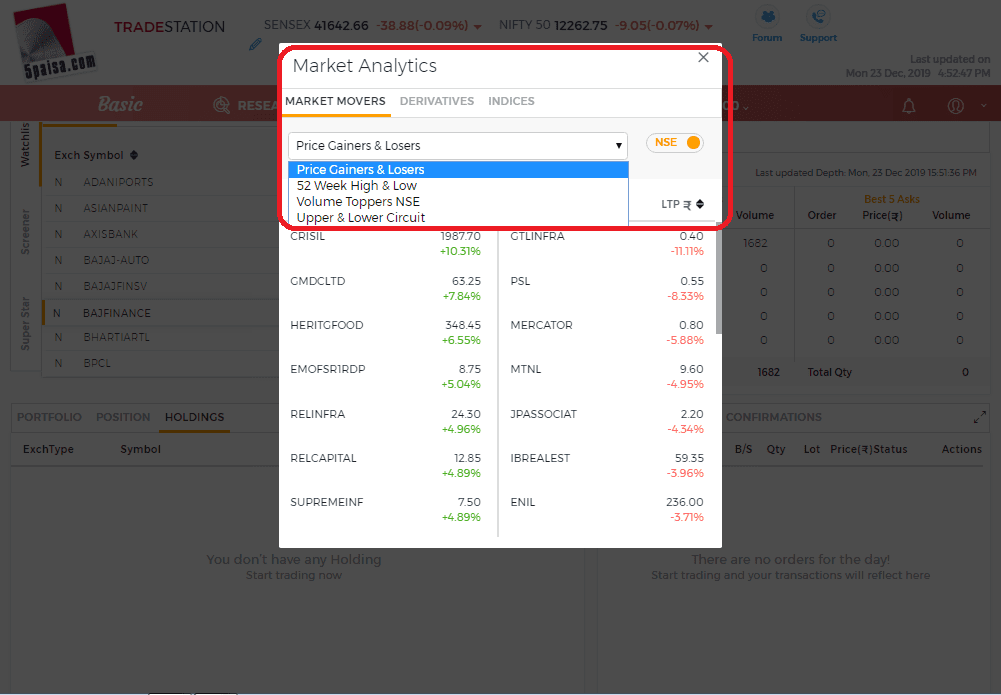 This is the mutual fund section, there you get 5Paisa categorized baskets. For example, high risk, moderate risk basket, low-risk debt fund, moderate risk-balanced fund, SIP, direct schemes, etc.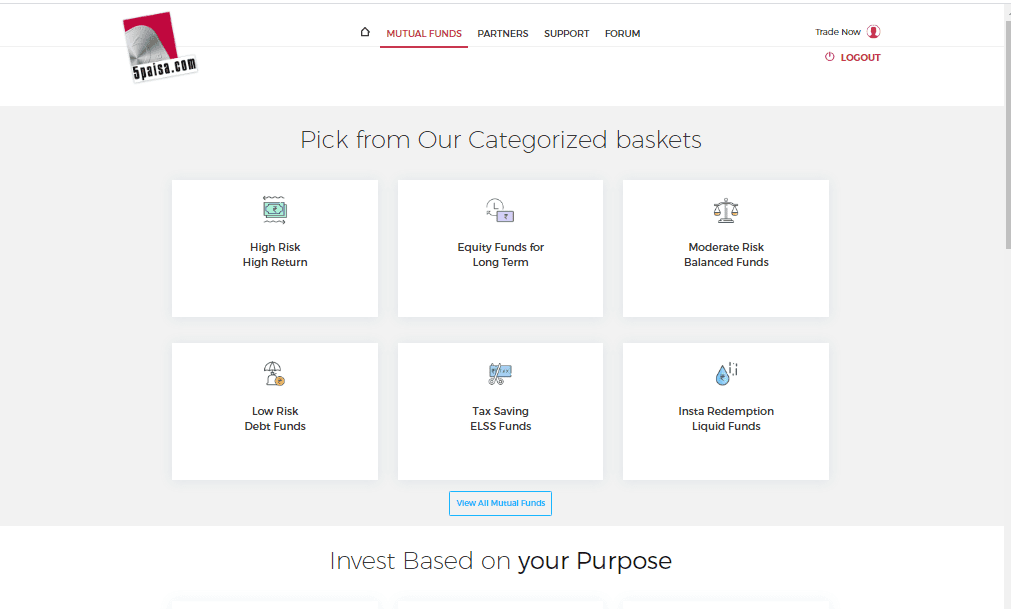 Basic Information on 5paisa
Popular Services of 5Paisa
Online Trading – In online trading, there are trade-in Equity, Equity F&O, Currencies, and Commodities at NSE, BSE, and MCX.
Mutual Funds – Clients can invest in a wide range of Mutual Funds, ETFs and Bonds.
Insurances – Online insurance facility is also available here.
Personal Loans
5paisa's Trading Platforms
Basically, the 5paisa Trading Platform is built on IIFL's trading platform. Over the last 2 decades, This is being used by many customers. The trading platform of 5paisa is available on multiple platforms like the mobile app, browser (web) and installable desktop trading application.
Mobile trading
5paisa mobile trading app offers to trade at all BSE/NSE and Robo Advisory too. Customer can even download this free app either from Google App Store or the Apple App Store. The simple easy to use the app can be used to buy stocks, trade-in stock and currency derivatives, invest in mutual funds, ETF's and bonds, etc.
Browser-Based Trading
5paisa has a powerful trading website too. This can be accessed from any of your available web browser on a computer, laptop, mobile devices or tablets. The website (that is 5paisa Trader Station) offers almost all trading and investment options under one domain. The web-based trading platform is well-connected with payment gateway and banks for instant fund transfers.
Desktop Trading
5paisa installable trading terminal is mainly designed for frequent traders those who need advanced trading tools. The desktop application offers real-time data, advanced charts for intraday as well as historic stock prices. Variety of keyboard shortcuts are also available to monitor the market (on a real-time basis).
5paisa Brokerage Charges 2019
Account Opening Fees & Annual maintenance charges (AMC)
| | |
| --- | --- |
| Trading Account Opening Charges ( for One Time) | ₹650 |
| Trading Annual maintenance charges or AMC | ₹0 |
| Demat Account Opening Charges (for One Time) | ₹0 |
| Demat Account Annual Maintenance Charges or AMC | ₹400 |
| Segment | Brokerage Fee |
| --- | --- |
| Equity Intra-day charge | ₹10 per trade |
| Equity Delivery charge | ₹10 per trade |
| Equity Futures charge | ₹10 per trade |
| Equity Options charge | ₹10 per trade |
| Commodity Futures charge | ₹10 per trade |
| Commodity Options charge | ₹10 per trade |
| Currency Futures charge | ₹10 per trade |
| Currency Options charge | ₹10 per trade |
5Paisa Customer Care Account Opening Number
Those who are still not the 5paisa customer, a shortcut direct method to contact customer service is given below. Just click here and you will be a part of our 5paisa and Stockmaniacs family.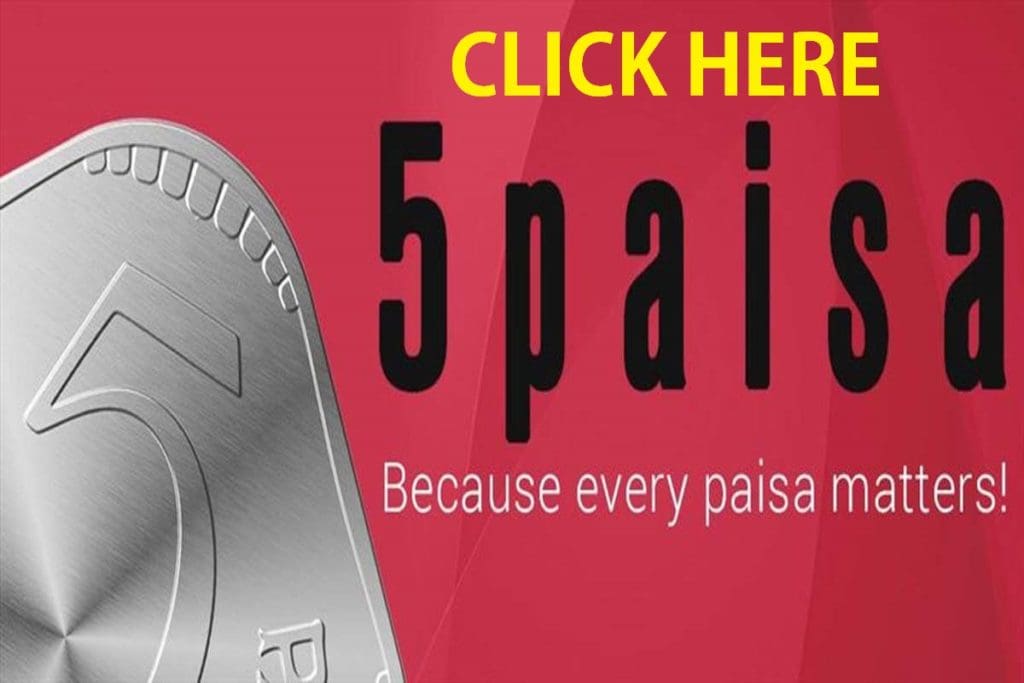 Where you get 5Paisa Customer Care for Support?
If you are already a customer of 5Paisa and want support from them. You may contact their customer care through the official number. The number is +91 89766 89766.
What are the Main Reasons to Contact 5Paisa Customer Care?
If you are not a customer of 5Paisa. You should know the reasons to contact 5Paisa Customer care. You should know their services in details. That's why I present some of the most important services and facilities of them below. Apart from this, you can get our (StockManics) benefits too along with 5Paisa official facilities. To know more about it, go through the points below.
5paisa's 2-in-1 account Demat plus trading account gives its customer both options to invest and trade in the stock market and in the mutual funds. The broker is mainly popular for its high service standard. You only avail the facilities if you have accounts under 5paisa.
Contacting 5Paisa Customer Care for Account Opening.
In 5paisa, there are two account opening processes are available, online and offline. If your Aadhaar number is mapped to correct mobile number, you may open an account through online. Otherwise, you need to go through the offline process.
In the online process, you may either open account directly from 5paisa official site or you can open an account through us (Stockmanics). In case you open an account through us you will get both 5paisa's official benefits as well as our eye-catching benefits too.
To facilitate the process, I add a link below. I suggest you contact our customer service first. The number is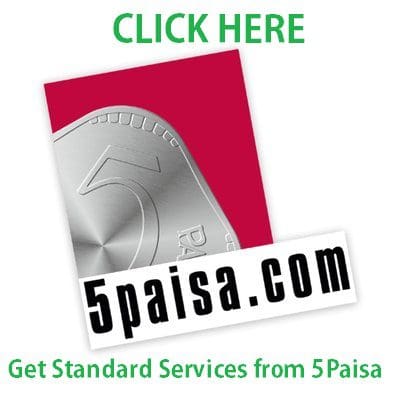 5paisa customer care
5paisa customer care is a vast and high standard service. It consists of various sides which serves their customers very well. When you enter the customer service forum through your account online, main 5 segments there, FAQ, Forum, My Area, Add Topic in Forum and submit a query. Each section serves in a unique way. The details are as follows:
FAQ
FAQ means frequently asked questions and providing a FAQ section is undoubtedly a unique idea of 5Paisa. As you can see in the picture below that under the section, customers can find out almost all their queries. To facilitate the search, they divide those questions under multiple topics. Like, account opening has 12 articles under it, trading has 4 sub-sections and altogether 22 articles. Besides this, there are topics like fund transfer, IPO, Mutual Fund, Research products, Scheme and offers, Partner program, Personal loans, Gold, etc.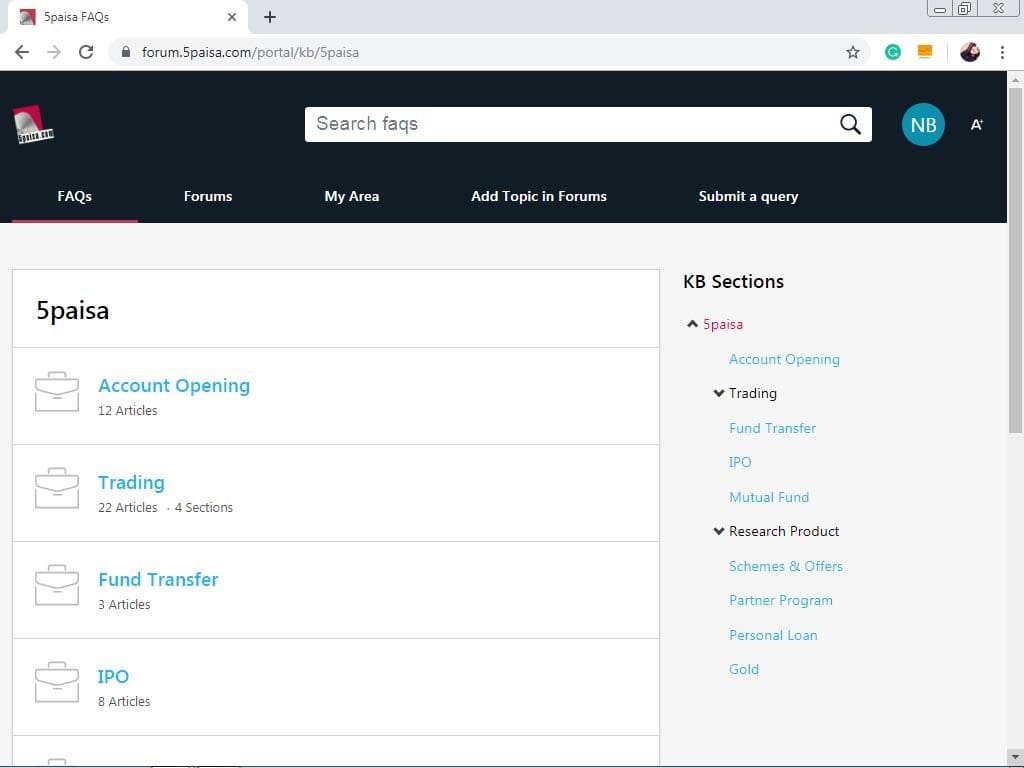 Forum
Next is the forum where you get multiple discussed topics. See the picture below, there are various categories in it. Like, 5paisa trading platform, 5paisa research products, 5paisa capital ltd, research, mutual fund, general, insurance, market, etc. On the right side, there is a shortcut way by which you go directly to announcements, sticky posts, most popular topics.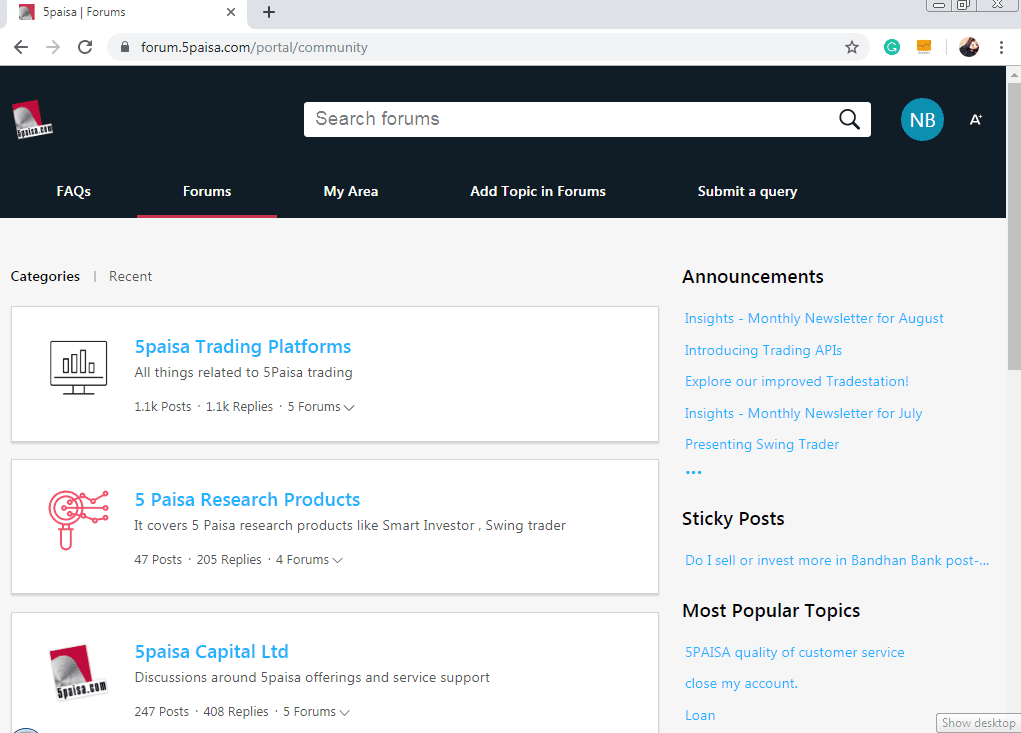 Now, let's see what those categories look like. For example, I open 5paisa research products and it comes out this. Here also, on the right side, the category description and classification are given. When you open a forum, there you get all contents, announcement, question and un-replied posts.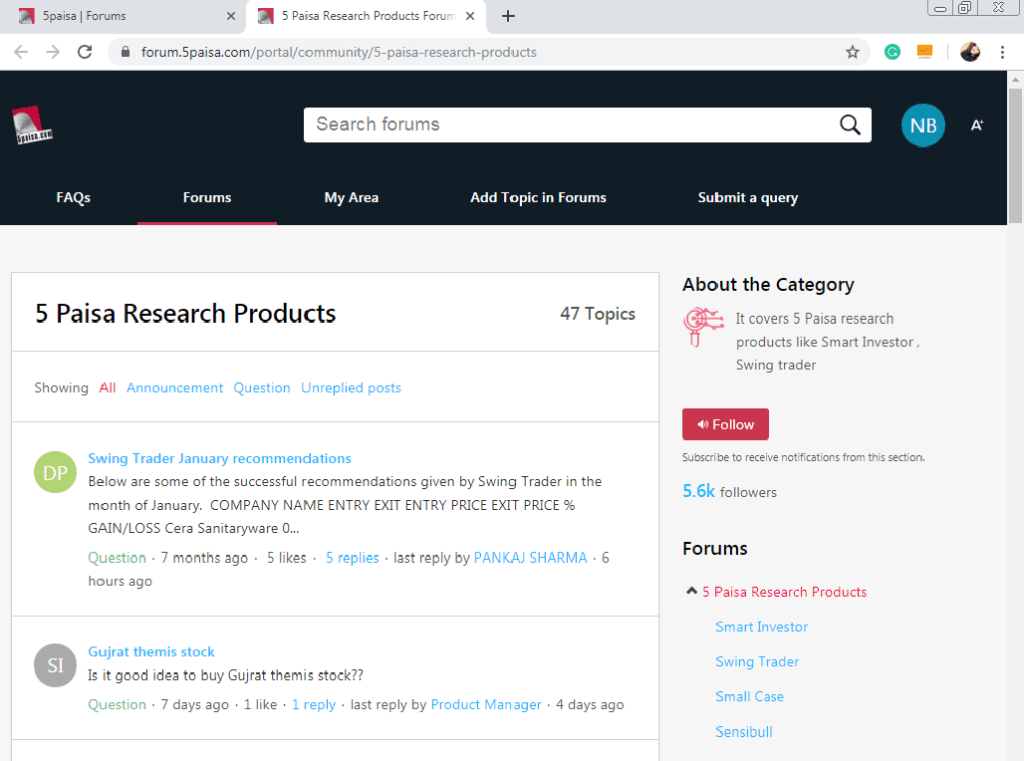 My Area
My area is such a platform where customers can ask or place their queries. Your placed queries will be sorted out in these open, close and on hold categories. As you can see that on the right side, there are departments such as support, trading patterns, research products, Mutual funds, general. insurance, markets, etc. Here, as I've not added any query yet, they are showing nothing.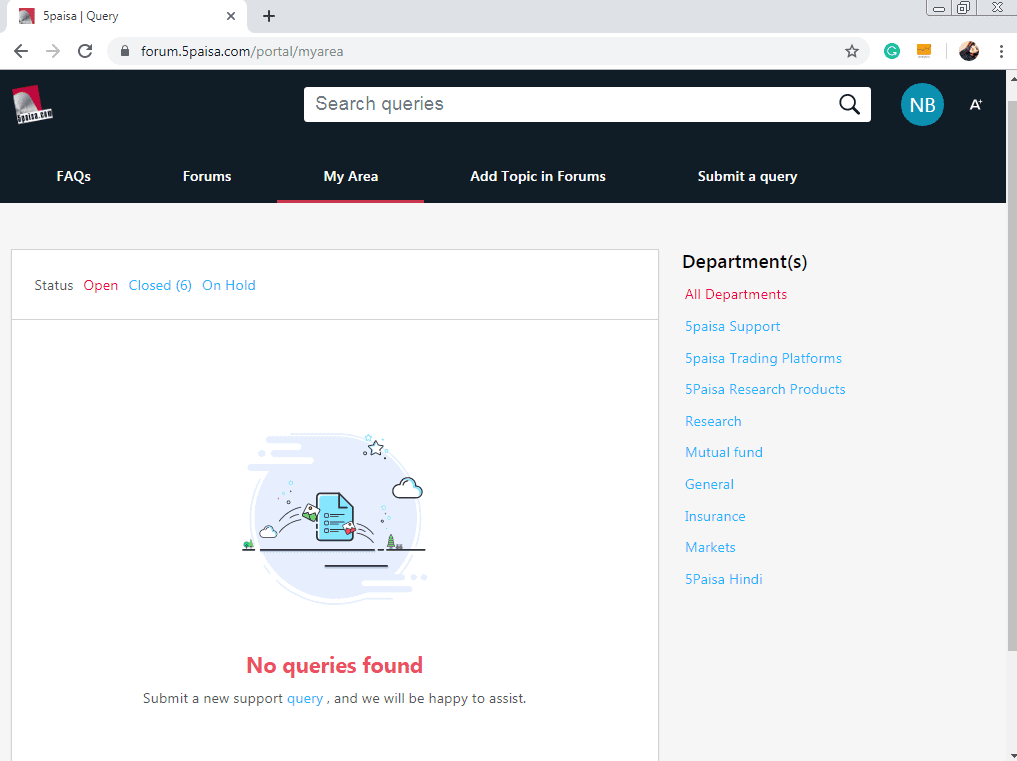 Add Topic in a Forum
If you want, you may add a topic in the forum. After opening the section, a window like this will be opened. There you will get a form like a page which contents topic title, topic type or question, description, category, a sub-category, tags, attach file options, etc. In the description portion, basic writing tools are available.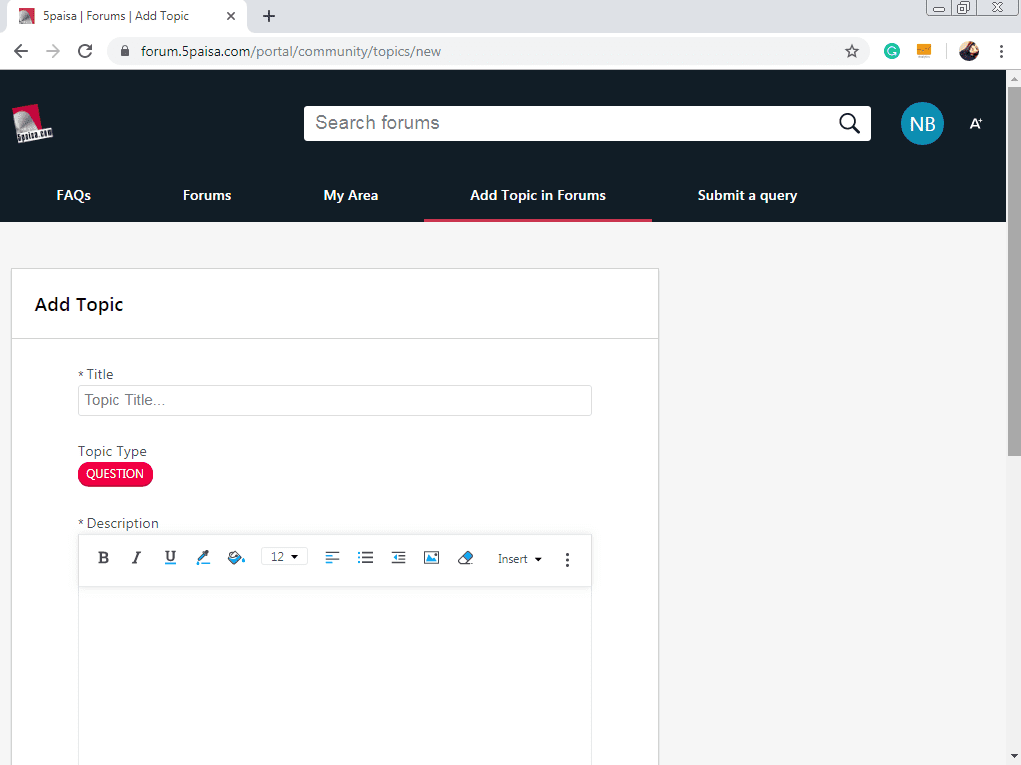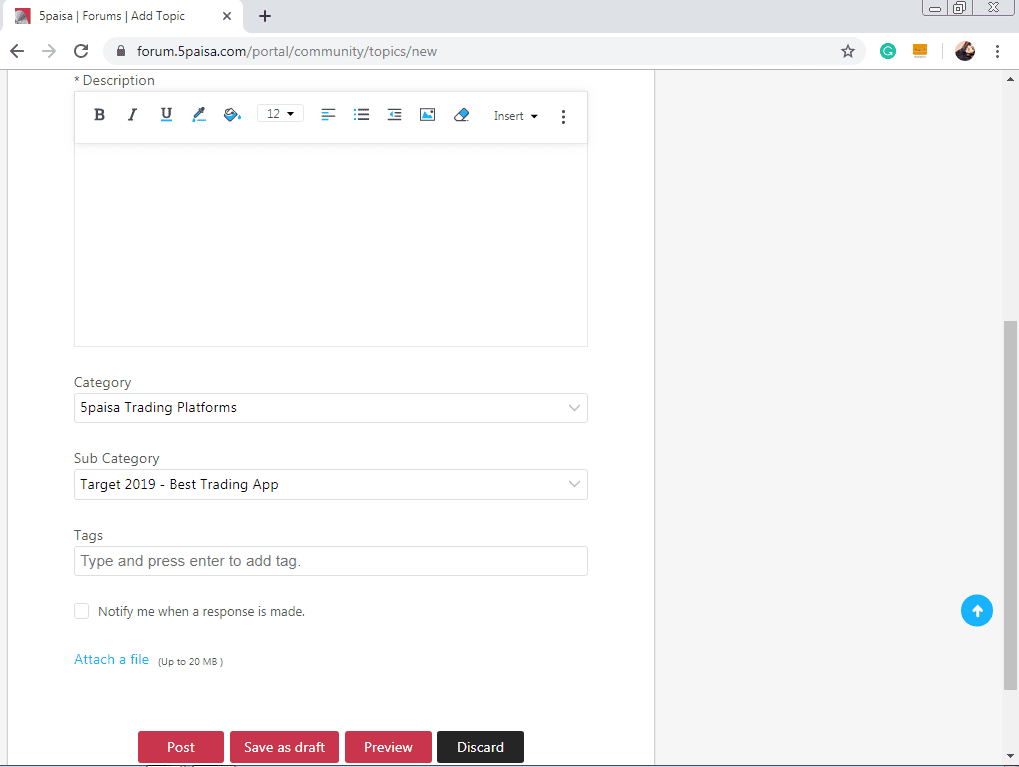 Here, as examples, the category and sub-category are given. And, if you do not want to post it instantly, there are options too for that. You may save as draft, preview it or discard it.
Submit a Query
Apart from the forum side, there are submit a query section too. The section almost looks like this. Under ticket information, you can put down your query. And, along with the query, client code is required. Apart from this, there are the category, subject, description. Popular articles are also there.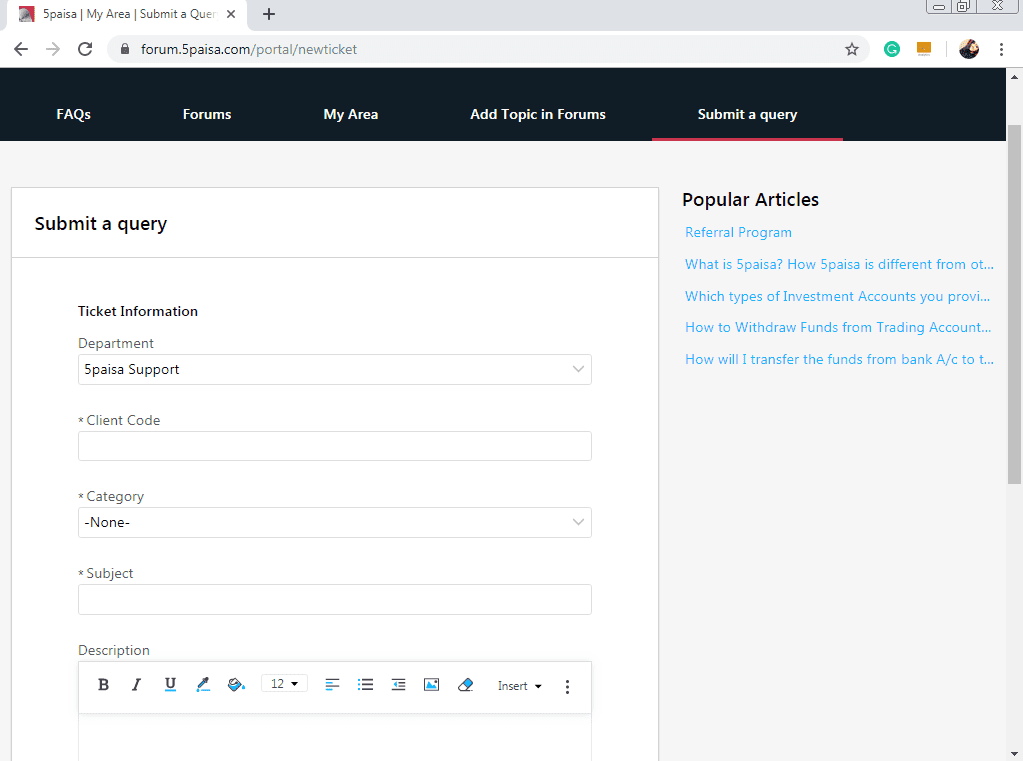 5Paisa Customer Care Number
Here, is the list of 5paisa customer care number. See the 5paisa customer care number below along with the details.
Customer Support
Mobile Nuber +91 89766 89766
Head/Corporate Office
Address- Sun Infotech Park, Road No.
16V, Plot No.B-23 Thane
Industrial Area, Wagle Estate,
Thane -Pin 400604
Grievances
Compliance Officer
Officer name Ms. Namita Godbole
Contact number+91 89766 89766
Conclusion
So, it's been proven in 5Paisa review that 5paisa excellent customer care services have lots of importance behind their such popularity. From their forum to queries submission, every service reflects their well-organized method. And, the most important thing is, you will get all the above services from then at absolutely free of cost (only if you are 5paisa customer). I seriously doubt whether any other brokers provide these kinds of standard services at free of cost. So, without making any delay, open an account with 5paisa and enjoy the benefits.