India's one of the best analytic and research platforms is StockEdge's. We are going to discuss StockEdge- Web and Mobile app, StockEdge Review, Features, and premium plan through this writing. The website primarily focuses on the equity stock market. The National Stock Exchange or NSE as well as Bombay Stock Exchange or BSE is the base of these equity stocks. StockEdge website provides end-of-the-day analysis which helps the traders and investors to make better trading decisions. As the website helps them to understand the market situation on a day-to-day basis.
Frequently asked questions about StockEdge web
What is StockEdge all about?
StockEdge is a website that provides day-to-day information about different companies' stocks. The website gives in-depth knowledge about the companies history assets and current situation. So that a trader could understand the market wisely before investing.
How many companies analysis has been provided by the website?
There are more than 5000 companies are listed on the website. Which companies' information is provided on the website.
Who is the founder of StockRdge?
Vivek Bajaj is the founder of the website.
In how many languages the website can function?
The website can function in three different languages are Bengali, Hindi, and English.
What is StockEdge web and mobile app?
StockEdge provides end-of-day statistics that means every evening you shall get the notification as well as updates about that day's stock position. The visualizations and notifications enable Indian stock market traders and investors to perform their own research and make smarter judgments. This website also encourages traders to invest in stocks for the long term. The website has 1million+ subscribers. The application is also available in the android version and also in the iOS version.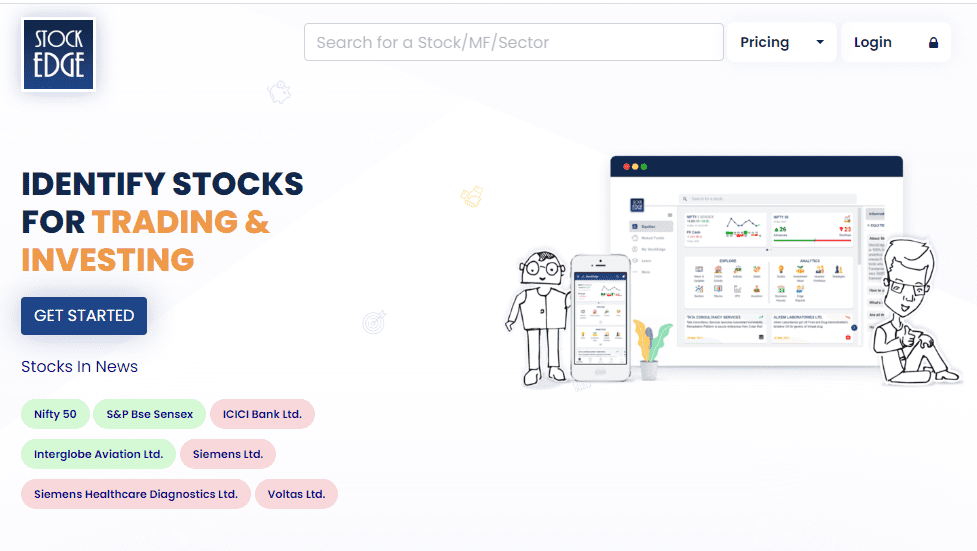 Visit the Website
Click below to visit the StockEdge website
How to open an account on StockEdge
If you want to invest in the stock market then using this website will be a good option. This website provides many options whether you invest in equities or mutual funds. If you want to open an account on the stockEdge website then you first have to click on the login then the page will open which looks something like this.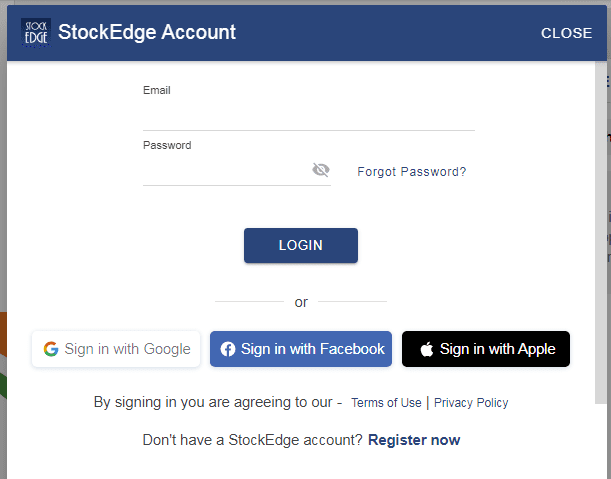 Now, you just need to put an email id and a preferable password. Your account shall be opened. Otherwise, you can also sign in with a google account, Facebook, or use your iOS account to open a StockEdge account. There is no need to put any kind of password if you are opening an account using iOS, google, or Facebook.

As you can see here your account has successfully opened. That is why Login has changed into My Profile and the logout option has also appeared.
StockEdge web's features
The website provides so many features to its customers. It does not matter if they want to do intraday trading or swing trading or investment. The features will help you in every aspect. In the following, we have discussed the features elaborately. There are five options which are Equities, Mutual funds, My StockEdge, Learn, and the More option. Each of these options provided many features under them.
1# Equities
As soon as you open the Equities option, there you will see so two parts one is i) Explore, and ii) Analytics.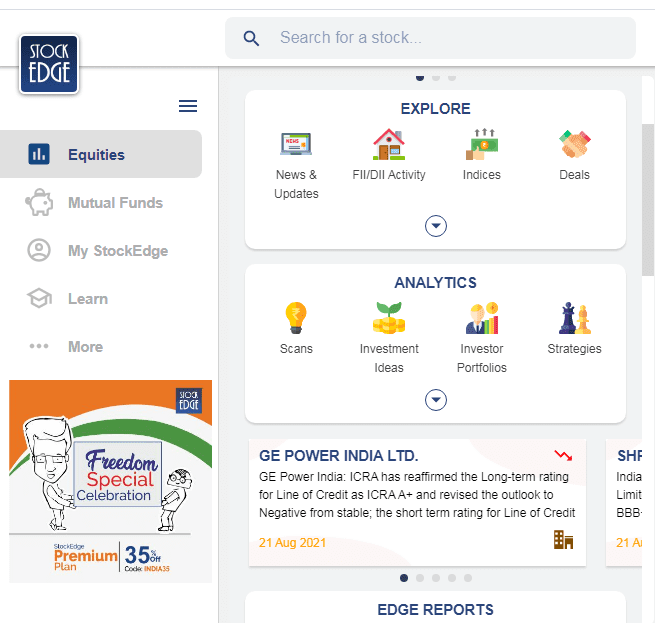 I) Explore option of Equities
In the explore section, you will see four more icons are available there. Which are i) Daily update, ii) FII/DII Activity, iii) Indices, iv) Deal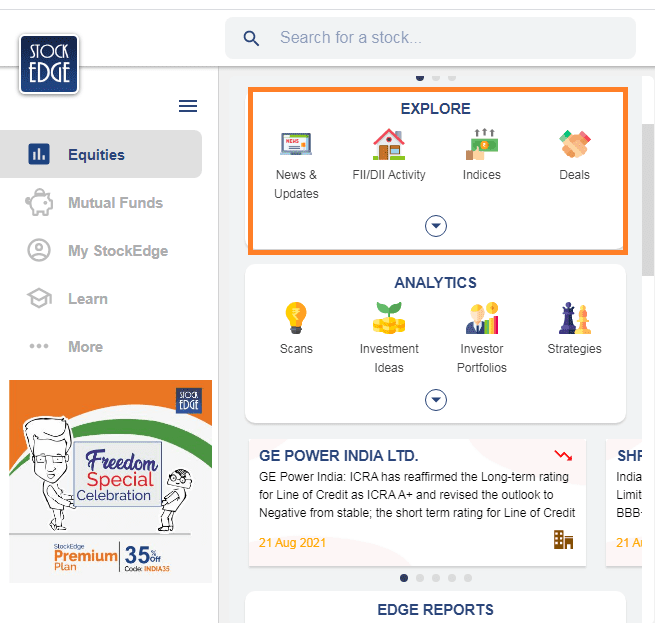 i} Daily Updates
You can check for daily updates and news just in seconds here. You will have a lot of information about FII and DII activities. The company's future actions and results are also updated. As a result, all of these facts, and much more, are at your fingertips with just one click. It also includes information on bulk, block, and insider deals, as well as the names of investors who took part in these transactions. The website updates every day at 7 p.m. The Investor part of the app also contains information on which HNI investors have purchased what in the recent past.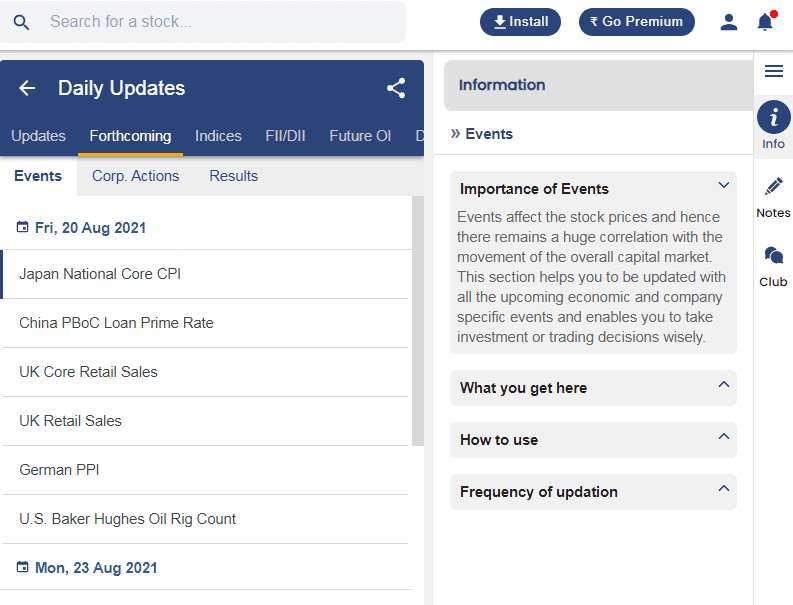 This part will always keep you updated about the company's current market situation because it always gives you updated news, forthcoming, indices, and so on.
ii} FII/DII Activity
If any foreign company, individual, or firm invests in the Indian stock market that regards as FII. They usually invest in mutual funds, hedge funds, commercial banks, etc. On the other hand, the DII is the domestic (Indian) institutional investors who invest in Indian mutual funds, pension systems, banks, etc. There are also various options under each of the activity icons to choose from.
iii} Indices
This icon helps to find out the perfectly priced stocks. It serves as a benchmark to calculate the performance of stocks that are listed in the BSE/NSE. Nifty and Sensex are the two famous indices of India. All the nifty share's current situation is clearly presented by the indices icon.
iv} Deal
If the company is making any kind of deal with the government or any foreign company which includes a big amount of dealing that comes under the deal icon.
II) Analytics of Equties
The analytics options provide four more icons. Those are i) Scans, ii) Investment idea, iii) Investor Portfolios, iv) Strategies. In which the scan icon is the most used one. That is why I am discussing the scan icon deeply in the following.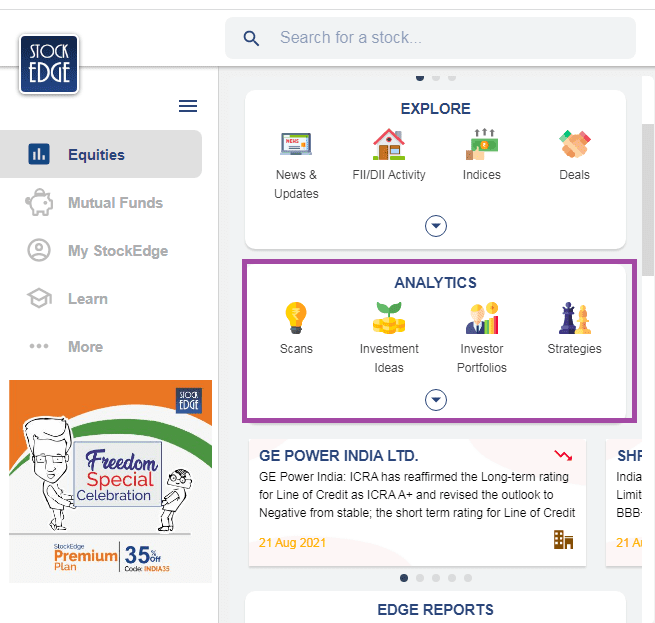 If you want a better version of the feature just subscribe for their StockEdge Premium version.
i} Scans to choose from
If you take the StockEdge pPremium plan you will get more informative calls and their premium services. There are seven scanners to choose from which you can see in the following.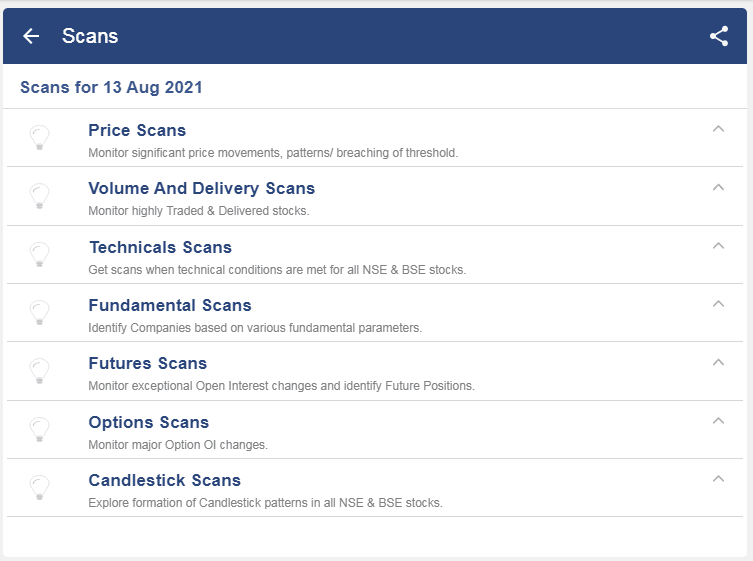 i# Price scans
As soon as you click on the price scan, you will find various options have arrived on the screen. Just like the picture, I have given below. In which you can see different market's informative data are there.
First, choose what scanner you want to use. Then click on the dropdown arrow. You will see another page has opened which will provide you the service you want from that specific option. They change this chart on a daily basis, so if you want to do a follow-up regularly there shall be no problem for you.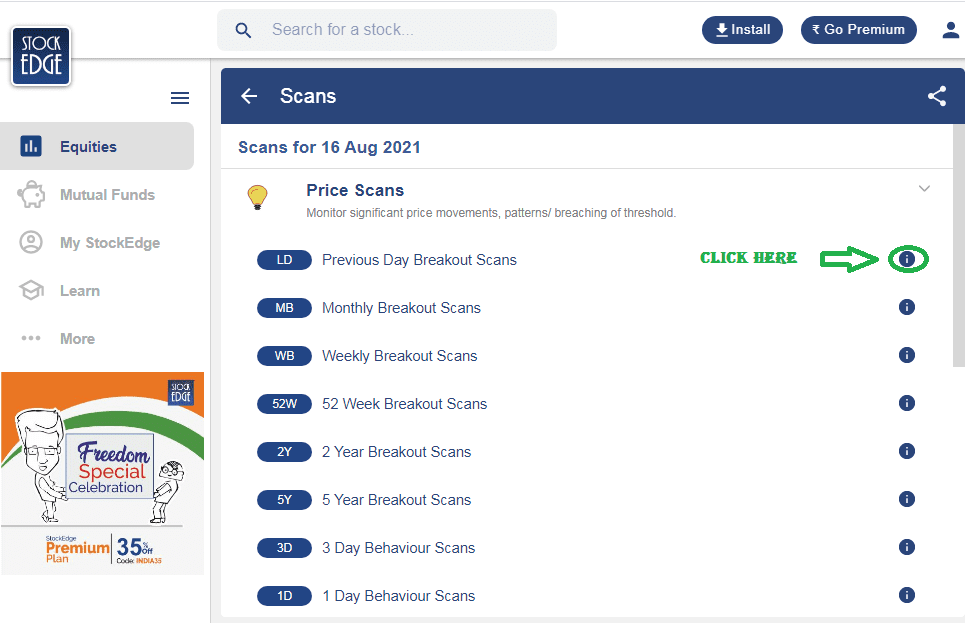 Suppose you want to use any of the price scan screeners but do not know how to use them. The website will help you to learn about that scanner and also how to use it. The i-button or info option will help you to learn that scanner easily. Click on the i-button then some questions will arrive with their answer. Now just read and learn.
ii# Volume and delivery scans
This scanner will help you find stocks that have high volume and high delivery percentages in the share market. This is an algo-generated scanner that scans all the NSE and BSE stocks and selects those stocks that give high volume and high delivery percentages. Not only the daily you can also use this scanner to filter out the stocks on a weekly and monthly basis as well.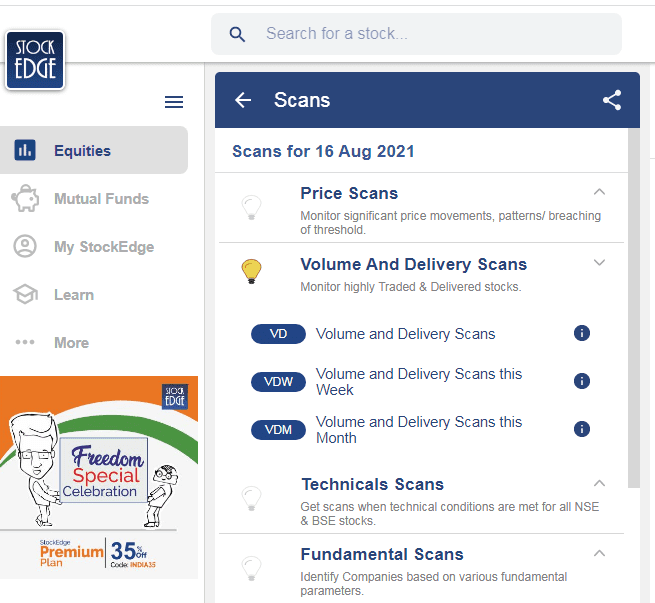 Click on the dropdown arrow and you will find the option has arrived. Now just simply click any of them according to your preferences and the best stock of daily, weekly, or monthly time period of volume and delivery scanned will be presented on the screen.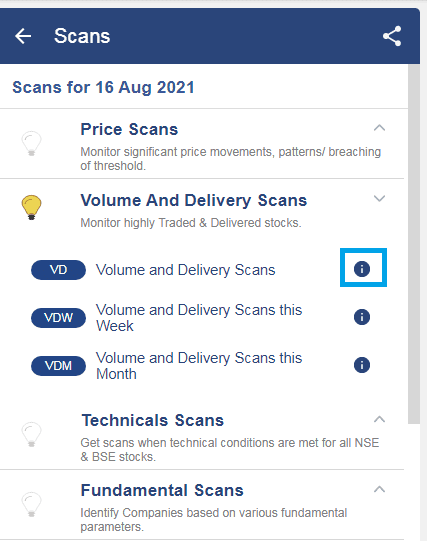 If you still have issues about understanding the function of this scanner or want to have a clear view of this scanner. Therefore, you can simply click on the i-button and gain knowledge about it.
iii# Technical scans
This section helps the traders by doing the stock analysis through technical scanners using moving averages such as SMA, EMA or CCI, RSI, MFI, etc. These scanners actually narrow down the stocks for better investment purposes.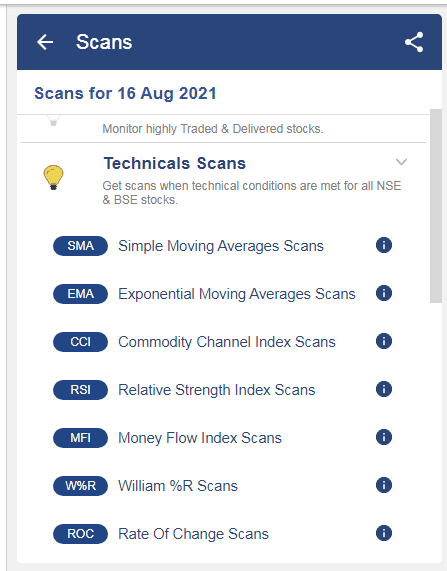 As soon as you click on the drop-down arrow the abbreviation of the scanners gets an elaboration. As you click on the SMC or simple moving average, it will show all those stocks which have recently made the moving average crossovers such as the golden cross or death cross.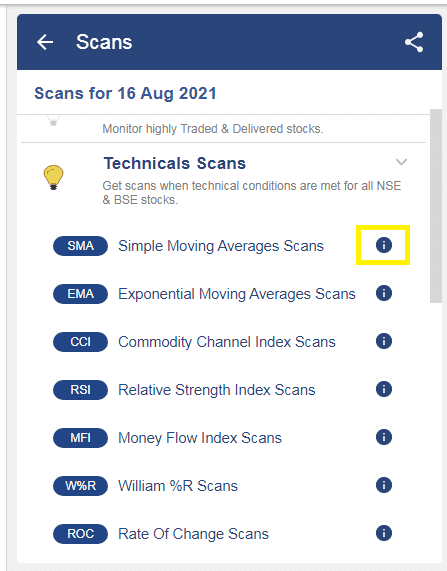 If you want to know more about these options then just click on the i-button which I have marked by yellow color. You can also learn about these options and how to use these technical scanners to find ideal stocks.
iv# Fundamental scans
Fundamental analysis determines the intrinsic value of a security by looking at linked economic and financial elements. It takes a look at everything that can influence the value of a security, from macroeconomic issues like the state of the economy and industry circumstances to microeconomic elements like the company's management effectiveness.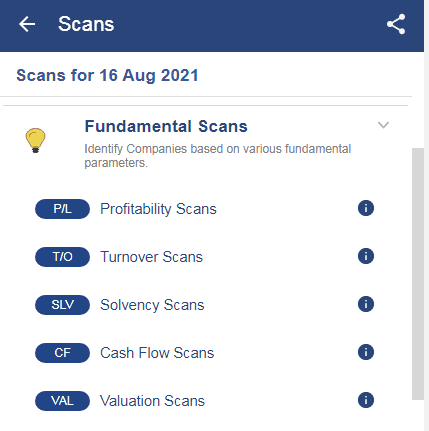 As you can see here the website has provided several options such as P/L, T/O, SLV, etc. If you click individually on these options You will see the best stocks of these options. You can also learn about these options and can simply know how to apply them by clicking on the i-button.
v# Futures scans
The futures or options is a type of derivative asset that gives a trader the right to purchase or sell a futures contract at a certain price and execute on or before a certain date. Futures options are divided into two categories: call and put options. Futures options are typically traded with the stock broker-dealer in a separate futures account.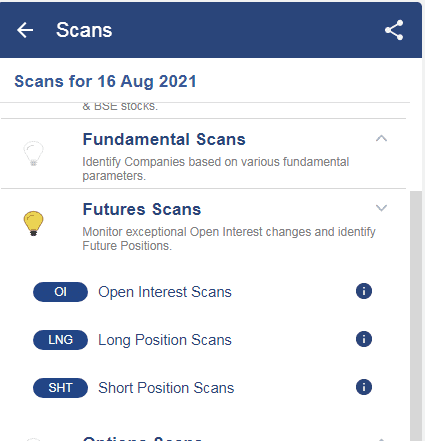 The future option provides us special screener scans such as an open interest scan, long position scan, and short position scan. These scans will help us further to find the most profitable stocks of the share market.
vi# Options scans
You can scan through the index or stock options. It is a very useful scan.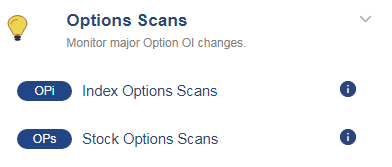 You can simply click on the i-button to gather more information and learn how to use this scanner on this website. They give you two scanners in this option such as index option scans and stock option scans.
vii# Candlestick scans
The website also provides candlestick charts. To check the candlestick chart patterns of any stocks you can choose from the option given by the website under the Candlestick scan. The website provides the daily, weekly, monthly, yearly, and many more charts of that specific stock you are searching for.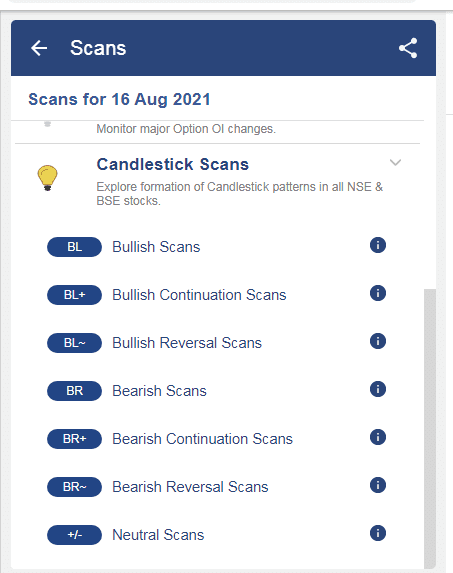 Suppose you do not know how to check a chart you can simply click any of the given scans and search it. Let us take the very first scanner that is a Bullish scan, now place any listed company's name in the search bar and click. If that stock went through a bullish signal that day, it will show there. In such a manner, you can search any of the stocks from the following scans under the Candlestick scan.
ii} Investment idea
In this icon, you will find so many profitable stocks to invest in. It is an organized way to study stocks. It shows only the profitable stocks it can be owned by the government and non-government authorities as well. As soon as you open this icon you will see all the information regarding that topic that will be presented there.
iii} Investor portfolios
Through this icon, the traders are allowed to see all the investor's situations in the present market. A portfolio presents those stocks which are profitable for you as an investor or trader to put your money in.
iv} Stratergies
The website provides so many strategies to choose from for the traders. It is the first option, "one-day bullish chart", you will find each of those stocks that have faced a bullish situation on that day at the stock market.
2# Mutual funds feature of StockEdge web
A Mutual Fund is a collection of money put together by a large number of people (or investors) with a common investment goal. A professional fund manager handles this investment by invest in various policies such as equities, bonds, money market instruments, and/or other securities. This website will help you to found out the best mutual funds available on the stock market.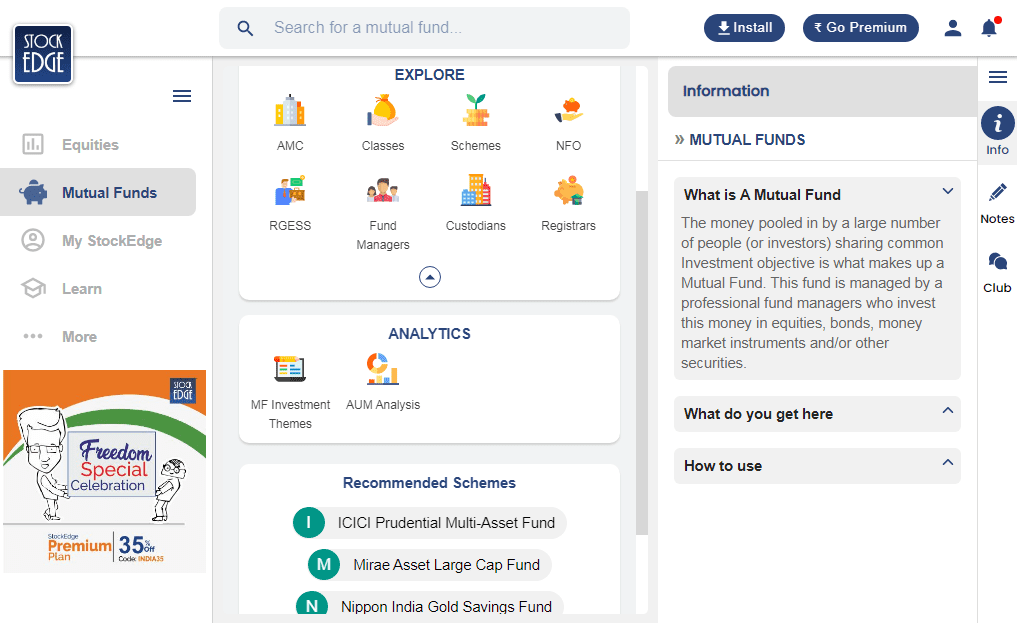 i) Explore the option of Mutual Fund
If you want to invest in mutual funds this website is still useful for you as well. The explore option under Mutual fund provides so many useful scanners to choose from. The icons shall help you to find out the right investment according to your preferences. Those icons are i} AMC, ii} Classes, iii} Schemes, iv} NFO, v} RGESS, and so on.
You can learn about each of the icons just by clicking on the info icon given with each of the icons. Not only that if you still do not understand it after reading, but you can also simply check the Youtube link given in that section to understand it better.
ii) Analytics option of Mutual Fund
In the analytics option under Mutual Funds, the website provides only two scanner icons. The icons are MF Investment Themes and AMU Analysis. Both of the icons are very important for an investor who wants to calculate a mutual fund's present situation.
If you do not know how to use it or why should it be used in finding the mutual fund you can simply use their Youtube link on click on the i-button to read about the icons and their use.
If you take their premium version of stockedge web they will provide you more features under this option.
3# My StockEdge feature of StockEdge Web
My StockEdge is the best option given by the website according to me. Because it will help the customer without judging whether he is an investor or a trader. If the customer wants he can customize the section by selecting their favorite stocks. As soon as you open the tab you will find a search bar in which you will write any of the listed company's stock names and the stock's all info will be presented by the website.
My Watchlists option under My StockEdge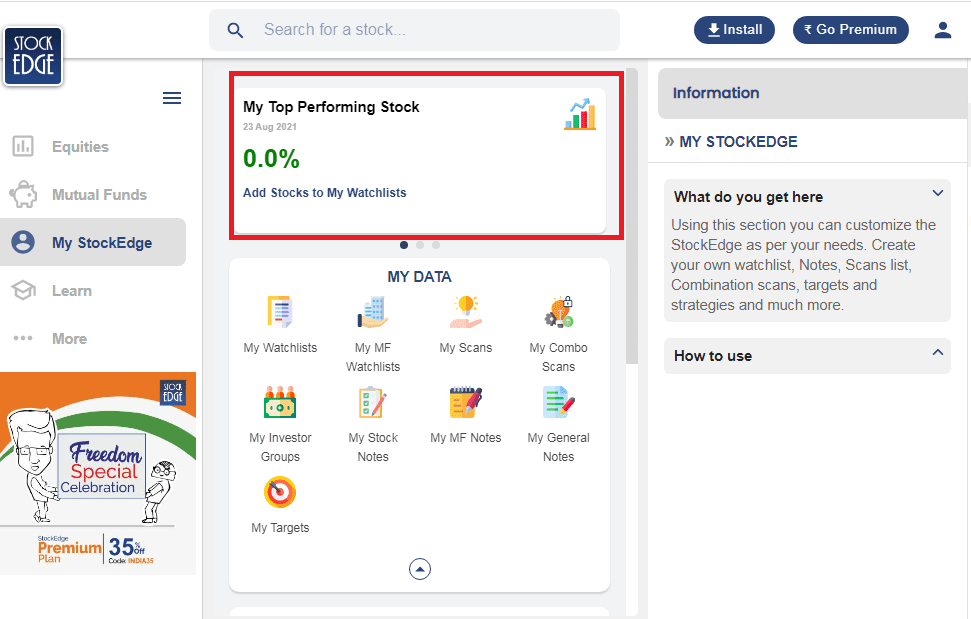 In the "My Data" option there are several scanners to choose from, you just need to put the right stock at the right scanner to get the best results possible. You can customize your single scanner or multi-scanners on a single stock. You can simply choose it from my scans and my combo scans.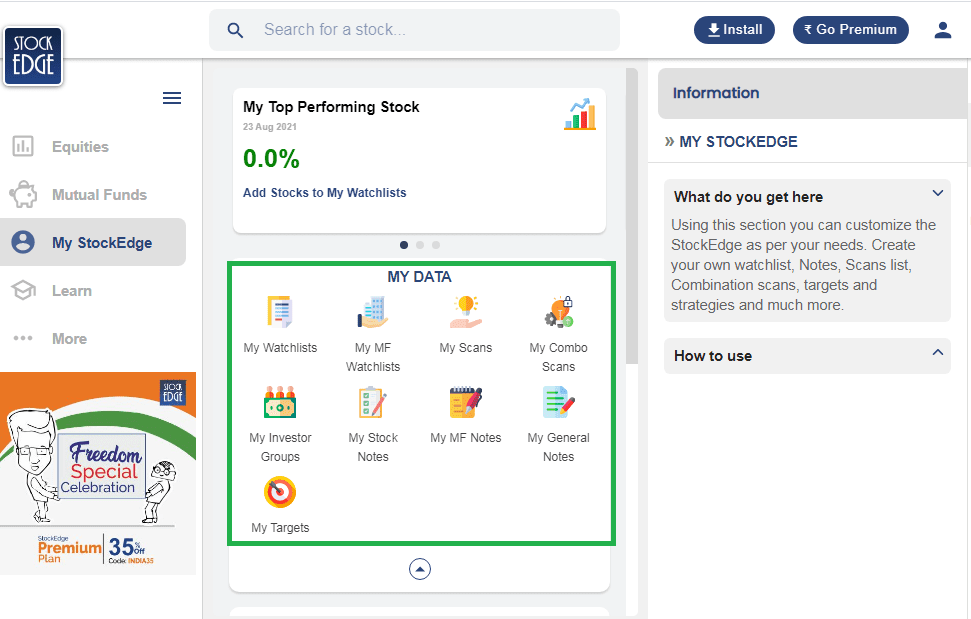 There are some scanners such as my MF notes, My general notes which are provided there but those are chargeable. It will only unlock when you take the subscription plan of the website.
Though it is a customizable web page still you might face some issues to use those features during analyzing or trading that is why I will highly recommend you to take their StockEdge premium plan.
4# Learn feature of StockEdge web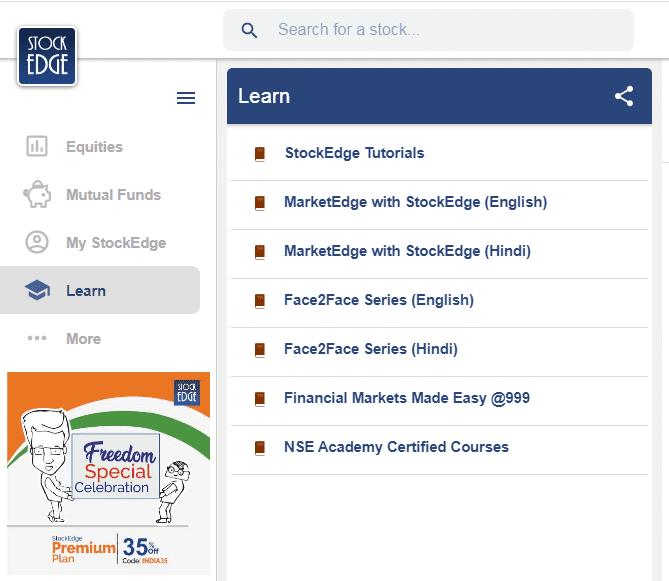 Learn option from the StockEdge web provides seven different themes to choose from. Those seven things will help you understand the scanners and websites more clearly. If you click on any of the seven items there will be more tabs open under it on the screen of your pc. The website design is just like onion layers under layers.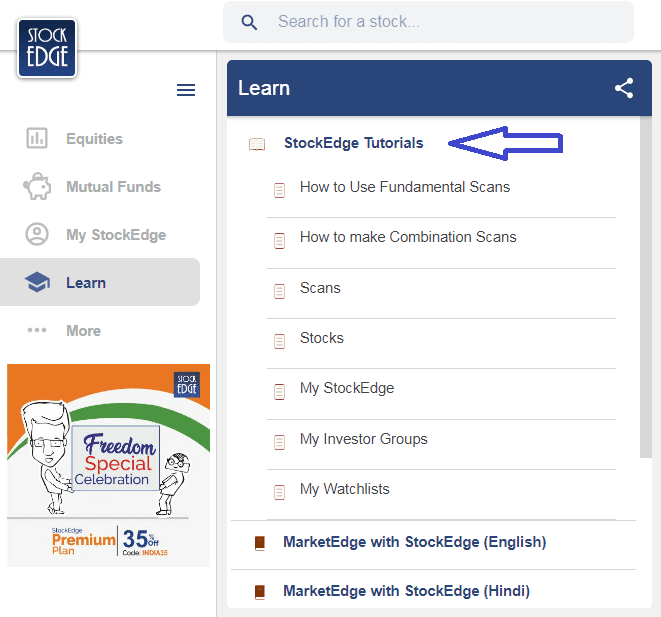 As you can see in the above picture I have clicked on the 1st tab and several learning options have opened. They provide each options information by writing and also in video form. In English as well as in the Hindi language. You just now choose your preferred language.
5# More feature of StockEdge web or mobile app
In the more section, the web page gives setting-related options such as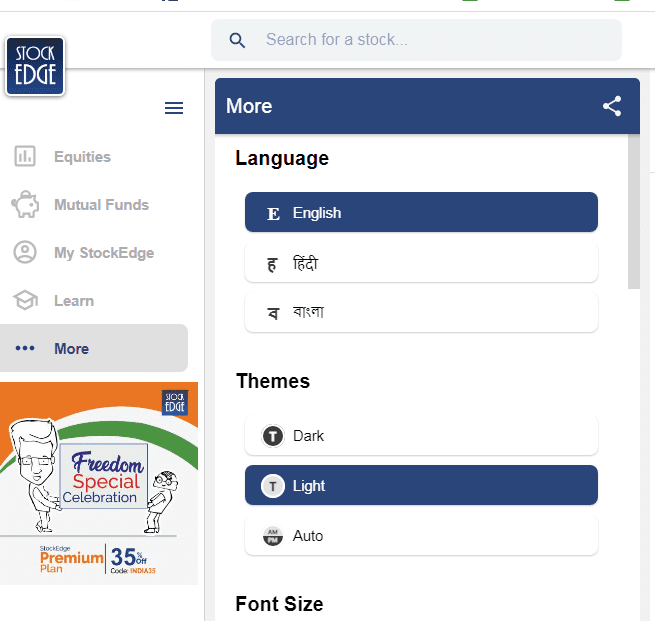 Language – In which there are three languages to choose from that are Bengali, English, and Hindi.
Theme– in which you can choose the color of your screen from dark, light, and auto.
Front size– This part will help you to choose the font size it can be small, standard, or big.
There are other options also such as support, follow on various social media and policies.
Charges of Stockedge Premium
The website is free to use but they also have a premium version too. This StockEdge Premium version will help you to analyze any stock more precisely. Though you do not need to pay a single penny to use or register or login to the StockEdge web or mobile app. But their premium web plan will cost you from 400 to 3000 per month approximately. There are different plans to choose from, such as-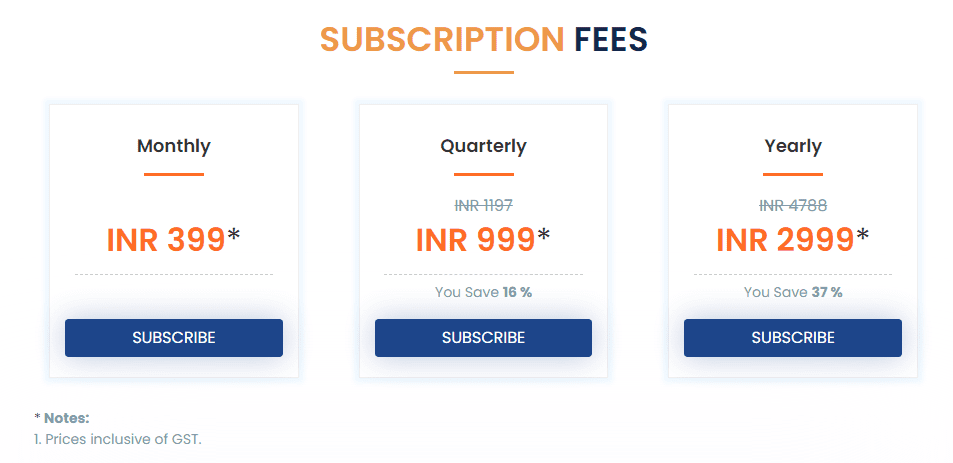 Monthly Plan of the StockEdge Premium plan
In the monthly StockEdge premium plan, you just need to pay 399 for one month or 30days. As you subscribe to this plan the website will provide features according to your need. They will customize the StockEdge premium plan according to your need not only that they also provide you daily evening calls to guide you through the right path of profitable stocks.
Quarterly Plan of the StockEdge Premium plan
If you subscribe to the quarterly plan then you have to pay 999 rupees to get the subscription for a quarter part of the year that means 3 months. The features will be the same as I previously told you in the monthly subscription part, but the only change is you will get that for 3 months. As I have told you before the special features will be the same.
Annual Plan of the StockEdge Premium plan
The special features will last for one year if you take the annual premium plan. The plan will cost you 2999 rupees. If you take the annual plan you will still get the same feature just like the monthly premium plan but the time spends only increase.
Suppose you do not want to take the annual plan then just simply take the monthly one. If the service really benefits you then you can take the StockEdge Premium plan subscription for one year or quarterly.
StockEdge Review – Web and StockEdge Premium
As we have gone through all the features of the StockEdge web and we also saw their StockEdge premium plan it is quite clear that the website provides a very good feature at one place. The web page can be used by investors as well as traders. It not only focuses on the single panel of people the website can be used by everyone. The interface is very easy to understand not only that if you are a professional trader or investor you can take their premium plan and use their extra services to get a better trading experience. According to me, it is a one-stop destination.
Conclusion
After such a long description one thing is clear that it is a one-stop destination for stockholders whether he is an investor or a trader. This one StockEdge web or mobile app covers the equity market and the mutual fund sector both in a very beautiful manner. The website will help you to find the best mutual funds company to invest in as well as the best equity shares which will give you more and more profits. If you do not know about each of the options of this website then there is a learning option attach with each of the actions either description form or learning form.