The biggest issue that is faced by new users in Zerodha is the Zerodha kite password change issue. As an authorized marketing partner of Zerodha, we face this issue every now and then. One thing to remember once you apply for Zerodha account it takes generally 24-48 hours to generate your ZPin after your form verification is complete. Once the ZPin is created you will receive the same in the mail, mobile. Here are some common FAQ on the topic.
FAQs on Zerodha Kite Password Change
How can I reset my Zerodha Kite password?
First, log in to Kite and click on the user ID on the top right-hand corner of the screen. Now, select 'My Profile'. After that, click on password and security in the top right-hand corner. And you'll get the option to enter a new password after you enter your current password.
How do I change my ID on Zerodha?
No, you can't change your Login ID after your account has been created. And the ID has been only allocated to you. The reason is User IDs have to be created and updated on the exchange. So, when the unique client code is updated on the exchange, it isn't absolutely not possible to change it.
What is Zerodha Z pin?
Your Zerodha PIN or ZPIN is your personal identification. It is for placing orders through their Call & Trade desk and also for raising support queries. ZPIN is used in order to authentication of Clients that only Genuine Account Holder is calling for any of their Account related specific Queries or Placing any Orders.
Some Basic Information on Zerodha Kite
The user id and password will be generated 24-48 hours of the ZPin issue.
Once you get your user id and password in your mail you can change your password through Kite and start using the Zerodha account.
Most traders forget their password of Zerodha and they are requested to use a simple password and 2Fa questions and write them in a secured place.
If you still forget your password and can't remember the same you may reset your password by a Zerodha kite password change option in Kite login page.
To undergo Zerodha password change click on the Forgot Password link on the Kite login page at kite.zerodha.com. This will open the Reset Password page.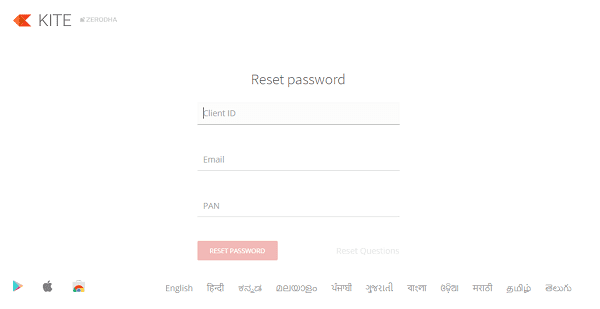 Zerodha Kite Password Change Issues
Once the page is opened you need to put your Client IP, Email and PAN number as shown in the image above. Now click on RESET PASSWORD and your new password will be mailed to your registered email id instantly. Remember Gmail and Yahoo email address works well in Zerodha back office whereas Hotmail Mails bounce from Zerodha server. So if you are using a Hotmail address you should provide an alternate mail id for Zerodha back office. You also should check your spam folder so that you do not miss a single mail from Zerodha
In this way, you can also change your 2Fa answers in Zerodha and we recommend you to use simple 2Fa answers such as the letter "a" so that you can easily remember them.
Conclusion
However, still if you ever face any type of difficulties in zerodha kite, you may contact their customer service number. And no technology is 100% free from any uncertain issue. So, if some trouble happens with their Demat platform, they try to solve it within few times.