5paisa is one of the established financial service providers in the market. The Mumbai based discount broking company is a part of IIFL (India Infoline). The company is well-known for its diversified products like stock and currency broking, investment banking, financial bonds, ETF, advisory service, insurance, etc. Gradually, it is heading towards the title of "best discount broker in India". Here, we are dealing with only stockbroking services of 5paisa. In exchange for their broking services, they charge some minimum amount from their customer, term as brokerage. One can easily pre-estimate or calculate profit and loss by using 5paisa brokerage calculator.
Before going through the main topic 5paisa brokerage calculator and its application, let's have a look at the company outlook.
About 5paisa (2019 Update)
The 2nd largest discount broking firm allows trading within NSE, BSE, MCX, etc. The company has a turnover of Rs.1200 Cr every day on the stock market. Some of their innovative features are listed below:
Smart Investor
From the 5paisa platform, you can get stock investment ideas, "smart investor" buying option is available there.
The unique feature of Smart Investor
There you can find a list of hand-picked stocks by research analysts team of 5paisa.
There, an algorithmically generated list of top growth stocks is having strong fundamentals as well as sound base patterns.
The stock evaluation view effectively combines main stock information one need to validate one's decision to buy-sell or to commit to further research.
It provides regular commentary on the overall Indian stock market scenario. At the same time, the Market outlook also clarifies whether the current market situation is helping or hurting the growth of stocks.
Small case (Innovative Fund Investment Ideas)
The small case is a basket or portfolio of stocks or ETFs of companies along with strong earnings momentum and bottom-up stories. That is likely to benefit in the current market environment. Profit and loss is a common scenario in any financial market. Our primary objective should be avoiding loss as much as possible.
This small case can help to lower the risk with diversification through multiple portfolios of stocks. Here, you will also get the entire ownership over the portfolio, unlike mutual funds (there you get only fund units).
The investment amount in "Small case"  can easily be changed at any time. In addition to it, you can sell the Small case fully or partially according to your will.
Swing Trader
Swing Trader tool mainly focuses short term trading ideas for 1 day to 3 weeks. It is based on combined fundamental as well as technical analysis.
Moreover, the specific tool provides regular recommendation updates based on the market movement. Here, the short and medium-term traders can take the benefit to increase the odds of success.
5paisa's Multiple Trading Platforms
Over the last 2 decades, the 5paisa Trading Platform is built on IIFL's trading platform. It is used by many customers. The trading platform of 5paisa is available on various platforms like the mobile app, web-based as well as installable desktop trading application. They also provide profit-loss calculation details.
Mobile Trading
Its mobile trading app provides to trade at BSE/NSE along with Robo Advisory on the go. You can download this app at free of cost from the Google App Store. The simple intuitive app can be utilized to buy stocks, trade-in stock and currency, derivatives, invest in mutual funds, ETF's and bonds, etc.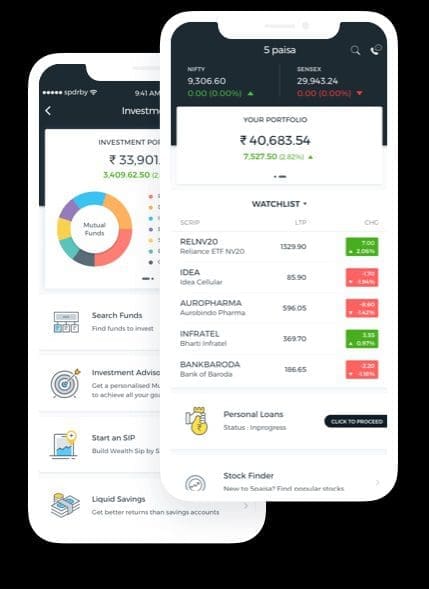 Browser-Based Trading
5paisa has a strong trading website that can be accessed from any web browser on a computer, laptop, mobile or tablets. The website (also known as 5paisa Trader Station) offers all the trading and investment options under a single domain. The web-based trading platform is well connected with payment gateway and banks for instant fund transfers.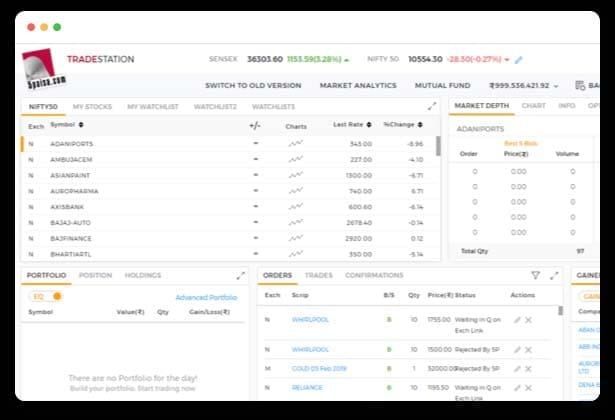 Desktop Trading
Their trading terminal is installable and designed for frequent traders who need advanced trading tools. The desktop application provides real-time data, advanced charts for day trading and historical stock prices. Different keyboard shortcuts are present to monitor the market on a real-time basis.
Different Account Types
Share Trading Account
5paisa is India's one of the fast-growing discount broking firms which offer investing and trading services. The services cover all the segments including stocks, derivatives (F&O) and currency. It is a member of BSE and NSE. The company's trading account is backed by the experience and technology developed by its parent company IIFL for over 20 years in the retail segments.
The company offers trading services under an easy and simple brokerage plan. One can trade across the segments for a fixed rate of Rs 10/executed order, irrespective of the order size. It can save up to 90% compared to traditional brokers who charge brokerage fee in the percentage of the total turnover. The 5paisa trading account is well integrated along with other products which include mutual funds, ETF, bonds, and insurance.
Mutual Fund Account
Online Mutual Funds Investment Account is an important key that offering from 5paisa. One can open a single Mutual Funds Investment Account along with 5paisa for free of cost. The discount brokerage company also offers Systematic Investment Plans (SIP), an automatic periodic investment option in the stock market through mutual funds.
The 'Auto Investor' tool is available free of cost to its customer. It helps with online Mutual Fund advisory. The tool also helps in choosing the right funds based on the risk factors and return expectations.
5paisa Pros and Cons
5paisa Advantages
Backed by IIFL, the non-banking financial company in India with experience of over 2 decades has an established brand name.
Simple and cheaper brokerage plan of Rs 10/executed orders almost all of the segment (Equity, F&O, and Currencies).
Free trading platform available that includes a mobile app, website, and desktop trading terminal.
The company offers free technical, derivative and fundamental research & advice to customers.
5paisa Disadvantages
They Don't offer all 3-in-1 account.
Quite high Demat debit transaction charges. They charge 0.04% (minimum of Rs 25/debit transaction) while most of the other discount brokers charge flat Rs 8/transaction.
It has higher exchange transaction charges compared to other discount brokers.
Call & Trade is available but at an additional cost of Rs 100/call. You can place any number of trades in your call for Flat Rs 100 fee.
The company doesn't offer NRI Trading & Demat Account.
5Paisa Exposures / Leverage / Margin
For Equity Intraday Trading
The company offers up to 20 times of exposure.
For Equity Delivery Trading
They offer up to 3.5 times margin for equity delivery trading.
Futures Intraday Trading
5Paisa lets their clients take MIS (Margin Intraday Square off) positions with the following margin:
Equity & Index futures – here, you will get 3 times margin (Order squared off at 3:20 pm)
Currency futures – 1-time margin (This Order squared off at 4.30pm)
5Paisa Exposure Options Intraday Trading
Options long: Here, one can get 1x
Options short: Here one can get 3x.
Profit and Loss with 5paisa Brokerage Calculator
Calculating brokerage prior to trading or investing is always a wise decision. Brokerage plays a vital role in all the segments of investment. One can save lots of money by saving brokerage. 5paisa is quite popular for its cheapest brokerage charges. Here, first, we will be going to describe the brokerage charges of 5paisa. After that, I will give you step by step guidance by which you can easily calculate Profit and Loss with 5paisa Brokerage Calculator.
Brokerage Charges 2019
Account Opening Fees and Annual maintenance charges or AMC
One time Trading Account Opening Charges: Rs. 650
AMC or Trading Annual maintenance charges: Rs. 0
One Time Demat Account Opening Charges: Rs. 0
AMC or Demat Account Annual Maintenance Charges: Rs. 400/year
Trading Brokerages
Equity Intraday: Rs. 10/executed order (here, buy and sell are considered as 2 orders)
Equity Delivery: Rs. 10/executed order
Futures-Options: Rs. 10/executed order
Currency Futures-Options: Rs. 10/executed order
5paisa Brokerage Calculator (Compared with Other Discount Brokers)
Now, I will show you can easily calculate Profit and Loss with 5paisa Brokerage Calculator. You can find the calculator in 5paisa site.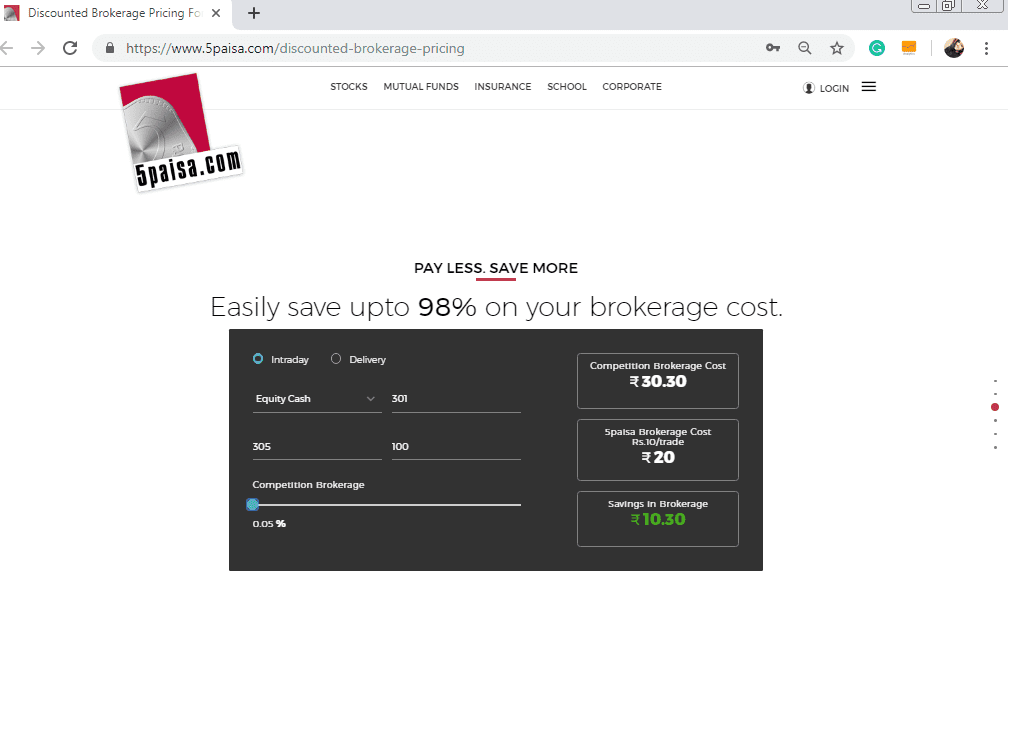 As an example, here I put a price for equity intraday. As you can see, both intraday and delivery both margins are available. 5paisa is only renowned discount brokerage firm which provides delivery margin.
One of the main advantages of using 5paisa is it shows the competition brokerage estimation. This indicates that the company has a very competitive brokerage rate. As the calculation shows that by using 5paisa Account, you can save 98% of your brokerage cost. In rupee, the saving in brokerage is Rs.10.30.
If per day, you trade minimum 5 scripts, you can save (10.30 x 5) =51.5
In a 5 days week, the savings is 51.5 x 5 = Rs. 257.5
In whole 22 days trading month, your savings will be 51.5 x 22 = Rs.1,133 which is a pretty reasonable amount for intraday traders.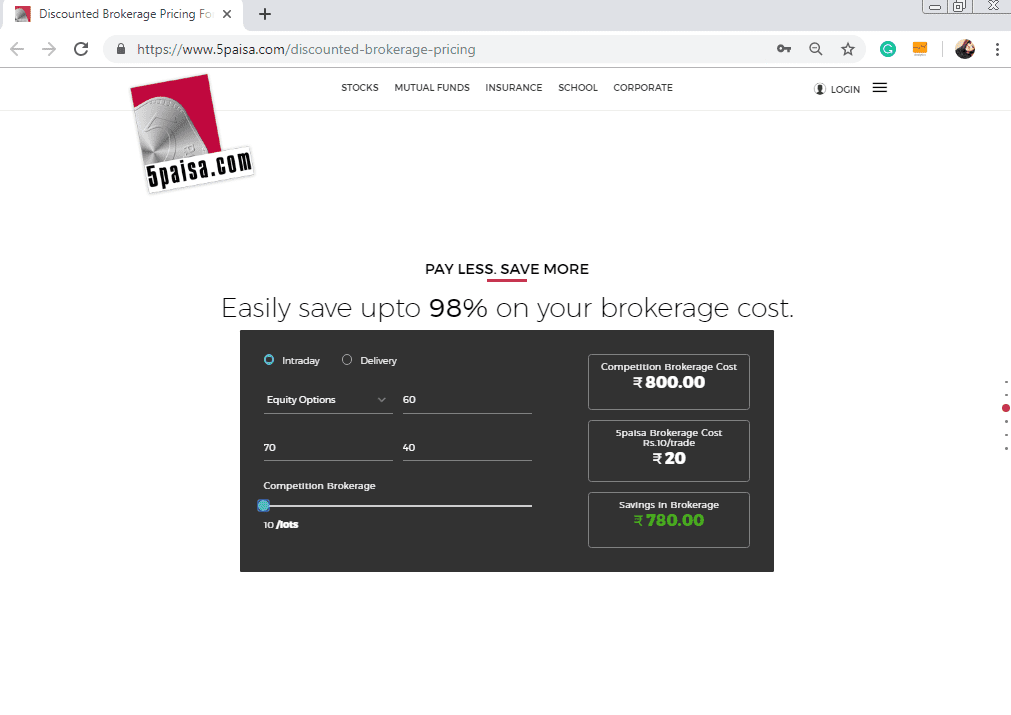 Now, have a look at the derivative market trading. Here, also, 5pais beat most of the top-level brokerage company. Here, their flat future-options charges are Rs.10 (one side) while most of the top discount brokers charge Rs.20 (one side). Therefore, 5paisa charge 50% less than other brokers.
See the above picture, here, I take options trading. As I've said that through 5paisa one can save huge brokerage charge while trading in the derivatives market. Here, I've shown 2 lot of options by which you can save Rs.780.
So, in 5 days a week, an options trader can save up to (780 x 5) = 3900
In a month, the brokerage can be saved (780 x 22) = 17,160.
Now, you can imagine that a huge amount can be saved easily if you are a 5paisa user.
5paisa Brokerage Calculator (Compared with Full-Service Brokers)
We know very well that full-service brokers charge a lot more compared to discount brokers. But still, here I place an example to make your concept clear about the differences in brokerage charges.
Here, I take ICICI direct brokerage charge. The full-service broker charges 0.03% to 0.05%.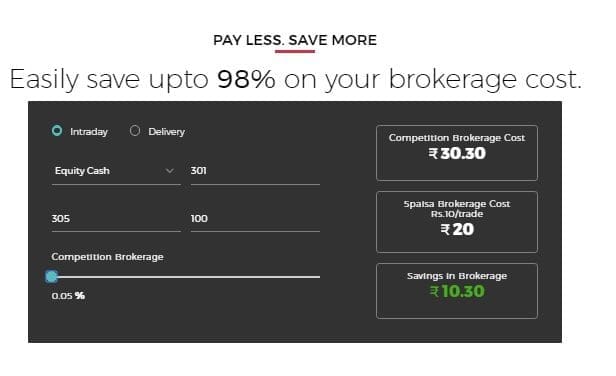 Here, I have taken the same amount script for both of the brokers. The brokerage charge difference is crystal clear. The 1st image is of ICICI direct and the last image is of 5paisa. Here, ICICI direct charge 166.65 brokerages while 5paisa charge is only Rs.20.
You can easily calculate Profit and Loss with 5paisa Brokerage Calculator.
So, now you can guess the difference of charges between 5paisa and other brokers and Calculate Profit and Loss with 5paisa Brokerage Calculator.