There are various kinds of orders to suit various traders. Many traders are office goers. They are either roaming here and there in the market hour OR they cant be able to concentrate on the live market for active intraday trading. For them, there is a solution. That is Zerodha Kite AMO.
AMO stands for aftermarket orders. The normal market order can be given from 9:15 till 3:30 but once the market closes there is scope to put an AMO or aftermarket order. AMO orders can be placed from 4 PM in the evening till 9:14 next day in the morning (till just before 1 minute of the market opening). So a trader who is putting an AMO can plan his trades beforehand. He decides what price to BUY or SELL a scrip and puts an AMO accordingly.
The AMO orders are executed after the normal markets open. AMO orders for the currency market is allowed from 4 PM in the evening till 8:59 AM in next morning. Aftermarket orders are also possible in the MCS commodity markets. MCX aftermarket orders can be placed any time during the day. But all AMO orders will be sent to the exchange only at 10 AM. So if you put an AMO in the MCX exchange at 10:10 AM or at 10:10 AM both the orders will hit exchange only on next trading day.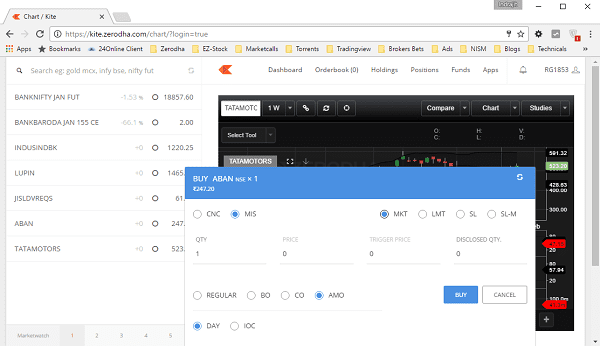 To put a Zerodha Kite AMO simply select a script and click on B or S button beside the scrip. This will open the order window. Please select the AMO radio button and this will open the aftermarket order window. You can simply put your quantity price and choose market order or limit order etc. If a trader wants in order to be executed above or below a certain price then he or she can also select the SL or SL-M order.