Zerodha, the premium discount broker in India is the best value-for-money broker providing high-end apps and trading platform for investors and traders of the Indian stock market. It has always been customer-centric in its approach and provides maximum facilities to its customers. Zerodha Kite cover order is such a facility.
Changing scenario
I must mention that this article is not new. The original date was around 07.07.2017. As we all know, a lot of change has taken place in the market after that. SEBI came up with new compliance rules. The latest rule has started in March 2021. Putting aside all other rules, margin compliance has affected intraday trading most. We can divide this era into the pre-2020 scenario and the post-2020 scenario. Because the Coronavirus affected the world business environment in 2020. The unpredictable market movement affected the margin funding. Therefore intraday orders like BO, CO have taken a hit. Hence, the older scenario is there in the earlier post.
What is Zerodha Kite Cover Order?
Like bracket order cover order is also an advanced order system which actually is a market order in which a stop loss can also be given simultaneously.
In a cover order, the buy/ sell order is always a market order.
The order must accompany a stop loss within a specified range.
The stop loss cannot be cancelled.
A Zerodha customer can avail of this facility in Pi, Kite web, Kite App.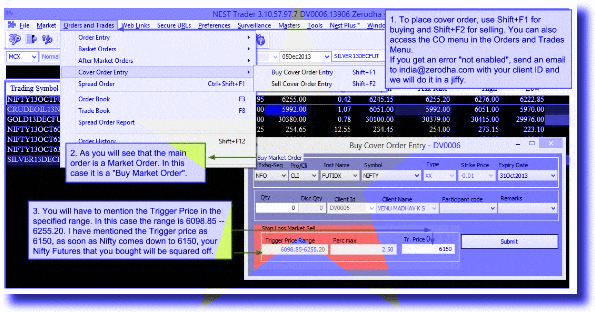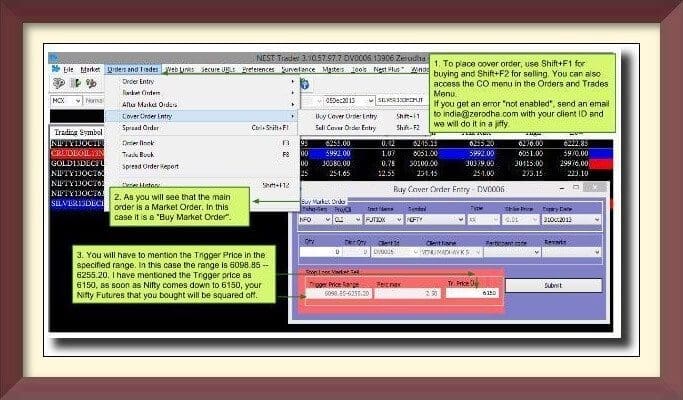 How to place Zerodha Kite Cover Order?
Click on the contract.
Click on Shift+F1 to buy CO.
Then click on Shift+F2 to sell CO.
Or, access the Cover Order from the Orders and Trades menu.
Or, in Zerodha kite web application when you hover your mouse over any n financial instruments name on MarketWatch, buy/ sell button automatically appears. Select any one, a buy/ sell window appears. At the lower half of the window, there are buttons like Regular, BO, CO, AMO. Select the CO button for the cover order.
In case of any difficulty contact 080-40402020 or email at [email protected] for assistance or enabling CO facility in case it is not enabled for you.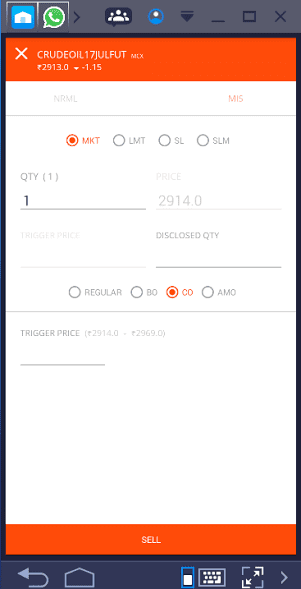 Besides the web application, Cover Orders can also be done through Zerodha Kite mobile application as shown in the picture. It shows how the order screen looks like in Kite mobile app for Cover Orders.
Advantages of Cover Order
Zerodha cover orders always accompany strict stop loss. Therefore the intraday trader automatically limits losses in case the trade goes wrong.
As the order accompanies strict stop loss, the trader gets high leverage while placing the order. That way the trader can trade with a lesser amount of money.
Disadvantages
The cover order, unless squared off earlier, will automatically get squared off by the system at 03:20 PM.
The advantages of cover orders lie with intraday traders only. Swing traders or investors do not get this facility.
A few words about Zerodha Kite cover order
The disadvantages mentioned above actually turn out to be advantageous for intraday traders and they can get immense benefit from Zerodha Kite Cover Orders through automatic stop loss and high leverage. Intraday traders should always place orders in CO or BOCO (for a specific target) while trading.
The new scenario in 2021
The year 2021 brought new compliance rules for the brokers. Hence, this affected the whole margin funding scenario. From March 2021 onwards, a trader will need to pay 50% of the total trade value for intraday trades. And gradually, the margin funding will come down. Subsequently, an intraday trader will need to pay more and more as we move on. So, from September 2021 onwards, an intraday trader will need to pay 100% of the total trade value. Therefore no intraday trader will get any margin for any kind of trades. As of now, the traders who carry their trades need to pay full trade value. Later it will be the same for both intraday and swing traders.
The Zerodha Kite Cover Order
Most of the brokers have stopped giving the Bracket Order (BO) facility due to these margin funding restrictions. I have already explained the new scenario regarding the bracket orders. You can read about the latest scenario here. But the cover order scenario is somewhat different.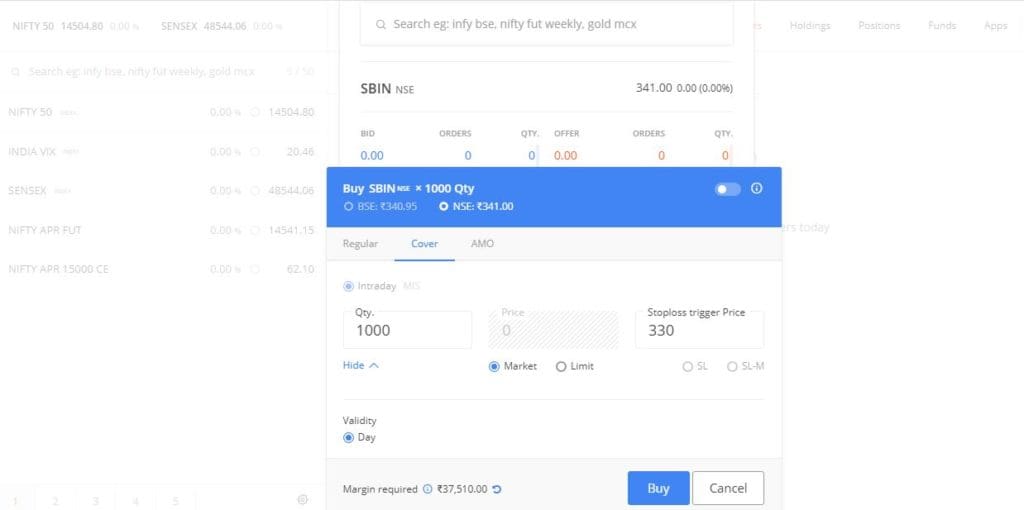 This picture tells you everything. This cover order was given in Zerodha Kite. The date was 14.04.2021. The market was closed. So the system took the rate of SBIN of the previous day closing. State bank of India closed at Rs 341.00. on 13.04.2021. This was a market order. I gave a CO to buy 1000 shares of SBIN in NSE. It was an intraday order. As you can see the order was Market, validity day, price Rs 341.00, Qty (quantity) 1000. It was a buy order.
Now the price of 1000 shares is Rs 341*1000 = Rs 341000. But as you can see the system says the margin required is Rs37,510. Therefore, as you see, you are getting leverage of almost 12.79% in this cash cover order. Though the stop-loss was Rs 11 lower, at Rs 330. Hence, in the Zerodha Kite cover order you are getting almost 13% leverage as of today.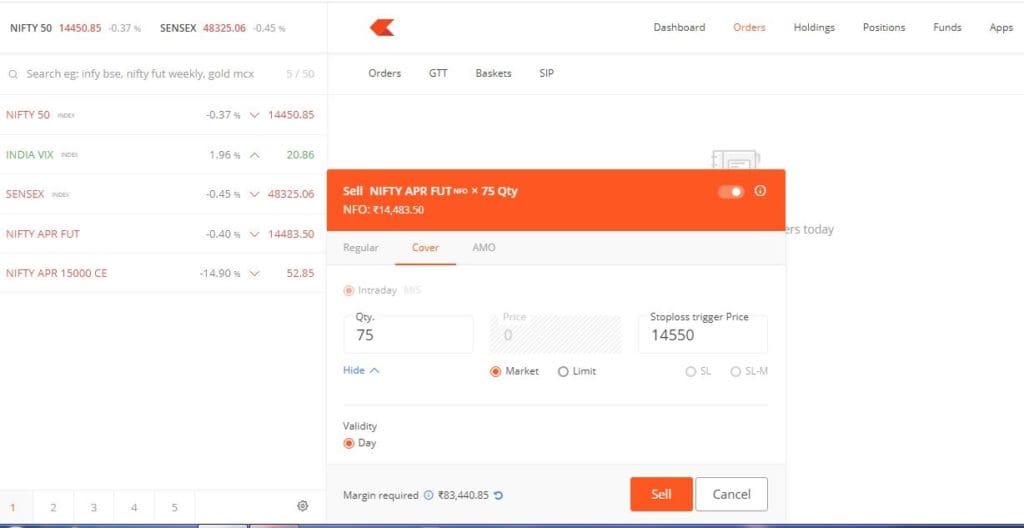 Now let's see cover orders in FnO. Here we have a cover order on Nifty April Future. I gave a sell cover order in the live market in Nifty April. This order was given in the live market on 15.04.2021. It says the margin required is Rs 83,440. It was a sell order with a predefined stop loss. The margin required is similar to the normal margin as of today in the FnO section. Therefore we have seen the latest margin position in the Zerodha Kite cover order.
Cover Order with other brokers
Zerodha was a pioneer amongst the discount brokers in India. Since its inception, Zerodha has maintained the strictest guidlines as far as compliance with SEBI is concerned. As a result we understand that the other brokers follow same path also. SEBI has made it mandatory for all brokers to follow this margin guiodeline. Therefore we can excpect all other brokers to follow suit. Barring some stray exceptions, we expect all brokers will give similar leverage in cover orders as we saw here in Zerodha.