In India, Stocks and Mutual fund both of the fields are popular in the financial market. Investors in the Mutual fund must be familiar with the term ETF (Exchange Traded Fund). In India, Nifty BeEs considers as the first ETF in India (introduced by the BENCHMARK, an asset management company). It is traded on the Capital Market Segment on NSE. Like any other share, Nifty BeEs are traded in Dematerialized form. Basically, it is a combination of a share and mutual fund unit. Today we are going to demonstrate Nifty BeEs strategy more clearly. So, here is the A Brief Note on Nifty BeEs Strategy.
Nifty BeEs Strategy
The first exchange-traded fund provides returns correspond to the total return of securities as represented by the S&P CNX Nifty Index. The particular BeEs trades on the NSE capital market segment. Each Nifty BeEs unit shares 1/10th of the S&P CNX Nifty Index value. It allows trading real-time on the National Stock Exchange (NSE) and provides real-time indicative NAV (Net Asset Value).
Nifty BeEs offers the benefits of diversification along with low expenses and index tracking. As I have mentioned that the specific bees can be bought or sold just like a normal share through any NSE terminal. One thing must be said that the underlying portfolio of the bees quite closely replicates that of the S&P CNX Nifty.
It is a no-load scheme. The management fees including the annual expense ratio is a max of 0.80% of the daily average net assets. This expense is one of the lowest for any type of mutual fund scheme in India. For assets over Rs.5 billion, the cost reduced to 0.65%.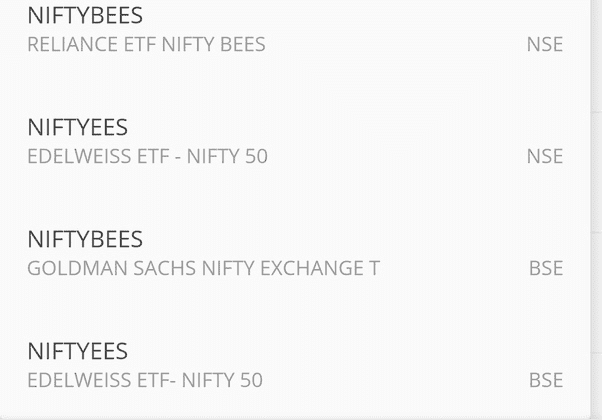 How to Buy Nifty BeEs?
Ask your broker or search for the script "NiftyBeEs" and buy the required quantity of it. Some brokers offer SIP (Systematic Investment Plan) on it, here you have to invest a fixed amount or bought a fixed number of shares every month. In every month, automatically your money will be invested in Nifty BeEs.
Advantages of Nifty BeEs
Investment is such a field where risk is an unavoidable factor. Hence, investors should be aware of the investment planning. Here is the list of advantages of Nifty BeEs.
Simple
Nifty BeES can be bought or sold just like a share through any terminal in NSE. The investment process is quite simple.
Economical
As I've mentioned the annual expense of this scheme is low. It is considered one of the lowest economical mutual fund schemes in India.
Convenient
As Nifty BeEs is under NSE, it can be bought/sold throughout the trading day just by a call to a broker. You can even place limit orders and can be held in the DP account with other portfolio holdings.
Liquid
The structure of Nifty BeES attracts liquidity from multiple sources with the underlying shares.
Neutral
The performance of Nifty BeES depends on the performance of shares in the S&P CNX Nifty Index and market demand and supply. There is no bias of fund managers.
Transparent
As Nifty BeES replicates the S&P CNX Nifty, investors can know where and how much is invested in each stock at any given point of time.
Diversification
A Diversified investment allows investors to spread risk with one single decision.
Equitable Structure
Its equitable structure helps investors to invest in Nifty BeEs properly.
Though this article is based on Nifty BeEs Strategy, like Nifty BeEs, there are other investment options like liquid bees, gold bees. It is also as popular as Nifty BeEs. In the investment field, there are multiple investment options available. Investors only need to pick the right one.