For every commodity trader trading in gold its a big question on every weekend that what is the gold price next week support resistance? It will be easier to trade OR rather start the week easily if you get clear resistance and support areas before Monday's trade. In this post, I will show you how to find support and resistance in weekend spending just 5 minutes of your time.
We will use a simple pivot calculator to find the support and resistance levels beforehand. You can get many pivot point calculator pages on the web. If you do not know any link, CLICK HERE to access my free pivot point calculator.
But before visiting the pivot point calculator page just note last week's open/ high/low and close for gold. I use Zerodha Kite for getting the OHLC value of gold last week. You can access Zerodha Kite by clicking HERE. Once you login to Zerodha Kite just adds Gold nearest month's future in the market watch. I added GOLD APR FUT in my market watch. Now open the chat window by clicking on the chart icon. This will open the gold future chart in Kite. Now change the chart time frame to weekly and this becomes gold future's weekly chart. Now you are all set to take the readings.
Next, put your cursor on the last candle and note down this candles OHLC value. As I am calculating on Sunday 26th February, 2017 I get OPEN = 29278, HIGH = 29649, LOW = 29075 and CLOSE = 29623. Now lets open the pivot point calculator page. In this page, you can input the same OHLC value and I have done that. I have got a gold price next week support resistance. Use classic pivots now. I got 1 pivot point, 3 resistances (R1, R2, R3) and 3 supports (S1, S2, S3).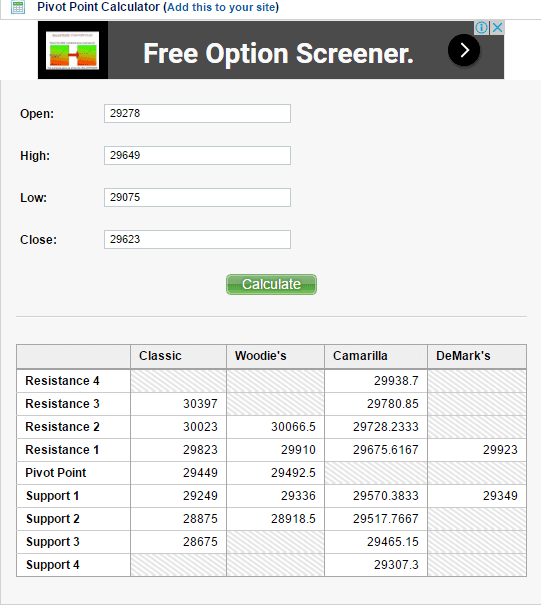 Now how to trade the gold price next week support resistance? You can trade as per the daily pivot trading strategy. Trade with long bias till gold trades above weekly pivot point and trade with short bias when gold trades below the weekly pivot point. Weekly R1 can be a strong resistance and weekly S1 can be strong support and both ways you can try counter-trend trade. You can read my earlier post to know how to trade pivot points like a pro: How To Trade Nifty Using Pivot Point – Video Lesson.