In this post, I will show you how to earn 120 points per week from MCX crude oil trading using crude oil live chart. Like my other strategies, this is once again a very simple strategy and it needs no costly software. You broker's chart is enough. I suggest Zerodha Pi OR Zerodha Kite charts.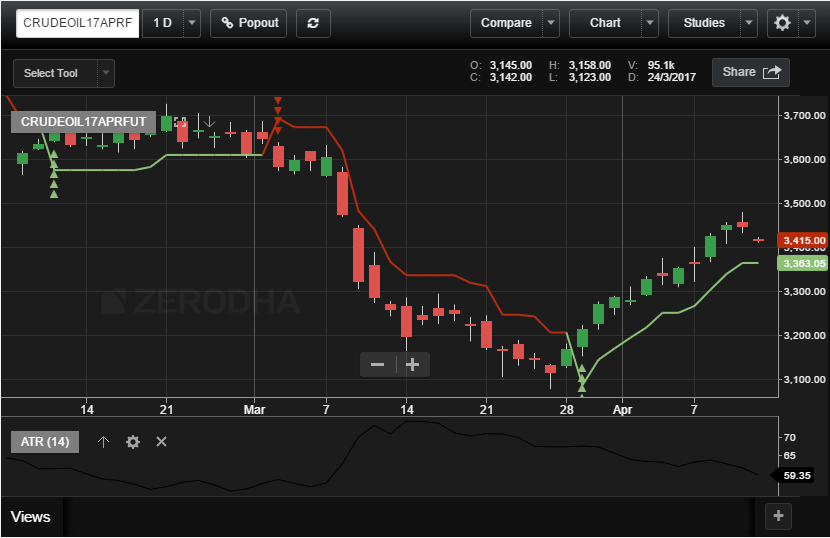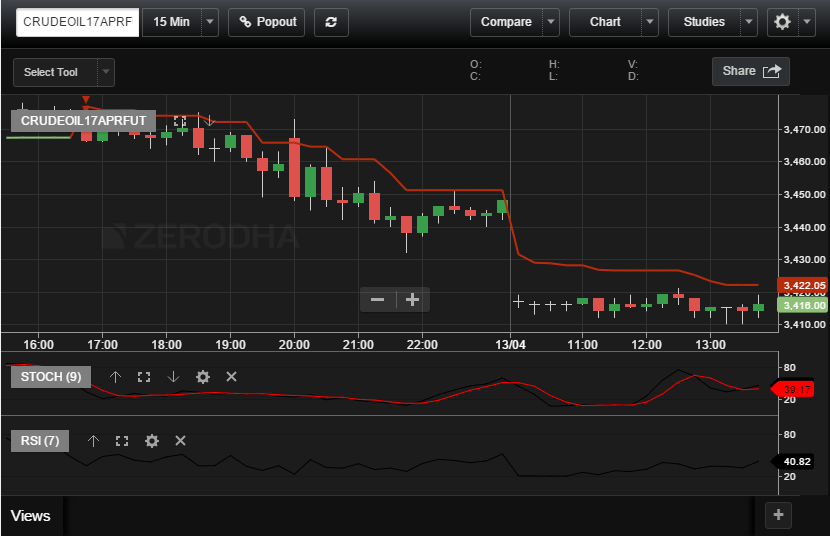 Multi Time Frame Analysis with Crude Oil Live Chart
This system uses multi-timeframe analysis. We will go with only the main trend. The main trend will be decided using daily candles. First, open the daily chart of MCX crude oil in Zerodha platform OR your broker's platform. Now attach the SuperTrend Indicator. I suggest using 14/1.5 parameter in SuperTrend.

In the image above we can see the crude oil daily, SuperTrend is in buy mode so we will only look for buy trades. I have also attached the 14-period Average True Range indicator. This will help me understanding the range of the market and calculating my stop loss or targets.

The Crude Oil Live Chart Trade Setup:
Now once the main trend is known to us we will switch to MCX crude oil live chart either 5 minutes OR 15 minutes time frame. Let's also attach 9-3-3 stochastics and the 7-period RSI indicator to the crude oil live chart as shown in the image below.

Now as the main trend is UP we will look for stochastics and RSI to dip below 20. If we get a divergence that will be a better confirmation. Buy when stochastics crosses and comes above 20 from below 20 marks. Keep a target of 0.5 X ATR and a stop of 0.25 X ATR.
Trade Statistics:
I have watched that an average of 2 trades a day OR 10 trades in a week has average 80% win rate. If we win 8 trades at least 20 points each and lose 20 points each in remaining 2 trades then:
OUR TOTAL PROFIT: 8 x 20 = 160 POINTS
Next, OUR TOTAL LOSS: 2 X 20 = 40 POINTS
OUR NET PROFIT: 160 – 40 = 120 POINTS (PER WEEK)
Weekly Profitability:
In general, if you use a cover order in Zerodha, then you can trade one lot of crude oil at Rs. 4500 margins. Now your profit is 120 points X lot size 100 = Rs. 12000 per week. So by investing only Rs. 4500 you can earn Rs. 12000 weekly from this crude oil lives chart strategy.
Note: Please avoid trading in late at night and close to news/inventory data. Your observations and comments are welcome below this post.