For the last few months, I was thinking to write on the Zerodha Algo Trading process and how to do automated trading in an easy manner. The solution is finally here. Let me introduce STREAK, the easiest Algo Trading app in India. But to start you need a Zerodha Account. If you do not have a Demat account, click here to know how to open a Zerodha account instantly.
Common FAQ on Zerodha Streak
What is Zerodha streak?
Zerodha Streak is a fully automated Algo-trading platform. It is connected with the major trading platforms of the discount broker like Zerodha and few others. It is a web-based application. Hence implying, you do not need to download or install any extra software to use Zerodha streak.
Is Zerodha streak free?
The Zerodha Streak Platform is absolutely free to use for Zerodha Trading Account holders, during the trial phase. So you can use streak trial at free of cost through Zerodha. After completion of the trial,
How do I make algo in streak?
The algo strategy is quite simple. First, select the CREATE option. Then select the instrument you want to work with and after that set your preferable timeframe. Then you need to set your trading strategy. Along with it, also set your target, stop loss. And lastly, start testing your strategy.
Is algo trading profitable?
With algo trading, you can execute trades within a fraction of second. So this trading is almost free from human intervention. So, obviously, this type of trading tends to be more accurate than a normal trading system. And more accuracy means more profit. So, it is profitable.
Is algo trading legal in India?
Yes, Algorithmic trading is legal in India. And in the Indian equity market, nearly 40% of the trades are executed by automated trading. But, for retail investors, SEBI applies some rules and regulations for algo trading.
Is Zerodha has Fully Automated Trading System?
Yes, Zerodha has a fully automated trading system and that is in Streak. Previously, through the streak, we could do a semi-automated trading system. But now, the system becomes fully automated. Here, you can do algo trading at a very cheap price.
The basic pricing is 350 rupees plus GST per month
Premium is 630 rupees plus GST per month
The ultimate is 980 rupees plus GST per month.
And according to the plans, the number of benefits that you are getting those are different. Among its facilities, there are margin charts, some ready-made profitable strategies, real-time data, indicators, other technical fundamental tools, etc. Here, you can create your own strategy, scanner by yourself, and make it active. We've also published a video on it.
How to Get this Fully Automated Streak in your System?
Here is the link to getting started with this fully automated streak in your system. Just click below to get this system trial at free of cost.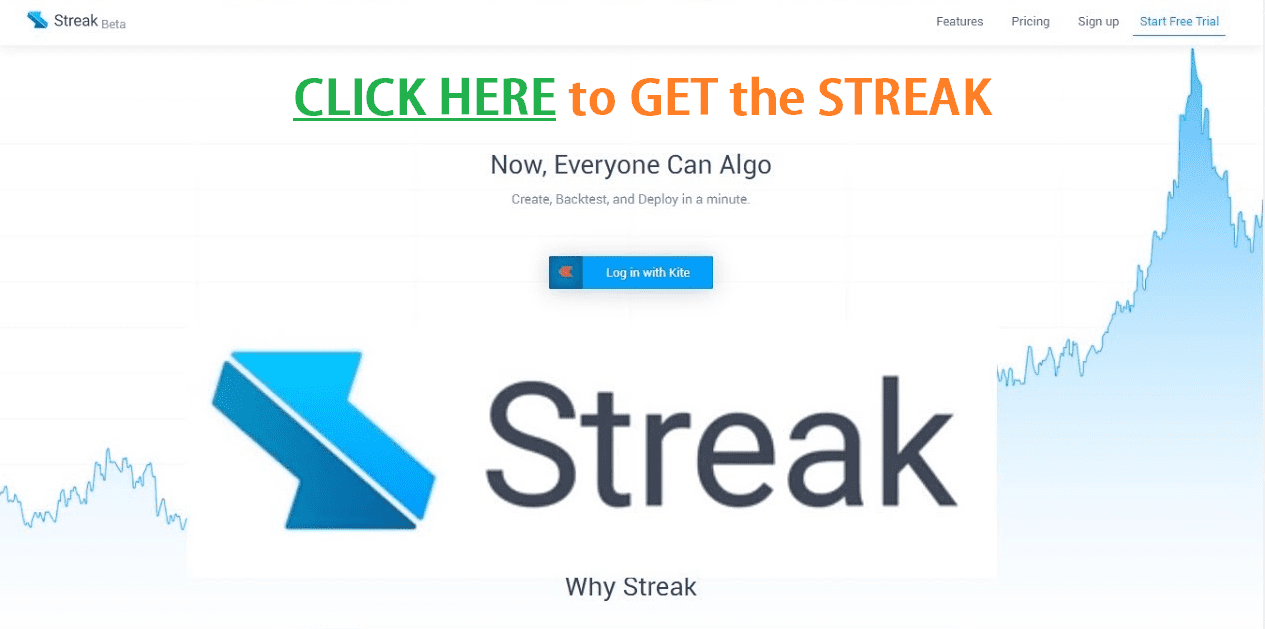 Zerodha Algo Trading App – STREAK:
The first time in India an app is launched where you can create your algo strategies, backtest it and deploy the strategy on live trades within minutes. And yes, absolutely no coding knowledge is required.
Once your Zerodha account is opened and you are ready for trading, login to the STREAK website.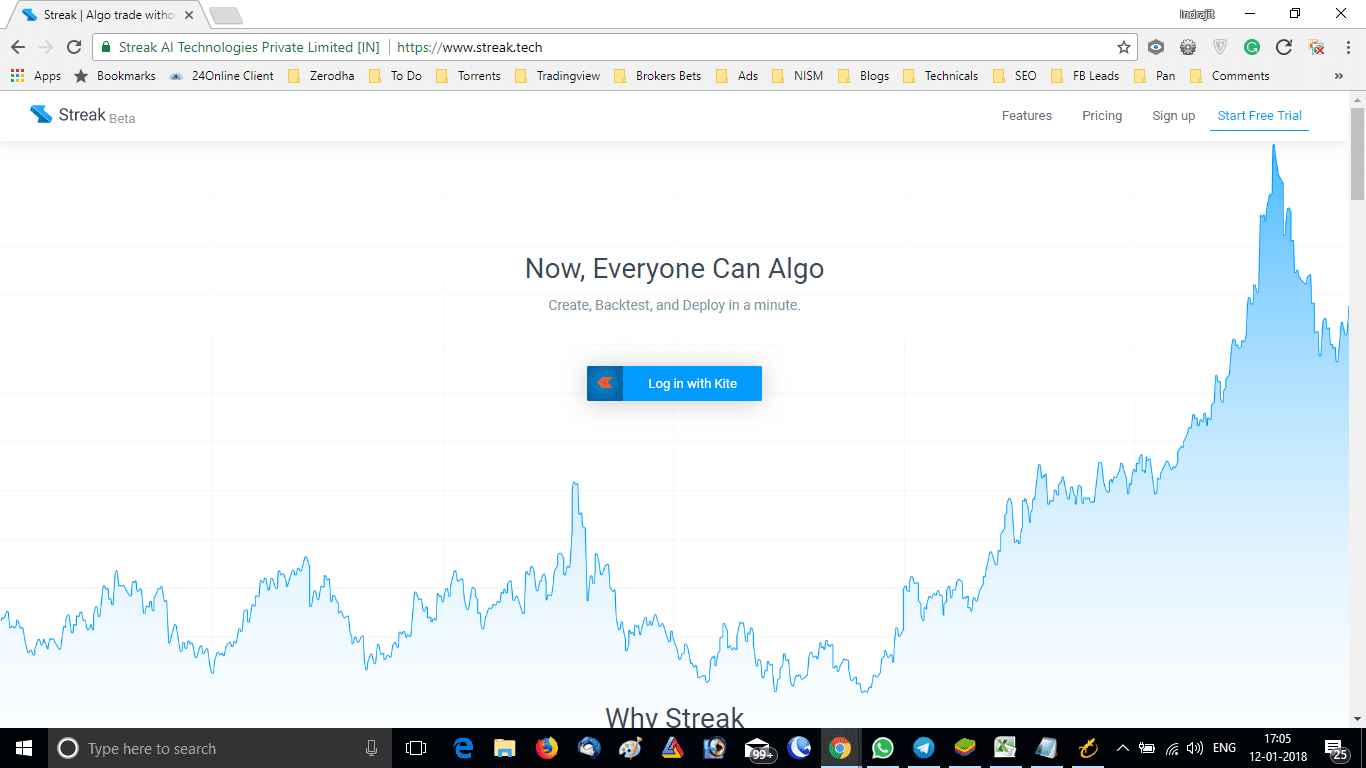 There is a LOGIN WITH KITE button available. You can click that and log in with your kite credentials. It will take you to the STREAK dashboard where you can see your algos, alerts, funds, etc.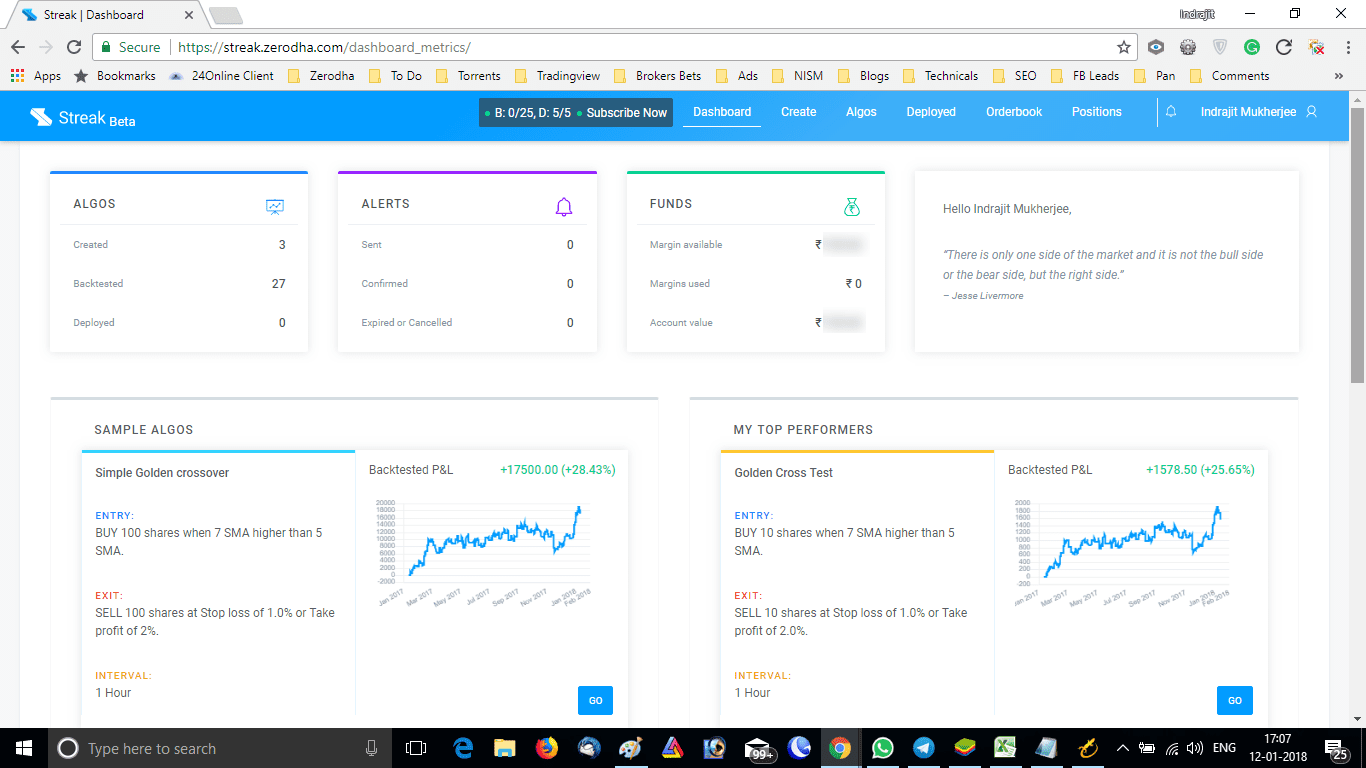 In the dashboard, you can also see sample algos, backtested P&L reports, and your top-performing algo strategies. You can click on the CREATE button to create a new algo.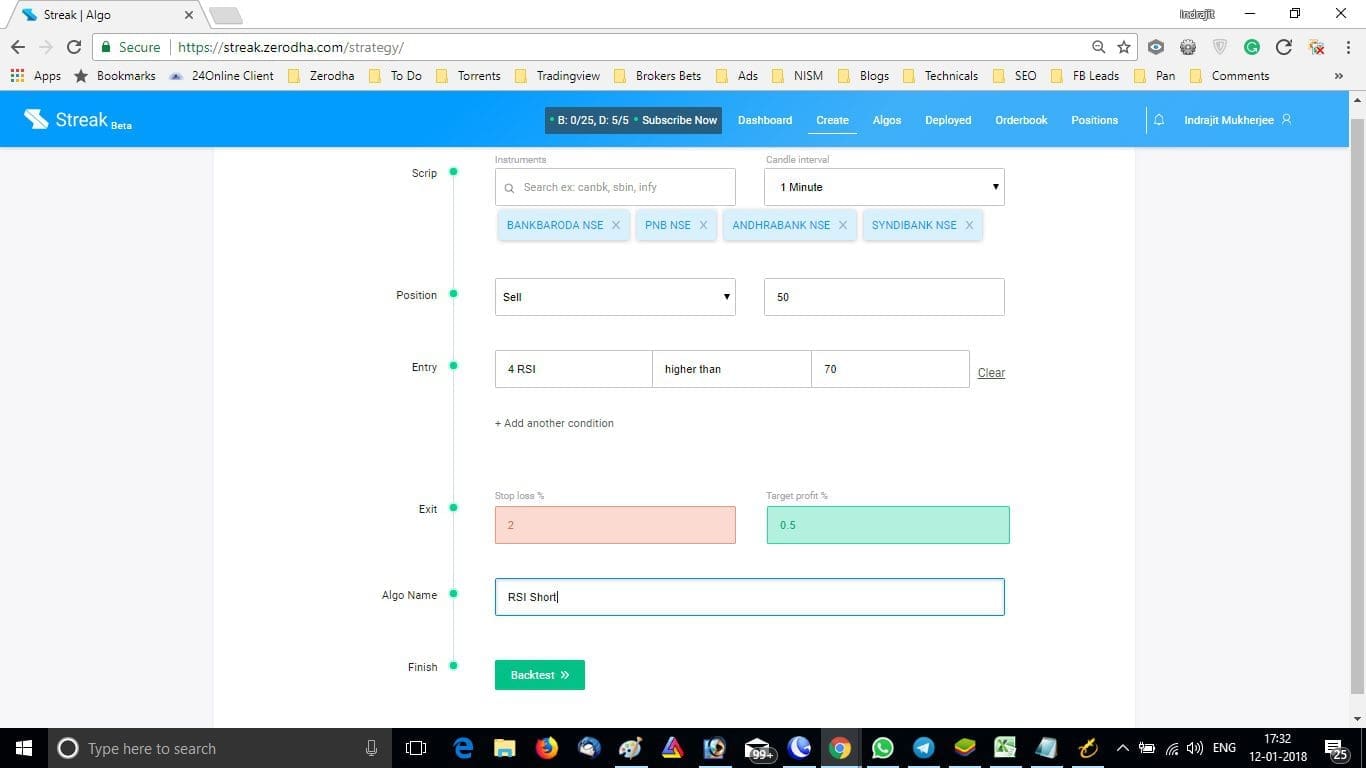 You can add the scrips in the instrument input box, select your candle interval, like 1-minute, 1-hour or 1-day. So, you can add only NSE stocks or FNO in the instrument section. Select your position BUY or SELL and also select your quantity, i.e. how many shares you want to trade. Next in the entry criteria select the indicator you want to use for entry-exit. I used RSI as my entry and selected parameter 4 in the indicator. Next select HIGHER THAN or LOWER THAN as per the entry condition, as I selected RSI indicator to be higher than 70 for sell condition. You can add other indicators like SuperTrend indicator if you wish. Next, you can put your stop loss and target, both in percentage and name your algo strategy. So all done, now you can click on the BACKTEST button to backtest the strategy.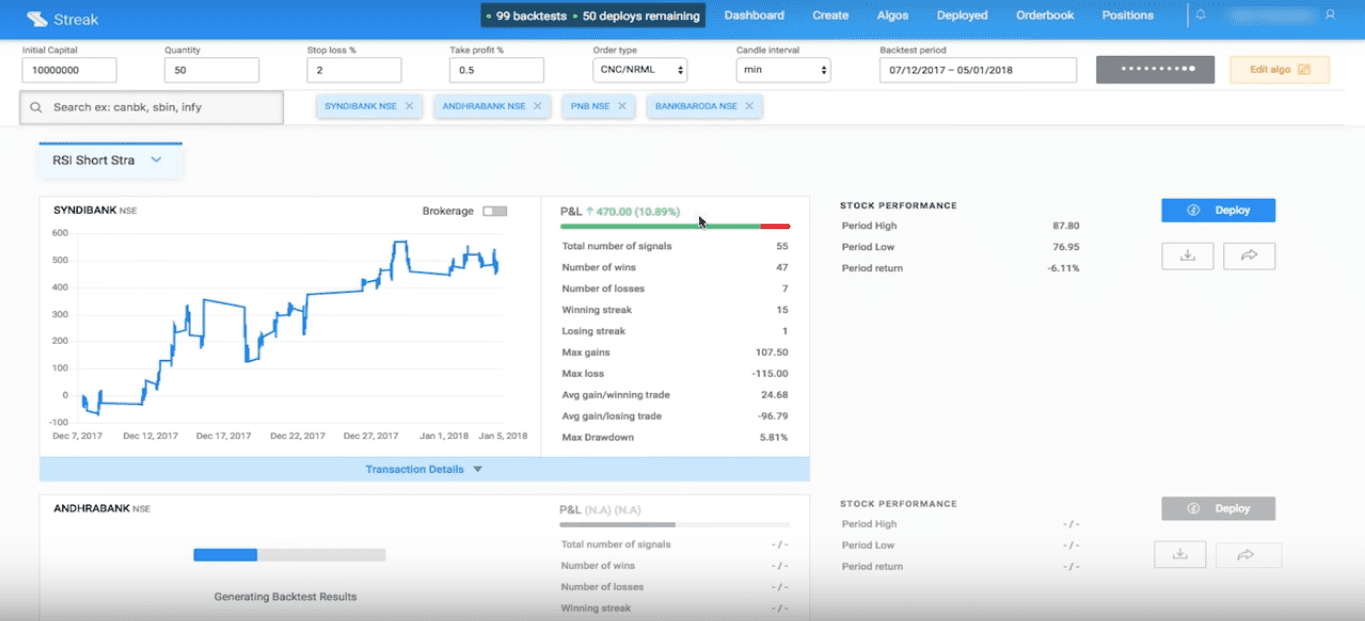 Once you are happy with the backtest result of stock you can click the DEPLOY button to take the trade to live. This will pop up a window confirming the order type like MIS / NRML and accepting the trading terms and conditions.

Now the trades will be live and once the entry or exit conditions will be met it will automatically generate an order pop up window. If you click the order window the order will automatically be fired to the exchange.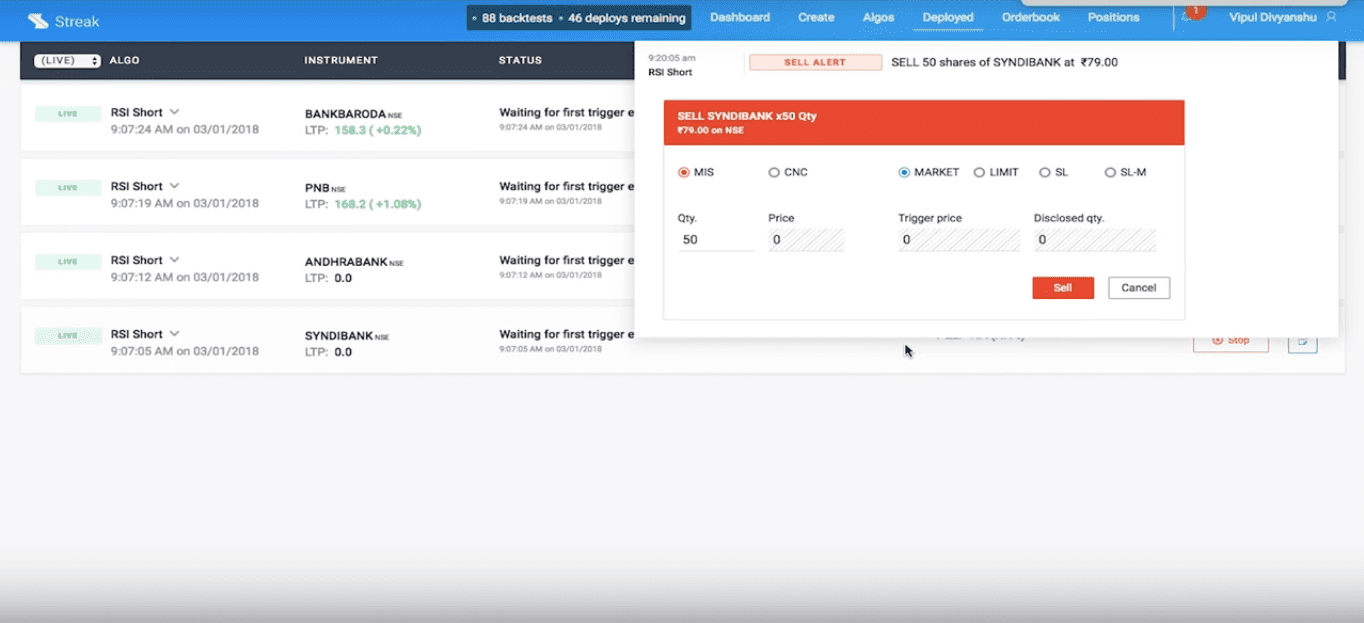 How to Create Stock Screener in Zerodha Streak and get 175% Returns?
We've already published a video on the Zerodha Streak Scanner. There, we discussed how you can create your own scanner. We guide you, only by using limited indicators, how skillfully we can build a scanner. Here, we've also given a proven strategy and real-time data so that you can understand it. The video is attached here:
What are the Top 5 Features of Streak Strategy?
Exit Based on Strategies: Here, you can easily create exit conditions for your algo using technical indicators.
Add up to 5 conditions as per your requirement.
Get multiple technical indicators and chart patterns.
You can backtest your strategy to be sure of its accuracy.
Basket of stocks can be created here on this streak platform.
Conclusion
So you can see the Zerodha Algo Trading process is now really simple with this new app. What is the best part, this app is hosted on the cloud. So you have no worry of connectivity, you can use it from anywhere in the world. Statistically, 40% of traders apply algo trading for trade. And the most beneficial part is as it is machine-generated, the human error is almost nil here. Besides this, Zerodha is providing this fully algo or automated service at a very cheap cost.