Angel Broking has come up with its latest trading platform and named it ass SpeedPro. The Angel Broking SpeedPro Demo can be downloaded from this link. The software is a primarily online share trading software running in the Odin95 platform. Angel Broking has added some good features to it to make it attractive.
How to Get Angel Broking Speed Pro at FREE of Cost?
To install and download Angel Broking Speed pro, first you need to open an account with Angel Broking. Currently, they are offering FREE account. You do not have to pay a penny for opening account with them. Once your account will be opened, you will get FREE access to Speed Pro.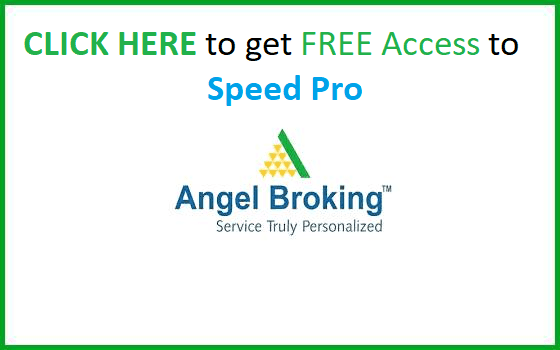 Here are some most searched FAQs on Angel Broking Speedpro.
FAQs on Angel Speedpro
What is Angel Speed Pro?
Angel Speed Pro software is basically a trading software. It is designed for traders. It provides clients with a single-window trading experience along with trade monitoring capabilities.  The trading platform gives you integrated single-window trading experience with multiple technical tools. 
How do you use speed pro?
First you have to download and install the Angel speed pro application on your desktop or laptop. After that open the application with your user id and password. Once you log in, the home window will appear. There you can see the stock price movements. Through this app, you can analyze as well as put trading orders.
How do I download Angel Broking app?
If you want to download the general Angel Broking app, you can do so from the play store. But If you want to download the Speed pro. Charting and trading software, you need to install it from their official website.
Step-by-Step Demonstration on Angel Broking Speed Pro
Once one goes to the link, a small Starter window appears. One needs to register for the software to function properly. The first window asks for the login id. after confirmation of login id, the software starts to get downloaded fully. The starter window appears like the following.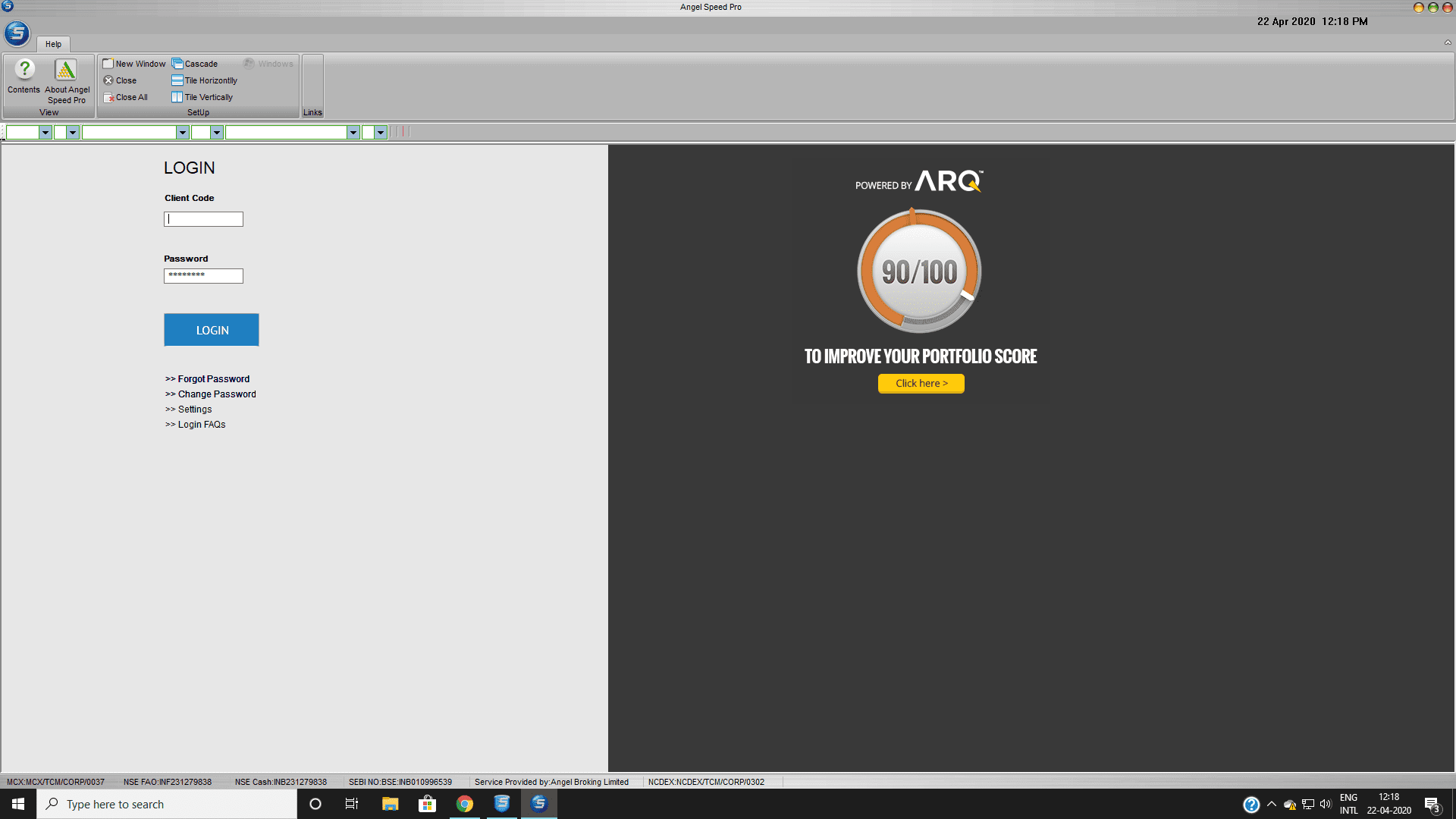 In this screen, the user can save the preference for the intraday chart. A maximum of 30 days is allowed by default. The home screen is different which include the MarketWatch. The home screen looks like the following.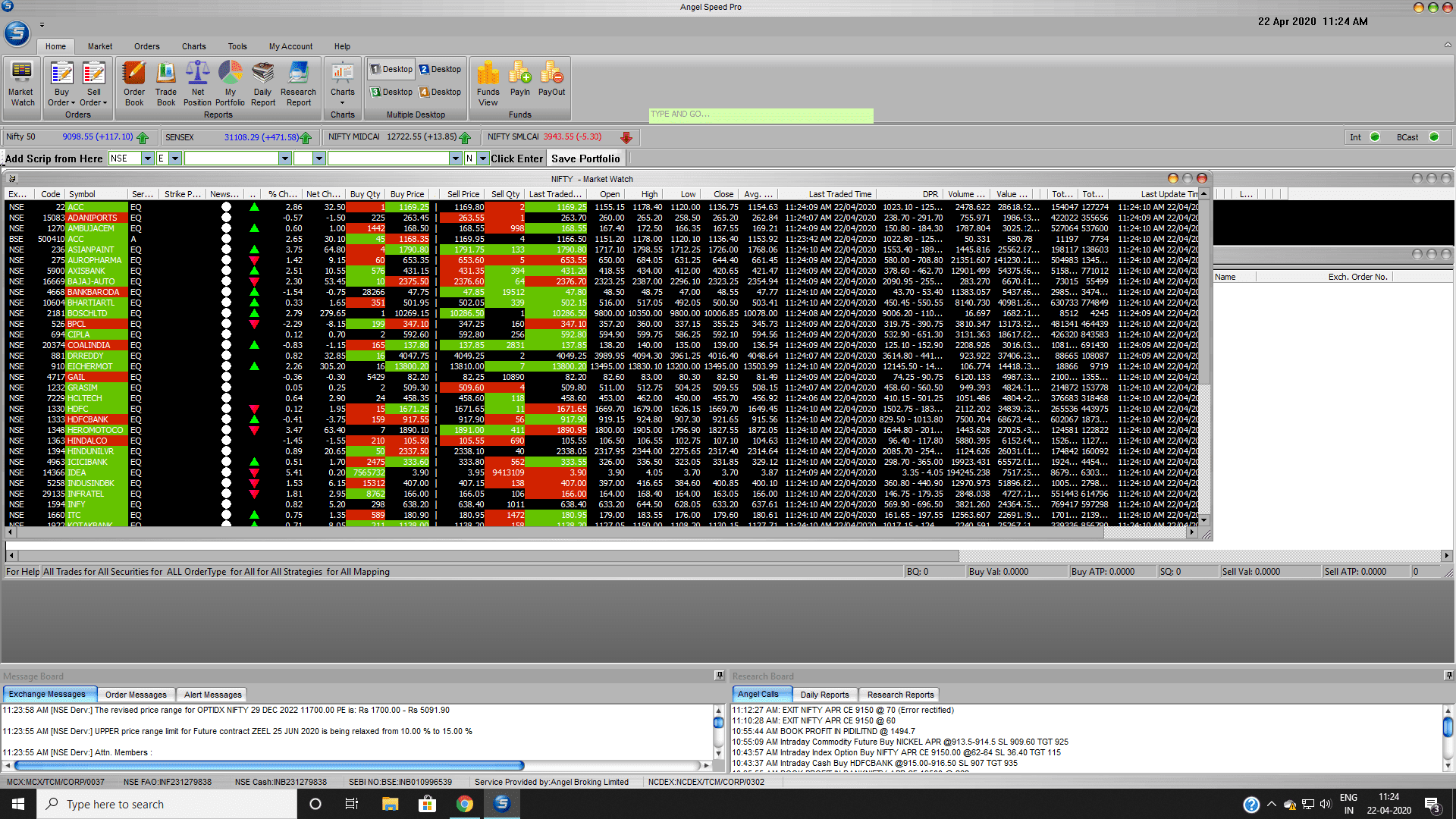 In the home screen itself, one can do all the preferential settings. In the home screen, there is a window for proprietary calls and research report from Angel Broking. The chart loads on screen comparatively slowly and is a little cumbersome to operate.
Angel Broking SpeedPro demo is essentially a terminal-based trading platform. It is a window based software and has the following requirements;
Pentium 4 PC or higher,
Windows (Vista, 7,8, 0r 10),
Ram 1Gb minimum,
5Gb of disk space,
40kbps or more internet speed,
IE 9 or above,
Java-enabled PC and
Adobe flash player enabled.
Orders
Here, you can place orders, buy order sell order from the above order book. There you can get multiple options. For demo purpose, I open a buy order here. There you can select order type, symbol, quantity, price, etc.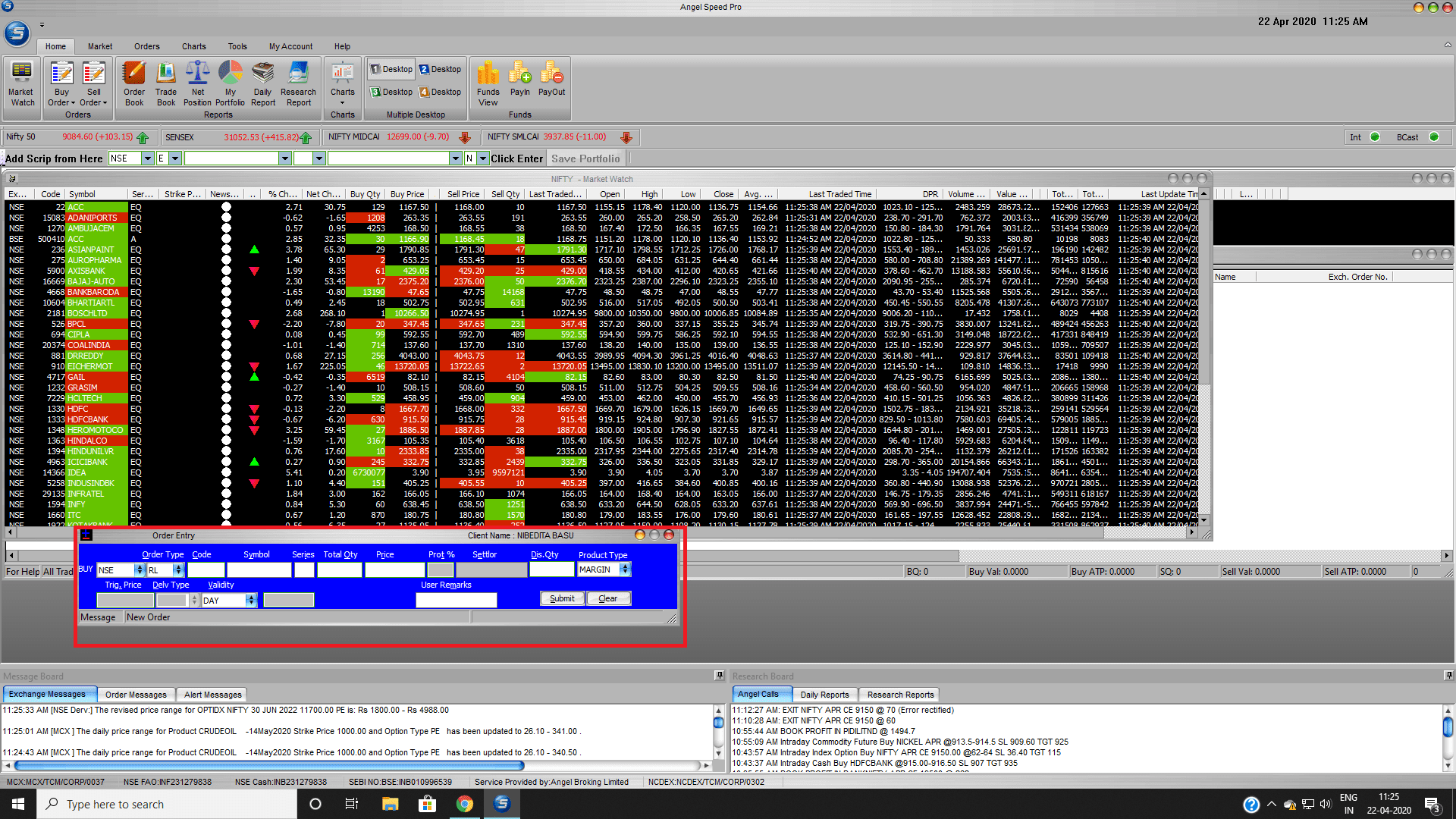 Charts
Angel SpeedPro can display the following kind of charts: Intraday charts (same day charts), intraday historical charts (continuous intraday charts) and historical end of day charts. All major indicators can be added to the charts. See the iage below for an intraday SuperTrend chart.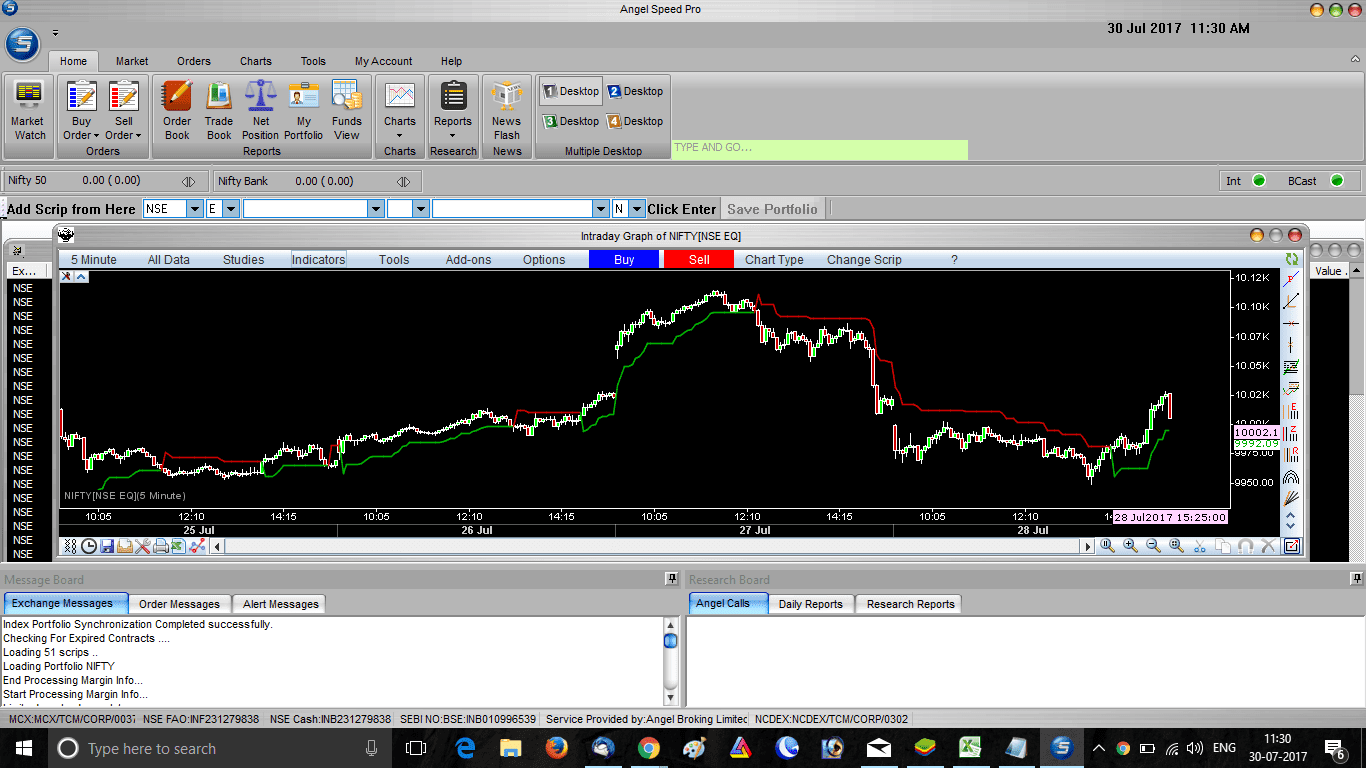 Miscellaneous
Now, see the highlighted section below in the picture. There you can see order book, trade book, net position, my portfolio, daily report, research report. Beside these, there are chart and multiple desktop options.
Order Book: If you place any order, it can be intraday, cash and carry or positional, the entire order record will be shown here.
Trading Book: It is like position. Your current profit loss position will appear there. From the trade book, you will be able to keep the track record of your trading.
Net Position: It displays your overall net position.
My Portfolio: If you have your investment or holding shares, it will show in there.
Daily report: It helps to track your daily exchange in the market.
Research report: Here, you can see all the research report.
Important Features of Angel Broking Speed Pro
The advanced desktop trading application offers a wide range of advanced as well as essential features to analyze and trade:
You will get Single window access to multiple segments and exchanges.
Also trade and monitor from a single window.
Live streaming quotes available here.
Instant order execution available.
Monitor your portfolio along with scrip-wise buy prices, day's gain/loss and overall profit/loss.
Buy or redeem mutual funds easily.
You can get easy access to research reports.
Also can Watch and update live market data in excel.
News notification and Alerts comes frequently.
With multi-desktop features users get the access to open multiple desktop screens.
Shortcut keys and high performance based alerts helps traders during trading.
Angel Broking SpeedPro demo and its advantages:-
Real-time news window;
Live trading calls from Angel Broking research desk;
Provision to add multiple market watch list and the user's advantage of easy toggling among these Marketwatch windows;
Also, it provides a multi-desktop feature which allows the user to toggle from one desktop to another from the same account;
Gives high performance even at basic internet speed;
Provision for customized shortcut keys.
Comparison between Zerodha Pi and Angel SpeedPro –
Angel Broking SpeedPro takes a longer time to start and slower compared to Zerodha Pi.
In SpeedPro the chart window is smaller, can not be maximized and not as easy to handle as charts in Zerodha Pi.
There is no coding backed stock screener as in Zerodha Pi, which uses user-friendly Tradescript language for coding and the coding for the screener and Algo trades can be easily customized.
Conclusion
So, I hope you get a proper details of Angel Broking SpeedPro Demo from this post. It is indeed a great initiative from the Angel Broking. Without costing a paisa, you can get an advanced trading and charting platform like this. So, without any delay start trading and investing to earn money from home. If you have any quarry you may ask me below in the comment box.