Amibroker has been a very popular software for a long. Traders around the world prefer Amibroker, even over the trading platforms provided by their brokers. But being a third-party software, you need to import data from other sources. Amibroker does not provide data on its own. But this software works well with all exchanges across the world. Therefore live data feed is necessary from other data providing sources. At times it appears to be a costly addition. In this blog, I'll show you how to get free NSE live data for Amibroker from investing.com.
Also, in India, we get data from NSE (national stock exchange). But the third-party vendors buy live data from NSE. There are different types of data input. We can get 5 minute live data, 1 minute live data, 1 second live data or tick by tick data. The cost of data varies according to live input. The tick by tick data comes at a very high cost.
The corporates, HNI ( high net worth individuals), and big-time traders use tick data. But the retail traders mostly search for free live data. Besides the brokers, free live data actually come at time-lag. Therefore these are not good for professional use. This blog shows how to get free NSE live data for Amibroker from investing.com. The plugin from investing.com can be used for generating signals in Amibroker. The data is live, smooth, and free. The retail and even professional traders can also make good use of this plugin from investing.com.
Amibroker and investing.com work as pairs for generating signals. For some brokers, you can trade directly from Amibroker. You can also automate trades in Amibroker software. So, use the live data plugin from investing.com, generate signals from your preferred technical indicators or trading system in Amibroker and trade directly!
FAQs
What is Amibroker?
Amibroker is a completely independent charting software.
Do Amibroker provide live data feed?
No, as a matter of fact, there are third-party vendors who provide the live data feed. Amibroker users need to buy live data feed from these vendors.
How costly is live data? Are all live data feed cost the same?
Live data feed comes at a cost, of course. But all do not have the same price tag. Some are comparatively cheap and some costs more. But there are live tick data. Professional traders who do high-frequency trades etc. use these data feed. They are costly. Also, machines using algorithmic trading require high-level data feed.
Are there any other software like Amibroker?
Yes there is. But Amibroker is the most popular independent charting software in India.
Why do a trader need live data feed?
The Amibroker is only an independent charting software. But to make that operational, you need data feed. The live data feed gives you live data analysis. And historical data helps you to do backtesting. So you need Datafeed to make Amibroker functional.
What is investing.com?
Investing.com is a website. We can get free NSE live data for Amibroker from this site.
How to get free NSE live data for Amibroker?
This facility is available with investing.com.
How to get free NSE live data for Amibroker from investing.com?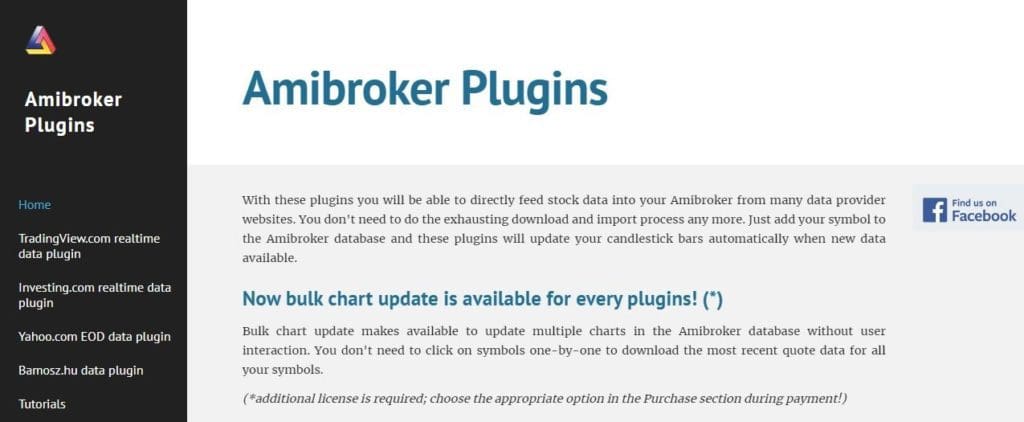 Here in this picture, we find a number of plugins for Amibroker. These plugins are small software which acts as an interface for Amibroker. The plugins provide live NSE data feed for Amibroker. The investing.com gives you provides you with a plugin that brings free live data. So when you use this plugin from investing.com you get free live data for Amibroker installed in your system.
Now investing.com and other plugins like Tradingview etc do not support all Amibroker versions. And there are other technical issues as well for traders who use Amibroker. So let us delve deep into the features to know more about these plugins.
Go to the data download website
CLICK HERE to visit the data download website
Features of investing.com to get free NSE Live Data for Amibroker
Investing.com supports Amibroker 5.27 version or higher. So anyone using lower versions of Amibroker cannot get live data from this website.
You can import real-time live NSE data on Commodities, Equities, Indices, Bonds, ETFs etc.
For realtime quotes, you need to have Windows 8 and later versions in your machine.
This plugin supports both mixed intraday and EOD data.
You can also get information on symbols of more than 60 international indices.
The plugin supports backfill data.
Amibroker automatically downloads and stores data from data feed through this plugin. You don't need to store data separately.
The plugin works well in Demo mode and has limited abilities.
If you need full version you need to register yourself and buy the full version.
You need to buy extra license to get bulk data etc. The basic license does not cover these functions.
The Amibroker plugin from investing.com does not affect how Amibroker stores data on your hard disk. The plugin works independently.
Therefore you just activate the plugin and forget technical details.
Amibroker saves data automatically as soon as it receives data from the plugin.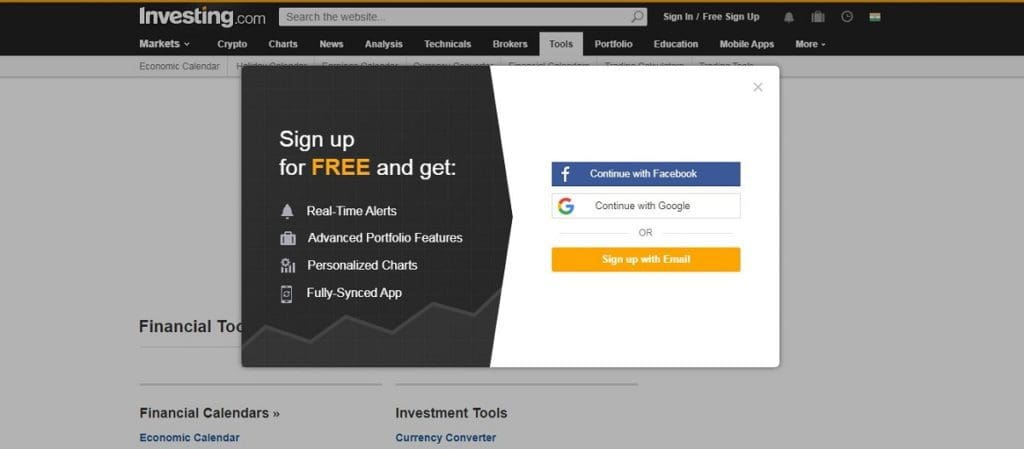 Advantages of using investing.com plugin for free NSE Live Data for Amibroker
As we can see from the picture above, the website boasts of data plugin. The website asks you to register for free. Once you register you get the advantages of
real-time trade alerts,
features of advanced portfolio management,
customised and fully synchronised app.
The website gives you some exclusive features for being an investing.com member. You need to register yourself first. Once done, you will get real-time quotes. Also, you will get instant alerts on content and events. And also you will be able to join any webinar you wish to join. There are also blogs and tutorial to help you out. In addition, there are many video links on the website. These videos will guide you through all the technical jumbles and ease your task.
You can enhance your knowledge from the education menu. In the education section, there are many webinars. These webinars mostly focus on technical strategies and similar things to help the traders.
A guide to getting free NSE Live Data for Amibroker from investing.com
The investing.com requires a minimum system configuration to play the plugin. These are,
internet,
Windows XP III or higher version,
Amibroker 5.27 or higher version.
Download the Demo version first to get free access to live data. The Demo version has 32bit and 64bit versions. First check which version of Amibroker is running in your system. The if it is a 32bit version then choose the 32bit Demo version from the link. Otherwise chose 64bit Demo version if you are having a 64bit Amibroker.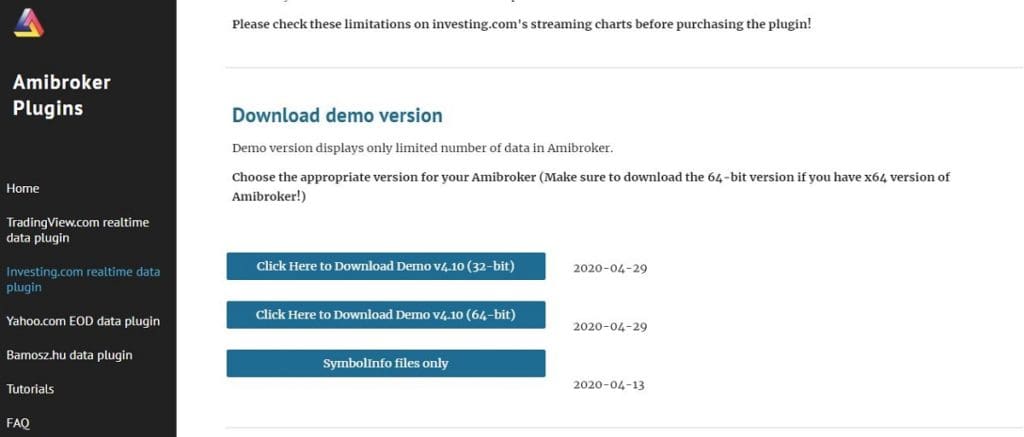 You need to follow some instructions to activate this plugin from investing.com to get free NSE live data from Amibroker. These instructions are as follows.
At first, download the Amibroker. The version should be 5.27 or higher.
Secondly, unzip the AmiDataInvesting.zip file. Unzip it into the plugins subfolder the Amibroker version you just installed.
Amibroker is commonly installed in program files. In that folder, you can get the plugins subfolder. The file path commonly is C:\Program Files\Amibroker\Plugins.
Now run the Amibroker.
After that, you need to create ann new database. The new database path could be – File menu -> New -> Database.
Now enter this new folder path and browse.
Press create.
And now you need to create a data source for the all awaited plugin to function. Therefore select the data source – Investing.com Amibroker Data Plugin.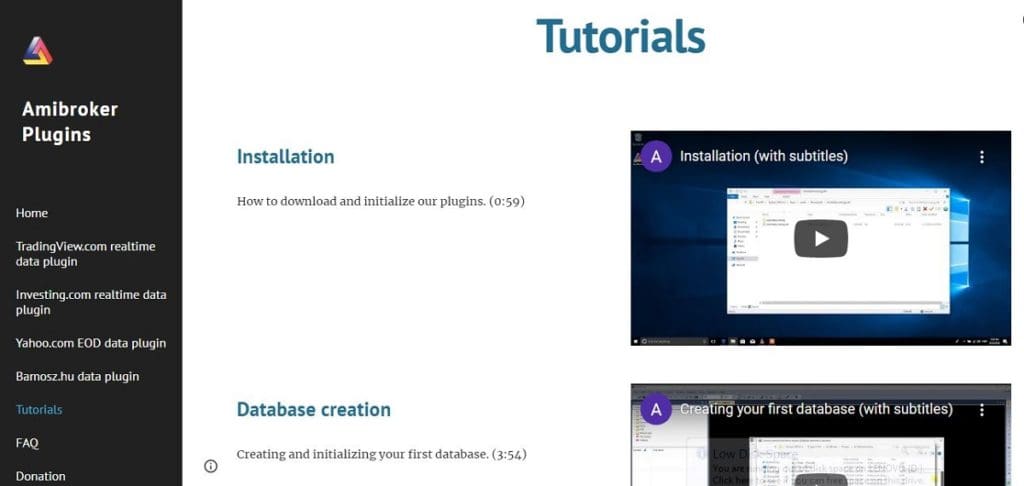 Create the plugin path
And now you have to enable local data storage. So go to -> Local data storage – Enable.
You have to enter the number of bars in the setting. The allowable number of bars can be obtained from the investing.com site. The allowable number of bars depends on the subscription. For the Demo version, the number of bars allowed is 100. So put 100 in the number of bars if you are using the Demo version of this plugin. It is important to note that the number of bars in Amibroker setting should match with that of the plugin from investing.com to function properly. So after you carefully complete this step you are almost ready to go.
Now you must set the base time interval. This path should also match. Unless the base time interval is not the same in both Amibroker and the data plugin source, there can be a gross mismatch in data input and charting.
And finally, press OK.
A few final words
Though the investing.com plugin allows us to import free NSE live data, there are a few limitations as well. You can not get updates for all symbols in every time frame. As for examples, data for all time frames like 1min, 3 min, 5 min, etc. for equities having a very low trading volume are not available. Also, you can not get the volume information of currency pairs, commodities, and some stocks on all time frames. And also all market information is not truly real-time. Investing.com also provides some information with a little time lag. So traders get delayed information on some stocks and indices. The historical data is also limited to 4 days in the unregistered version. It also depends on the subscription category. Therefore a trader must make themselves aware of these limitations before purchasing a license from investing.com.
But even after taking into account all these limitations, the investing.com plugin works very well with Amibroker after the plugin is well set and properly synchronized. And of course, you need not pay a dime for getting live NSE data.