The Qstick indicator is a momentum indicator that provides a measurement of buying or selling strength in a market. It's basically a calculation of the difference between the open and close prices. The indicator is designed to indicate net price gains or losses over a specific time period. This type of indicator was designed by a scientist, inventor, author, and trader Tushar Chande. He has a Ph.D. in engineering and holds nine U.S. patents.
What are the Key Features of the Qstick Indicator?
Transaction signals come over there whenever the Qstick Indicator crosses through the 0 lines.
Moreover, it is also useful in highlighting particular market conditions, such as market strengths, weaknesses and other trends developing in financial markets.
It gives a representation of a security's exponential moving average (or EMA), opening price, closing price, and their difference, along with their simple moving average (or SMA).
This portrayed indicator is just like the well-known moving average convergence divergence.
This momentum indicator likes the Qstick often provides an early indication of failing the momentum and this market trend that is exhausting itself and about to change direction.
Formula
QSI = [closing price – (opening price X n)] X SMA
Here, n = period of time
The QS simply builds a moving average for n-periods that would show the difference between close and open prices.
QStick = MA(n, (Close – Open)). [Where n is the number of periods for calculation of moving average.]
How to Use the QS Indicator on your Chart?
In the Zerodha Kite platform, traders can find the Qstick indicator under the STUDIES section. This indicator is also available in the Kite mobile App. The Period is 8 and you can set the value of it high and low in Zerodha kite. The Moving Average Type is simple you can change it also. You can check the image posted below to get an idea of how we attached the Qstick indicator in Reliance Industries shares price chart. You can attach the QS indicator on to any charts likes daily, weekly, monthly or intraday.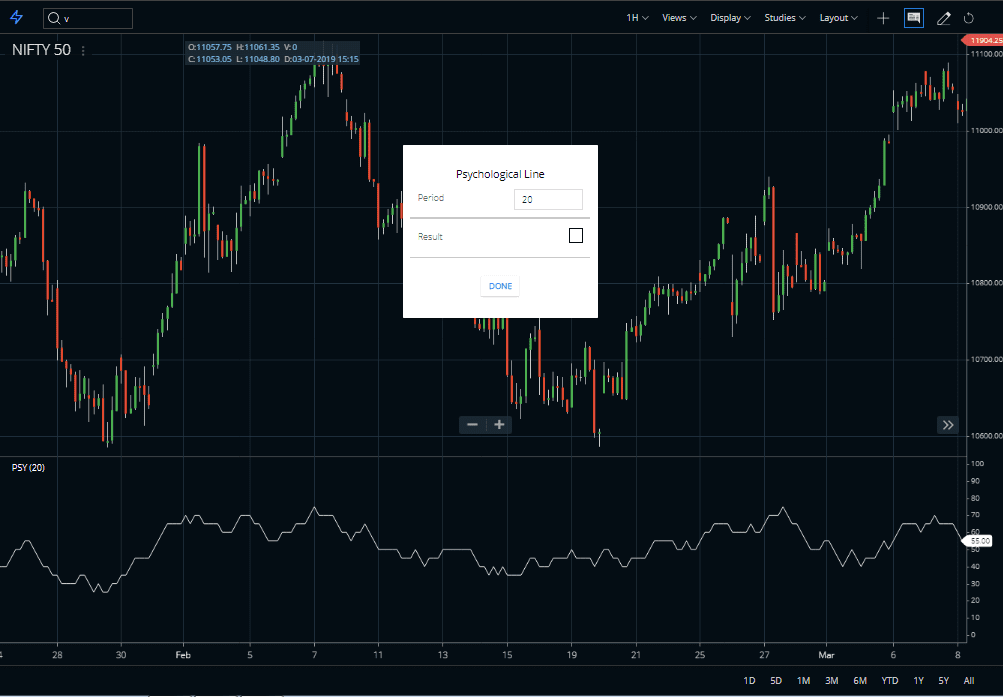 The next part is with Upstox Pro. The setting is also quite simple here. First, log in to Upstox and then open a chart. After opening the chart, search for the indicator and click on apply.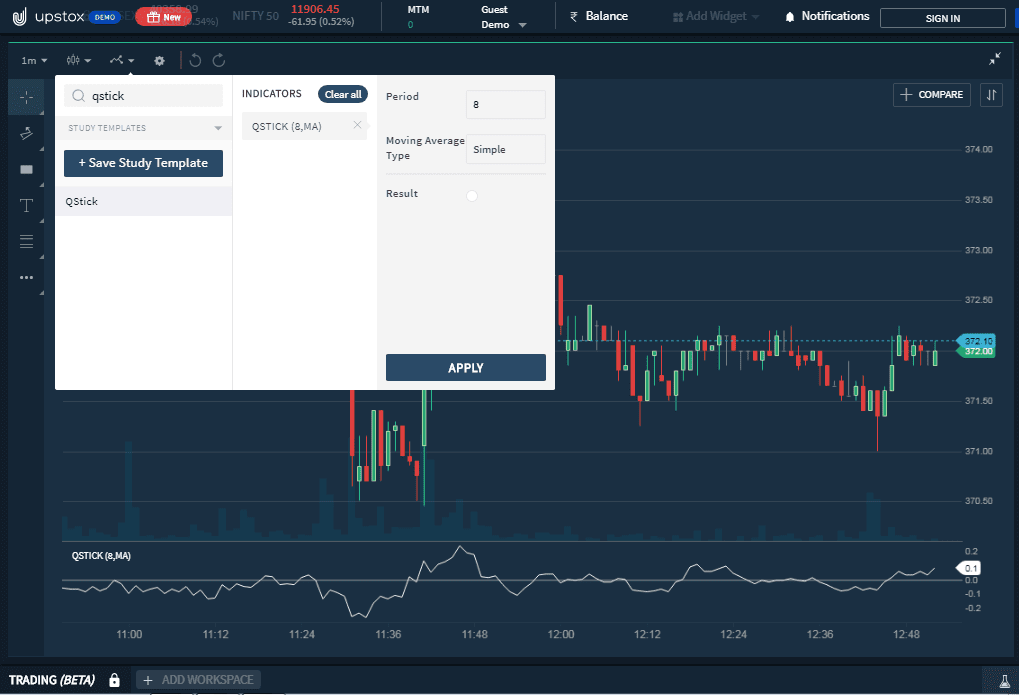 The Most Popular Trading Strategy of Qstick Indicator are:
The QS indicator can easily identify both overbought and oversold conditions. There are multiple ways to trade the Quick stick indicator:
Overbought & Oversold – When the indicator crosses the zero lines and goes much above, it is overbought. In another way, if the indicator crosses zero lines and goes below, it is oversold.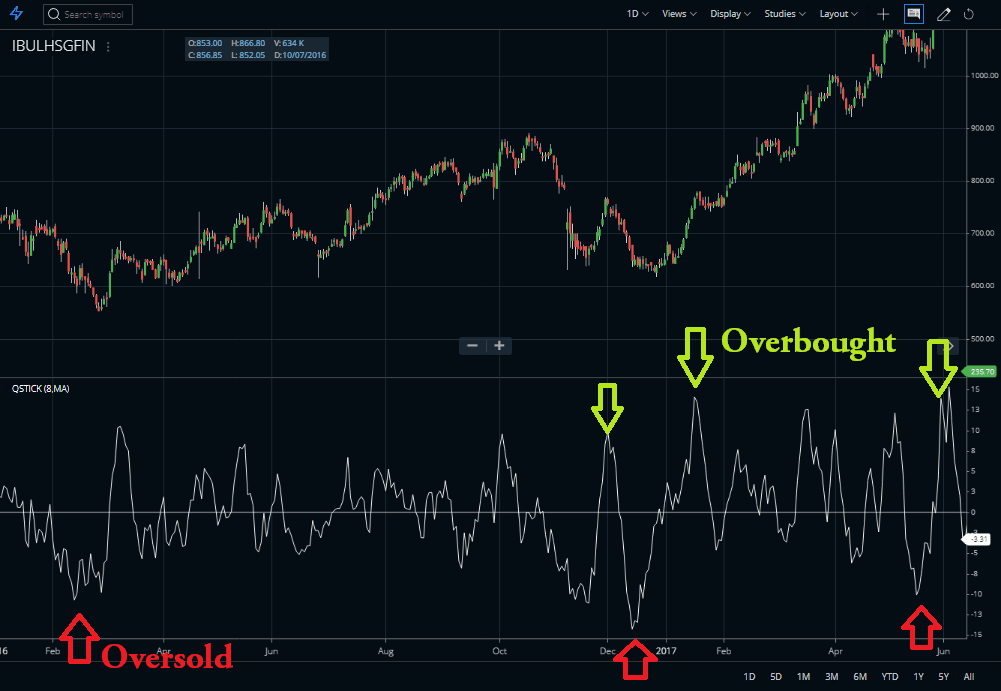 Crossovers – Once the indicator crosses above zero then buy and oppositely, when it crosses below zero lines then sell or short sell.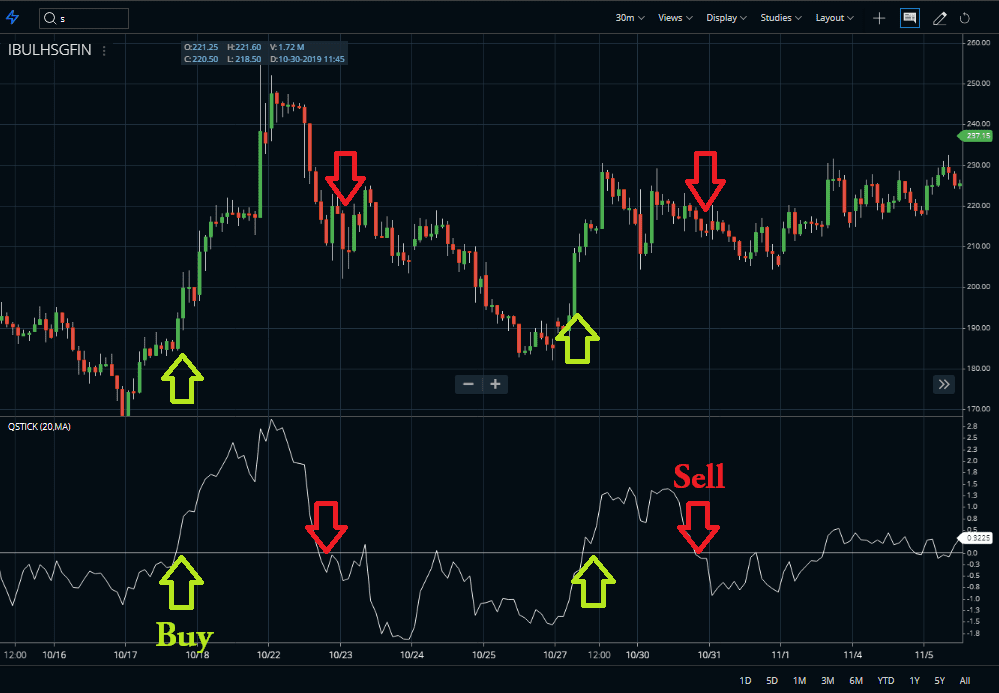 Extreme Levels – If the Qstick indicator is at an extremely low level. And turning up then buy and reversely when the Qstick indicator is at an extremely high level and turning down then sell or short sell.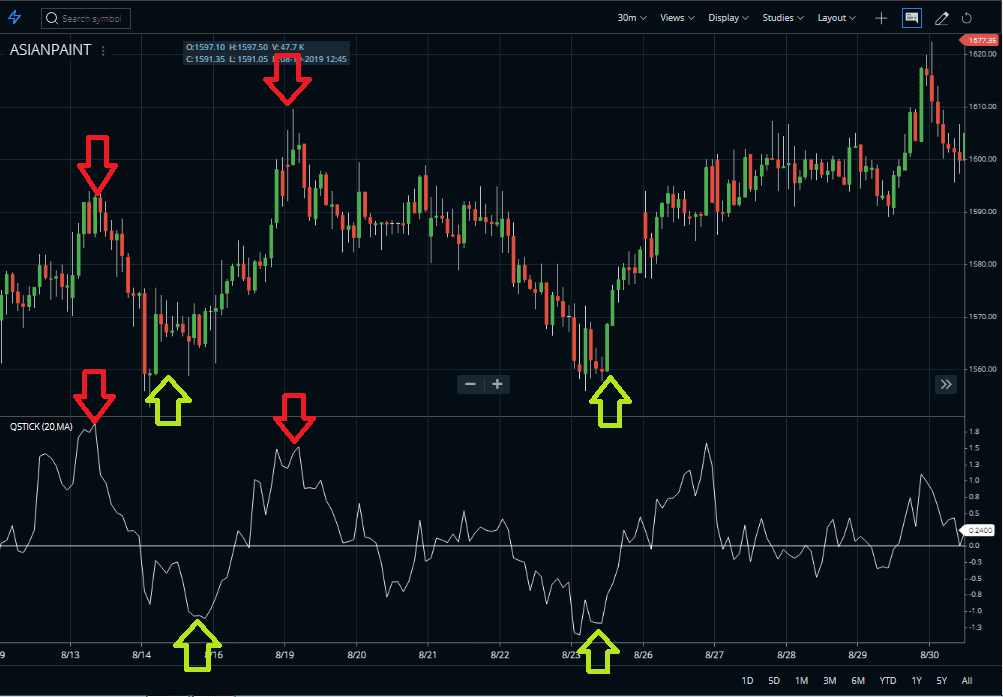 Divergence – BUY if the QS indicator not moving down with the price. And, when the QS is moving down and prices are moving up then it will be sell or short sell.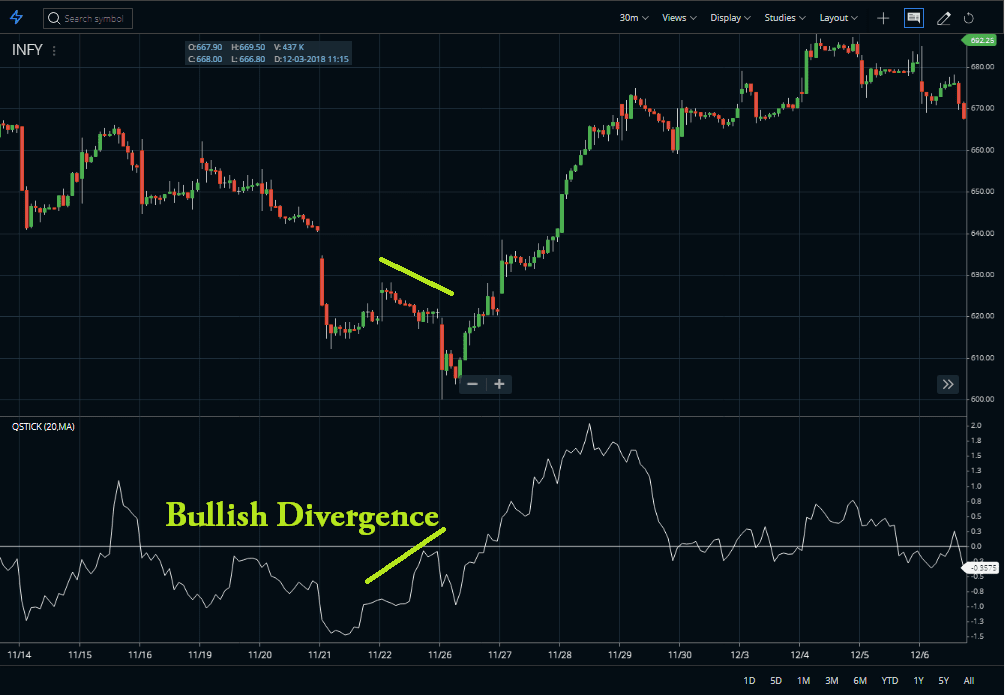 Important Tactics of the Qstick Indicator
The Q-Stick Indicator is quite a versatile tool. There are various techniques for using it. Besides, turning to the exponential moving average or EMA as a signal line, one can employ it to point out market conditions, strengths, weaknesses along with different kinds of incoming trends. To minimize the chances of possible losses, it is advisable to always wait for an indication or a price confirmation.
Important tactics when using the Q-Stick Indicator:
Calculate the simple moving average (SMA), and you can use it as a trigger point; buy or sell depending on the results.
You can buy once the tool crosses over 0. Reversely, you can sell once it fails to cross 0 or remains under 0
One can buy if the tool is indicating an uptrend or once the market prices are going down. Oppositely, sell once it is indicating a downtrend or once the market prices are heading upwards.
Lastly, buy once the tool is indicating an extremely low level and, sell once it is indicating an extremely high level.
Conclusion
Tushar Chande wrote the Beyond Technical Analysis book where he discussed this tool. The specific indicator easily devised the trading strategy which seeks to take advantage of certain market turns, either in intraday swing trading or in relation to the longer-term market trends.