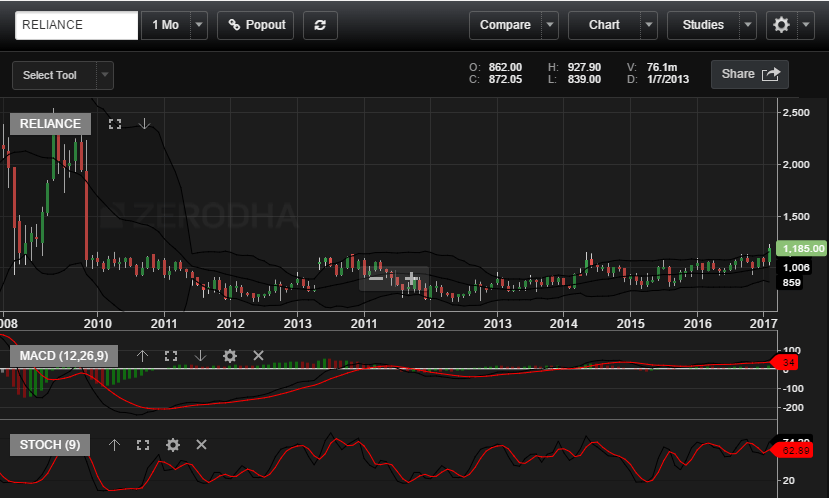 If you want to do the Reliance Industries Share Price Analysis, here are some things to do. The first thing you will do is to look at its chart. And what a nice chart, yesterday the stock price has made a breakout over its 8 years price range and has formed a big bull daily candle. You can see that the stock has just come out of the sideways slumber of the last eight years.

The reason for the big surge was Mr. Mukesh Ambani's Tuesday's speech where he announced that they are going to stop the free usage of the Jio network and as per money control market was really caught on the wrong front. The stock's price surged by more than 10% in a single day. The scrip has also managed to cross 1200 first time since 2008.
I am a long-term shareholder of Reliance Industries and have inherited many shares of the company from my father. I am also following the Indian stock market full time since last 9 years. And I never remember Reliance out-performing the index so much.
Till Mukesh Ambani's speech, analysts were expecting that Reliance Industries will continue to give free Jio usage throughout 2017 but the company has announced that instead of free, the company will charge monthly Rs. 303 for 1GB daily data and free voice calling to everyone enrolling before the 31st of March. The company has so far added 10 crores subscribers to their Jio network. Currently, most clients use Reliance Jio as a secondary sim, but if Reliance can provide good service for fewer rate people will start using it as a primary sim. So, if Reliance Jio can only manage to retain 40% of their existing subscribers, i.e. 4 crores subscribers, they will start with a bang. Revenue per month will jump to 4 crores x Rs. 303 = Rs. 12,12,00,00,000.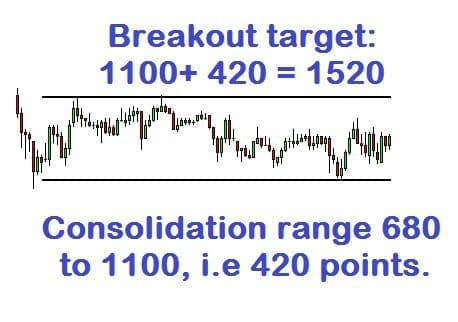 So a final thought on Reliance Industries share price analysis, check the monthly chart of Reliance Industries above. If the stock can sustain above the 1100 mark for a few days, I will not be surprised to see 1500 on Reliance Industries by the end of 2017.