Previously, we've covered best picks small-cap stocks of 2019. In today's topic, the center point will be on Best Mid Cap Stocks List in NSE for 2019. Analysts feel that in this year earnings will be the driving factor for the Indian market. There is a high probability of mid-cap stocks outperforming the large-caps in 2019.
Types of Stocks fall under Mid-Cap
Under the market capitalization category, the companies which have market cap more than 13000 Cr but less than 75000 Cr, fall under the mid-cap category. Top 101 to 250 companies belong to the specific section. Though mid-cap companies carry a higher risk than large-cap, the profit also higher here. Here is the Best Mid Cap Stocks List in NSE.
Best Mid Cap Stocks List (Recommended by Financial Identities)
REC (Rural Electrification Corporation)
The company is a Government-owned company which finances the various project in the power sector. So, the non-performing assets are under control. As per the report of Sept 30, 2018, the company's EPS (earnings per share) was 8.98. In the year 2018, the company has declared a dividend of Rs. 9.15/share Because of the substantial dividend yield, if there is a sudden collapse in the market, the stock price would be protected. (Suggested by SANJIV BHASIN in economic times, Executive Vice President, IIFL Securities).
KTKBANK (Karnataka Bank)
When it comes to private sector banking stocks, Karnataka bank is one of the cheapest stocks. The share provides a good dividend yield of near 3%. As per the report, EPS (earnings per share) was Rs.15 in FY18. It is a decent mid-cap stock to bet in 2019. There is a possibility of short-term capital gain here. (Recommended by Vijay Kedia, MD, Kedia Securities in economics times)
Top Mid-Cap Stocks (by wikifinancepedia)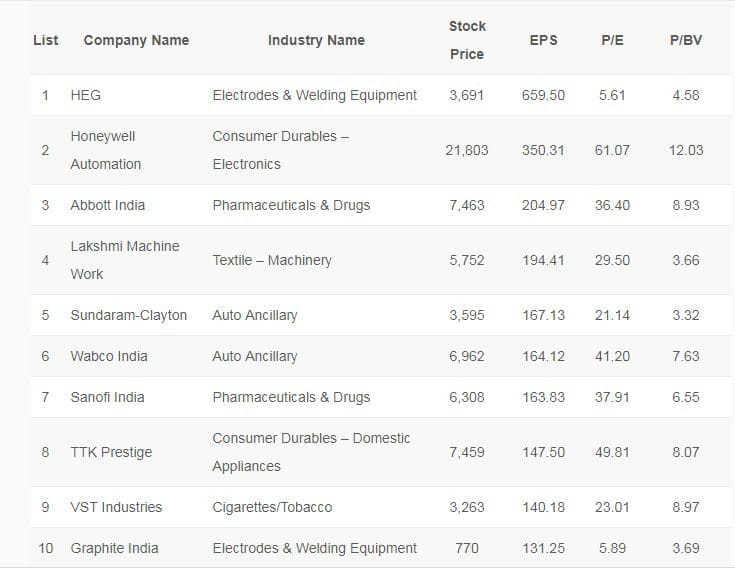 The top 10 list of mid-cap stocks are taken from wikifinancepedia site. The list contains multiple companies with different sites. Each company carries stock price along with EPS, P/E, P/BV.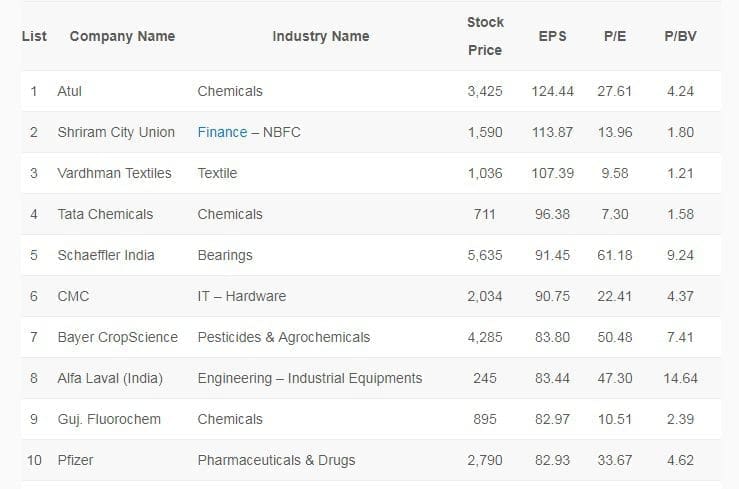 Another list of top mid-cap companies is given below. It also contains the same information as before, company names, industry names, stock price, EPS, P/E, P/BV. (Recommended by wikifinancepedia)
Karvy Stock Broking Recommendation
According to the recommendation of Karvy stockbroking, some best pick mid-cap stocks are given below:
Bajaj Electricals
Finolex Cables
Jain Irrigation
KPR Mill
Relaxo Footwear
Take Solutions etc

Kotak Institutional Equities Recommendation (MoneyControl)
Kotak Institutional Equities recommends 15 mid-cap stocks which include Petronet, Shriram, Federal bank, Mindtree, etc. The list is as follows: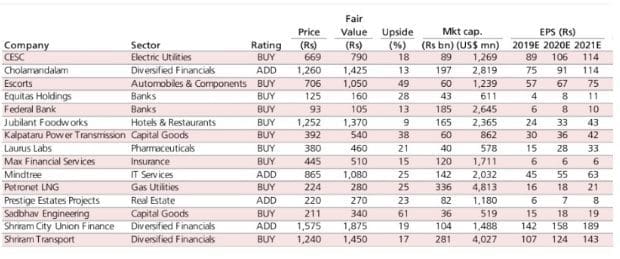 So, these are some of the best picks mid-cap stocks from the Indian stock market. Investors may take these recommendations to create a profitable portfolio.
Why Choose these Recommended Stocks? (In-house Analytical Method)
Now, the question is why do we choose these above recommended or suggested Best Mid Cap Stocks List in NSE? Only because of the popular financial identities' recommendation? Of course not. First, analyze then decide by yourself. Nowadays, most of the traders and investors depend on online-based investment. They prefer to work on both technical as well as fundamental analysis for better accuracy.
Fundamental Analysis
Fundamental analysis is mainly deal with the historic market activities of companies. The overall fundamentals of business from the various perspective is the core objective of the analysis. To choose any kind of shares for holding, fundamental analysis is a must to do act.
Therefore, in fundamental analysis, the followings are the main lookouts by which one can analyze a company's historical data. To know the actual valuation of a stock, you need to evaluate the company's growth, earnings, value.
The profit-loss statement, Balance Sheets, Cash Flows.
P/E ratio (Price to Earnings), EPS (Earnings per share)
BV (Book Value), FV (Face Value), P/BV (Price to Book Value Ratio)
In addition, Dividend Yield, Dividend Payout Ratio
Example
Now, I will show you how you can do the fundamental assessment of a company. Suppose I take one of the above mentioned mid-cap companies, REC.
Fundamental Analysis of REC
Nowadays, there are many analytical sites available, from where you can easily evaluate any of the company's fundamentals. Like here, I have taken REC (Rural Electrification Corporation) and put it in the Moneyworks4me site. From there, I got the following analytical details.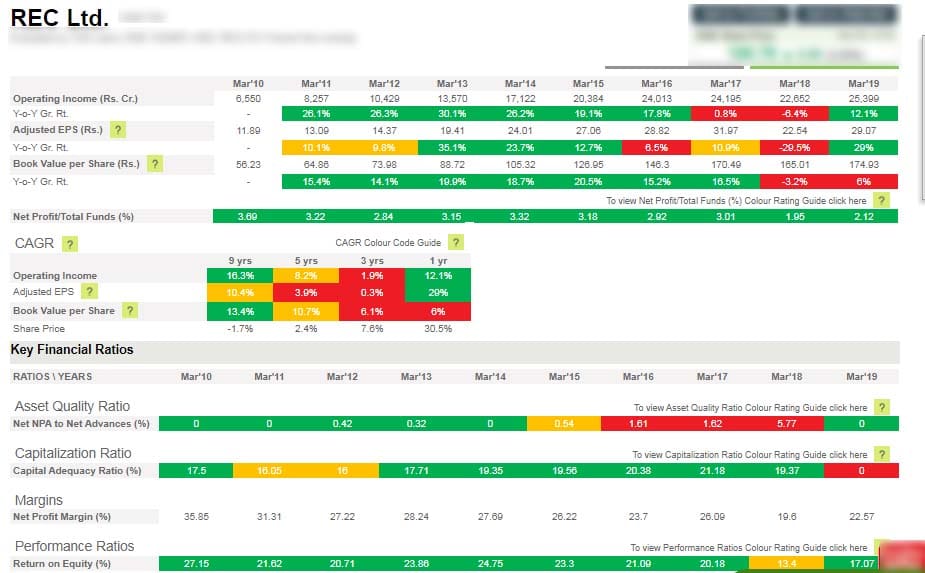 Here, you will get past 10 years of fundamentals overview of the company. For an instant, Operating income, EPS, Book Value/Share, net profit, asset quality, etc along with key financial ratios are displayed there. The overall picture showing the company is carring a steady profitable level throughout the years. Though in the FY17-18 their profit level becomes minimize, FY19 is a turning back year for them. Now, let's have a look at another improtant point of analysis, promoters' holdings. The current price of the stock is Rs.150 (As of 10, Sept 2019)
Promoters' holdings

The company's promoters' holding is at a moderate level but it is more than 50%. By estimating the promoters' holdings, you can value a company's share demand. Promoters invest their money after a minute and detailed analysis. Hence, you can rely on them. More promoters' holdings mean the company's shares have a high probability to rise up in the future.
However, in the same way, you can analyze other companies' fundamentals. now, have a look at the technicals.
Technical Analysis
After fundamentals, now come to the most interesting part, technical analysis. It has nothing to do with the previous historical data of a company. Hence, technical only deals with the current price movement and ups-down of the market. Unlike fundamentals, it works with historical trading data.
Now, most of the popular tools which help to analyze stocks technically are as follows:
Technical charts (Candlesticks, Heikin Ashi, etc chart pattern)
Indicators, Oscillators, Drawing Tools.
Current news, chart analysis
Example
Let's begin the main part of it. How you can analyze technically of any of companies' stocks. Here, I've taken one of the above stocks as an example to let you know the process of technical analysis.
Technical Analysis of KTKBANK (Karnataka Bank)
In order to analyze the specific bank's share technically, first, you need to have either a technical platform or trusted websites (who can analyze the stocks on behalf of you). According to me, besides taking others' view, you must do the analysis on your own. Like here, I choose to do my analysis on KTKBANK with Zerodha charting platform.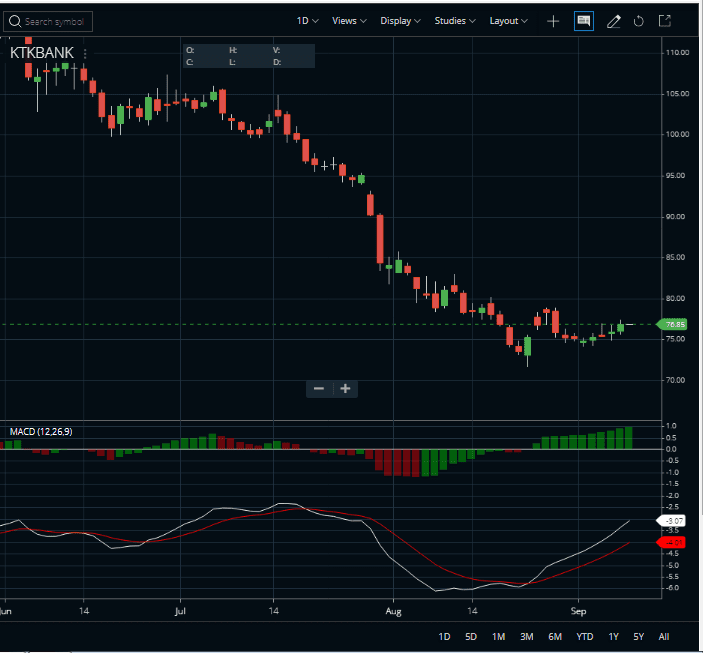 So, the above chart is taken from Zerodha Kite (India's one of the best Charting Platform). It is a one-day time frame candlestick chart. At a glance, the chart reflects a downward movement but if you analyze more properly, you will see a probability of a future rise in the share price. Look at the MACD (a popular indicator in technical analysis), buy-line is above the sell line (the red one). Therefore, the graph is gradually rising.
Now, as the overall market condition is not so well, the effect causes some trouble for the bank's share also. The current price of the stock is Rs.76.50. In the future, it is expected to see a growth in it as the chart analysis overview is pretty well.
Conclusion
However, I want to mention that listening to others' advise on investment should not be the benchmark. You always try to do an analysis on your own. Lastly, it is advisable to take your own investment decision.
Disclaimer:
In addition, the article "Best Mid Cap Stocks List in NSE" was first published in March 2019. Now, it has been edited and re-published on the current date with the recent update. It is advisable to verify the stocks on your own before investment.