We've already covered the small-cap and mid-cap stocks in 2019. Today's section contains Top Large-Cap Stocks 2019 in India. Apart from our suggestion list, your skill, charting techniques, will guide you to select the Top Large Cap Stocks List in NSE 2019. Though our former content covered basic concept regarding market capitalization, still we will give a brief idea regarding the large cap.
What are Large Cap Stocks?
As we know that the market cap is the aggregate valuation of stocks in a company. We can categorize companies based on the size of the market cap. Therefore, generally, large-cap companies are well-established, larger in net worth (more than 75000 Cr).
Key Reasons to Invest in Large Cap Stocks
Large cap companies are properly established and stable. It makes them less likely to leave their business or go bankrupt. In any case, the companies' stock price may not rise as faster as small or mid-level companies. So, the best part of these companies is they are the best companies in their business sectors.
2. Investors or financial institutions rush to best large cap stocks during the bearish market condition. That is because of their safety and security than small cap companies. Simply, it means they will probably withstand during downfall without leaving the business.
3. Apart from this, almost all the large cap stocks in India pay dividend also offers bonus shares sometimes. That always makes investors happy with an additional source of income. The company pays dividend or bonus shares because they know that large cap stocks won't rise as faster as other small companies.
Top Large Cap Stocks List in NSE 2019
As large-cap companies are well-established and stable, they are less risky in comparison to mid and small cap companies. So, it is advisable to pick these companies' stocks for investment during a bearish market. Besides this, most of the large-cap companies pay dividends or bonus shares.
Here, we are going to list down best large-cap stocks 2019 in India.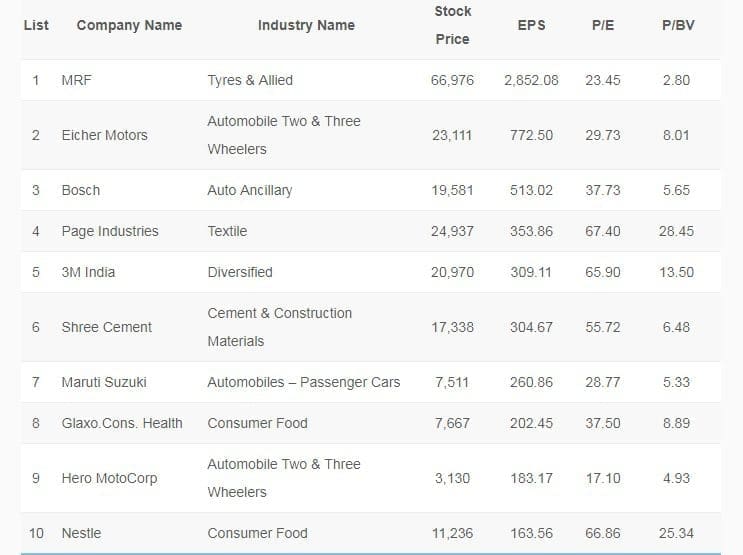 The above list is from wikifinancepedia. Here, the top 10 large-capitalized companies' stocks are given. Along with the companies' names, there is industry type, the price of the stocks, EPS (earnings per share), P/E (price to earnings ratio), P/BV (price to book value) are given. As the list shows that these companies belong to the different industry with varieties of price and fundamental data. Now, investors must do some of their own analysis prior to long-term investment.
The next list is from reliancesmartmoney site. According to them, some of the large-cap stocks will do well in this year 2019. The list is as follows:
Lastly, we're able to list down the suggested large-capitalized stocks from Moneycontrol site. The top five large-capitalized stocks are HDFC, ICICI Bank, ITC, L&T, Maruti.
Is it Right Time to Buy Large-Cap Stocks Now?
Indices have fallen down to 6 to 8% from the high (registered in June 2019). Individual stocks mainly midcap and small-caps are falling down in speed.
On the other side, large cap displayed a little more resilience whereas most of the stocks move downward. Though largecap also get afftected by the overall market condition, the damage is low here. Some people think the downward movement of the share market is a negative aspect but if you think deeply, the present situation gives a positive vibe.
The large cap stocks are always sold at a high market price, this present downward market situation is bliss for us. Now, we can buy the best large-cap stocks at cheapest price. So, it is advisable to analyze first, then buy stocks now. It is the right time to buy large cap stocks at cheapest price.
Analytical Method (In-house Analysis Process)
The section is devoted only to those who seriously want to make huge profit from the share market. Making investment decisions only based on others' review is not a wise idea. One must do analysis on their own to reach a goal. In the market, if we broadly divide the analytical area, we will get two ways, technical and fundamental. Here, I will guide you how easily you can analyze any stock both technically and fundamentally.
Fundamental Analysis
Now, the basic concept of fundamental analysis is based on the historical fundamentals of business. For long and mid-term investment, a company's background analysis is a must to do act. By applying a few analytical tools, you can evaluate a company's PL (Profit-Loss), Growth, Earnings, etc.
So, the key factors of the fundamental analysis are as follows:
Balance sheet, PL statement, Cash Flows
PE Ratio (Price to earnings)
BV (Book Value), FV (Face Value)
Dividend yield, etc.
Example of Fundamental Analysis (HDFC)
Here, as an example, I take HDFC's fundamental analysis. As I have mentioned above there are some tools and techniques by which you can evaluate any company. Now, I am going to explain a technique which can reflect details of the analysis. The current market price of HDFC is 2,265.95.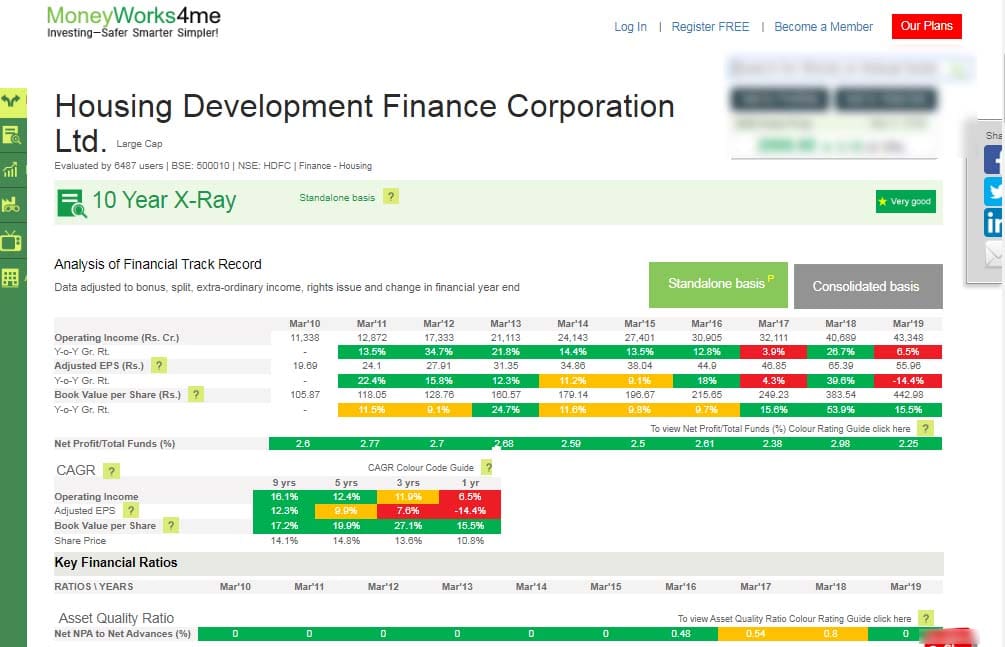 The image is taken from MoneyWorks4me. It is the 10 years Xray of HDFC and the outcome is pretty good. If you drive in details, then you can see the company's earnings, EPS (earnings per share), CAGR for the past 10 years. After that, there are key financial ratios, etc.
In the same way, you can put other stocks to see their growth and level in the market.
Technical Analysis
Technical analysis is entirely different from the fundamentals. In technicals, there is nothing to do with a company's historical data. The technical analysis only deals with the present price action. Tools like charts, indicators, oscillators help to analyze companies technically.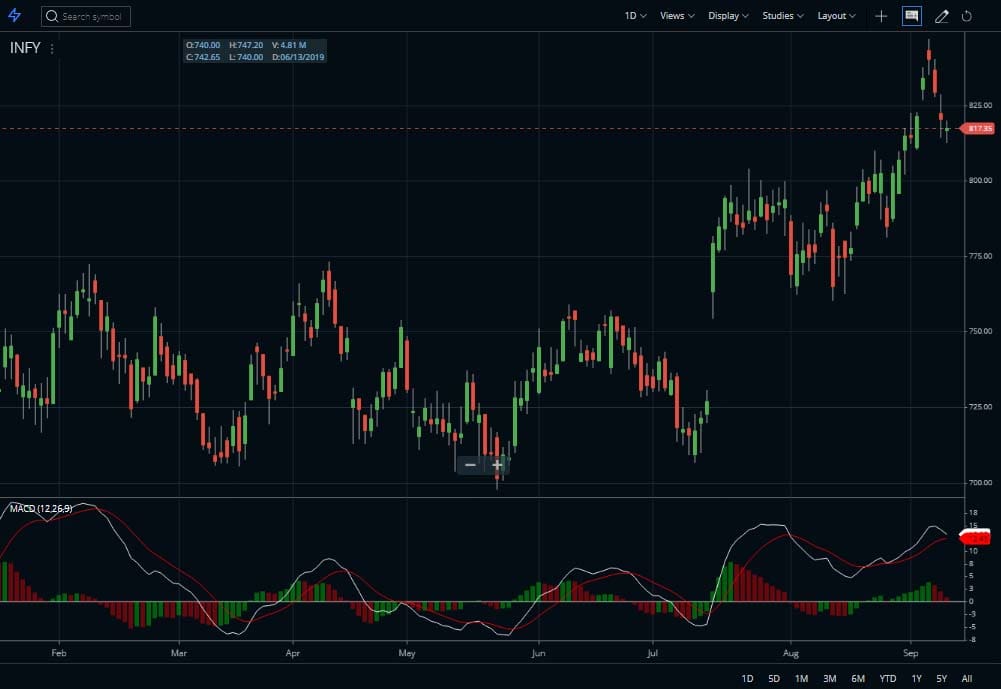 So, I take the chart from Zerodha Kite. The daily chart of INFY (Infosys) displays candlesticks which show an upward movement. Apart from this, MACD (a popular indicator in Technical analysis) also reflects buying signal. So, the chart gives a positivity on the stock's growth rate. INFY current price is 816.45.
Therefore, you can analyze other stocks in the same way.
Conclusion
However, these are some of the best-suggested large cap stocks list on NSE in India. Apart from the suggestion, it is advisable to do your own research work prior to investment. One thing you should remember that the risk and return factors both are quite low in terms of time in comparison to small and mid-cap companies.
Disclaimer
The content was first written in March 2019. Later it is updated and rewrites with the new newsfeed. It is advisable to check the stocks on your own before investment.