We all know that equity mutual funds are not supposed to give secured returns. If you invest a lump sum amount in any equity mutual fund and need the money suddenly you may lose a certain amount of your capital due to the market fluctuation. But how about an idea if we generate 100% guaranteed returns from top-performing mutual funds?
How I Started Thinking About 100% Guaranteed Returns From Top Performing Mutual Funds?
My research on safe investment started from way back in 2005 when I was working in the insurance sector. A guy named Sougata was regularly visiting my office. He was an ARN holder and he insisted me to invest in mutual funds through SIP. I started a few SIPs but one of my colleague, Kallol invested lump sum Rs. 2 lacs in Reliance Growth Fund which was just launched. Immediately after a few days of our investment, a sharp correction took over the stock markets. I continued SIPs, but Kallol's portfolio was in dire straits. His investment value came down by almost 25% within a few months of investment. This is not because the fund was wrong, it has given 23.82% returns after that since inception. This was because Kallol invested in the right fund at the wrong time.
Kallol started panicking, but I was safe as I was investing in SIPs in both up and down markets and my portfolio value was an average of both. So I thought how about an idea where your investment becomes safe plus you get the benefit of top-performing mutual funds.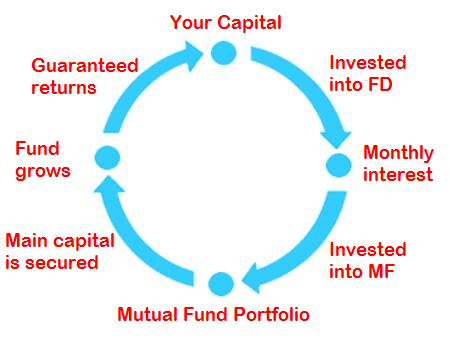 How To Get 100% Guaranteed Returns?
1) Invest your money lump sum in an FD.
2) Take regular interest (choose either monthly or quarterly interest pay-out).
3) Invest the interest in a good equity mutual fund through monthly OR quarterly SIP.
Conclusion:
In this strategy your actual fund will remain 100% secured as it is been invested in FD. You are withdrawing monthly interest that is invested in mutual funds through SIP. This mutual fund investment will create another fund safely in long term. I will be happy to answer your comments below the post.