Advanced GET Real-Time or Advanced Get RT software does an excellent job in identifying Elliott Wave counts. When combined with studies such as the Profit Taking Index, Wave Four Channels, Trend Channels, etc., a very effective Mechanical trading strategy is available to GET users.
This Mechanical strategy focuses mainly on:
a) Trading the Wave Four to Wave Five segment in Type One Trades.
b) Trading the end of Wave Five in Type Two Trades.
In India, we can use Advanced Get real-time or Advanced Get RT software very effectively for trading intraday in NSE or MCX. We recommend using data from Global Datafeeds with Advanced Get RT 9 version. You can use 5 or 15 minutes charts for effective trading in intraday.
In India we recommend 2 companies to buy the Advanced Get real-time data.
1) Viratech
2) Global Data Feeds
3) If you are looking for IEOD data for Advanced Get at much cheaper rate do get in touch with us in the contact page.
For intraday trading with Advanced Get RT software, my favorite tool is XTL. Using XTL we can catch the major market moves in intraday in NSE or MCX.
While this has been very productive, we still lacked a Mechanical type entry into some of the massive Wave Three swings generated in the market. So far, this was accomplished by staying in Type Two Trades entered at the end of a Wave Five and waiting for the Wave Three to develop. On numerous occasions, many of our users requested that we come up with a technique that allows early entries in Wave Three swings.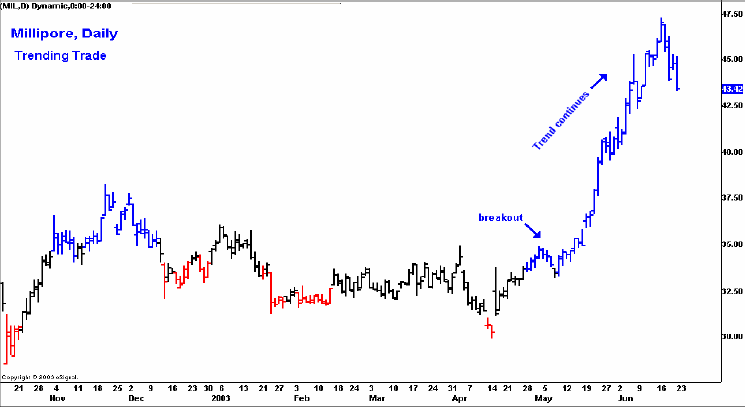 The creator of Advanced Get, Tom Joseph dedicated research exclusively to find a reasonable solution to identify Wave Three swings at its early stages. The result is XTL – eXpert Trend Locator.
Some of the portions of this post has been taken from an ebook that describes how to use Advanced Get XTL to generate massive profits in intraday trading. You can download the full ebook from below. Remember, this portion is locked and you need to unlock it by using any of the social sharing buttons below:
CLICK HERE