In this post, we will discuss the Step-By-Step Guide To Apply IPO Through Zerodha. Before coming to the main point lets discuss what are the pre-requisites.
Zerodha Demat account name
Zerodha Demat account number
PAN number
Internet banking with full transaction rights
Money in the bank account
Those who have an account with Zerodha, can apply IPO through some easy steps and guidance. Now, first, I will explain the process for those who do not have accounts in Zerodha.
Guide to Apply IPO Through Zerodha (For Non-Account Holders)
For obvious reason, first, they need to open an account under Zerodha. And, to facilitate the process, I've created an easy link here. Those who have an Aadhaar card, can easily complete the process within 10 to 15 min. You need to just click on the link below and you're ready to go.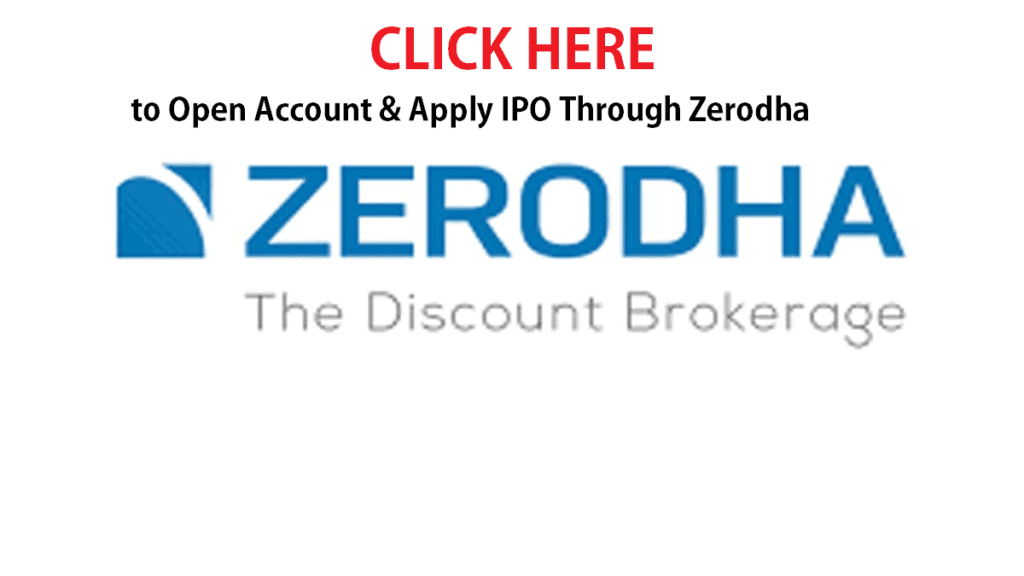 Guide to Apply IPO Through Zerodha (For Zerodha Account Holders)
Now, let's move on to the next part. And, this is for Zerodha clients or Zerodha account holders. At the beginning of the content, I'd mentioned some of the necessary pre-requisite for applying IPO through Zerodha. After having those requirements, here is the step-by-step further guide for them.
For Applying IPO, the most important part is the payment. Based on the payment method, we are able to divide the steps according to it. First, we will discuss the latest and quick method of applying IPO with UPI.
Apply IPO Through Zerodha with UPI
So, firstly, I will head forward to UPI(Unified Payment Interface) method. This is an instant real-time payment system, inter-bank transaction method. It is more easiest method in comparison to net-banking. So, let's begin.
Step 1: You just need to click on the link below. And, in just a click you will get the main page of the IPO application.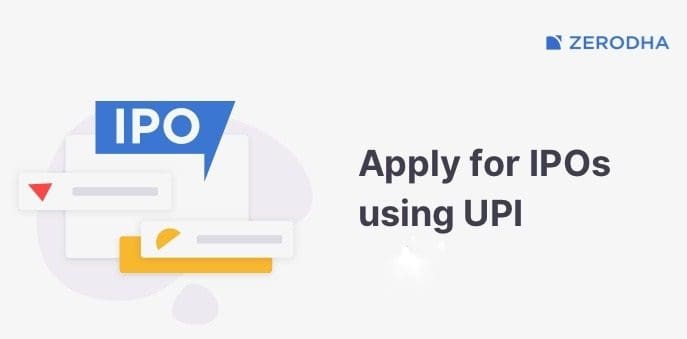 Step 2: Now, you can select the IPO you want to apply for from the list of open issues or active IPO windows.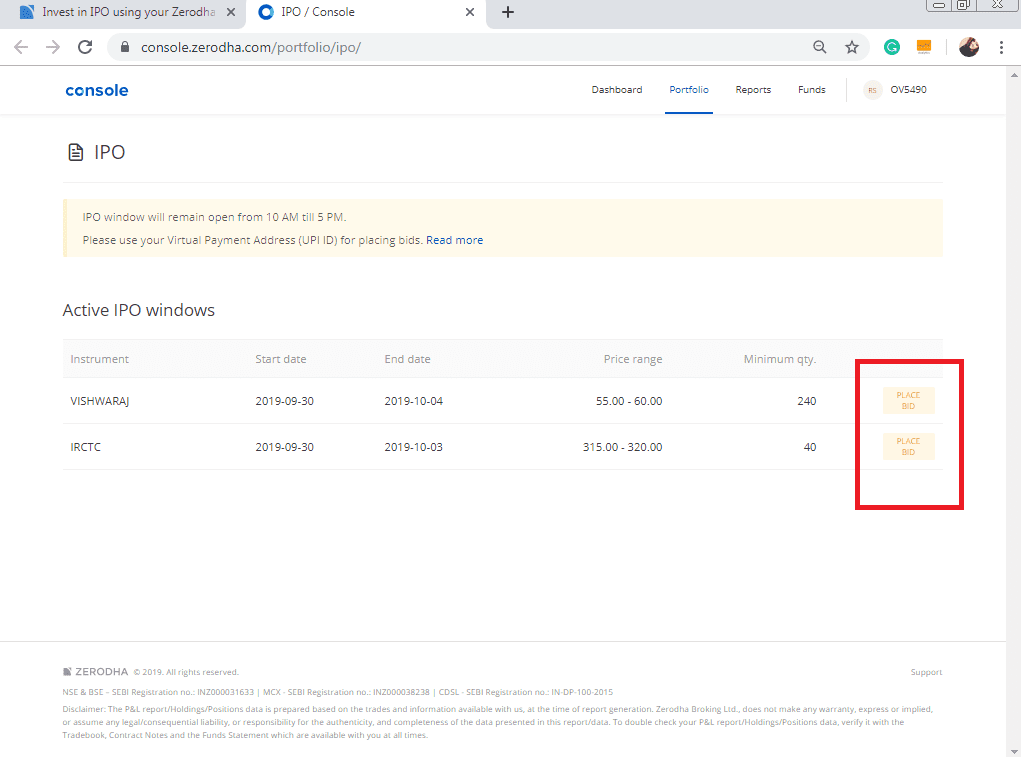 Step 3: When you select an IPO to apply for, you will get to see all the details of the offer. For instance, open date, close date, issue size, lot size, and DRHP, etc.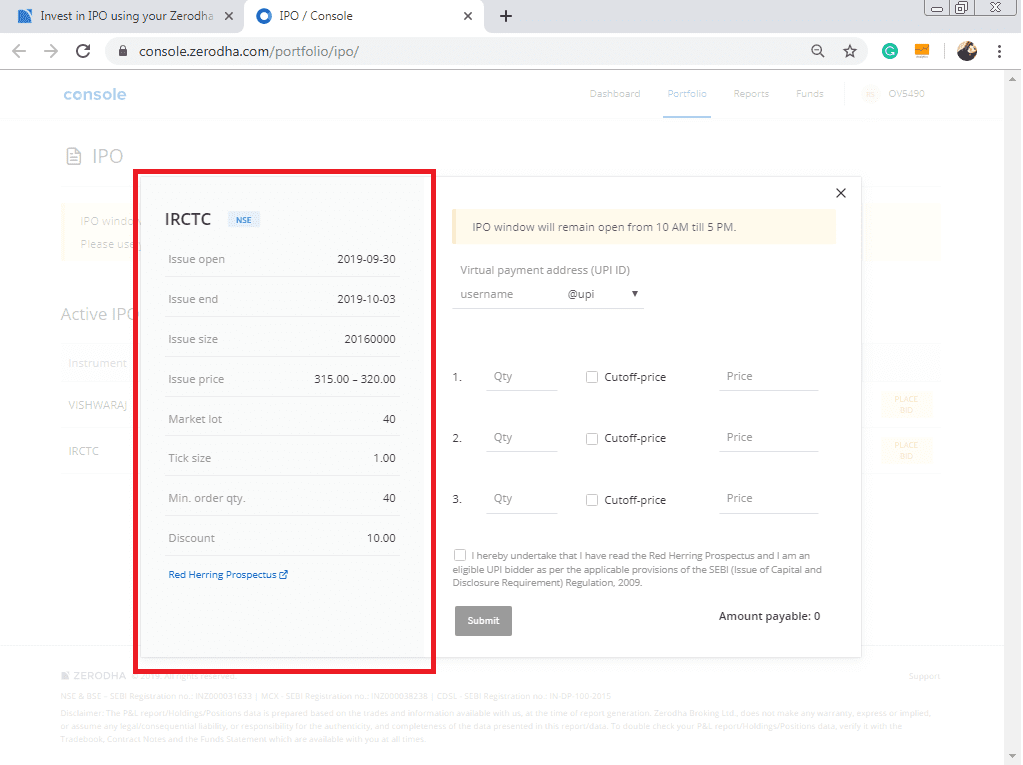 Step 4: Here, you have to enter your UPI ID. Besides this, make sure that this is the UPI ID mapped to your personal bank account. But, one thing you should remember that the IPO application is liable to get rejected if the person who is applying is different from the one whose bank account is used to apply.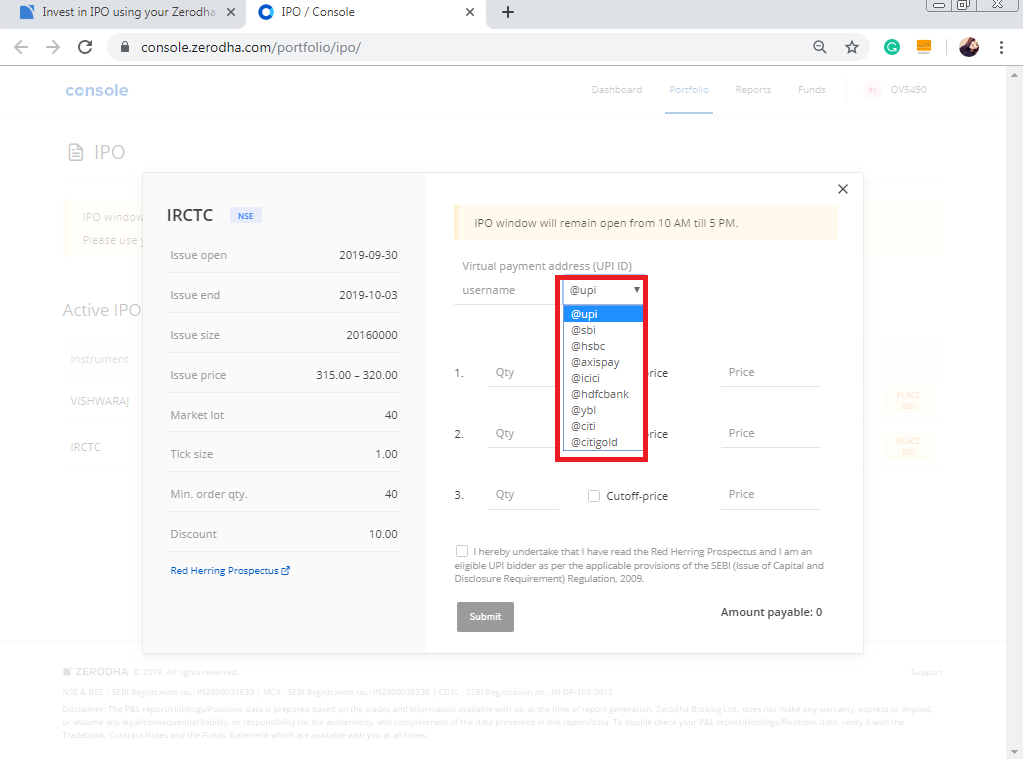 Step 5: Then, while placing the bids, must remember only quantity that is a multiple of the lot size is allowed. If someone wishes to apply at the cut-off price, then just click on the checkbox next to 'Cutoff price'. And, if you want to place a bid at a different price, this can be done by entering a price in the 'Price' field.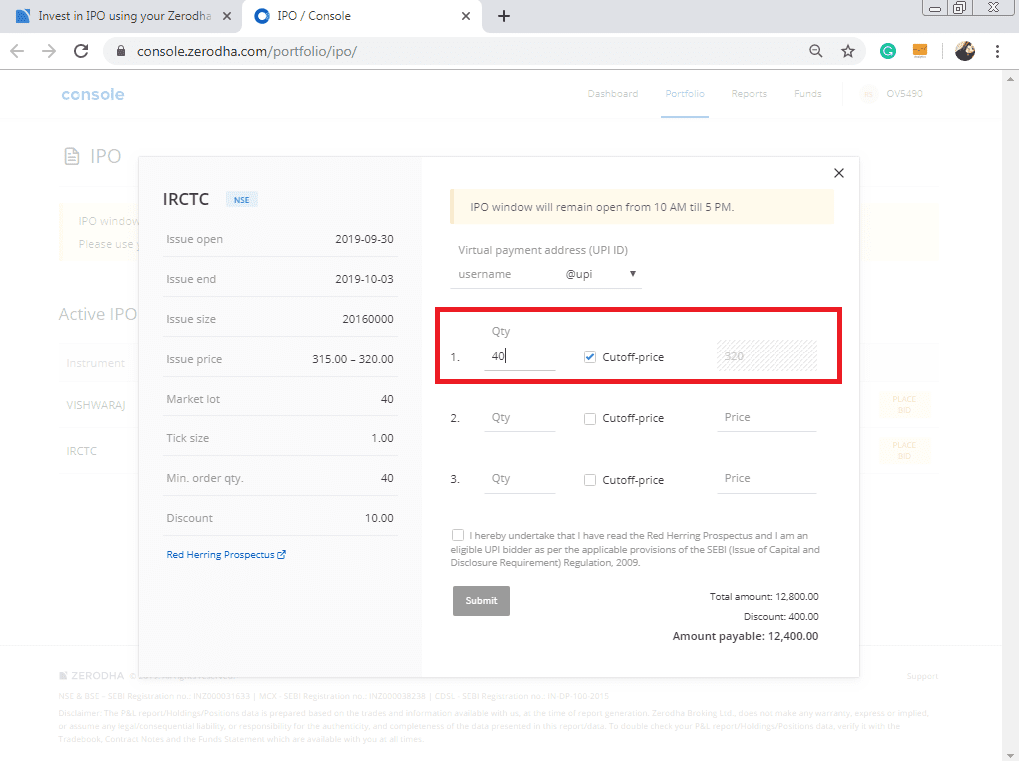 Step 6: After that, once you've completed all these steps, just click on the checkbox to confirm that you have read the issue size, lot size, and DRHP. Finally, click on submit.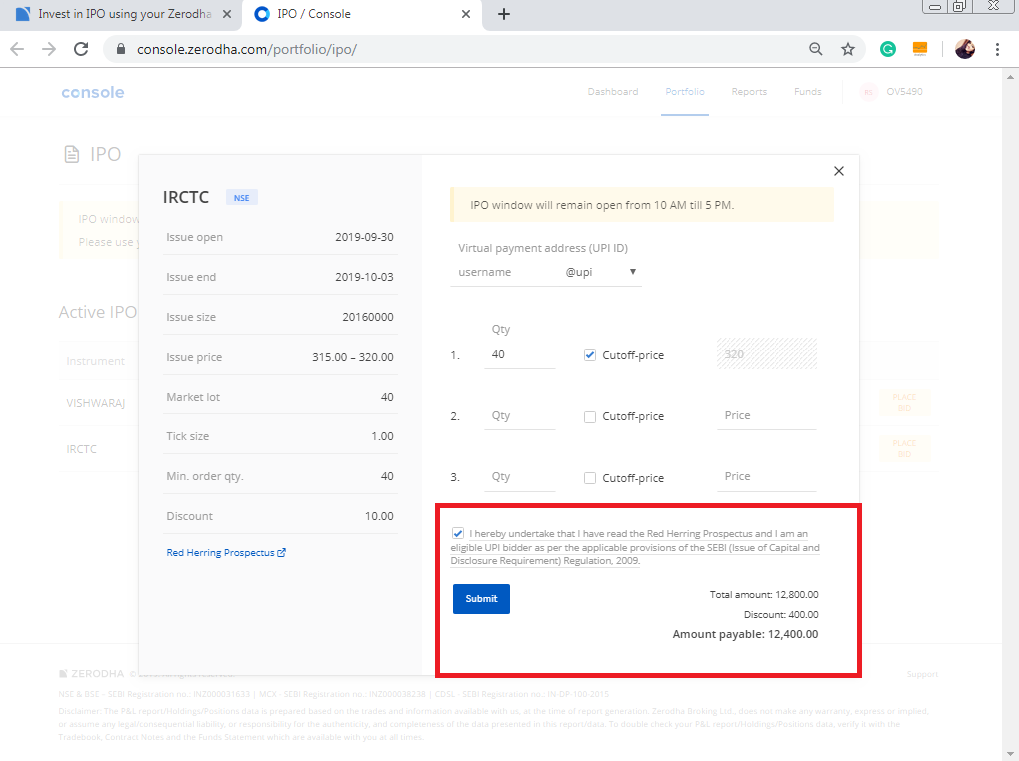 Step 7: Now, After clicking the submit button, you will get a mandate request on your UPI app. It may take a few hours to receive this mandate as for some cases the system is still in the initial stages of operation. Your next doing is to accept the mandate and you are ready to go.
This will block the fund required for the application in your registered bank account till the date of allotment. It generally happens 2 days before the listing date. And, if you receive an allotment, the money is automatically debited from the bank account. Shares will be credited to your Demat account.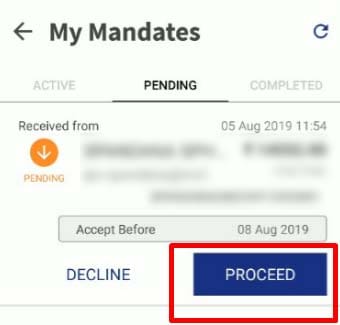 After submitting the IPO bid, at the end of the day you will receive an SMS from the exchange. The message will confirm your application. Meanwhile, in order to check the status of your order, you can select the ordered IPO. Once you selected, you will be able to see the last updated bid.
In case, if you don't receive an allotment, the blocked funds are released on the date of allotment.
Apply IPO Through Zerodha with Net Banking
Now, let's have a look at the old method of applying IPO through net banking. I will show an example of how to apply IPO through Zerodha with SBI net banking. Please note your PAN number registered in the bank should match with the PAN number of Demat account, else the IPO application will get rejected. So make sure you apply for IPO with own Demat and own bank account.
First, note down your Zerodha Demat details from the profile section of your Console back office in Zerodha.
Next login to your internet banking account. Here we will log in to SBI net banking. Once you log in, click on Demat & ASBA Services. ASBA means Application Supported by Blocked Amount. It means the once you apply for an IPO the applied fund will remain in your account but will be blocked till the IPO is allotted to you. In case it's allotted it will be finally deducted from your bank account OR if you do not get allotment for the IPO the fund will be unblocked and you can use the fund for other works.

Next click on IPO (Equity).
Now read the terms and conditions and click on Accept.

In the next screen put your name, PAN number and confirm PAN number. While selecting your depository click on CDSL. Now put up to 3 bids and click on submit.

You can check and save your name, PAN number and depository details in the profile section of your net banking for future usage so that you need not put them again and again.

Next, you need to confirm your bid for the IPO as shown below.
Once done the next screen will show you the IPO application final confirmation screen and will also reflect the amount of fund blocked for applying for the IPO.

Though the above write up, I have shown you the method to apply IPO through Zerodha with State Bank of India,
Conclusion
Though there are many other brokers who have IPO facilities, Zerodha is one of the best. The IPO application process is quite easy, simple and less time-consuming. You can apply IPO through Zerodha with multiple payment methods. For more updates, follow our site daily basis.