With each passing year, investment options are continuously rising up. Nowadays, there are hundreds of investment options available in the financial market. We can distinguish them as per the risk and return factor. If the classification happens at a broad level, the Government Bonds section comes under the low-risk category. This article will present an entire detail regarding Government bonds along with the special reference of Zerodha Coin. So, let's begin the article to get the answer of How to Buy Government Bonds Online in Zerodha?
Government Bonds
It's been said that Government of India is the safest debtor in the country. Government security not only provides securities but also act as a tax saver options. As the name suggests, Govt bonds is a debt-based investment, issued by Govt to support Govt spending. Investors who have Govt security, are paid a periodic interest payment by Govt. Govt mainly uses the raised fund in new projects or infrastructure. Whenever investors buy bonds, they lend the agreed money to Govt for a certain period of time. In return, Govt will pay them back at a regular interval of time, known as the Coupon rate. After the expiration of bonds, they will get the main principle on the maturity date. Each bond has a different maturity date.
Why Choose Government Securities above Bank Fixed Deposits?
In order to clear the concept How to Buy Government Bonds Online in Zerodha more clearly, let's have a quick look at the reasons for choosing Government securities above Bank Fixed Deposits. One thing must be clear to you that in Govt Sec also, there are multiple investment options like bonds. T-bills etc.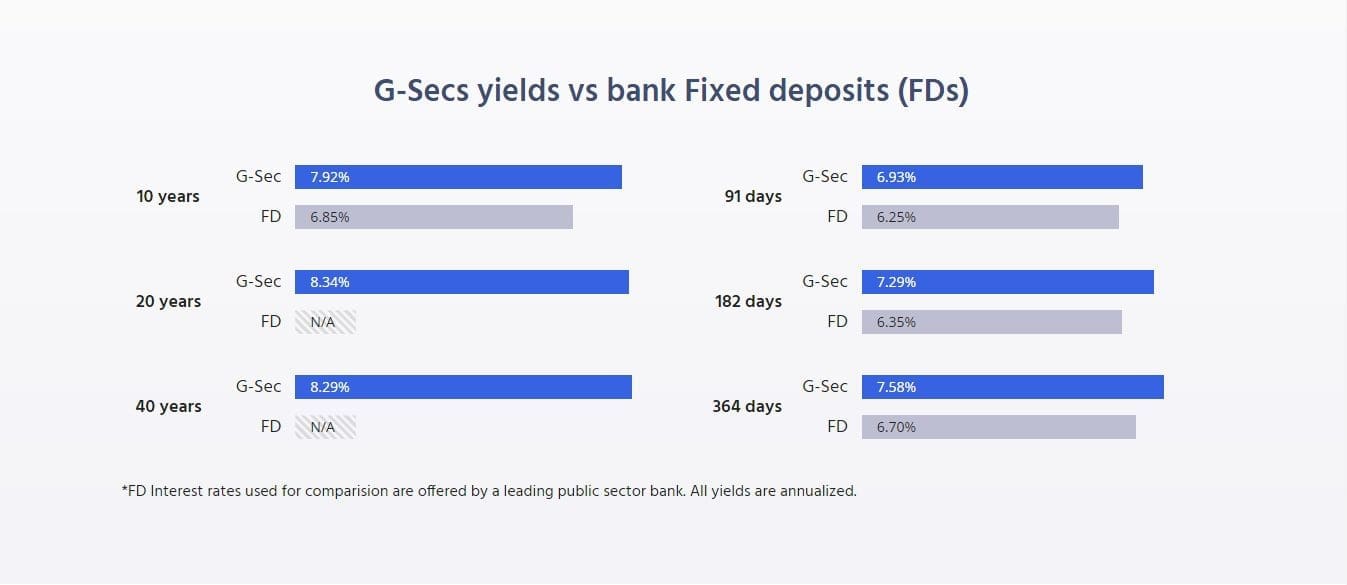 If you look at the above attachment carefully you can notice the difference of return between G-sec and Bank FDs. The reasons to choose G-sec are as follows:
Sovereign Guarantee Investment: The G-Sec investments are guaranteed by Govt. of India. This is one of the main distinction between G-sec and other fixed securities like bank FDs.
Better Returns: These particular securities offer attractive interest rates, unlike FDs.
No TDS: There is no tax deduction in this. The securities are considered as the tax saver.
Why Buy Government Bonds Online?
With advanced technology, it's become easier to buy govt bonds in online. There are multiple advantages to buying govt securities online. These are as follows:
The charges are quite low if you choose to buy govt-sec online by yourself rather than buying it via any fund manager.
The buying process is easier in comparison to offline.
You can see whole scheme facilities, features in online.
How to Buy Government Bonds Online in Zerodha?
Here, we've come with an entire detail of How to Buy Government Bonds Online in Zerodha. First of all, you need to Open an Account in the Zerodha, one of the most popular low-cost brokerage firm in India. Only after opening an account in Zerodha, you can access in FREELY Zerodha coin.
What is Zerodha Coin?
Zerodha has taken an innovative initiative by launching Zerodha Coin. Zerodha Coin is such a platform by which you can invest directly in the mutual fund, gov-sec like bonds, t-bills etc. Every week the exchanges open a non-competitive binding window for Govt Sec. From Monday to Tuesday bids for T-bills are collected and bonds are collected from Tuesday to Thursday. After the successful allotment, G-secs will be automatically credited to the Demat account. Interest will be credited to the bank account at a certain periodic interval.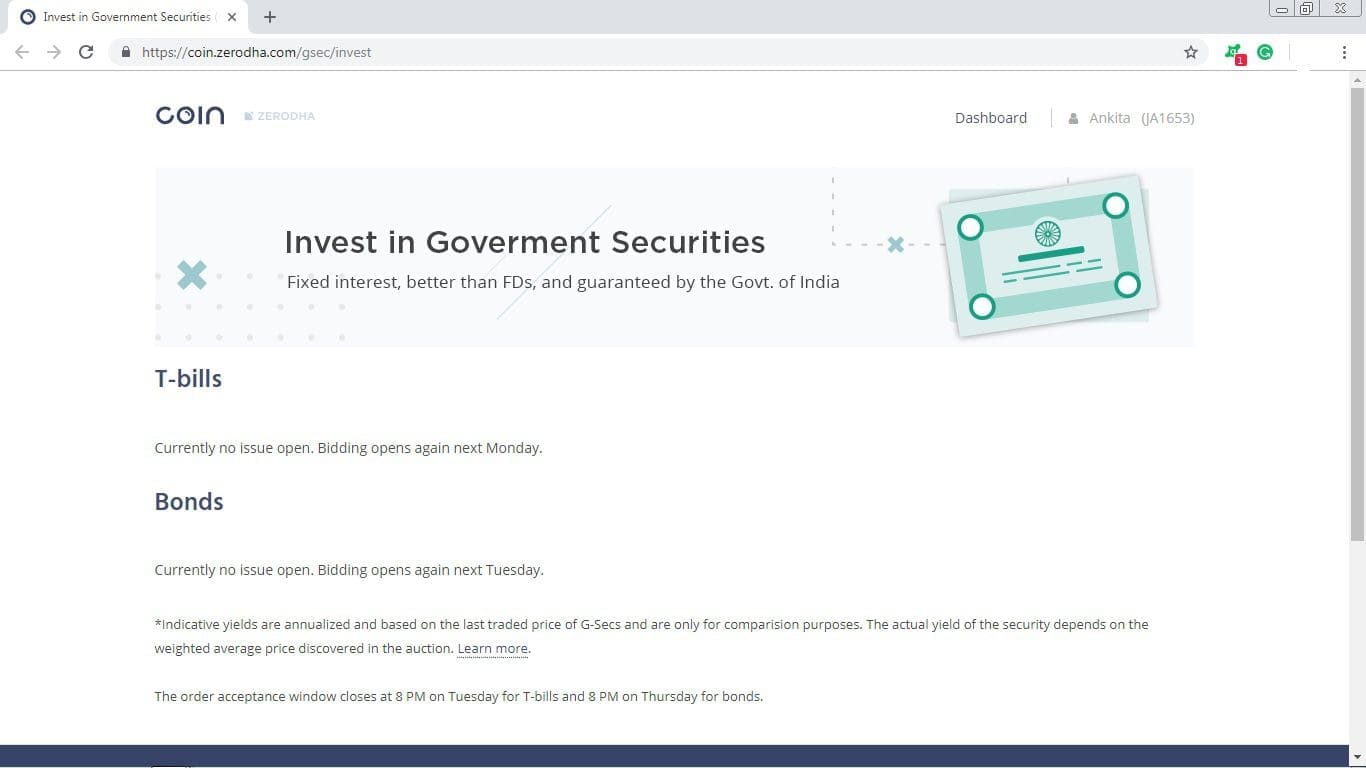 After opening an account in Zerodha, you will be able to see the dashboard window of Zerodha coin. There you get different options of investment in G-Sec like T-bills, Bonds etc.