A powerful stock trading or commodity trading strategy revealed in the name of the T3B Trading System. TTTB OR Track The Trend Breakthrough OR T3B trading system India, a foolproof system you can use to gain a massive amount of cash through the stock or commodity market using just 15 minutes of your time each day.
TTTB trading system is a super safe and extra-ordinary wealth-making trading system, tested thoroughly with time, that will always generate unlimited money from the stock or commodity markets, be it Bull, Bear or Sideways Market.
Video Example:
Watch the following video to know how T3B Trading System works.
Discover the T3B Trading System India:
How the stock market or commodity market actually works.
Master the psychology of successful trading.
How to avoid costly mistakes 95% of traders make.
How to trade securely & profitably with a success rate of up to 80%.
Also, how to screen for massive profits using just 15 minutes a day.
Trade without any intensive monitoring of the market.
How to consistently benefit from the stock market beyond the monthly wage your boss decided you're worth.
How to acquire meaningful earnings as the market declines & strike windfall profits from market crashes.
And, how to use the stock market or commodity market as a vehicle to effectively harvest a fortune and further compound your growth for wealth creation and accumulation.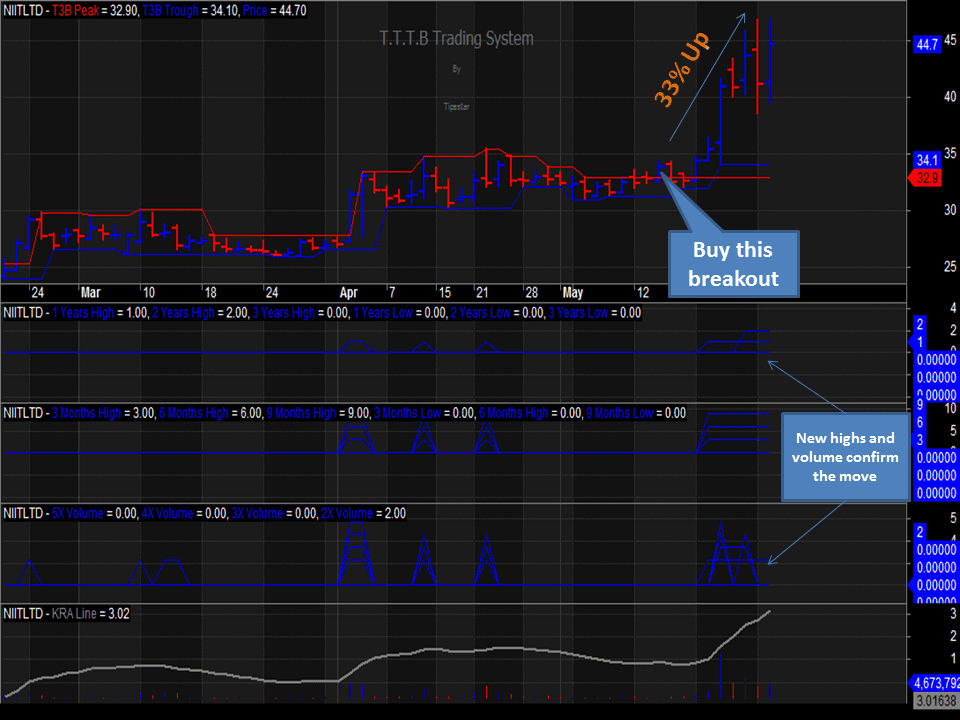 Know:
What stocks or commodities to buy?
When to buy?
How much to buy?
When to add or pyramid positions?
When to sell?
And when to cut your losses?
Yes, all your queries will be answered after you download our T3B Trading System Amibroker AFL code and read the TTTB trading guide. What's more, it's now available as Super Bonus with our Trend Blaster Trading System. Even you can purchase the quarterly license of Trend Blaster Trading System and get 3 full months to test TTTB Trading System.
Example of T3B Trading System in Action
We started our stock scanning with our favorite TTTB Trading System. We tried to find out a low-risk entry, not chasing momentum stocks, but stocks that is oversold in the longer term. So we tried to find out a stock that has broken peak as well as whose KRA line is at a much lower level.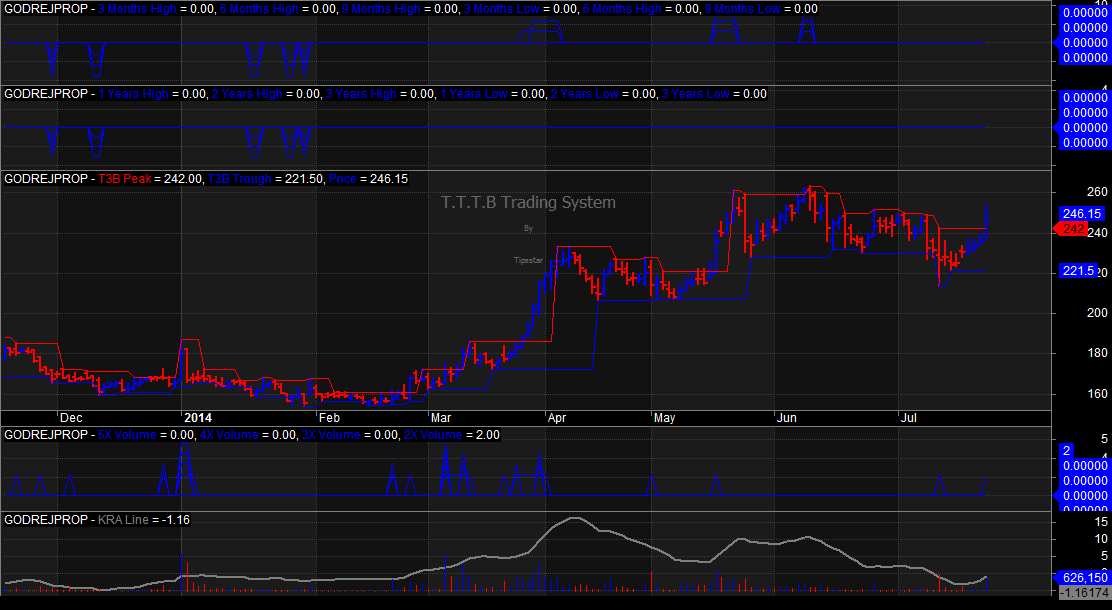 After we found within our list for about 15 minutes we traced a scrip Godrej Properties (NSE code: GODREJPROP) where we found that peak has been broken as well as the KRA line is turning from the lower level. What is very important that the KRA line is also touching the volume bars denoting the oversold situation of the scrip.
So as per the current setup, GODREJPROP can be long at CMP of 246.15 or near the peak value of 242 with an SL of the trough value of 221.50 and it is hold till the trough gets broken or the KRA moves to the top.
Example of a Breakout
An example of a breakout, SIEMENS has broken PEAK on 8th September 2014 at Rs. 871.25 and on the 9th of September, it is trading at Rs. 911.40, up by 4.60 percent from the buy level. Many stocks like this shot up just after the breakout and users scanning at the end of the day not buying the stock in the live market miss the move and enters late. Check the SIEMENS end of day chart below:
So, since launch there was a need to upgrade TTTB Trading System a bit in the following aspects:
Finding breakout stocks immediate before the breakout happens.
To know a level beyond which stock should not be chased in case of a breakout or a breakdown.
So, we have made some updates in the TTTB Trading System AFL and launched a new version on 9th September 2014. The update has already been uploaded to the AFL library and subscribers will automatically receive the updates in the next launch of the Amibroker AFL library.
How To Find Swing Trading Picks With T3B Trading System?
In November few days a stock BAYERCROP came to our radar through TTTB end of day swing trading picks scan. The scrip crossed the peak value at Rs. 2334.95 with a low KRA line and see now it's trading at Rs. 2691.25 in just a few day's time.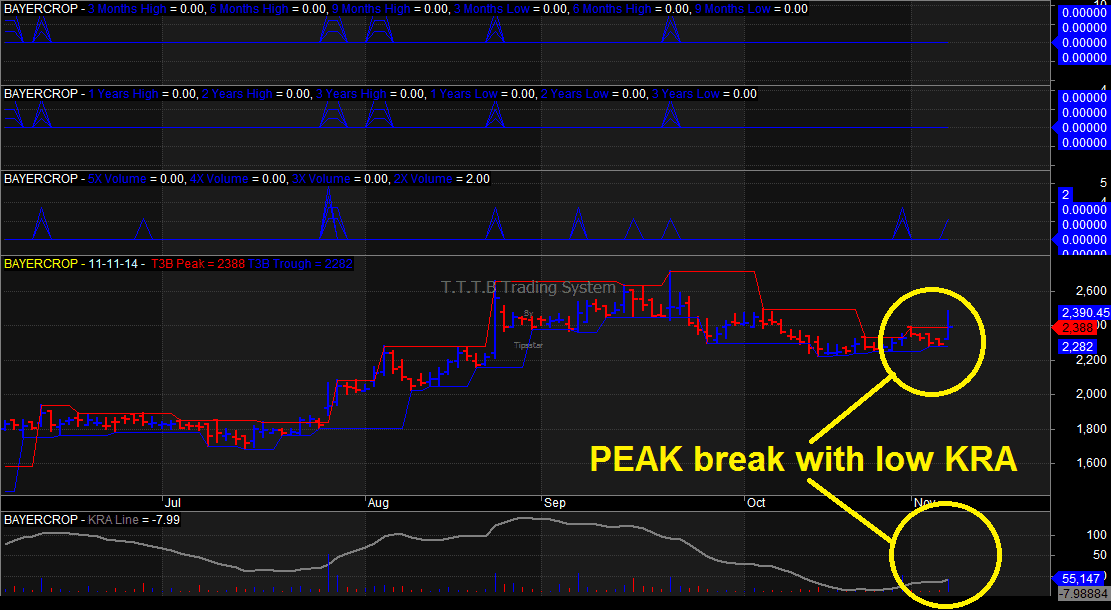 Another scrip looked weak, which is CIPLA. Check it has broken trough at 647 2 days back and the price was making higher highs while the KRA line was making lower highs. So it was clear cut divergence. Currently, CIPLA is trading at 629.15. We suggest selling the future in all rallies. But exact levels are available only to the TTTB trading system subscribers.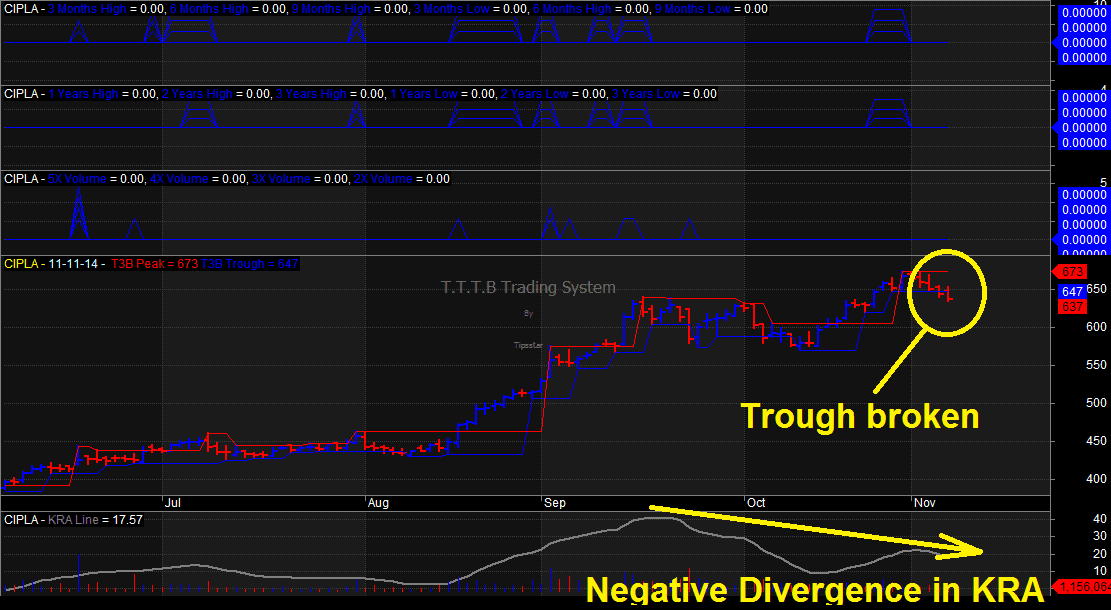 How We Found Stock Picks for Diwali 2014
We picked a few stocks for the Deepavali 2014 with the help of our TTTB Trading System. Our TTTB Trading System users have gone long heavily in a scrip named SARDAEN. This scrip has broken PEAK at 173.90 with a very low KRA value. And from 173.90, BANG, now it's trading at 190.90, 10% UP, the upper circuit is frozen.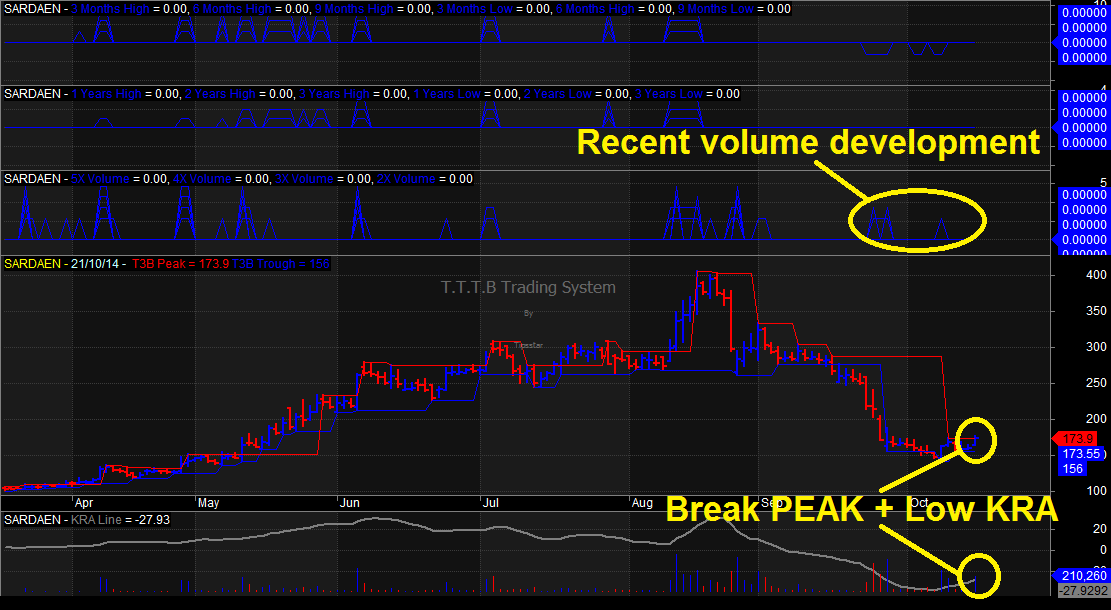 Check the analysis of Sarda Energy & Minerals Limited (NSE:SARDAEN) above. Some stocks to keep an eye: JSWSTEEL (Peak got broken at 1164), SBBJ (Peak has broken at 570) and SIEMENS (Peak has broken at 829.95).
Example of a Breakdown
On September 2, 2014, we found an interesting fact while scanning GOLD with our favorite T3B Trading System. GOLD has just broken TROUGH value of 27765 the previous day with the KRA line also pointing downwards. So in gold trend update its clearly a sell-on-rise till it again crosses the PEAK value at 28178.
One picture worths 1000 words. Just check the screenshot below to understand how we have come to the conclusion of sell on the rise in gold in analyzing the gold trend update.

Now, let's have a look at NSE stocks on the same day. We found quite a few stocks that have broken PEAK with a very low KRA line in the TTTB scan in Amibroker.
Example of Scanning
The 2 stocks found suitable in accumulation are VSTTILLERS and SWELECTES. Both have broken PEAK with the KRA line rising from the bottom.

Check HIKAL is such a stock that has broken PEAK yesterday with a low KRA line at 592 and taken enormous volume. We attached a screenshot. It is a potential upper circuit candidate. And zoom, when I am writing this post, HIKAL is already up by 3.80%. Buy triggered at 592 and the current market price is 630. More upside on the cards in the next few days. BUY, BUY, BUY in dips.
Amibroker Daily Chart Live Example (with 193% return)
Last month 17th March our TTTB Trading System has found a breakout trading opportunity in ACC using Amibroker daily chart. On that day ACC closed at 1277.05. So I started following ACC in cash as well as started to follow its next month's call option. ACC April 1280CE was quoting at 52.90. As per TTTB, this call option was a buy at this price.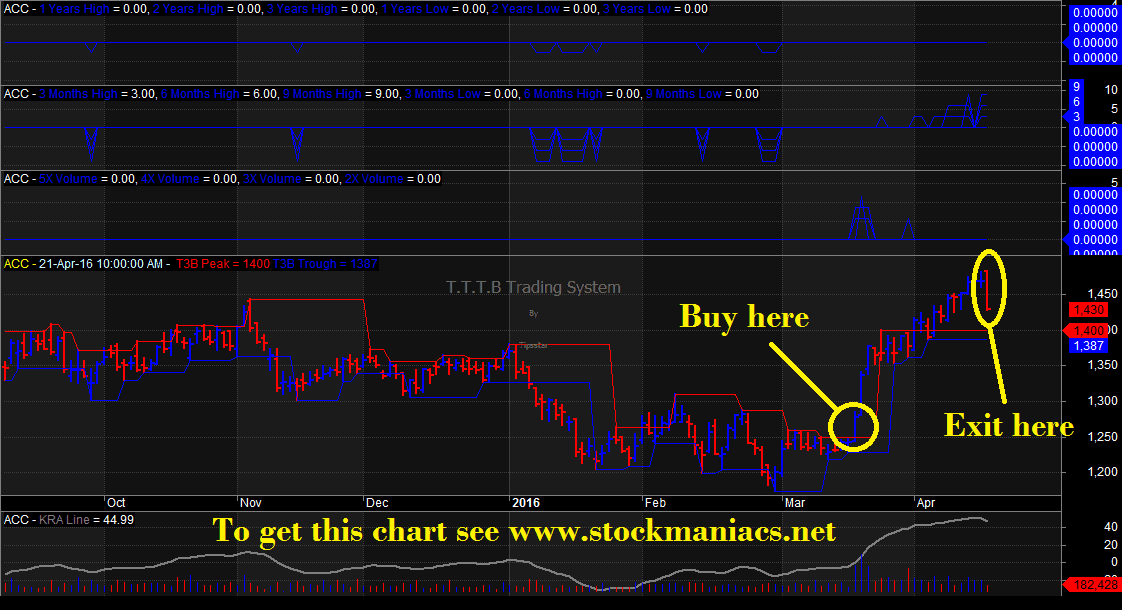 Why buy ACC? What are the entry rules of the TTTB Trading System?
Peak break
Improving the KRA line
So BUY ACC at 1277.05 or BUY it's April 1280CE at 52.90

Now let's check the result of this trade. Once again we need to follow ACC in Amibroker's daily chart. ACC shot up fast from our buying levels and all the TV analysts started to give buy recommendations on ACC. Lol, our TTTB Trading System subscribers were already long in ACC April 1280CE.
What is the exit rules of TTTB trading system?
Trough break OR a big bear bar after KRA is overbought. So exit marked on 21st April 2016. Exit long ACC at 1430. Cash trade gains Rs. 152.95 OR 11.97% in around 1 month.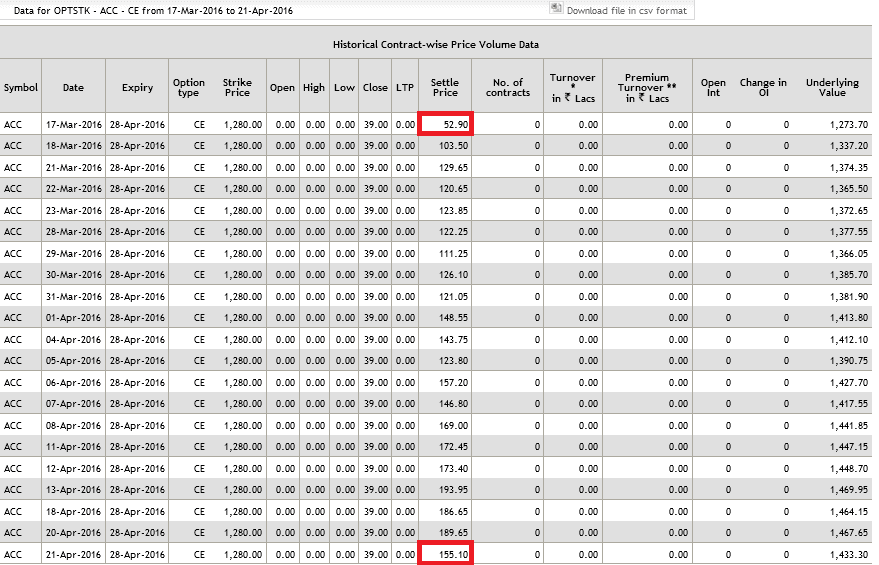 Now let's see the call option's performance vis-a-vis cash. ACC April 1280CE closed at 155.10 on 21st April 2016. So its a gain of Rs. 102.20 OR 193%. Money almost tripled. Any trader who invested in one lot ACC 1280CE on 17th March 2016, his investment value was Rs. 52.90 x 375 = 19837.50. His profit in one month is Rs. 102.20 x 375 = Rs. 38325.
This is how one can trade accurately using TTTB Trading System in Amibroker daily chart. If you are new to our site and want to know more about TTTB Trading System I suggest you visit this page. You can also watch my video on TTTB Trading System here.
More About T3B Trading System
What is this T3B Trading System or TTTB Trading System? It is a breakout trading system that spots highly overbought or oversold stocks using KRA line and buys or sells them at break peak or break trough.
TTTB Trading System helps to find stocks that are oversold with immediate breakout potential. 80% of TTTB findings will give 5%-20% gains within 3-5 trading sessions. TTTB trading system, a full proof system you can use to gain a massive amount of cash through the stock or commodity market using just 15 minutes of your time each day.
T3B trading system is a super protected and additional standard buying selling framework, tried and tested completely with time, that will dependably create boundless cash from the stock or commodity markets, be it Bull, Bear or Sideways Market.
You may also watch the following webinar recording video to know more about TTTB Trading System.
More Video Example
Watch the following video to know how to find explosive stocks for tomorrow using Amibroker
Another Pictoral Example
One simple example AJMERA is up by 20% in last 2 days. Now check the AJMERA charts with TTTB Trading System.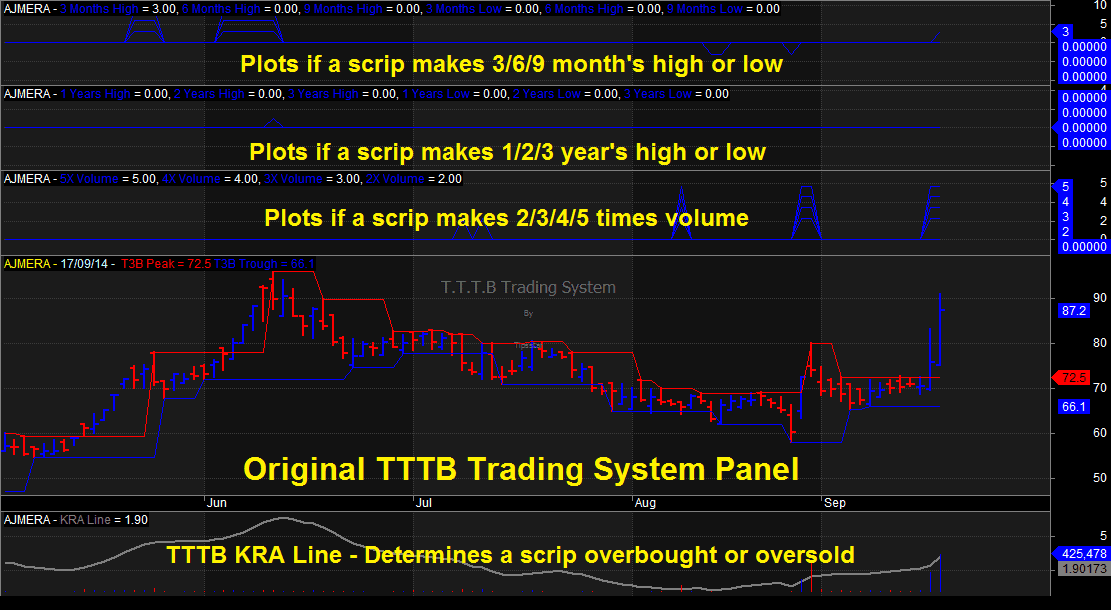 We can see the AJMERA has broken out from oversold KRA line (check the KRA line is touching the volumes). It's no magic that the stock has blasted. Whenever the scrip broke its Peak, the breakout was so furious. 20% plus gains in 2 days flat.
After the launch of the T3B Trading System, it has created a huge hype among traders all over India. TTTB is finding explosive stocks with a simple scan and many of the TTTB findings have hit upper circuits day after day.
How to Get T3B Trading System India
We have coded T3B Trading System for Amibroker and released TTTB 5 amibroker afl pack for our subscribers. It can be used to find blasting stocks on end of day charts. This system is mainly meant for swing trading in EOD charts and the system consists of proper entry and exit rules. TTTB Trading System is now available FREE for our Trend Blaster subscribers. To subscribe instantly through credit cards click Trend Blaster Trading System page.
Download Links:
Also download the TTTB trading system guide.

After you download the system and get to work on your PC you can jump to find blasting trades instantly. To not forget to contact our support team for any help.