Friends in this post I will discuss how to find stocks for tomorrow's trade in the easiest way. This method does not require any charts. No technical knowledge required, no fundamental analysis is necessary. You can find blasting stocks for tomorrow's trade within as low as 5 minutes' time.
First, open our site STOCKMANIACS.NET and go to MARKET DATA –> BULK DEALS — NSE BULK DEALS. The bulk deal page updates every day after 6 PM or 7 PM so please visit this page in the evening or night only.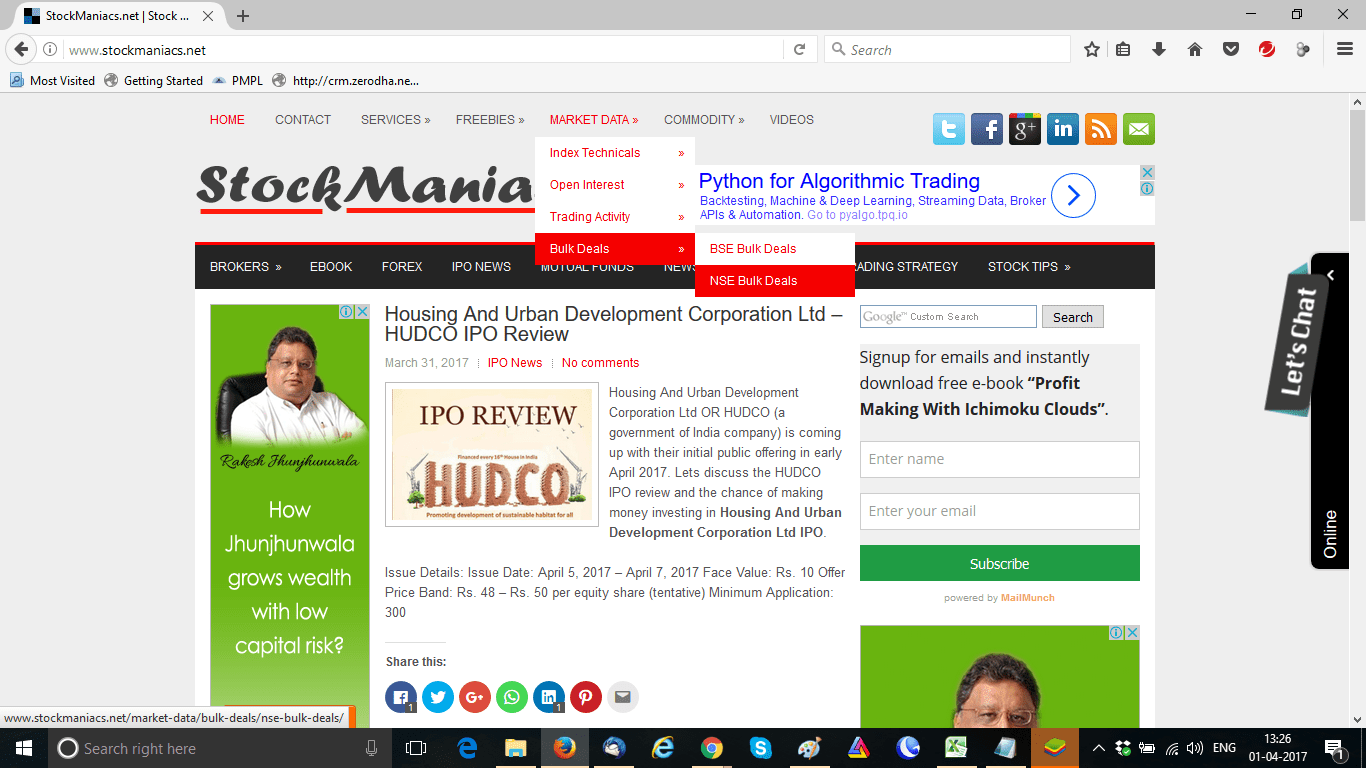 Once you visit the page you will see the bulk deals that happened on the last trading day. We will only consider the bulk deals happened in the last 1 day.
Now on this page, we will only consider the bulk deals done by FIIs OR Mutual Funds. We will ignore all domestic investors OR brokers. Let us look at today's data below:
We can clearly see that Adlabs Ent stock was sold by Swiss Finance Corporation (Mauritius) Limited at a price of 79.68 for 4,18,998 quantity. Remember we will consider BUY stocks for our criteria and SELL stocks will be ignored. If there are no stocks bought by FIIs OR Mutual funds we will consider that stock else no stock will be eligible for that day.
These buy stocks will be our best for tomorrow or the next few days. Lets now check the exact entry-exit conditions:
Enter the next trading day at the open price OR close to the bulk deal price.
Keep a stop loss in fixed percentage (say 2.5%)
Keep a target in fixed percentage (say 5%-10%)
The trade is valid only for next day OR next few days
You can try this technique in live trades from now on. If you have any questions regarding this trade setup do not hesitate to comment on your question below the post. Therefore, these are the Top Method For Finding Stocks For Tomorrows Trade.