Here we will discuss a technique on how to find explosive stocks for the next trading session. We call it Explosive Move Predictor. This strategy is based on the inside bar breakout. Swing trading is profitable only there are oscillations in the market and good volatility. However, this volatility is always changing in nature. The market experiences a continuing ebb and flow of range contraction and range extension. We have tested that when the market has few rangebound days or range contraction, a trend day usually follows.
What is Trend Day?
A trend day is a day when the market opens at one extreme of its range and closes at the opposite extreme. It covers lots of distance with only a few retracements. The day may start as normal with the market crawling. Later it gains momentum as the day progresses. Traders who trade the day without knowing that it can be a trend day are typically caught attempting to trade a countertrend trade. As they try to fight losses with time, in the late afternoon, the market can tend to accelerate before the close.
How do you ride a stock on board before a trending move? It's highly tough for most of the traders to find out a breakout stock. Chasing a breakout stock is like jumping on a running train. Many day traders usually make little amounts of money without the knowledge of identifying a trend day and trading the right stock.
How to Find Explosive Stocks?
What is an EMP stock? A stock that has made the narrowest range of last 4 days and that has made an inside day in the daily charts. Any stock fulfilling these criteria can be an EMP stock the next day. The first step is to find out this kind of stock before its move starts. We label them as "breakout mode" and then trade them from a volatility extension perspective or with a selected ruleset.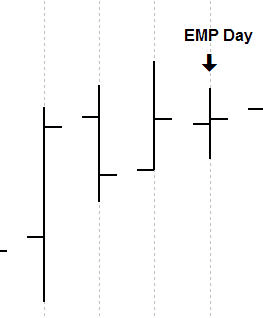 This pattern, EMP focuses on how to find explosive stocks. This can initiate an effective entry combined with a fixed stop-loss. But the main key to trade this pattern is identifying the present EMP condition.
Inside Bar NR4 Setup
The stock must establish a trading day with the narrowest daily range of the last four days (also known as narrow range 4 or NR4).
Then it should create an inside day that features a higher low than the previous day's low and a lower high than the previous day's high.
The day when both these conditions are met is the EMP day. This is the main answer to our question "how to find explosive stocks".
Our next approach is to create an intraday trading strategy using this setup. However, presently our analysis suggests that the trade may even continue for 2-3 trading sessions.
While finding the breakout stock, we can't predict the direction of the stock. We also can't predict where we are getting to enter the trade. All we are able to do is predict that there can be a range extension in the stock. Therefore, we will just place a buy stop and a short sell stop in the market at a proper time. The price movement can then pull us into the trade.
More Information on Inside Bar
Watch the following video to have a clear idea on this inside day candlestick pattern.
Entry at Inside Bar Breakout:
Establish an EMP day.
On the next day, place a buy stop one tick higher than and a sell stop one tick below the EMP bar.
On entry day only, if we are filled with the buy order, enter another sell stop one tick below the EMP inside bar.
This suggests that if the trade produces loss, not only we are going to be stopped out with a small loss but also we are going to reverse and go short. The rule is reversed if at first we get filled with a short sell entry.
Trail your stop to lock in the growing profits.
If the position isn't profitable even after 2 days and you have not been stopped out either, exit the trade with a MOC (market on close) order. We have seen in our experience that once the setup works, it's typically profitable within 2 days.
Inside Bar Breakout Targets
Take an 8-day ATR or Average True Range.
Add this ATR value with the high of the EMP day to get the target value in case of a buy breakout.
Deduct this ATR value from the low of the EMP day to get the target value in case of a short sell breakdown.
Trail the trade with a trailing stop loss of the high or low of the previous bar.
As we mentioned in the previous example, this setup pattern usually makes more profit and loses little amounts of money. Therefore, mostly you may get a trade that explodes.
You must trade all the signals that generate on a specific stock or futures. Over the long term, this strategy may yield a really big increase in capital.
Conclusion
You can use this inside bar breakout technique to daytrade all types of cash stocks either at the NSE or BSE. One word of caution though, it's our recommendation to remain away from low volume or inactive stocks. The more volume the stock generates, the higher is the possibility of the success of this pattern. This is how we can find explosive stocks in any stock market.