You may find different articles on Technical analysis and trading terminals on our site. Most of the trading terminals provide extra benefit for technical analysis. So, for obvious reason, there is always a prominent gap between a professional and a normal charting platform. For example, suppose you love cycling, you will definitely find a prominent difference between a local brand cycle and an advanced featured latest sports cycle. Here also, Amibroker or in short form AB individually a professional charting platform, more advanced than any random trading charting terminals. It is a highly paid software, used for advanced technical analysis. If you are a technical analyst, we will make your route quite easier through this article. Here, you can find Amibroker Software Review, Demo, Download Instructions.
First, you need to understand why we choose AB only. There are numerous professional charting platforms available in the market but Amibroker is considered as one of the best Technical analysis tools in the world. The explanation behind the statement is given below step by step. So, let's begin.
What is Amibroker?
Amibroker is the most powerful and ultra-fast technical analysis program. The advanced analytics platform provides full-featured exploration tools which help traders to make a huge profit and stay ahead of the crowd. It consists of real-time charting, strong back-testing tool, scanning and many more features which allow traders to trade successfully in every way.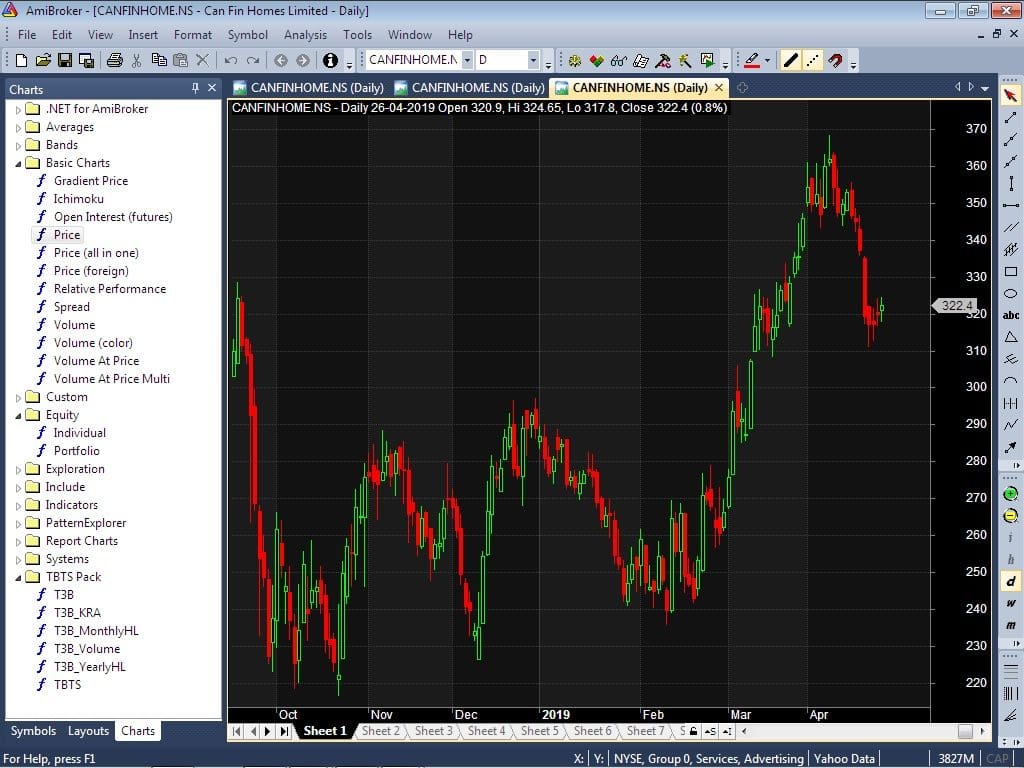 Amibroker Software Review (Updated Features Lists)
In the share market, there is no limit on up-gradation. Those who have more data are always one step ahead in the profit-making ladder. So, you can upgrade your trading to the next level by using this software. Let's have a look at Amibroker software review.
Powerful Charting and Drawing Tools
This is the most important point in Amibroker software review. It has standard and accurate chart style along with the features of drawing tools. As per traders preference, customization, combined and overlaid options are there. Apart from the advance customization option, multi-time frame present in the chart. More than a hundred popular builds in indicators such as RSI, MACD, Stochastics, ADX, etc are the strength of the charging system.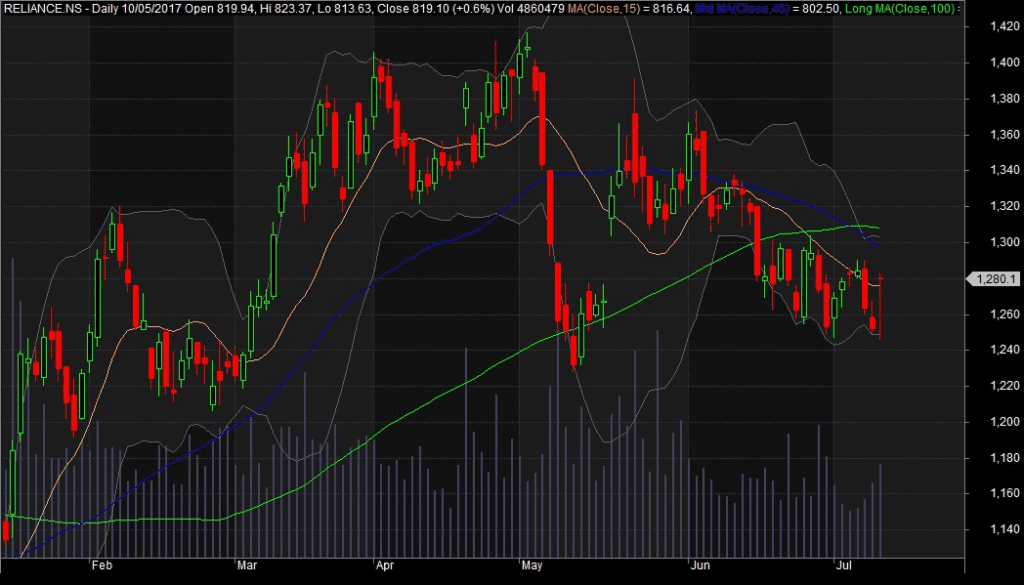 Analytical Window
Another special feature of Amibroker is its analytical window. The window is considered as a home to optimization, Monte Carlo simulation, walk-forward testing, and backtesting. Cross-correlation among different symbols is present there. Traders can explore the charting platform in many ways.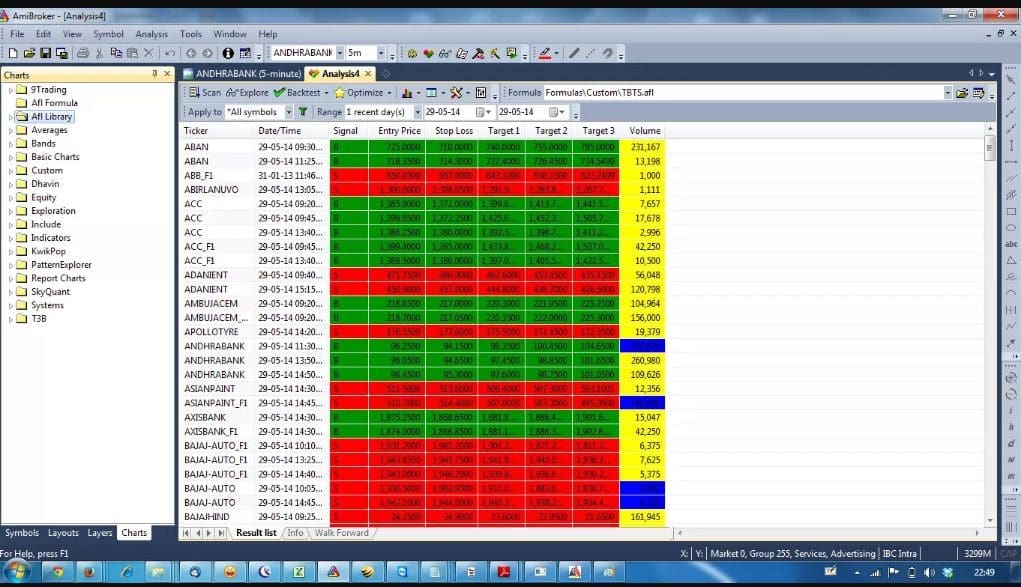 Scanning and Exploration
Analytical window comprised of both scanner and exploration. These are the real-time screening tools and one of the most useful features. You can screen stocks by BUY, SELL, SHORT, COVER conditions. Exploration is used mainly to screen stocks by generic filter conditions. Besides this, in exploration tool, multiple customs are available.
Monte Carlo Simulation
No one can predict the market with 100% surety. Therefore, traders must be prepared for the worst scenario. The Monte Carlo Simulation check trades' probabilities in the difficult market condition and peeks the possible results.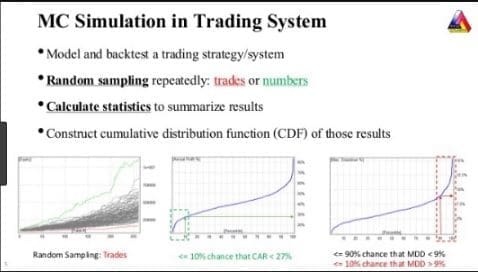 3D Optimization Chart
3D optimization chart helps to find out parameter combination which can develop the best and most reliable result. Here, also customization option, rotation, animation, an angle watch are available.
Gradient Chart and Market Profile
Here, charts are displayed as a gradient chart. On the extreme left side, there is a volume-at-price chart. It allows traders to identify price levels with the highest trading volume.
Optimum Parameter Value
Finding out best-performing stocks can be difficult for many of the traders. So, to search for huge spaces in limited time, one can use Amibroker's smart artificial intelligence optimization.
Ranking and Scoring
Depending on the positioned score, the software performs bar to bar analysis. If multiple signals occur on a single bar during the run out of buying power, Amibroker performs bar-by-bar ranking (based on user-definable position score).
Easy to Develop Own Formulas
In Amibroker either one can use a drag-and-drop interface or apply own formula. Though the first method is quite simple and straightforward, many technical analysts like to choose the second one. The formula language is termed as AFL (Amibroker Formula Language). In order to create your own custom indicator, you need to learn some simple formulas or code. If you go step by step. these codes are not too difficult to understand. To learn the coding is important, as it can be used for trading system design, optimization, exploration, scanning, and back-testing.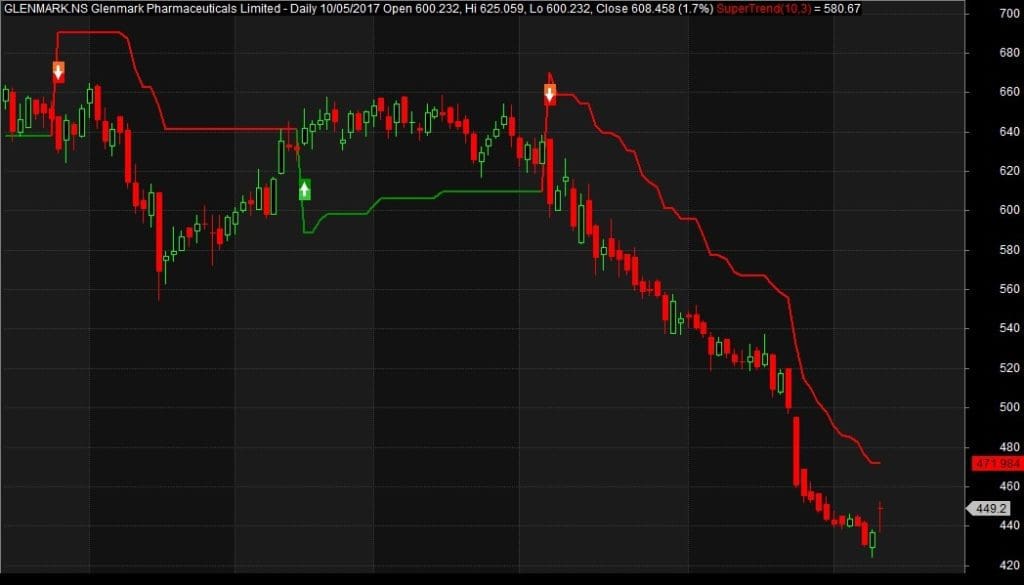 AFL (Amibroker Formula Language)
From version 3.0, they introduced AFL. It allows traders to customize indicators, trading design, scanning, back-testing, commentaries. Now, let's have a quick look at the four most popular AFL, these are Intraday AFL, Rocket Jet AFL, Trader Pro AFL, Buy Sell Signal AFL.
What are the Services Amibroker Offer to its Customers?
Besides the above features, Amibroker has multiple services. We are describing them below:
Amiquote Data: The quality of data is high enough in all segment of the market (equity, commodity, Futures, Options, Currency). Timings presentation is accurate. You can get Amiquote data from Amibroker.
Customer Support: It's online technical support system carries an excellent rating. The support line also remains open in all the five working days.
Amibroker AFL's: One can customize and create his own formula by using AFL (Amibroker Formula Language).
Members Area: Amibroker members area is only available for those who have purchased the software from the official site.
For your knowledge purpose next, we are going to provide updated features of Amibroker 6.0. Here is the list.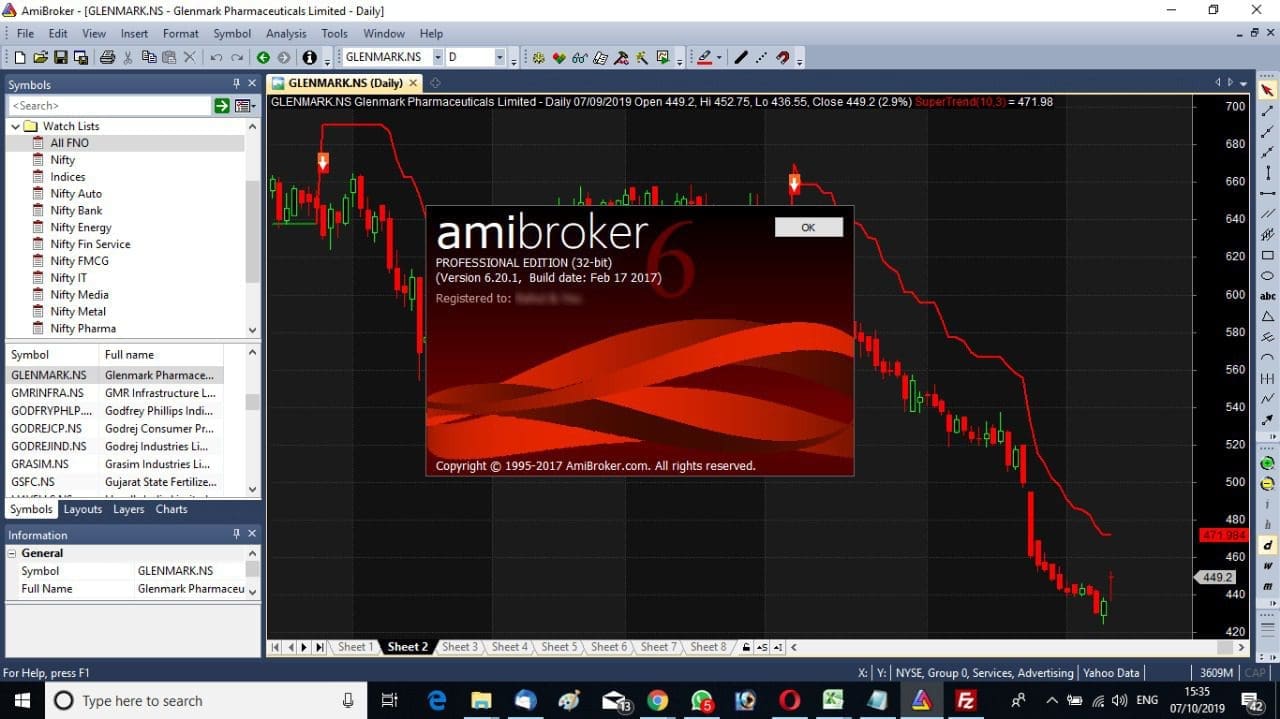 Amibroker Demo for Version 6.0 (What's New in It?)
There is an integrated high-performance Monte Carlo simulator. This has cumulative distribution charts of equity, max drawdowns, support for custom user-definable metrics. It has the ability to perform MC simulator driven optimizations.
Full Matrix support (two-dimensional arrays) in AFL with direct native matrix arithmetic (matrix operations such as addition, subtraction, multiplication, division, transpose, etc). You can see Matrix, MxIdentity, MxTranspose, Mx GetSize
Detailed data of Buy-and-hold (benchmark) statistics automatically added to the backtest reports.
User defined stop precedence (SetStopPrecedence function) and also stop validity (ValidFrom/ValidTo parameters in ApplyStop function)
Sparse array support: that is SparseCompress and SparseExpand
It has Infinite Impulse Response filter function (IIR) for efficient implementation of higher-order smoothing algorithms
Raw text output in explorations via AddRow function also there.
New styles which are supported by Exploration XYCharts
Variable period Percentile functions are present.
Unicode (UCN) support in PlotText, PlotTextSetFont, GfxDrawText, GfxTextOut, chart titles, interpretations and commentary windows ( which allows various graphics annotations / windings )
New Low-level graphics functions also present.
To get the Amibroker 6 PDF guide, Click on the link here.
Why You Should Not Use Amibroker Crack Version?
As this is mainly an Amibroker software review, we expect users to be cautious while using a crack version. For obvious reasons, there are some disadvantages to the crack version. Here, is the list:
Crack version may cause a sudden crash or license error.
Users can't get all the features with the crack version.
If all users begin to use the crack version, then Amibroker will stop updating.
Crack version will not get any official support from the Amibroker service.
Users who use crack version of Amibroker will not get FREE Amiquote data while license users can get it at Free of cost.
Amibroker Download Instructions
You may go to the official website to get the download link. This is the most authentic site to download it.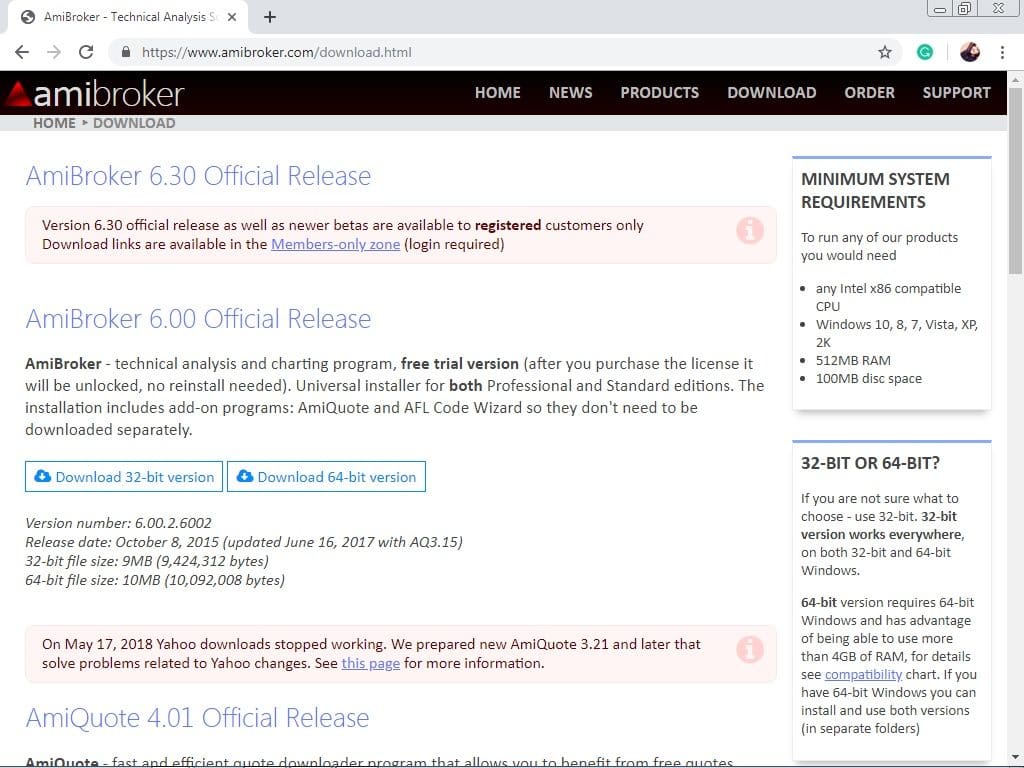 As you can see in the above information that Amibroker 6.30 is available to registered customers only. Amibroker 6.00 can be downloaded by registered as well as non-registered users. Two editions are there, professional and standard editions. With the installation, you will get add-on programs like Amiquote, AFL code Wizard, you don't need to be download separately.
Trading Systems in Amibroker
There are various trading systems in Amibroker. If you want to know about the systems, you may check our Trend Blaster Trading systems.
AmiBroker FAQ
What is the use of Amibroker?
AmiBroker is the world's renowned charting and trading platform. It is mainly used worldwide for charting and trading system development. It is also very helpful in backtesting a trading system. However, in some cases, traders can attach it to their broker's platform for automated trading.
What is the cost of Amibroker?
There are 3 versions of the software. The standard edition costs $279, the professional edition costs $339 and the ultimate pack pro costs $499. All these purchases contain 24 months of free upgrade and support.
Which is better MetaStock vs Amibroker?
AmiBroker is highly popular among stock market traders all over the world due to its ease of use. It is a simple and lightweight software than MetaStock. The data charges are also much less as compared to MetaStock. Overall it is a value for money.
How much does Amibroker cost in India?
Right now no one is authorized to resell AmiBroker in India. So Indian traders also need to purchase it from the official website. So Indians need to pay $279 for the standard edition, $339 for the professional edition and $499 for the ultimate pack pro.
What is AmiBroker AFL?
AFL stands for AmiBroker formula language. With the help of this language, one can code their trading logics into a full-fledged trading system. AFL is easy to learn and easy to write. For traders with little or no coding knowledge, there is a simple AFL code wizard.
Does AmiBroker work on Mac?
No, it does not work. This is a windows software and does not have an apple mac version. But there is a simple hack. Mac users can use utilities like parallels desktop to run windows applications on Mac. Using this hack they can also run AmiBroker on their MAC system.
How do I add NSE stock to AmiBroker?
You can add NSE stocks in AmiBroker in 2 ways. Either download NSE stocks data using built-in utilities like AmiQuote. Or you can purchase third party data for NSE symbols and add them to your favorite charting platform.