For a few days, we were watching a stock TWL. It came to our scan on 4th of August during market hours, the rail stock was beaten down and was ready for a bounce back. So we started watching its charts taking a long position, and bang, TWL hits upper circuit yesterday up by 5%. At the time of writing this post around 09:30 AM today, i.e. 7th of August, it has once again hit the upper circuit. 2 days in a row!!! The article contains stocks ready to explode.
How to Find Stocks Ready to Explode?
Now how we found out that stock TWL? We used our one of the favorite stock-picking method TTTB Trading System. TTTB or T3B Trading System is our latest invention in Amibroker, which will find multi-bagger stocks for you in minutes. You only need to spend 15 minutes a day to find stocks ready to explode. It's as easy as this.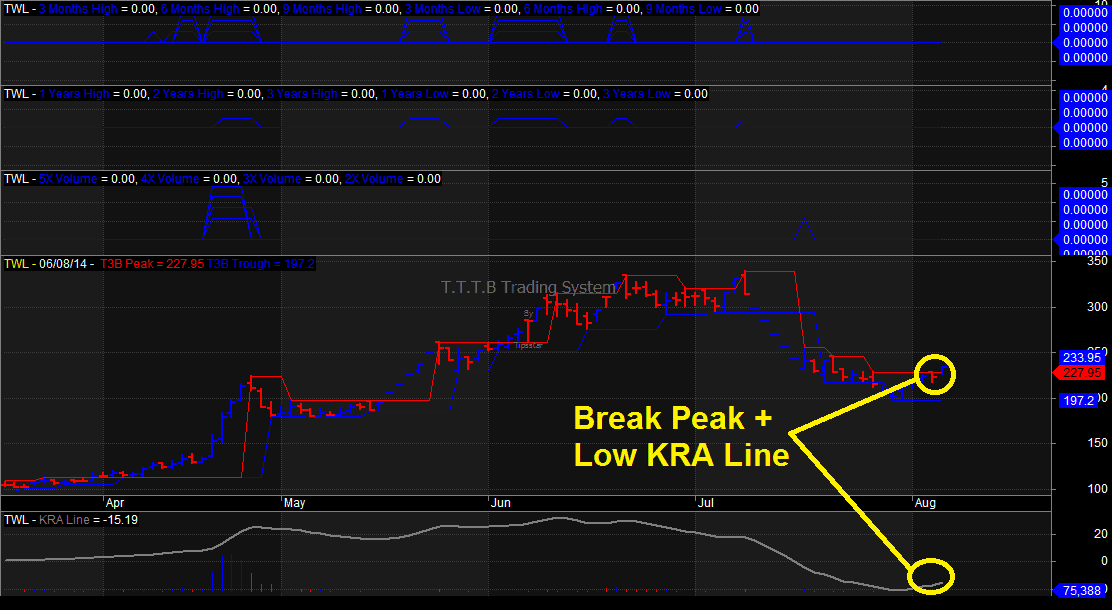 For a short time period, TTTB Trading System is available for Beta Testing for our subscribers and even one month's paid trial subscribers of Trend Blaster Trading System can ask for one month's free beta testing of TTTB Trading System during this period.
More on the T3B Trading System
The T3B Trading System has been designed to find stocks ready to explode. This is actually designed by Keane Lee of T3B Traders and it is a costly system. We have designed this on AmiBroker to save Indian traders to bear this cost. You can simply get all the functionalities of that complex system on your AmiBroker.
Register to TTTB Webinar on 9th Aug
Now whats in the store for TTTB this time. Yesterday during market hours buys triggered in quite a few numbers of stocks. Out of them, we picked a few with a low KRA line.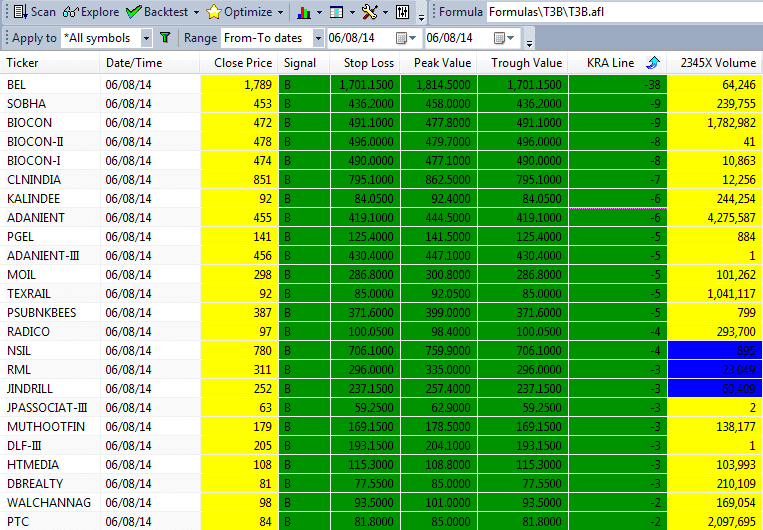 Next Few Stocks Ready To Explode
Now out of this list, we found few scrips breaking the peak and with a very low and rounding bottom KRA line. Our picks for the short term are BEL, CLNINDIA, KALINDEE, and ADANIENT.
If you have access to TTTB Trading System, before the market end you can do real-time scan and exploration and buy stocks ready to explode during the market hours. All these stocks generated buy signal yesterday in the live market and see already one of them KALINDEE, is out of your reach. Hits upper circuit trading 5% upper than yesterday's close. Isn't it better if you had access to the TTTB Trading System scans in real-time and have taken a position in KALINDEE yesterday during market hours?
Conclusion
The best buy trade setup with this system comes when we get a beak peak with low and improving KRA line. Similarly, the best short sell trade setup with this system comes when we get a beak trough with a high and falling KRA line. Traders can stocks or options with this system. For beta testing of TTTB Trading System, subscribe to any of our trading systems and contact us for your TTTB copy.