Zerodha provides different trading platforms to suit different requirements from clients. Zerodha provides a software-based trading platform which is name d as Pi. Pi is a complete trading software equipped with user-friendly commands and highly technical visual charts. All kinds of trading can be done through this software. Zerodha also provides a web-based trading platform known as Kite. Kite is a dual version trading platform that has an Android version for trading through Android-based smartphones. Today we are going to compare Zerodha Kite vs Pi and find differences between the two.
Zerodha Pi –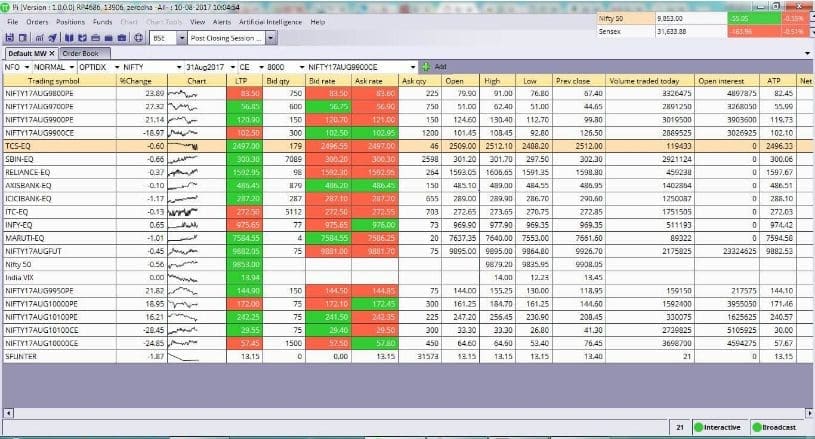 Zerodha Pi is a very strong desktop software providing clients with all kinds of facilities. Pi is equipped with strong charting software helping traders and investors with visual buy-sell signals for intraday, daily, weekly, monthly or for longer-term trades. Pi is equipped with stocks scanners for screening stocks to suit traders requirements. There is a tab named Artificial Intelligence to help the clients as per the requirements sought by them. Also, there is a tab Alerts to create scripted alerts and also to look back at generated alerts. There is also a News Reader tab so that the clients can get to know all the latest information from national and international fronts related to business & economy that may affect the market. Besides, there are all regular tabs and tabs for the user setting. Regular tabs include Orders, Position, Funds, Marketwatch, Help. One can use fund tab for online payments in and payout instantly. Pi also gets updated regularly and with every update, the software becomes a more user-friendly and the latest thing from markets are added to it.
Zerodha Kite –
As we have already mentioned, Zerodha Kite is a web-based dual version trading platform. Kite performs well on the web as well as in Android-enabled smartphones. Like Pi it is also equipped with very good and latest technical charts, applications for executing trades, funds pay in and payout, applications for viewing client's position of orders  in current market, profit and loss of existing portfolios (very good graphical representations), MarketWatch, very good web-based instant back office support, ledger view and many more such facilities.
Zerodha Kite vs Pi
In our discussion of Zerodha Kite vs Pi, it is very hard to differentiate the advantages provided by these two different trading platforms. But in our opinion, in Zerodha Kite vs Pi comparison, Kite is more fluid, offer more facility for Algo trading through Python or R, almost spotless performer compared to Pi. Both of Kite versions have similar performance. But Pi scanner, Artificial Intelligence, very easy programming for Algo through Trade script – are some of the advantages inherent to the desktop platform Zerodha Pi. We, therefore, in our discussion on Zerodha Kite vs Pi, keep our opinion open and leave it for the clients who use Kite and Pi.