Zerodha is quite a popular name in the Indian broking market. From 2010, the company has grown exponentially over a few years. Today, we've come with another guide content on Zerodha support portal.
How to Use the Zerodha Support Portal?
As the term suggests Zerodha support is such a platform from where Zerodha users can get necessary support and advice. The support portal contains multiple and variety of features. Users can be benefited by the site in many ways. Here, is the brief description of Zerodha support:
The support can show the answers to multiple quarries. Generally, most of the troubled-faced questions' answers are available there.
These answers are spread out across Zerodha varsity, Z-connect, Trading Q and A and, more. The given answers are quite simple and straightforward so that clients can find it easy.
If users don't find sufficient answers for their quarries, they can mail to the support team of Zerodha. The answers will be provided to the mail id.
Therefore, Zerodha support is a manually curated and actively maintained platform where users can get knowledge-based information, questions-answers in each and every aspects of Zerodha, from account opening to trading. Their intelligent search system makes the answers easily discoverable. In case, if users are still unable to find the answers to their quarries, they can create a support ticket and track it right from there. The new ticket automatically pulls data from the account (positions, holdings, orders etc). By this, users also save their significant amounts of time. This is easier and smoother than composing emails to the support e-mail address.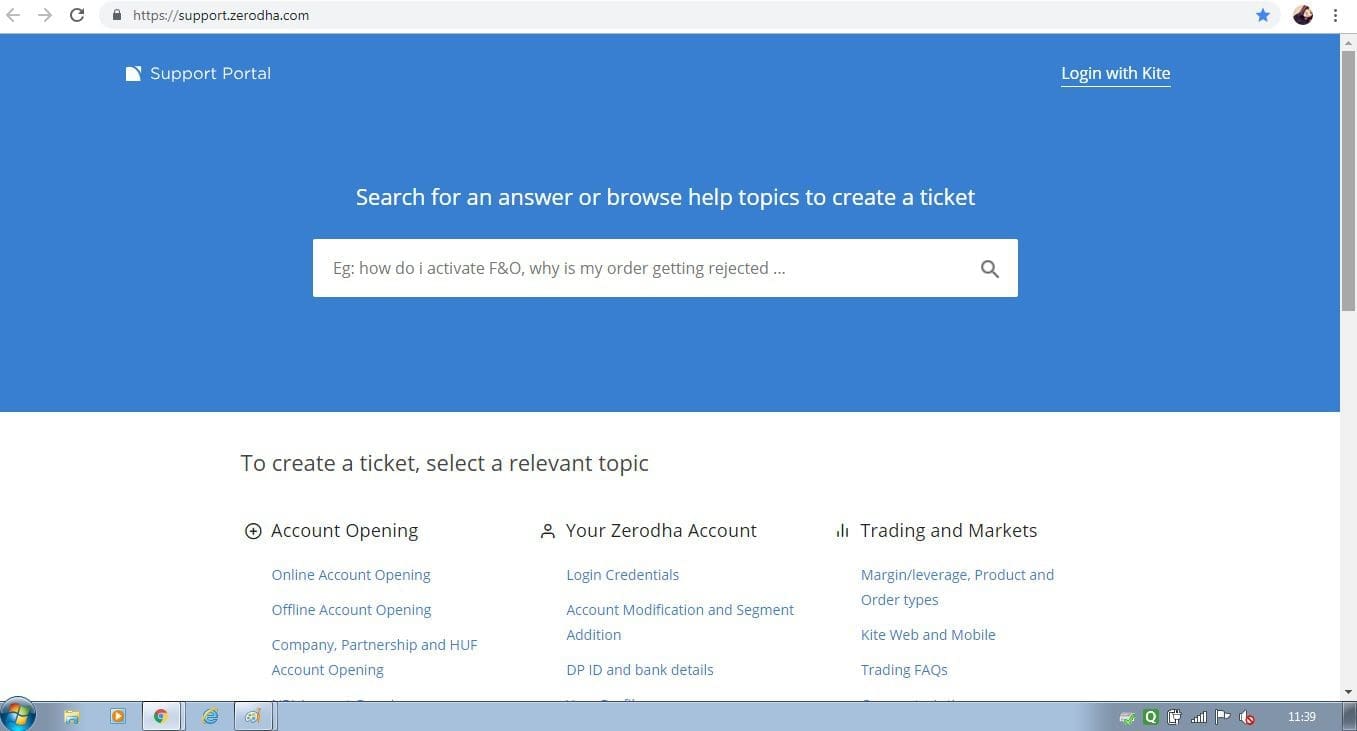 This is the support page looks like. The searching process is quite easy. As you can see it displays multiple topics on which you can search your quarries easily. There is also an option to create a ticket. The ticket can be created from your specific topic. For example, suppose an order of yours get canceled and you couldn't find the proper reason. In this case, you can create a ticket by selecting the rejected order. This indicates your ticket is assigned to the appropriate teams and comes with accurate information and ensuring a quicker resolution.
In case, you have created multiple tickets, you can track their progress from the dashboard easily.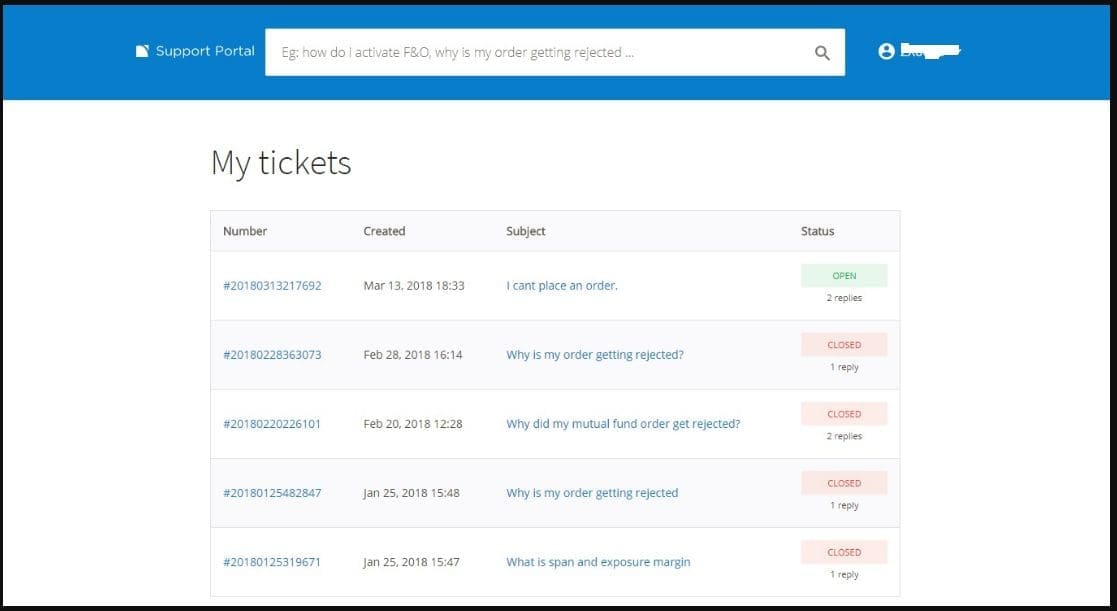 Comprehensive Knowledge Base in Zerodha
The portal has more than 400 topics across 6 board categories. These are updated regularly. So, basically, the portal has everything users need to know about trading and account opening process in Zerodha.
Intelligent search
Through the intelligent search system, Zerodha put much effort to make the content discoverable.
These are some of the basic guidelines regarding Zerodha support. From here, you can get all the trading and account opening related information.