Stock screening websites help a lot of traders and investors. In India, there are 5000+ companies listed in the National Stock Exchange (NSE), as well as in the Bombay Stock Exchange (BSE). Finding out the right stock is quite a tricky one. To help the traders there are so many screener websites available. Those stock screening websites do a fundamental analysis of stocks and show the right stocks to invest in. Through this post, we are going to discuss the best 5 stock screening websites.
Frequently asked questions about stock screening websites in India
Name some of the best screener websites of India?
Moneycontrol, Screener.in, Tickertape.in, and Trendlyne are some of the best screener websites of India.
Why do we need a screener website?
The traders and investors need screener websites because these websites provide stock analysis tools to do a better trading.
What are the points a stock screening website focuses on?
The price-to-earnings ratio, earnings per share, dividend, debt to equity ratio, book value, and return on equity of a corporation are all examined by a screener website to provide you the right stock.
Who uses screener websites?
Every trader and investor can use the website. Not only that any person who wants information regarding stocks or any listed company in the stock market can use these websites to gain knowledge.
Definition of stock analyzing screener websites
Screeners are those websites that help traders and investors to find the right stock to invest in. These websites provide a bunch of tools that a trader could need to find profitable stocks. There are so many fundamental stock analyzing websites available on the internet, some of them are paid and some of them are for free. Now, choose the right website which can fulfill your needs could be difficult for a beginner. To guide you through that I have maintained the top 5 screener websites of India with descriptions.
Best five screener websites India
There are 100+fundamental stock screening websites on the internet. In such a scenario as a trader or investor, it is quite hard to get your hands on the best stock screening websites. Moneycontrol, Screener.in, Tickertape.in, Chartink and Trendlyne are the best five stock screening websites available in India. In the following, we are going to discuss the features of these top 5 websites. We shall also analyze which one is the best stock screening website.
1# Moneycontrol
Money control was established in the year of 1999. It is a Mumbai, Maharashtra-based company. 10 million+ subscribers use this website. The two co-founders are Razorpay's Harshil Mathur and Shashank Kumar. This company is also owned by the Ambani's because it is a part of the Network18 group owned by the Reliance Group of Industries. The moneycontrol is one of the best websites to analyze stocks.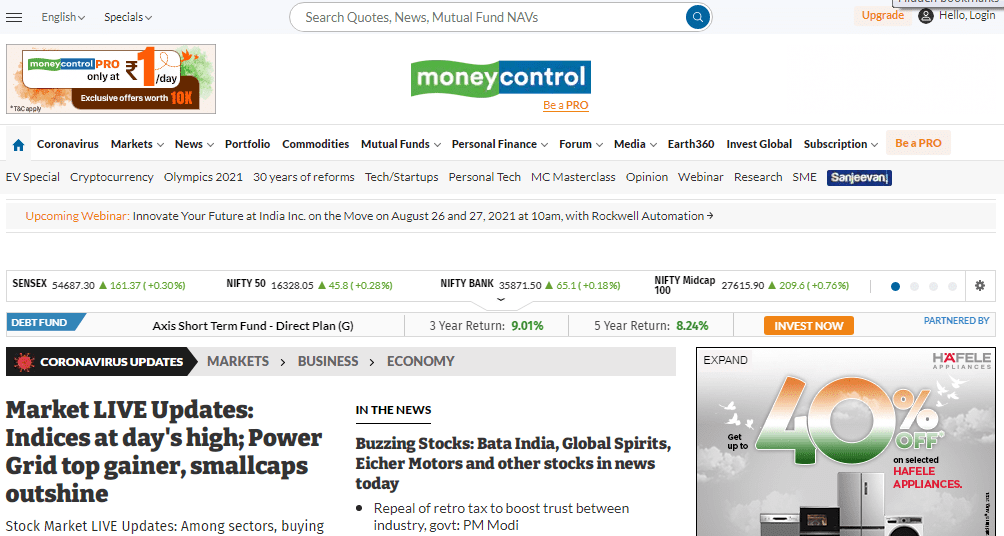 Discuss the features of Moneycontrol
Basic features
There is a feature of market option which is very useful for the traders. This option is a compact version of all the information about the stock market. This part provides the data about the most active stocks,
They also provides chart with 1-day, 5-days, 3-months, 6-months, yearly, and six years charts which show you the ups and downs of the stocks of the company. That means you can check the company's current situation and also the past report of their stocks. You'll also find the best F&O or derivative stocks here.
National Stock Exchange's Nifty stocks mean Nifty-50, Nifty-100, and also Nifty-500 stocks regarding all information is available here. Not only the NSE but also the BSE/ Bombay Stock Exchange's popular and profitable 30 stocks of Sensex are also provided here.
Suppose as an investor you want to go through all the minute information about a company before investing in it. Basically, you want to deeply analyze the company's fundamentals, if you use this website you will find all the informations are provided beautifully.
Pro features
The website has a Pro version which helps the investors and traders who take trading as a profession. All the advanced operating options and trading strategies are provided in this version. There are moreover 300,000 subscribers using the pro version.
You can use their mobile app also which is available in Android, IoS, and Windows also.
BSE, NSE, MCX, and NCDEX all the exchanges are covered here. That means it does not matter that if you are investing on equity or commodity, you just need this one website, to keep all tracks on every market.
The website's one of the disadvantages is that the dashboard is filled with advertisements. If you do not use the pro version then in the normal website you will find so many adds are popping out constantly.
Moneycontrol charges
Moneycontrol has two versions in which the Pro version will provide you extra services but you have to pay for that as well. They also provide a non-payable version that can be used by anyone. In the following, I have discussed it,
Normal website– Moneycontrol has a free website that provides free information, news, and also various filters as well.
Pro version– On the other hand there is the pro version which send you coustomized information accoding to your need of stock scearch.

In this image, you can see that the company has recently launched their improvised charges that come for a limited period of time. The previous charges are also visible there.
Why moneycontrol consider as the best stock screening website
I have analyzed so many stock screening websites in which Moneycontrol is the best one according to me. The website provides so much information in one place and it is just a click away. It is quite efficient too. The website handle traffic quite notably, therefore 10million+ subscribers are using it and they are also satisfied by the service. It is quite hard to find such a good quality service on the other similar kinds of websites. You will get stockmarket-related current updates very easily by their news, trade, market sectors. It is beginner-friendly as well as the Pro version which is used by professional traders as well.
2# Screener.in
Screener.in is widely popular among traders and investors. This website helps them to do a fundamental analysis of the stocks of the listed company in Bombay Stock Exchange and National Stock Exchange. The Mittal brothers Mr.Ayush Mittal and Mr.Pratyush Mittal are the founder of the screener.in. In 2009, they launched a website that is still useful for beginners of the stock market.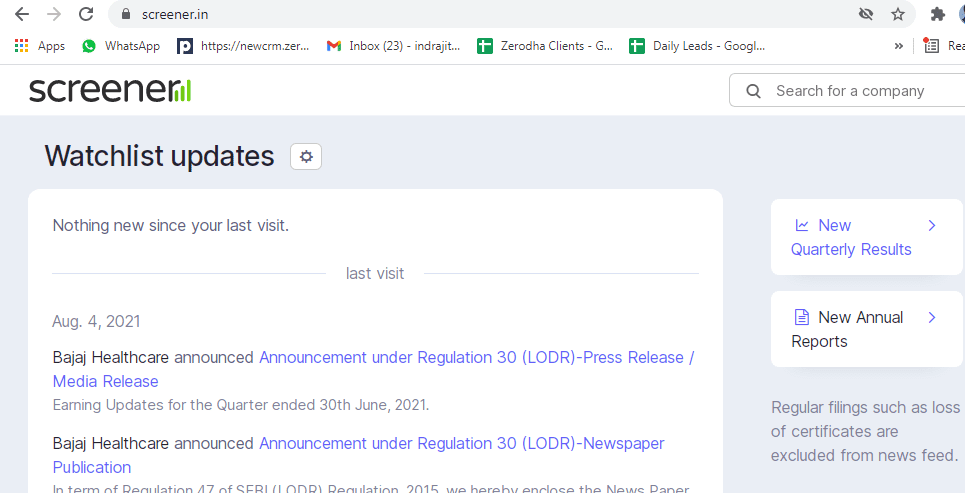 Discuss the features of Screener.in
In the following we are gonna take a look at the special options that Screener.in provide us,
This website provides business data going back more than ten years to the traders. It will assist them in appropriately comprehending the business cycle and the performance of various firms. Furthermore, this website provides section results for the previous ten years, which is quite beneficial to investors.
Users can extract data from this website and see it on excel sheets. This will allow them to refer back to the data and thoroughly analyse it afterwards.
Traders can also upload their own excel sheets with new formats and algorithms to the Screener.in platform.
Traders and investors love the watchlist tool because it allows them to easily monitor multiple stocks.
Peer comparision is such an interesting option that the website provides. In this option if you want to invest in a certain sector of stocks, you will get a quick comparision with other similler stocks . The ROCE and ROE ratio, Interest coverage ratio, earning per share and other important information will be compared there.
Screener.in charges
This website also has two versions one is free to use but the other one is premium, which will charge you additionally.
The normal website– This is for free. They do not charge a single penny for registration or sign in to the Screener.in the website.
The premium website– Screener.in website will cost you 4999 yearly to use their extra features. In the following image it is quite visible that the services that the website is providing is very useful.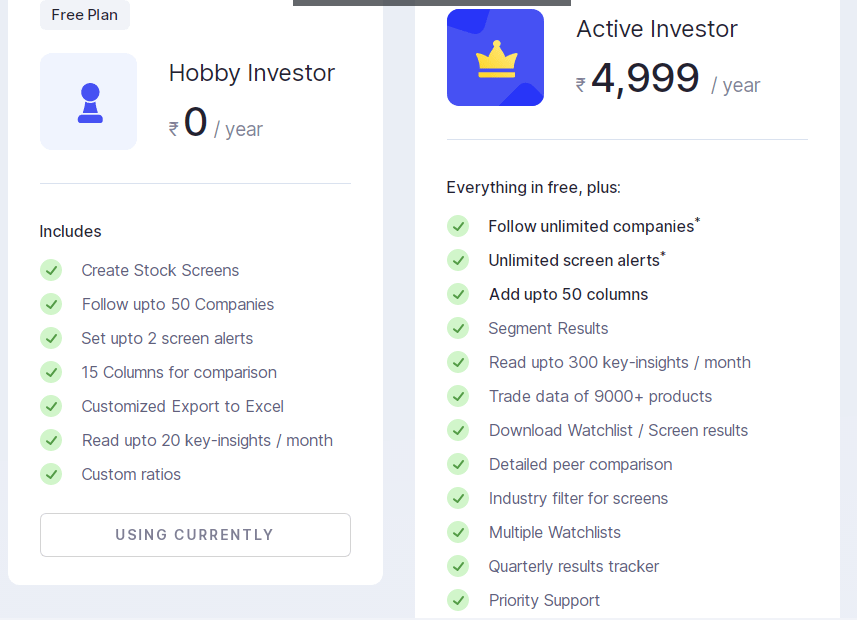 3# Tickertape.in

Ujjwal Ankur is the chief business officer of the website. Tickertape is a fundamental stock screening website that helps the trader to find out the right stock. Especially those companies who are doing well on the stock market. Suppose there is a company have undervalued now but has stable growth in the stock market. Tickertape website could find those hares easily. This website is very useful.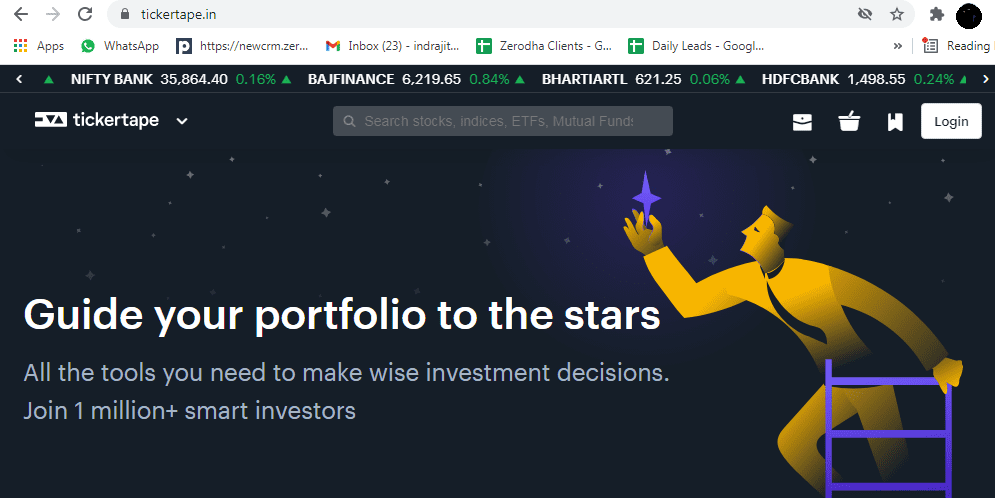 The features of Tickertape
The Tickertape has so many features that help the traders to find out the right stock according to their preferences.
The Tickertape provides an elaborate description of the company stocks listed in the stock market.
As soon as you opened the website, at the top of the website there is a ticker going on. This ticker shows the equity market stock's up-trends and down-trands. This ticker works between 9.15am to 3.30pm. After that the ticker disappear.
It gives more than 130 filter to choose from. This several filters will help you to identify the stock which are profitble to invest in.
MMI or market mood index is the special feature that help to predict the market's current emotion.
A traders invesment decision will be much more easyer after looking at the peer comparision, news and events.
Tickertape charges
There are two options available the normal version and the paid plans to choose from. which are-
Normal website- To use the website you do not need to pay any charges. you can use it for free.
Paid plans– As you can see in the following if you want to take some special features, you will get those under the paid plan option. You just have to choose from the monthly or yearly plans according to your preferences. In the following, I have provided a picture that will help you to choose the right plan according to your preferences.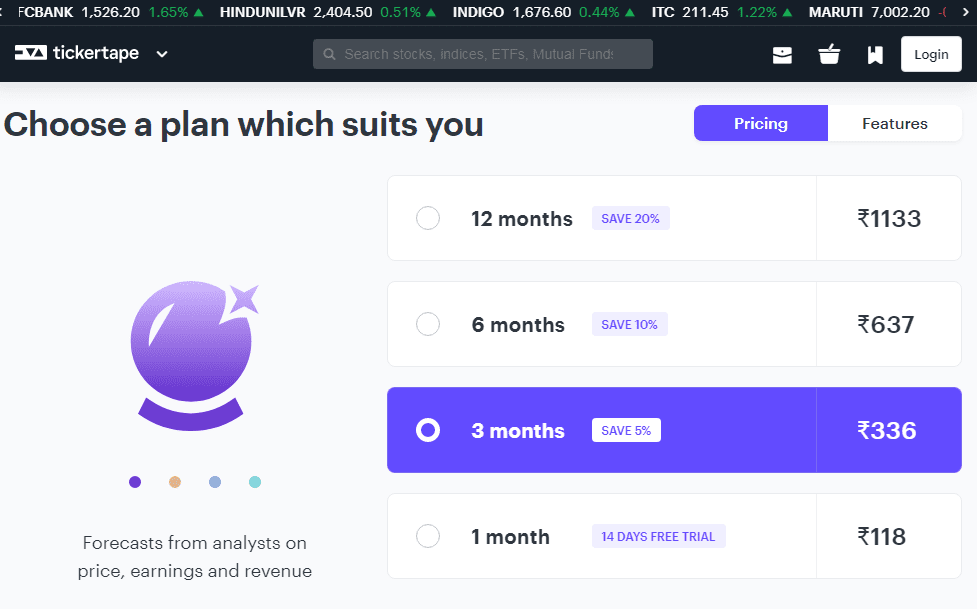 4# Chartink.com
Madhura Tayade is the founder of this website. Chartink provides a precise real-time update that is every five minutes. The website provides information on the market's equity stocks. By default, Chartink scans all NSE equities, however, this is adjustable, and users may choose whether they want to scan the Nifty 100 or the SENSEX, for example.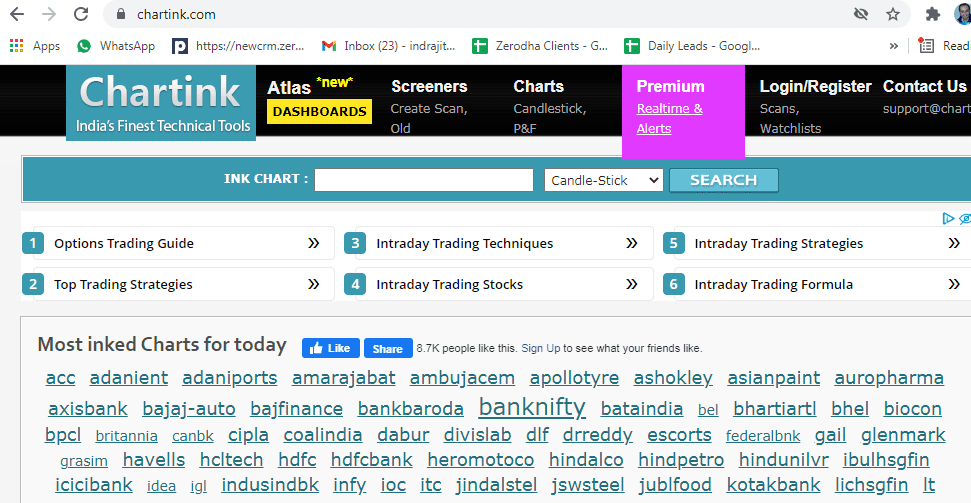 The features of Chartink
The Chartink provides some special features, such as-
Screeners to choose from
They provide so many scanners to choose from. suppose as a trader you want to know any company's interest coverage ratio but you do not know how to create a scanner for that. In that situation, you will find that the specific screener is already there which will help you to find the best ICR companies. Similarly, you can also create technical stock screeners.
Customized screeners
As a professional trader, you want a customized scanner that can fulfill your need. Therefore you can create your own screener that will serve you and you only. If you want to create a golden cross and death cross over of certain company's stocks you can also do that.
Chartink's chart option
Chartink provides a special kind of chart where you can see charts of a specific stock. You can also adjust it at a difference of daily weekly monthly and also in the yearly chart.
The chart is useful for intraday as well as swing trading and also for the investors of the stock market. because the Chartink provides minute to minute chart, an hourly and daily charts chart which helps the intraday traders.
There is a daily chart option also which will help the swing traders. Through the chart, you can see daily, 2-days 3-days and up to 10-days chart and as monthly well as yearly charts are available there.
If the person wants to invest in long term and want to analyze the fundamentals of the stocks by taking a look on the charts of previous years.
Various stocks to choose from
There are various kinds of stocks to choose from. It does not matter you want to invest in F&O stocks or equity or maybe in commodity stocks, you can choose any stock according to your preferences.
Chartink charges
The website has two options to choose from. A trader or investor can take the subscription according to your preferences. Those are –
The normal website– This is for free use . You can sign in for free and then you can use it. The website will provide you the basic features to do trading.
The premium version– The premium version where there are two plans to subscribe from one is yearly and another one is monthly.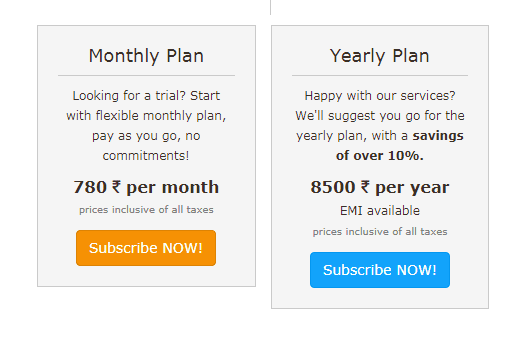 As you can see above the monthly plan will cost you 780rupee and the yearly cost will be 8500 rupees. The website will provide you with some extra services as you have enrolled your name for the Chartink premium.
5#Trendlyne.com
Amber Pabreja is the co-founder of Trendlyne. The website launched in 2009. The headquarters is located in Bengaluru. It is a website Trendlyne is a "Retail Bloomberg platform" that uses real-time data analytics to help retail investors, research analysts, and portfolio advisors make better decisions. The application of the Trendlyne is only available in the android version. You can not find it on the iOS version.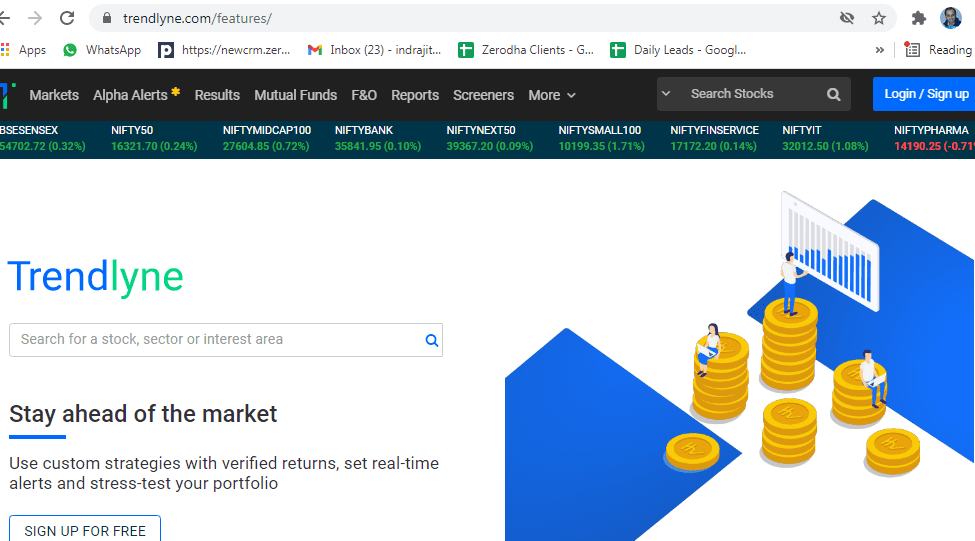 The features of Trendlyne
There are so many features on the website that can be used by traders and investors to do better trading. Let's take a look at them,
Every kind of effective stock screeners is available. In which Expert Strategies to Red Flags everything is there just a click away. You just need to choose the right stock screener that can fulfill your reference and also help you to find the right stock to invest in.
Stock Recommendations from Analysts: Buy/Sell/Hold Calls, Price Targets, Upgrades, Downgrades.
An investigation is conducted by a company to determine its internal strengths and weaknesses, as well as external opportunities and dangers also known as SWOT to check every stock.
Price feeds, technicals, moving averages like SMA/EMA, delivery and volume, insider trades, and so on should all be kept in mind.
DVM is also known as Dividend Valuation Model stock score is also predicted here which are derived from BSE and NSE.
Trendlyne charges
Trendlyne provides two chargeable plans one is the basic plan where the charges are bare minimum but on the other side, the GuruQ plan charges you more. The description is in the following-
Basic plan– There are two version one is basics that will cost you about 1190 rupee annually and 119 monthly.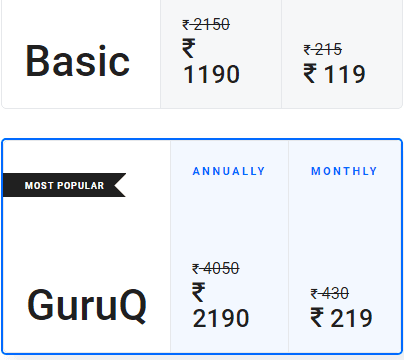 GuruQ plan– In the guruQ version which is more populer among the traders, you have to pay 2190 rupees anualy and 219 rupees monthly.
Conclusion
After all the analyses, I hope you are able to understand which of these stock screening websites will be able to fulfill your preferences. Because these 5 websites are the best of their own kinds, each of them is very useful. As I have already said the moneycontrol is the best one according to me because they provide minute information about a stock that a trader ould need to experience a better trading experience.