When I started trading with charts and started using trend following indicators like Super Trend etc, I have been whipsawed many times. In an intraday chart, many whipsaws are created and a trader can make a loss due to the whipsaw. So I did my research and found that we can minimize the whipsaw a lot if we can combine the intraday charts with the daily charts or end of day charts. This is called multi time frame trading strategy.
What Is Multi Time Frame Trading Strategy?
Multiple time frame (MTF) analysis is a method of technical analysis where the price action is monitored using several time frame charts. A conventional multiple time frame analysis will involve the use of at least three time frames. When deciding on a trade or investment, be it short, intermediate or long-term, multi time frame indicator can help clear the noise and offer a balanced view. MTF analysis simply refers to the same chart with more than one time compression (e.g. daily, weekly and monthly). When both the monthly, weekly and the daily charts are in harmony, the chances of success can be greatly enhanced.
What is an end of day chart?
End of day chart is the chart got at the end of the day.
It is mainly derived after importing the Bhavcopy to Amibroker.
There are many companies who supply end of day data.
Some end of day charts can be seen on our site FREE CHARTS section.
What is intraday chart?
An intraday chart is the chart got real-time basis in the charting software.
It is mainly derived after connecting any real-time data utility to Amibroker.
There are many companies who supply real-time or RT data.
Intraday charts can be watched using charting software like Amibroker / Metatrader etc.
The Myth
I trade only intraday
There is no need to see EOD charts
Even no need to bother about the daily trend
Trades are made on intraday charts only
Intraday traders need not check daily momentum indicators.
I have the most superior intraday trading technique that follows current timeframe only.
The Myth Unleashed With Multi Time Frame Trading Strategy
A trend is created on the long-term chart.
One should not fight the long-term trend.
A proper combination of long-term trend and short-term trend, i.e, multi time frame trading strategy is to be taken for creating a right trading decision.
End of day trend plays a major role in the intraday trend.
If the daily trend is UP, intraday BUY will be more effective and if the daily trend is DOWN, intraday SELL will be more effective.
The Concept of Multi Time Frame Indicator
So, multiple time-frame analysis involves monitoring the same stock/ index/commodity or currency pair/forex across different frequencies (or time compressions). Typically, using three different periods gives a broad enough reading on the market – using fewer than this can result in a considerable loss of data, while using more typically provides redundant analysis.
If you have a strategy that is built around a certain time-frame, do not have any interest any other time-frames than that of the one your set-ups are built on, but we would encourage you to analyze other times as well.
Longer Time Frame
The first step is to start with the longer-term time frame, say monthly chart. This is to determine the trend of the scrip. The eventual trade SHOULD be in the trend direction of this time frame. Such trades will have a greater degree of success than if it was taken against the direction of the trend seen on the monthly chart. The trend as seen on the monthly chart is less of market noise and more of true fundamentals at play. Monitoring where the market fundamentals have been pointing to in the recent past helps the trader understand what is happening on the monthly charts a whole lot better.
Medium Time Frame
The second step is to look at the medium time frame, say weekly chart. This chart chronicles the moves within the larger trend. This time frame is a marriage between price action on the shorter and longer time frames. The weekly chart is where you should get your trades set up, and where you should be monitoring your trades when they are active.
Current Time Frame
The third step is the trade execution, which is done using the current time frame, say daily chart. Even though there is more market noise here, previous analyses done on the higher term charts as described above will ensure you are only in when the market noise is in your favor.
Our Products
We have coded multi time frame trading strategy into AmiBroker trading systems. Let us check two of them.
Trend Blaster
We at StockManiacs Research & Systems Pvt Ltd, have recently introduced Trend Blaster For Amibroker which is an advanced multi time frame indicator trading system that uses a precision trading algorithm and multi timeframe approach to provide precise entry and exit points. Entries and exits are coded wisely to have an emphasize on longer time frame trends. It has been designed for Amibroker, a leading, widely available charting platform. You can trade all major stocks, indices, commodities and forex with the help of this system.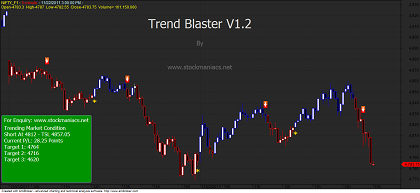 To know more about this multi time frame indicator do check Trend Blaster Trading System For Amibroker. It generally comes with a 2 days risk free trial offer. Remember this multi time frame trading strategy works only if you have Amibroker installed in your system. To try it FREE for 2 days please mail to [email protected]. What's more you can ask for an extended trial of 7 days. For the extended trial you need to LIKE this post in FACEBOOK below and do as written below. You need an account in Facebook to try it FREE for extended 7 days period.
TTTB or Track The Trend Break Trading System
Components of TTTB
Peak and trough in the trend direction.
Bar color for the bias.
KRA line for trend effectivity.
Volume for trend intensity.
Once the daily trend is established:
Watch the intraday charts closely with:
Stochastics and RSI –PRO
Moving averages – PRO
Trendline breaks – PRO
Trend Blaster stop and reverse (or basic ATS) mode – NOVICE as well as PRO
Avoid signals against the daily trend and go for signals in favor of the daily trend.
Enjoy profit!!!
The Trading Thumb-Rule:
You need not be a PRO to win the game.
You only need to follow the PROs to win the game.
The trend is created by PROs.
The multi time frame trading strategy needs to be followed by smart traders.
Daily + Intraday trading combo can be used on:
Cash
Future
Options
Currencies
How To Find The Daily Trend?
Listening to TV – NOVICE
Using momentum indicators – PRO
Drawing trendlines – PRO
Using costly trend analysis software like RMO ATM, Advanced Get etc – PRO
Using TTTB Trading System – NOVICE as well as PRO
New Researches: