India has a steady float of ideas. Every day we see newer and new businesses are floating and a new set of entrepreneurs are emerging. But many of them face some initial problems or hurdles. The problems can be from raising money, people skill, technology or marketing. Clearly, there is no ready-made guide available for this class of people. The Indian exchanges like BSE and NSE have come up with a solution for these new entrepreneurs so that they also can raise money from the markets. Let's understand what is SME or SME Exchange full form. But before that, let us check out some common and popular FAQs on SME.
FAQs on SME Exchange
What are SME stocks?
SME or Small and Medium Enterprises. The particular Exchange is mainly build up with small and medium-sized companies with high growth potential. The specific platform of the Exchange is opened for them whose post issue paid-up capital is from 10 cr to 25 cr.
What is SME IPO meaning?
As we know IPO is Initial Public Offering that is the first and foremost listing of shares of a company in exchange. So, when a small and medium enterprise with limited capital enter into an exchange and listed their shares, it is called SME IPO.
Can SME be listed?
Yes, SMEs or companies with limited capital can be listed in the exchange, So, SMEs are allowed to raise funds in the equity market through the SME stock exchange platform (BSE & NSE). Equity shares of small and medium scale enterprises are now allowed to be listed.
What Is SME?
SME stands for "SMALL AND MEDIUM ENTERPRISE".
MSME stands for "MICRO SMALL AND MEDIUM ENTERPRISE".
Micro, small OR medium companies are broadly classified in 2 sectors – Manufacturing Sector and Service Sector.
SME companies are also classified by their respective investments (see the image below).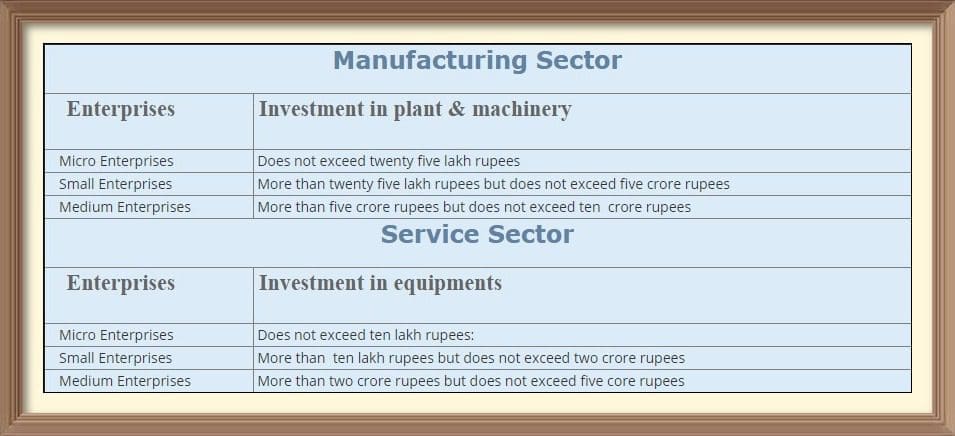 As discussed earlier both BSE and NSE exchange has set up a platform by which the small and medium enterprises can get their shares listed. That is called the SME exchange. So on another hand, we can say that SME Exchange full form is a "small and medium exchange". The name of the SME exchange for the Bombay Stock Exchange is BSE SME Exchange and the name of the SME Exchange for National Stock Exchange is Emerge.
History Of Indian SME Exchanges:
On the year 2011 SEBI has launched the SME platform to allow small and medium enterprises to raise capital.
In February 2012 the first-ever SME IPO on BSE SME exchange was floated.
The image below will describe the differences between an IPO floated on the BSE SME Exchange versus the regular BSE Exchange.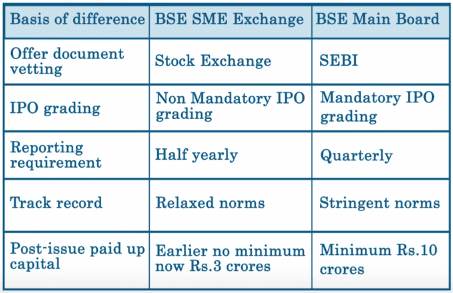 Now, the following image will describe the listing criteria in the SME exchanges.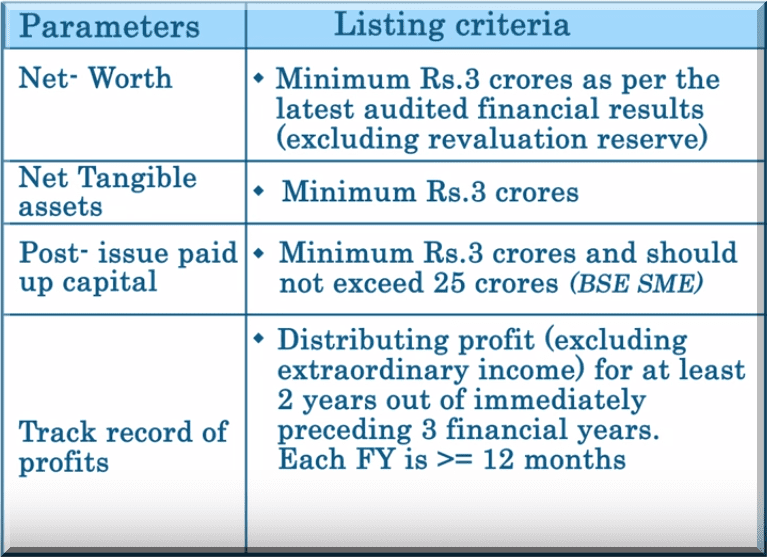 How Stock Market Listing Helps SME Companies?
To raise fresh capital.
Increase network.
The leveraging ratio gets more attractive and the capacity to raise debt increases.
It enhances visibility and credibility.
Widens the capital base and increases working capital.
It can raise funds at low cost and comparatively relaxed norms and compliance.
Benefits of Listing SME Exchange
There is no denying that SMEs play a vital role in the growth of an economy both, as a job creator and a contributor to the national income.
Equity Infusion
It provides access to capital by equity infusion which is a direct growth driver. The funds so raised are the company's own and the company is at complete liberty to utilize it for any purpose such as expansion, diversification, acquisition, or even loan repayment, all of which lead to a healthy balance sheet. Once listed, these companies are now well equipped to exploit other avenues of raising capital such as rights issues, preferential issues, qualified institutions placements (QIP), and other international fundraising instruments, such as FCCBs, ADRs, and GDRs etc. Banks and financial institutions also prefer to extend finance to listed companies as against unlisted ones.
Support Private Equity Investors
Secondly, it simultaneously provides a convenient exit route to private equity investors, stock option holding employees and other investors, by providing liquidity to these shareholders and maximizing value. Liquidity in shares also enables the existing shareholders to trade in their own shares leading to better valuation than through private transactions.
Improve Governance & Protect Investors' Interest
Thirdly, a major reform lead by listing is good governance. Benefits accrue at the time of listing as the companies prepare themselves for this event and also throughout the life of the company. Regulatory supervision and governance controls in the form of routine compliances become a part of the company's day-to-day existence. Timely disclosure of material information not only leads to improved governance but also protects investors' interest.
Real Platform for SME Companies
Fourthly, listing on an SME Exchange enhances the visibility of these companies, which would otherwise be lacking due to little or no exposure. As a listed entity, these companies now have a real platform to showcase themselves, helping them deal directly with their competitors and simultaneously getting the opportunity to market themselves, thereby creating business opportunities. The listing leads to enhanced public awareness due to media coverage and publicly available information; this leads to leads to improved credibility of these companies.
Conclusion:
So, SME exchange is a type of stock exchange. It is dedicated to trading the shares of small and medium scale enterprises (SMEs). Otherwise, find it difficult to get listed in the main exchanges. In this post, I have discussed what is the SME Exchange and SME Exchange full form. I have also discussed the basic criteria of listing in SME exchanges and the benefits of listing. For any questions, I will like to answer your comments below.