For every intraday OR swing traders, a good charting software is a must need. But by default, Indian retail traders start trading with a limited amount of cash in hand. So I hereby present one of the best charting software to download the end of day data, ChartNexus. And the best part is that it's 100% FREE.
Chartnexus Common FAQ
Is ChartNexus free?
Absolutely it is free. Anyone can use this charting software without spending a penny. Moreover, the team is lowering traders' and investors' operating costs by offering you ChartNexus Charting Software and 3-year EOD data (updated daily) for FREE! It has a comprehensive list of popular indicators and technical tools. Besides this, they are offering 3 years of market data for free too.
What is ChartNexus?
ChartNexus is a popular FREE accessible stand-alone, financial charting software. It is basically used for analyzing the behavior and movement of the stock market. It also allows traders to chart the trend of stocks based on stock price action. Unlike other charting software, you can operate it without having any internet connection.
What is the best free stock charting software?
There is some free stock charting software, like Fyers web, Chartnexus, etc. But Chartnexus is one of that software that can run without any internet connection. So without any kind of interruption, you can use it free of cost. They also provide you real-time database.
What are the Important Features of the Best Charting Software Chartnexus?
ChartNexus allow you to use a bunch of indicators and many other technical features free of cost. The software has a user-friendly graphical user interface and also easy navigation. There you can chart the desirable stocks that you're interested in the different charts set up.
Here, data download is so much easy. After starting the software, it will run automatically in the background.
Moreover, you can save your analysis to the Workspace. And also pull out the updated technical chart with your analysis still on it.
One of the best features is you can compare the performance of a group of indexes or stocks.
At a time you can display 4 charts simultaneously for analysis. And also it allows comparison analysis using the multi-window feature.
Other Basic Features
You get more than 20 indicators to choose from and also parameters are customizable there.
There are also Annotations and drawing tools to mark important points on the chart.
There is Single-click option to navigate the chart
You also get a Portfolio manager to keep track of your trades.
The spread calculator is available to easily calculate profits and losses.
Here you can save your chart as a picture or print it out from a printer.
How to Download and Install the Chartnexus Software on your system?
In this post, I will show how you can download and install Chartnexus. And also I will show you the process of downloading NSE end of day data with ChartNexus free of cost. Go to the official site by clicking HERE. Click on sign up and register for a free account. Next, click on the SOFTWARE tab and click on the FREE DOWNLOAD button to go to the download page.
Next click on the area that says CLICK HERE TO DOWNLOAD. This will go to the Java update page. If you do not have Java updated you need to update it now.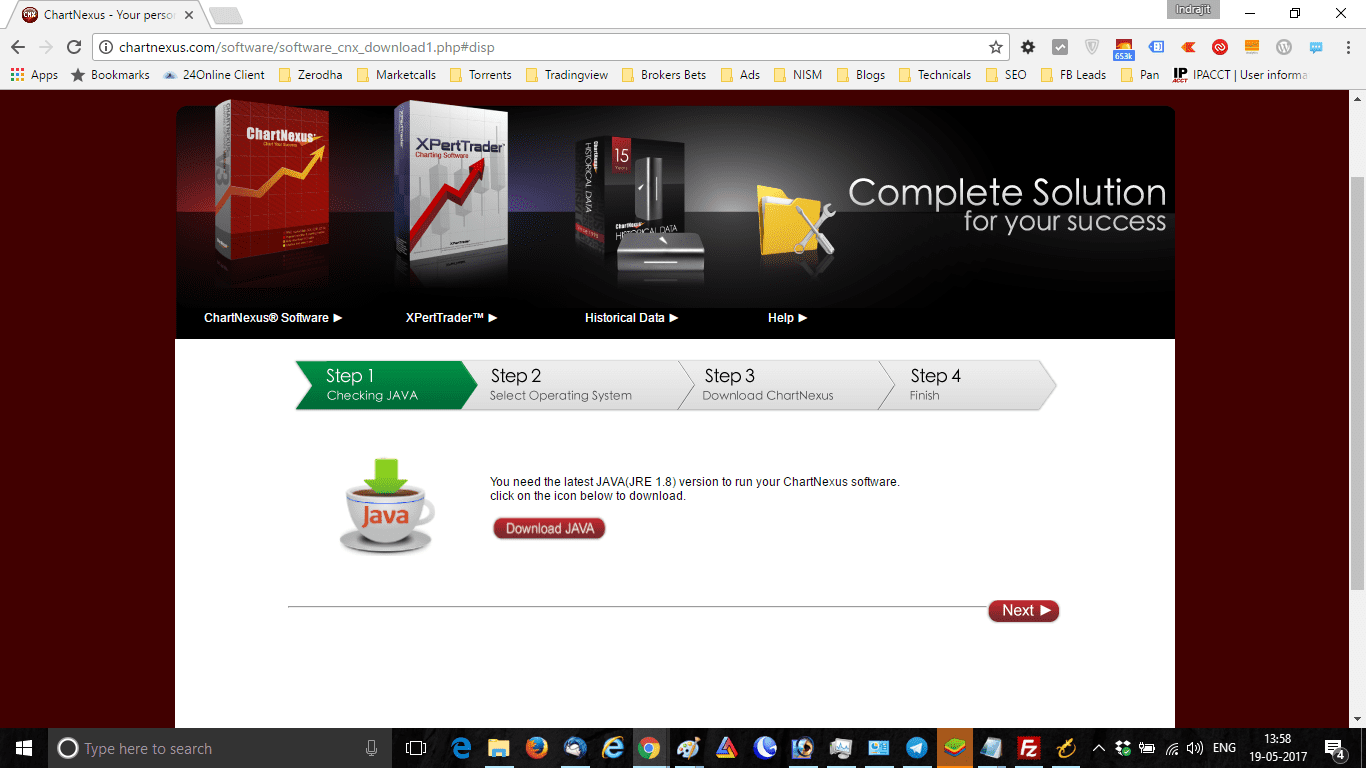 Once your Java is updated you will be taken to the ChartNexus download link. Click on DOWNLOAD SETUP to download the file to your computer. This will download the Chartnexus file into your PC. Double click on that and install ChartNexus to your PC. Once installed it will create a ChartNexus icon on the desktop. Double click on that to run ChartNexus.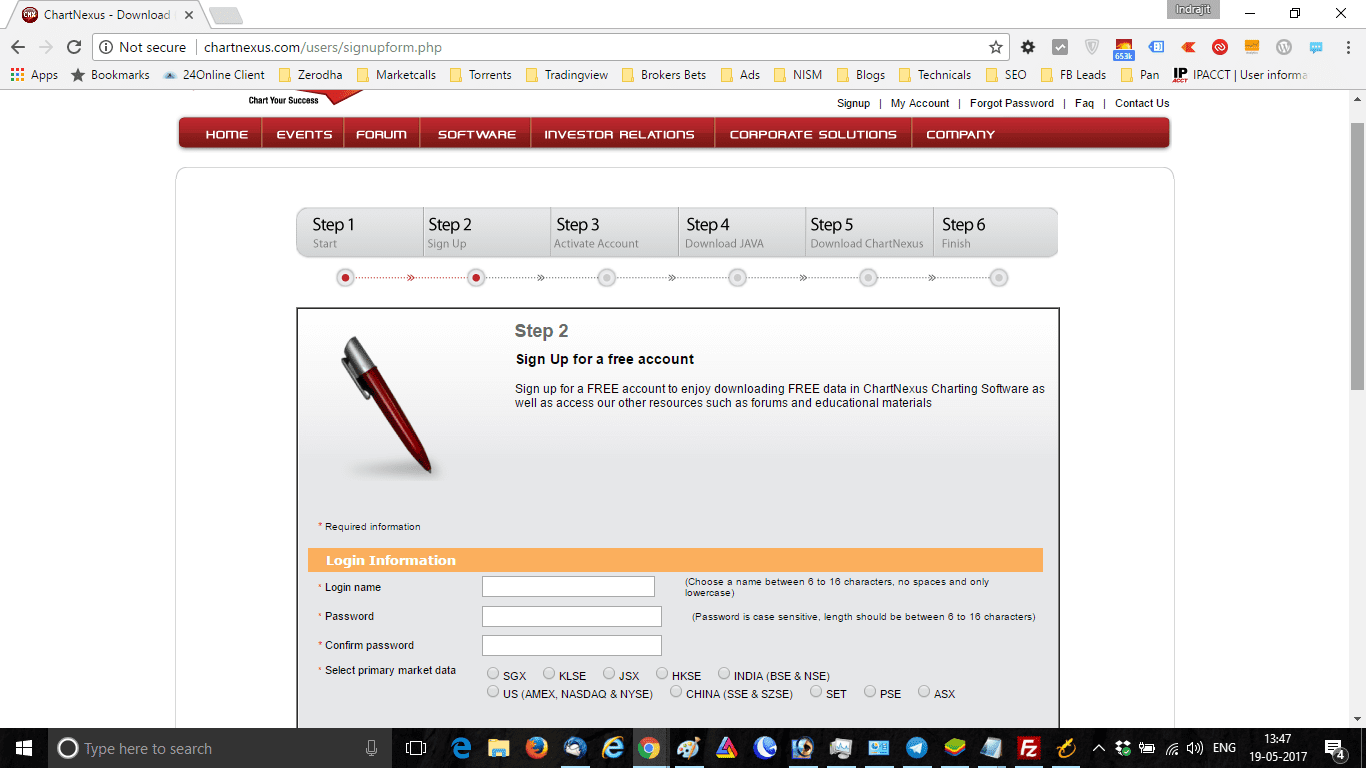 Now login to ChartNexus using the email id and password you created at their website.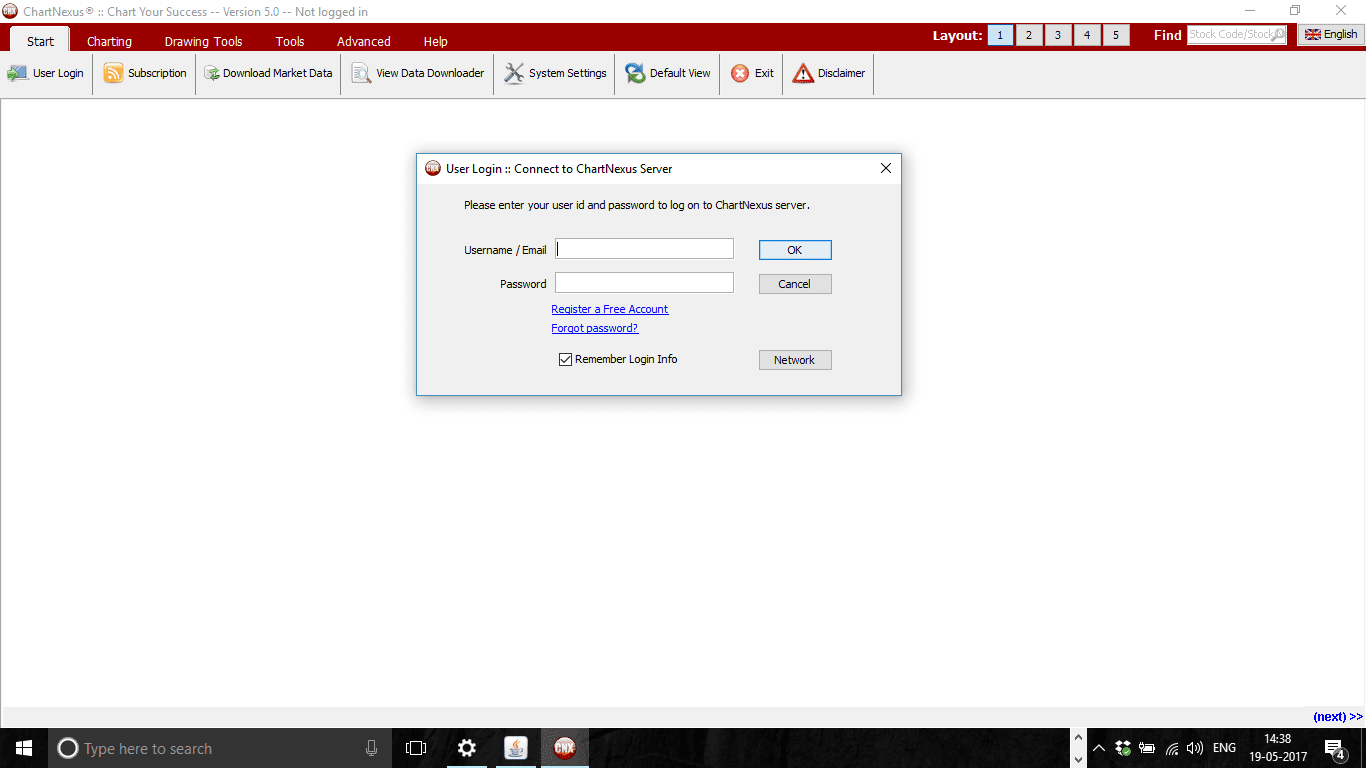 How to Use the Best Charting Software Chartnexus?
Now you are logged into ChartNexus, one of the best charting software. For the first time login, it will ask you to download 3 years of data. Also, you need to select your market settings here. I select NSE for now, it will update data for the first time.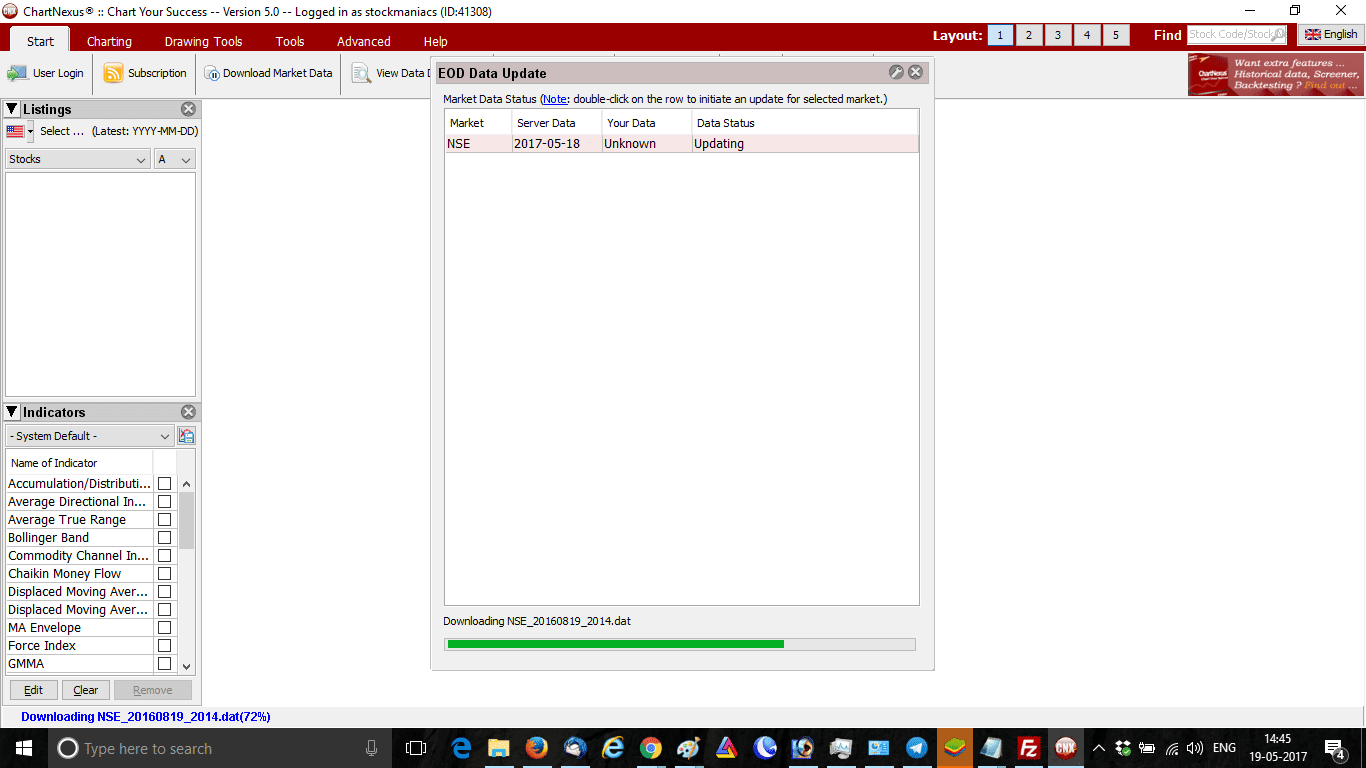 Once the data is updated select your favorite index and script and open chart. First I select two of the indices, NSE and BSE here.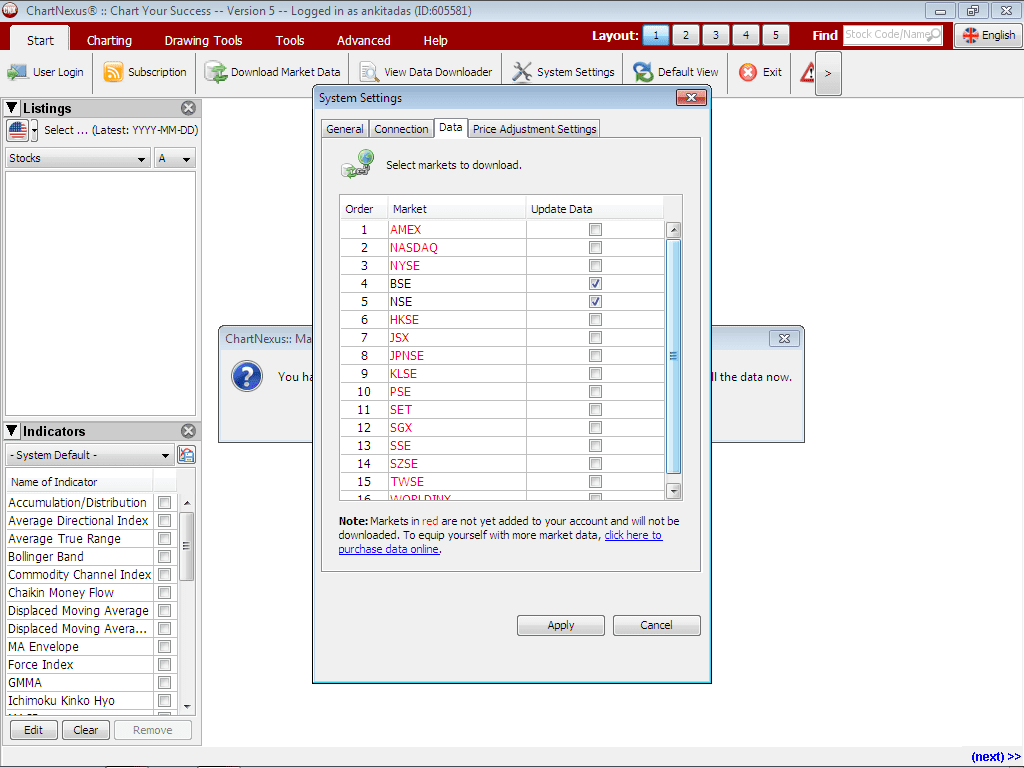 Here I will open a chart of the Nifty index.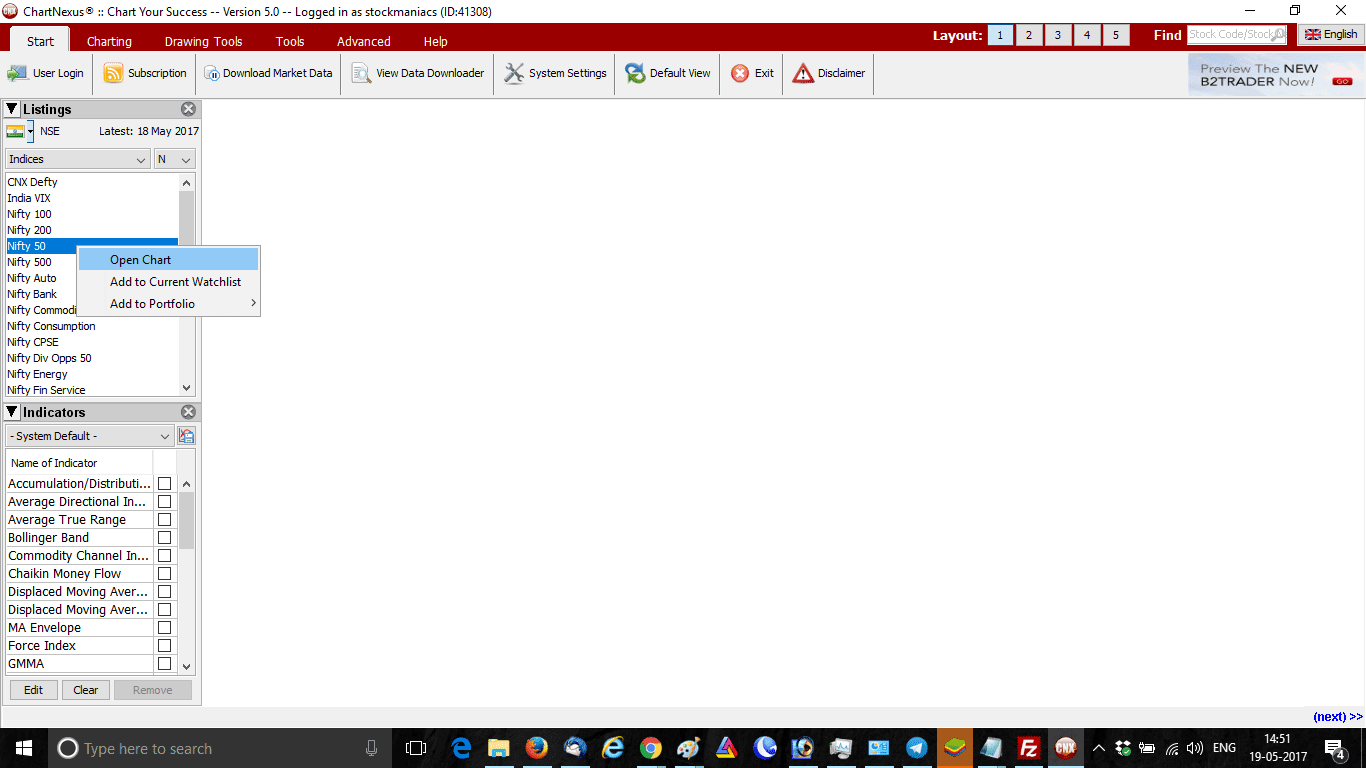 This will open Nifty's daily chart. You can attach any indicators to that chart. I will attach Bollinger Bands, MACD, Stochastics and RSI.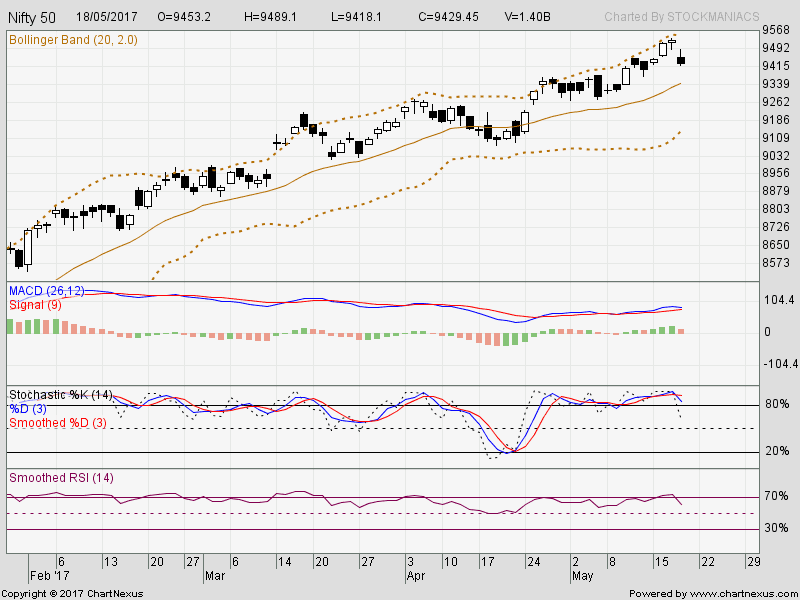 You can also open multiple charts at a time, you will get the option of multiple charts at the top of the window under the charting section. There you can add up to 4 charts together as per your choice.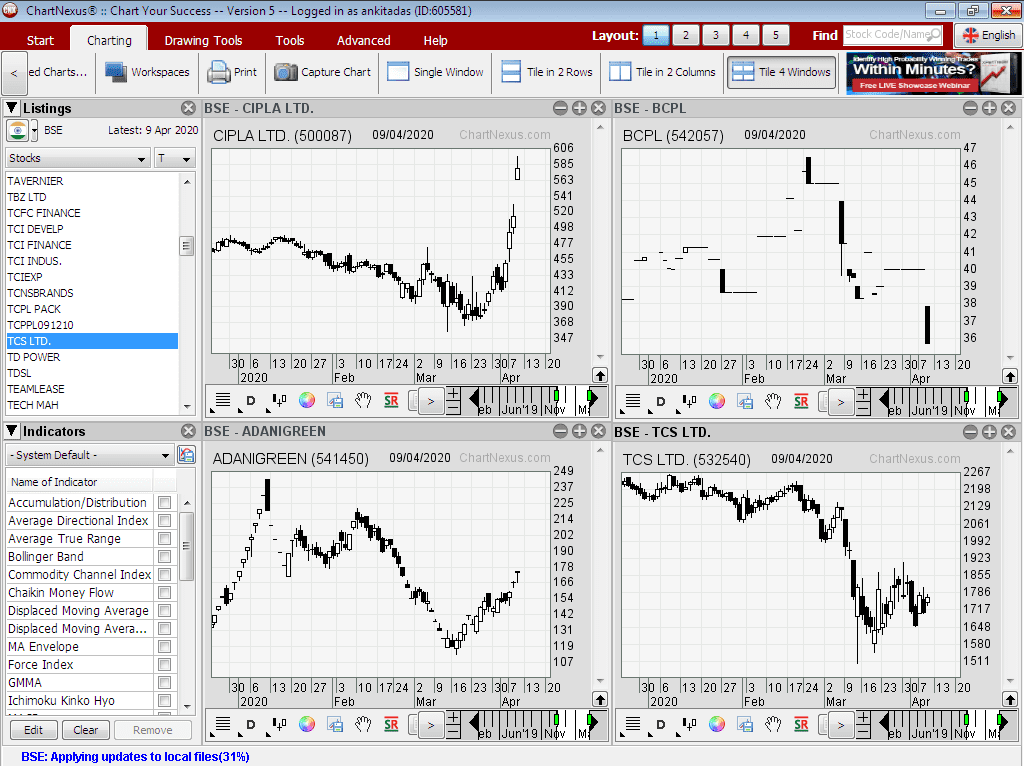 Like here, I have opened four charts of Cipla, Bpcl, Adanigreen, TCS. Clicking on each of the charts you can set indicators and drawing tools as per your requirement.
Conclusion
Your ChartNexus setup is complete now. Start using it, you can understand why ChartNexus is one of the best charting software for the Indian market. The Chartnexus team believes in giving you only the best. In case you are satisfied with their free service and want to add more advanced features with their paid services, you can do so. Here also, they have a policy of Money back guarantee. So, if within the period of refund (see our subscription policy) you're not happy or satisfied with the add-on modules, they will surely refund you.