The fundamental stock screener website Ticker tape is very useful. Many people use this fundamental stock screening site. Especially those who are beginners at the stock market and seeking a good company to invest in. The ticker tape can be used to do better trading. That is why it is widely popular among traders and investors of the stock market. Because it gives them a better view of the stocks that are doing well or going to do well shortly. The fundamental stock screener Ticker Tape helps to understand the big-cap companies' present situations and some other informative things. In this passage, we are going to learn about the use of the tickertape.in and the special features which this website provides us which are also for free.
Frequently asked questions
Does Zerodha own Ticker Tape?
The Zerodha screener uses the components of Ticker Tape, which is a stage where all data about stocks, indices, and other financial instruments may be found. Only the name has changed, while the group in charge of the remaining components remains the same.
Is Ticker-Tape safe to use?
To begin with, Ticker Tape is a completely risk-free-to-use website. Because it is merely an online stock screener. If you read Tickertape reviews, you'll notice that the app's and website's user interfaces are both quite smooth.
Who is the owner of the Ticker Tape?
Small case Technologies Private Limited is the owner of the ticker tape.
Is Ticker Tape is a useful stock screener?
Yes, Ticker Tape is a very useful stock screener because it gives us all kinds of fundamental information about a company. So that the trader gets a better view of the company's stock.
Definition of the fundamental stock screener Tickertape.in
Ticker Tape is a fundamental stock screener which provides us many features to do better trading in the stock market. A stock screener is a set of tools that allow investors to swiftly sort through a large number of publicly traded firms and exchange-traded funds depending on their own preferences. The most common place where stock screeners are sold is on brokerage trading platforms. There are so many listed companies in the stock market and it is hard to find the right one to invest in. These fundamental stock screener features help us understand which shares are profitable to invest in and which shares are not. This website helped us to make many kinds of screeners according to our preferences.
How to search the Ticker Tape the fundamental stock screener on google
If you go to Chrome or any other search engine. We shall find their website known as Ticker Tape. You can use a laptop or computer to go to Chrome.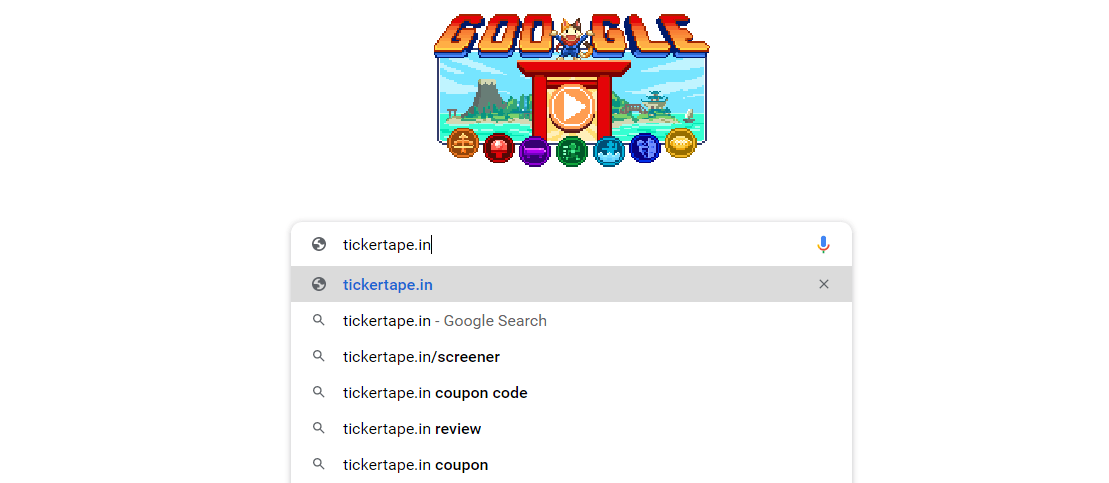 Then write "tickertape.in" in the search bar. Now the Chrome search engine will take you to that fundamental stock screener website ticker tape.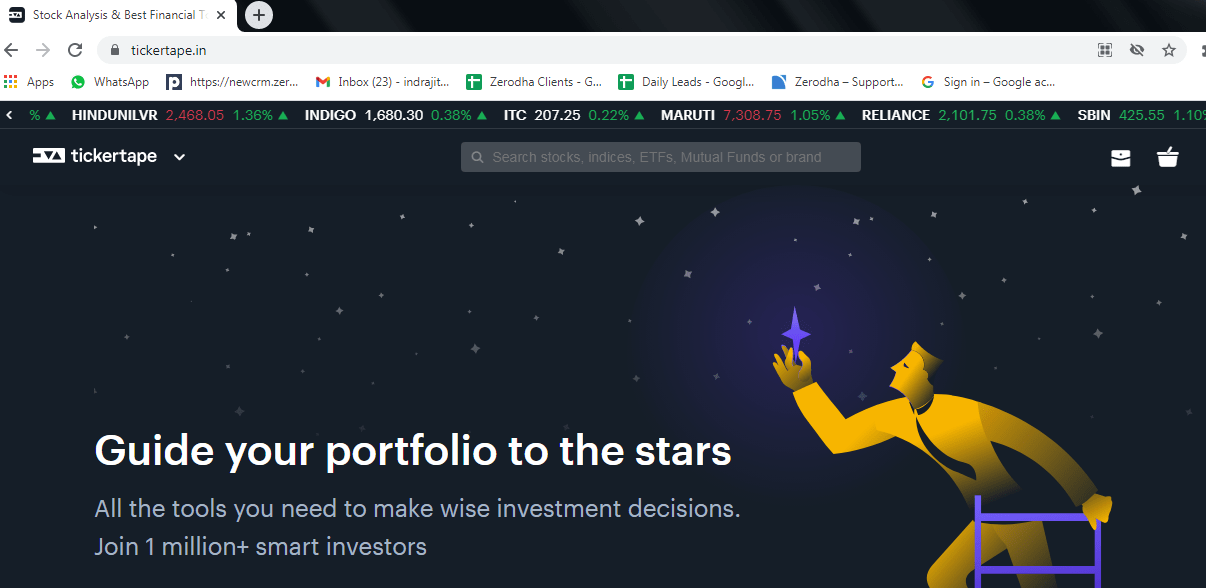 Now you will use it according to your preferences. Not only that, but the company also provide us TickerTape mobile application. In which we get the same features we will get on our phones. That means that their facilities are on our phone as well as on a PC.
How to open an account on tickertape.in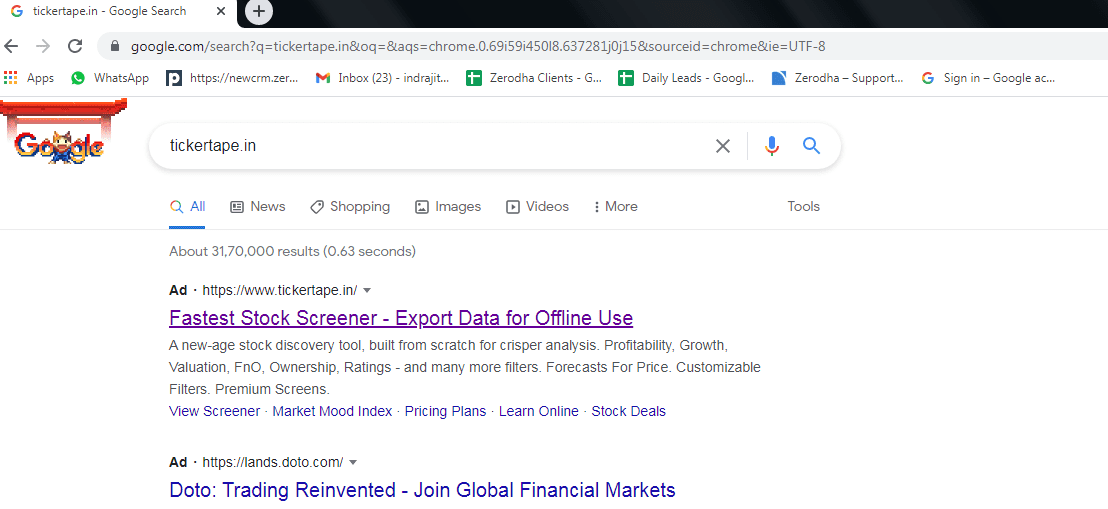 First, go to chrome, in the search bar write tickertape.in and then press enter. The google search engine has taken you to the hyperlink page. In this place, you will find multiple options. The very first option is the website's hyperlink. Now, click on that link. The link will directly take you to the Ticker Tape website. The hyperlink page of google will look something like the page which I have attached above.

Now you have come to the fundamental stock screener site. In the image, I have shown a place written as login. In which you have to click to open an account.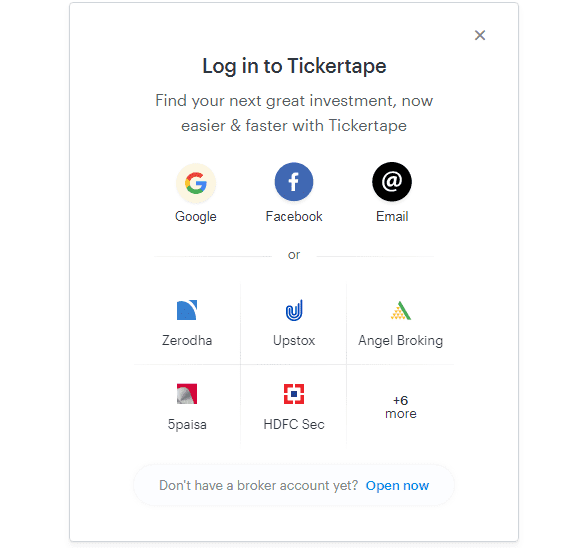 Here in the above image as we can see there are so many options that the website provides us to open an account with or log in with. If you are not a trader but still want to use this website to understand the stock market enlisted companies, you can choose Facebook, Google account, or Email address options to open a TickerTape account. Now suppose you are an investor or a trader and you have an account with Zerodha, Angle Broking, Upstox, 5paisa any of these broker houses then you can also use that id information to create an account at tickertape.in. There is 6+ other option other than I mention. You can use those other 6+ options to create a Ticker Tape account.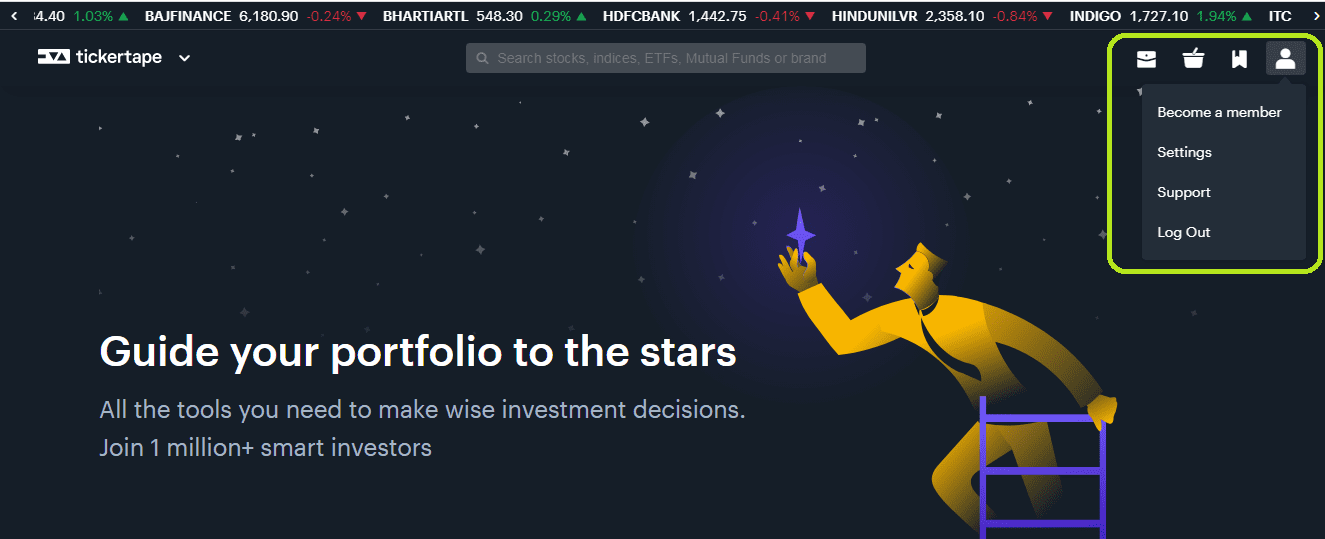 Now in this image, as we can see that the login word has changed. In that place, a human-like icon has appeared. It suggests that your account open process has been done
Ticker Line at the top of Fundamental stock screener Ticker Tape

When you open the website you will see that there is a line in the very first starting. That line shows the present stock market situation of the listed companies. This line is called ticker. The ticker only works during the stock market hours after that it closes. It means if you open the Ticker Tape from 9:15 am to 3:30 pm. You will be able to see the big cap company's uptrend and downtrend on that ticker line. If you open the website after 4 o'clock there will be no such stock ticker available which will help you to understand the stock market because the stock market time is already over for that day.
Features of the Fundamental stock screener Ticker Tape
Ticker Tape is a fundamental stock screener. The features that the website provides are very useful. The Ticker Tape has a dropdown arrow as soon as you click on that you will find a toolbox has opened. here I am going to discuss each of the tools individually.
Stocks option on Ticker Tape
As soon we click on stocks, the stock searching bar will be open. In which we can put any listed company's name to see its stock situation.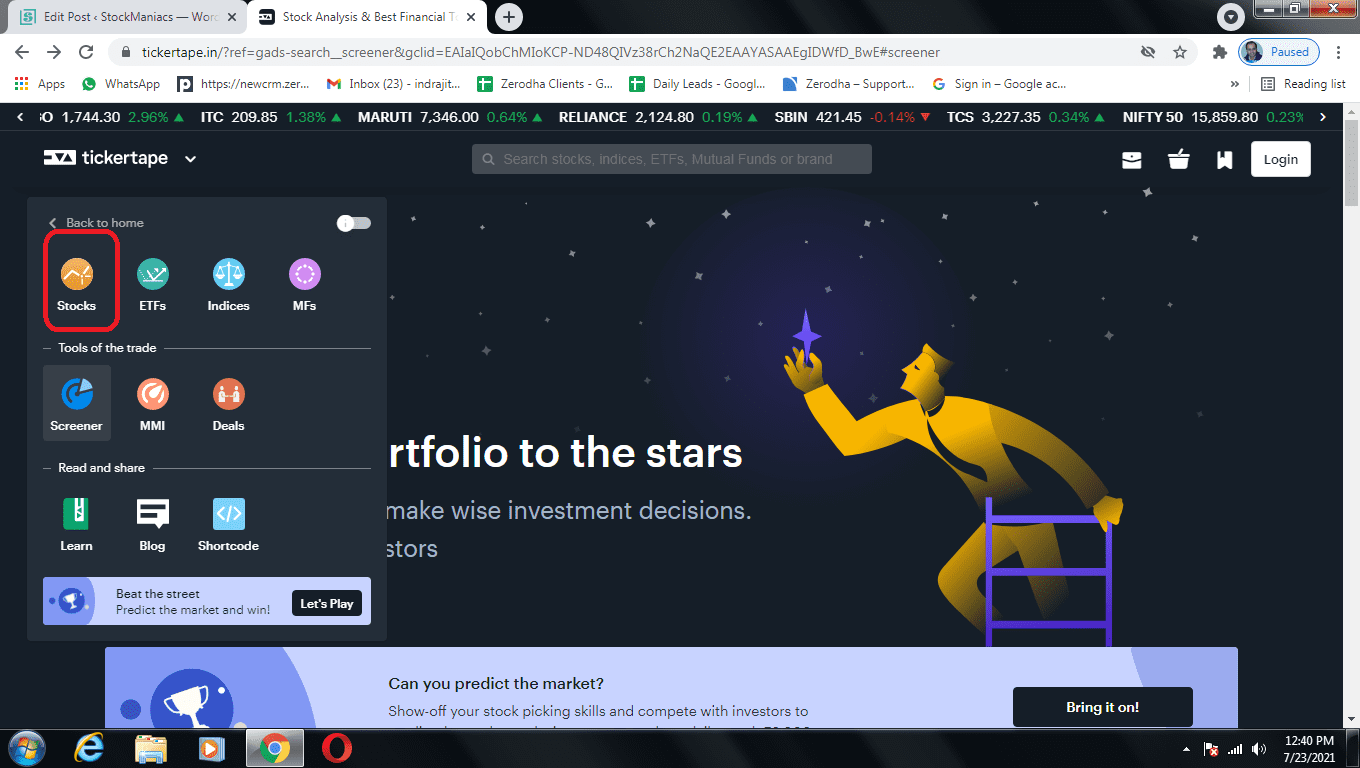 Here I have written Maruti Suzuki company's name in the search bar. The website takes me to the chart to give me more fundamental information about the stock market situation of the company.

The chart has opened. In the following, as you can see there are many options such as overview forecast financials press holdings news events.

Overview
When you click on the overview option, you will find that a chat has opened. It shows the highs and the lows of the company. Not only that the company's daily returns per share as well. You can set the chart according to your preferences, such as daily, weekly, monthly, yearly, previous five years chart also there. Max and Sip options are also available.
Forecast
The forecast is the next option. When you click on the forecast, it will show you the company's price forecast. It means the company's current share price, revenue price, and earnings per share all this forecast will be presented here.
Financial
The next option is financial. In this place, you will find the company's financial statement such as income, balance sheet, balance flows, extra, etc. As you use these options you will find more and more fundamentals about the company. You will find the EBITE a PBIT, PBT, Net income, EPS, DPS, and other informative information in the income place. Let us check the balance sheet here, it will show you the financial year, current asset, non-current asset, and so many other things.
Peers
The next option is Peers. This shows the valuation techniques and the forecast of the company. In this place, you will also find some similar companies being compared to each other's financials. Suppose you want to know Maruti Suzuki India limited's current situation in the stock market. the peers will also show you Tata Motors Limited, Mahindra & Mahindra Limited, etc other companies' situation. It suggested that these companies are competitors to each other and working in the same field but against each other. Maruti Suzuki's cash flow will also help you to understand the company's current financial position compared to other companies.
Holdings
If you want to know the holdings of the company then you have to check the holdings tool. The tool has been provided here. In which you will find the promoter's holding, trend shareholding pattern, etc. The information of holding of the company for this years and also the previous years. The mutual funds, the insider trend, bull details will be also provided here.
News
You want to know any kind of news about the company then all those information has been placed in the news section. As soon as you open the new section the trending news about the company will be popped up on your screen. So that it will help you to understand the company's present situation. It will also help you if you really want to invest your money in that stocks or not.
Events
On the Ticker Tape website, there is a very useful Event option. In which the website provides much informative knowledge about the searched company. There are four important tools under the Event option, such as
Dividend
This tool shows if the company is currently providing any kind of dividend to its shareholders. The last time when was the company has provided dividends to its shareholders. All the previous years when the company has paid dividends to the investors. Any kind of information regarding dividends will be shown in this part.
Announcement
This tool shows if the company has made any recent announcements. Any new project or annual report chart or any other important announcements are flashed here.
Corp Action
Suppose a company has changed its position on the stock market drastically those actions are regarded as Corporate Action. It can be a bonus, split announcement, etc. If the company put any kind of strategy in the stock market to make a huge change in their position or try to change any other companies situation. Then that information will also be shown here.
Legal orders
Suppose the company has made any kind of deal that could put them behind the bars, those kinds of court case-oriented information are provided in the legal order section.
ETFs option of Ticker Tape
The ticker tape website provides you with an ETFs facility also. As soon as you click on the drop-down arrow, you will find the Etf option has arrived on your screen.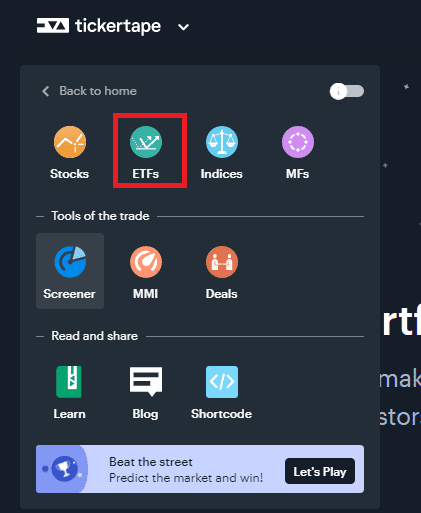 Now click on that Etf option, a search bar will be opened. In the search bar, you will find so many listed company's names.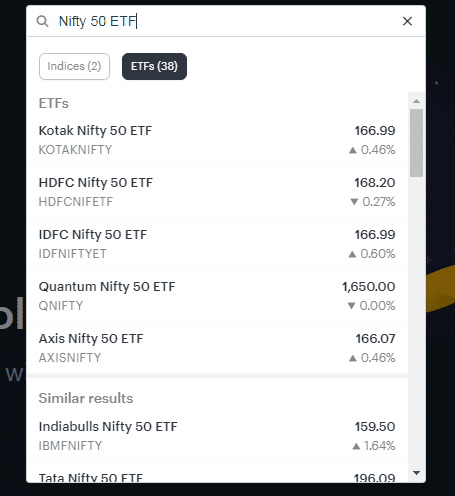 Here I am opening the Nifty 50 option. The Nifty-50 contains 50 big companies of the Indian stock market. In which Kotak HDFC holds a position that is clearly visible here.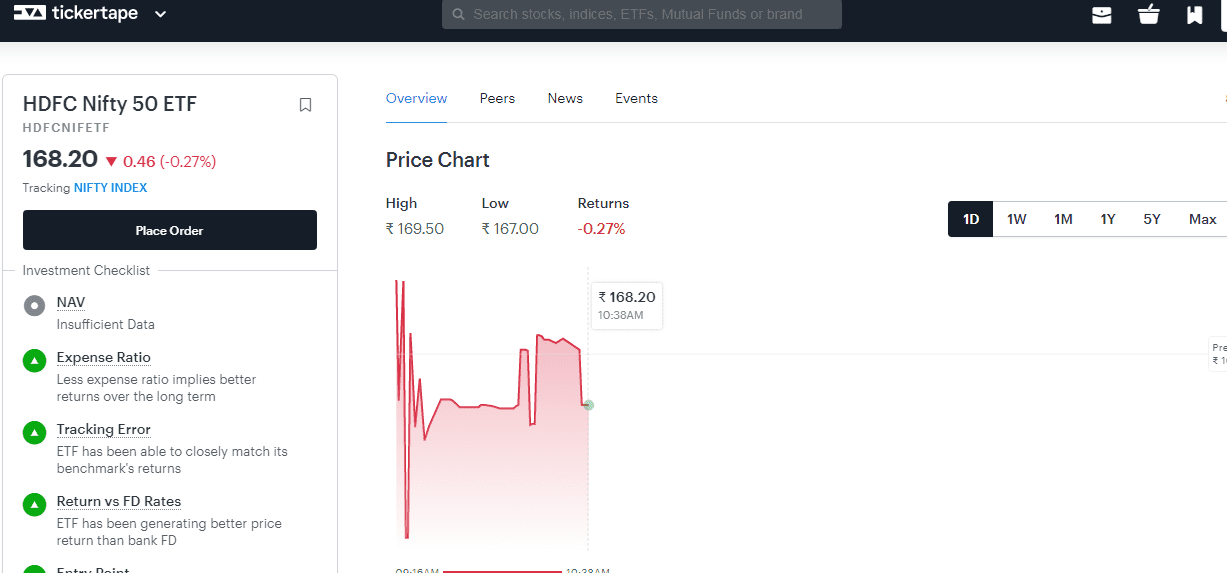 Let us take the HDFC Bank among the companies. As we can see HDFC bank has provided ETFs recently which has been very clear through the chat as well. When we open the chat of ETFs. There are other options also available regarding ETFs news. As you can see, here is a place of overview, peers, news, and event in the last. These options will give you information about ETFs only.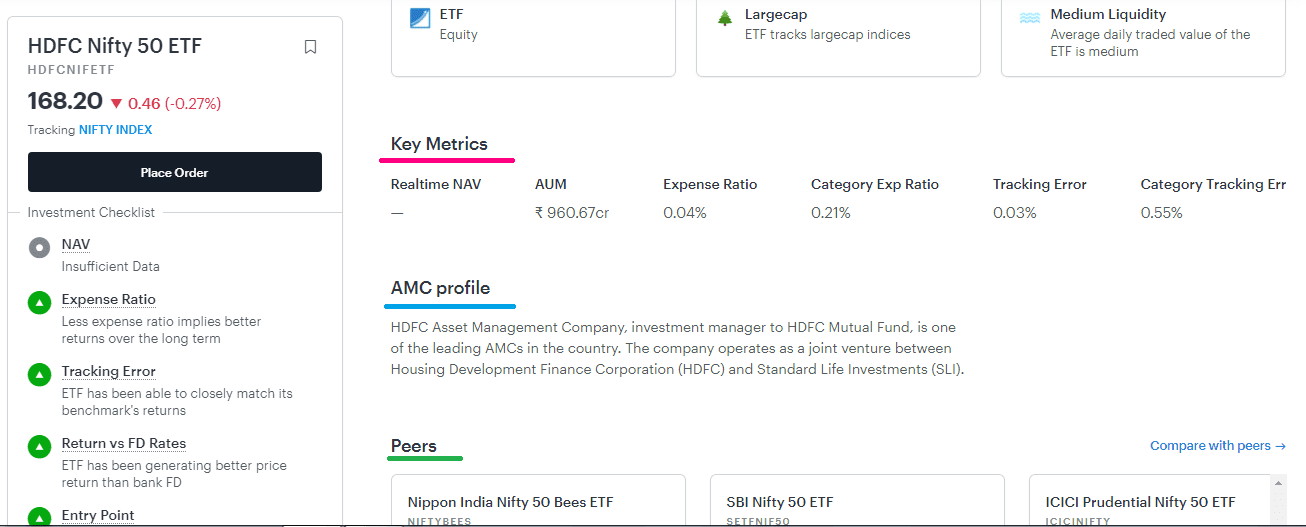 You can use this chart to gather knowledge about the ETF option.
Peers-if you click on Peers, you will find the comparison with other established companies in the similler sector with HDFC. Here we can also see other companies ETFs policies.
News-First click on the news, you will find the current news about the company's policy. If the company is working on new projects.
Events-if you click on Events then you will find all the events are visible which are recently happened by the company. Not only that you can also see the previous years events as well.
Indices option of Ticker Tape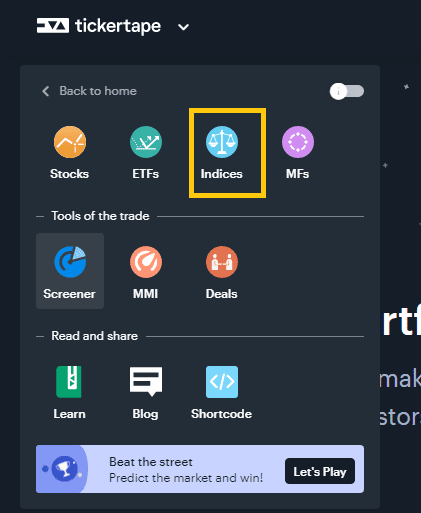 Click on the drop-down Barron first. Then click on the indices to check any company's current situation.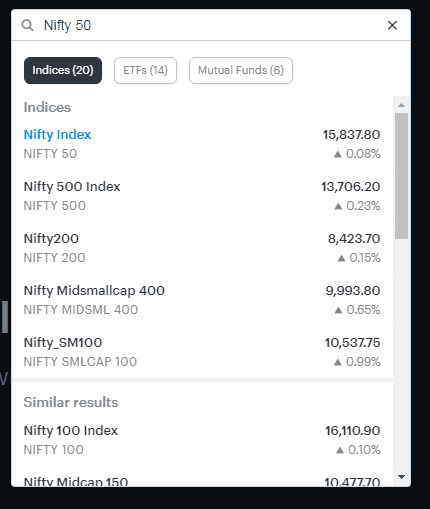 Ticker tape website also gives you so many kinds of indices. As soon as you click on the indices sign, there are so many indexes that will be appeared on the search bar. Such as Nifty-50, Nifty-500, Nifty-100 and so on. Let us took the Nifty-50 index as the first option from the search bar.

MFs or Mutual fund option of Ticker Tape
MFs or mutual fund is an important financial part of the investors. That helps the investments to grow.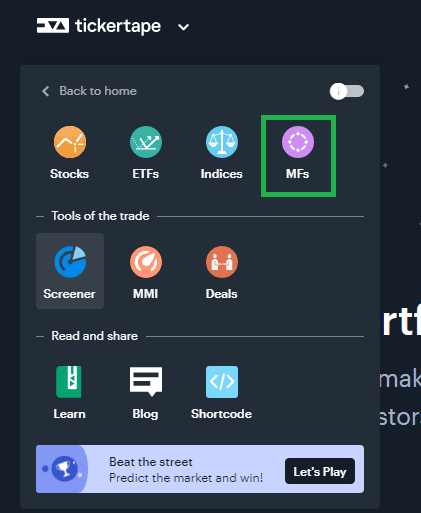 As soon as you open the mutual fund option the search bar will be also available to find any company's mutual fund listings and services.
As soon as you click on the MFs. The search bar will be so many company names that have appeared. I have taken the Parag Parikh Tax Saver Fund here. The company has provided a chat where highs, lows, and returns are presented. In the chat, you will find monthly, 6-months, yearly, quarterly, also 5 years of previous information about the mutual fund's schemes. This tool also gives you some other information also. Such as Key Metrics, Peers, Portfolio just like the previous options.
How to use filters on Fundamental stock screener tickertape.in
Ticker Tape gives us more than 50 filters to choose from. Not only that if you want to create your own screener this website also gives you that opportunity as well. I am going to guide you through the screener option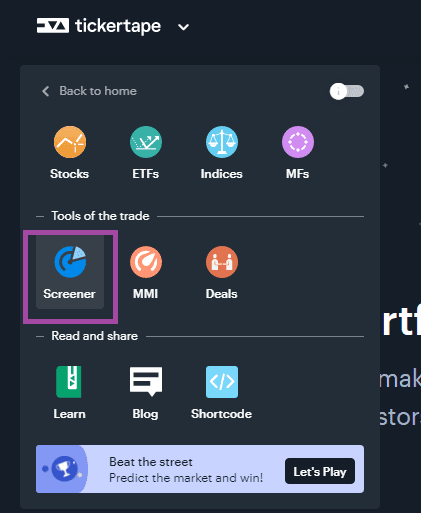 Clicking on the dropdown arrow or you can simply scroll down. There you will find the screener option. Here I going to take the screener from the dropdown arrow option. Click on it a new page will open.

There will be a page appeared. In the left-hand corner, there will be a new screen. Simply scroll down you will find add filter option. As you start to scroll down so many filter options will be there to help you.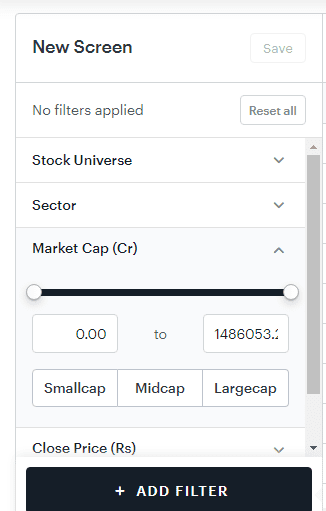 Here you will see small-cap, mid-cap, or large-cap suppose you are trying to find an underrated company then you will find that company under the small-cap. On the other hand, you only want to invest in big companies such as Tata motors or HDFC Banks then you will find those companies in the large-cap section. These are just some of the filters among the total 50 filters.
How to put screener on Ticker Tape
First, open the screener then goes to the new screener. scroll down click on add filter you will find so many filter option has arrived. When you will click on the options one by one there will be more options under each of them. Suppose you still do not like all those screeners and filters. You can create your own screener on tickertape.in.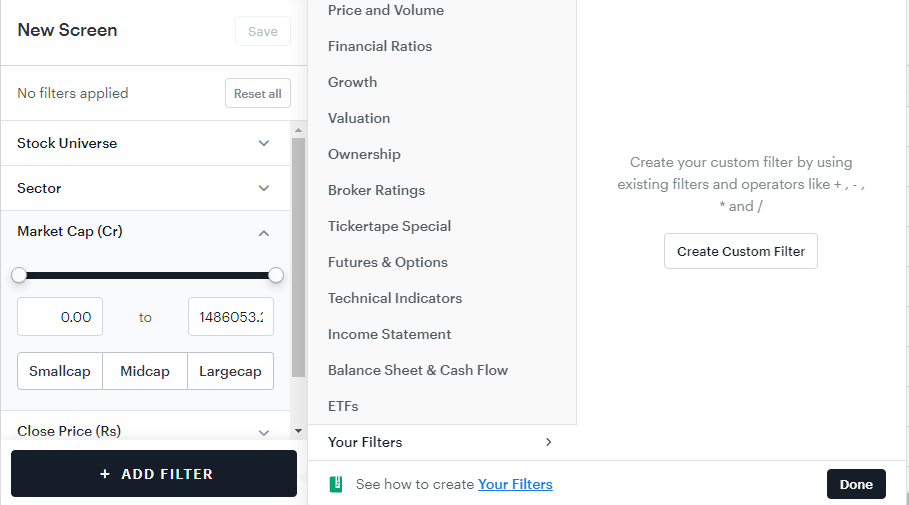 First, go to add filters then scroll down then click on "Your filter". Here you will find that the website allows the user to create a screener according to their needs. Now click on create a custom filter. There will be a page looking something like the following

Now click on create and add a filter. You have created a new filter that will help the user only. You can create many screeners according to your trading preferences.
MMI or Market mood index
If you click on the MMI or market mood index. You will find there will be a circle where the market's present situation will be shown. Suppose you do not know how the market is running that day. You are checking the charts even still it is hard to understand. The Ticker Tape's MMI features will help you.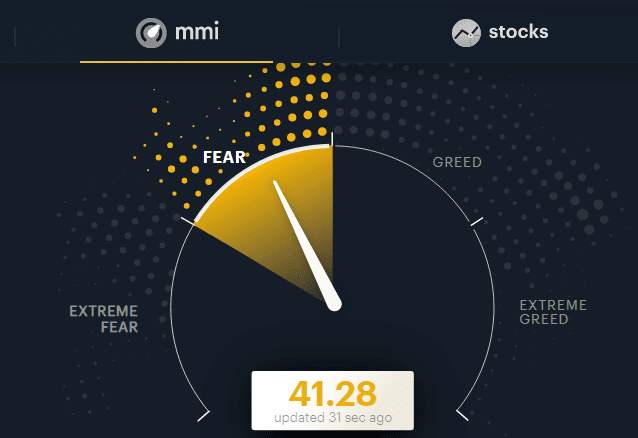 Suppose today's market is in an overall down situation then the indicator will show you fear. It means the market is not going so well and it is quite risky to invest in the market on that day. So that is why the market mood index is the most useful fundamental stock screener for a beginner.
Conclusion
In the conclusion, we can say that it is a very useful application or website. As you have gone through this whole passage you can see that the site has provided so much information to do better trading. Any kind of information about a company that a trader could need to know about a company's present situation. The website also provides us some other options as well, such as – stock details, learn, blog, shortcode, etc. You are able to use it on a daily basis. If you do not know anything about a stock during your trading you can use the website as it is a very reliable app. This app is definitely going to guide you through that situation.