We all look for tax saving options in the month of March, i.e the end of the financial year and our tax consultant tells us to invest in ELSS. But most of us don't know ELSS meaning. In the hurry to save tax in year-end instead of trying to know more about ELSS we generally make some random tax-saving decisions. In this post, I will try to describe the meaning of ELSS/Equity-linked savings scheme.
ELSS Mutual Fund FAQ
What is the Meaning of ELSS?
So, here is the answer to the Meaning of ELSS/Equity Linked Savings Scheme. It doesn't just help to save tax, but also provides an opportunity to grow your money. The fund qualifies for tax exemptions under section (u/s) 80C of the Income Tax Act in India.
How much tax can be saved by ELSS?
ELSS has been one form of investment that gives tax benefits under Section 80C of the Income Tax Act. Here, one can invest up to Rs 1.5 lakh in a financial year.
Is ELSS taxable after 3 years?
An ELSS is just like any other mutual fund scheme that invests basically in the stock market. The one and the only difference is that an ELSS comes with a three-year lock-in. This means one cannot sell your investment prior to three years from the date of purchase.
Is ELSS good for long term investment?
As a retail or individual investor, ELSS is an important avenue to regularly invest a very small amount in amassing an excellent return over time. By using section 80C for tax saving and having your investment locked in for three years not only generates wealth but also ensures you to do not access your money during the period.
Are ELSS funds risky?
ELSS funds don't have that much-guaranteed returns as they earn from investments in the equity market. Moreover, the best performing ELSS funds have displayed the capability of generating inflation-beating returns over the long-term. This is something that fixed income tax saving investments such as PPF and FDs cannot do.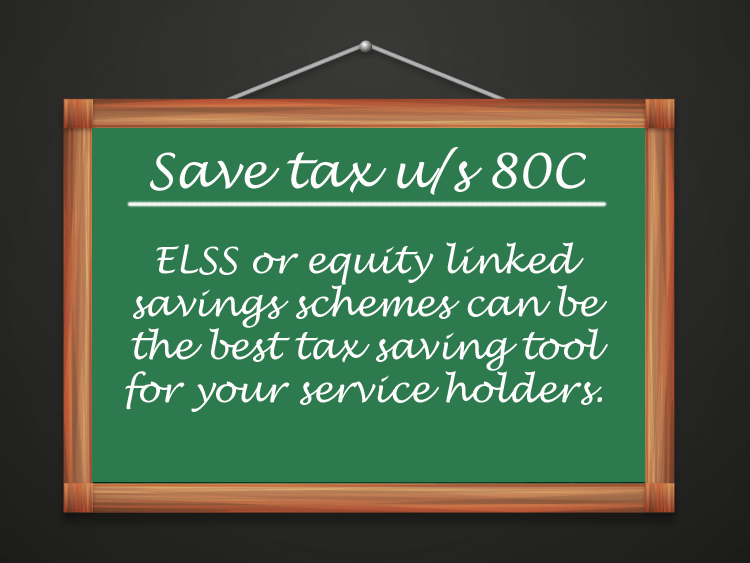 Features of Equity Linked Savings Scheme
ELSS meaning and full form is EQUITY LINKED SAVINGS SCHEME. An ELSS generally offer the following:
1) It is a diversified equity mutual fund.
2) We get two benefits out of ELSS – market-linked benefits as well as tax savings under section 80C.
3) Has a lock-in period of 3 years.
4) Most ELSS has two options – growth (growth benefits are accrued lump sum) and dividend (growth benefits are given time to time in the form of the dividend).
5) Returns are tax-free.
6) The maximum investment in ELSS can be Rs. 1.5 lacs per year under section 80C.
Advantages of Equity Linked Savings Scheme
So now we know ELSS meaning, its time to understand what is ELSS advantages. ELSS advantages are:
1) Low lock-in period as compared to PPF (15 years lock-in), NSC (6 years lock-in) and tax-saving fixed deposits (5 years lock-in).
2) Investments are inequities, so much better returns expected in the longer term. Actually, the lock-in period gives equity investments time to grow.
3) Those who don't invest in equities directly offer perfect equity exposure for them.
What is Equity Linked Savings Scheme investment best practice?
1) For young people, ELSS is the best option to save tax as it will give equity exposure.
2) Try ELSS if you have never invested in the stock market, either directly or indirectly.
3) Start tax planning at the start of the year to choose the best ELSS mutual funds with proper research and to avoid any time pressure.
4) Invest in ELSS regularly through SIP of systematic investment plan (this will average out stock market conditions)
You may start investing in ELSS through Zerodha Coin platform HERE.
Why should you consider Equity Linked Savings Scheme?
Under 80C, investments in other tax-saving instruments such as fixed deposits (FDs), EPF or employee provident fund (EPF), public provident fund (PPF) or national savings certificates (NSC) or ELSS. They are qualified for the same income deductions but still, ELSS holds an edge on many counts.
Shortest lock-in
ELSS fund has the shortest lock-in among all 80C investments-of just three years. For example, the tax-savings FDs have a five-year lock-in while PPF has a 15-year maturity. Hence, ELSS allows you much greater flexibility in the medium period.
Potentially much higher returns
So, when most of the 80C investments offer returns in single digits on average like anywhere between 6 to 8%. There ELSS has the potential to offer comparatively higher returns as it invests in a portfolio of equity instruments.
Better post-tax returns
Now, unlike for PPF and NPS, ELSS offers much better post-tax returns compared to other 80C investments. This is because long term capital gains, this is up to Rs. 1 lakh a year. So from ELSS mutual funds are exempt from income tax and long-term capital gains which is above Rs. 1 lakh.
Ease of investment
However, you can continue holding your ELSS funds units after the 3-year period lock-in. In case, if you choose to sell them, you can do it online, with just a few clicks. Moreover, the funds are credited into your account within just 3-4 working days.
Best Equity Linked Savings Scheme Mutual Fund of 2020
Here, in this section, I have jotted down some of the best-reviewed ELSS Mutual Fund schemes of the FY 2020-21. Let us explore this.
See the first picture below. Here, the top 5 ELSS funds are given below. First, come to the Axis Long Term Equity Fund.
Axis Long Term Equity Fund
It is one of the most popular schemes worth 19000 cr. in the category of the ELSS fund.
Recently, they focussed on 34 stocks. And for asset allocation, they follow a large-cap (68%), mid-small cap (30%).
The fund has given an 18% return in the past year. And, the average category return is 9%.
Invesco India Tax Plan
In the last 10 years, the fund generated around 13.5% (CAGR returns).
Under the ELSS fund category, its standard deviation or SD is one of the lowest.
Birla Sun Life Tax Relief '96 Fund
It is one of the oldest and consistent schemes in India. Since 1996, it has given an annual average return of more than 24%.
The particular fund has an allocation of around 56% to mid/small-cap stocks. This is one of the major reasons for its underperformance in the last couple of years.
An existing investor, also a new investor, can think to invest in this fund for the long-term.
DSP Blackrock Tax Saver Fund
The fund contains a diversified portfolio. And currently, it has investments in 60+ stocks picked across multiple sectors.
Primarily the fund follows large-cap orientation along with an allocation of around 77% to large-cap stocks.
TATA India Tax Savings Fund
The Fund falls under the category of 'high risk – high reward' category. Among the above-listed funds, the standard deviation for this fund is the highest.
The particular fund has a present allocation of around 80% to large-cap stocks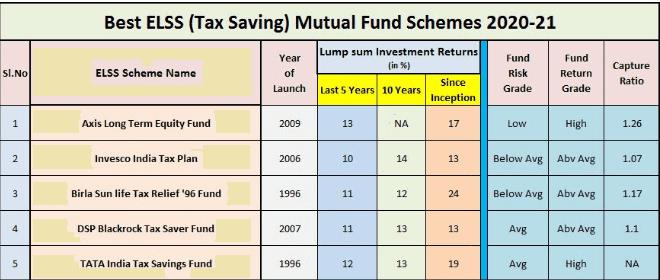 There are more two recommendations that are as follows. As you can see in these three of the recommendations, there are three common funds. These are Axis Long Term-Equity Fund, DSP tax saver fund, Tata India Tax Savings Fund.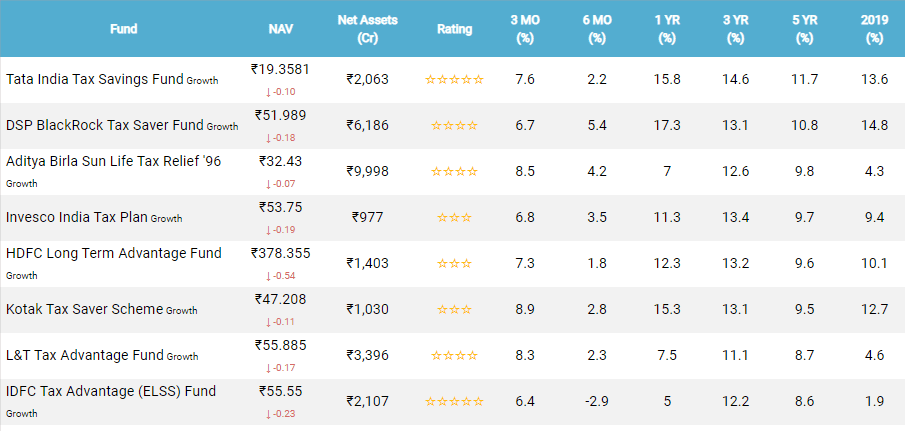 Conclusion
So, the ELSS or Equity Linked Savings Scheme is a good returnable scheme. Investing in an ELSS is simple and effective. I hope this article Meaning of ELSS/Equity Linked Savings Scheme can serve your purpose.