Sector rotation in the Indian stock market is one of the most popular applied strategies. As the same suggests, the primary focal point of the strategy is on the different sectors of the market. Before step into the main points of the strategy, the definition of the term "sector" will be explained.
What is Sector in the Stock market?
A sector is an economic area where businesses share the same or related service and product. Sectors also reflect the industry or market that shares common operating characteristics. Dividing an economy into various sectors allows for more in-depth analysis of the economy as a whole. For example, in the Indian market, there are sectors like the IT sector, Bank, Pharma, Energy, etc.
Sector Rotation in Indian Stock Market
Analyzing stocks separately without any base level is more difficult. If you consider sector-wise analysis, it would be easier. At a time, all sector can't be performed well. Sector rotation is important for investors who want to maximize their return with less risk.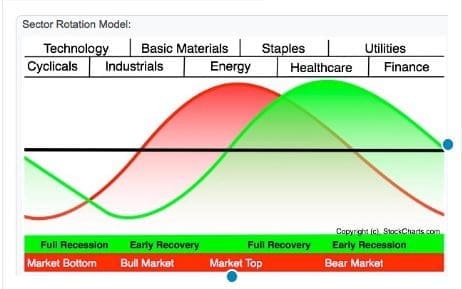 The theory of sector rotation was developed and popularized by
Sam Stovall, in his two well-known works- 'Sector Investing' and 'Standard & Poor's Guide to Sector Investing'.
The specific investment strategy involves shifting the invested money from one sector to another. In order to get market-beating returns, investors should adopt the strategy, based on the performance at each economic cycle. Sector rotation is a popular top-down approach of investment involving the movement of money from one industry sector to another by anticipating the various stages of the economic cycle in an attempt to beat the markets.
The strategy is based on the assumption that certain sectors give relative strength to different stages of business cycles. It has the capability to outperform the markets. Sector rotation is almost similar to tactical asset allocation. Instead of investing in a particular asset class—such as stocks, bonds, or commodities, etc—in order to take advantage of current market conditions, investors construct a portfolio using selected economic sectors or industries.
Sector rotation matters to stock market investors as certain sectors perform good in a particular stage of the business cycle, while others do not. If one can assess the possible performance of each sector during a different phase of the market cycle, it will be easy to select the stocks. Once that phase of the economic cycle is over, one can shift the invested money to another proper sector that is for the next market cycle.
One way of grouping the sectors further is to depend on their behavior in each of the market cycle phases. The sector which moves in accordance with the cycle is called the cyclical sectors and the one that is not impacted by market cycle called as a defensive sector.