Last trading day Nifty has finally closed above its short-term resistance mark of 8820. Last Friday Nifty opened close to 8900 and tested 8820 from there on the downside, bounced up and retested 8820 again and finally managed to close at 8821.70. Now, where is Nifty headed? Is it a breakout from the range?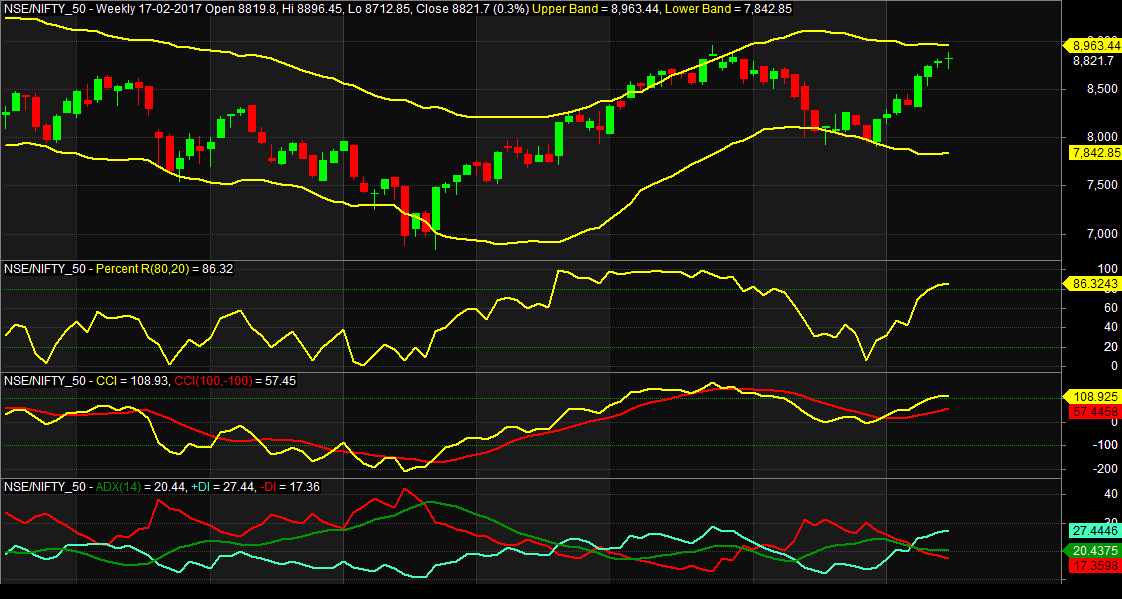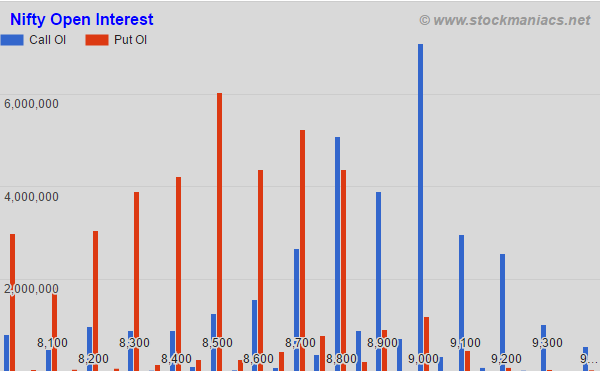 Apparently it looks like a breakout from the range, still, last day's bear candle does not support a bull run either. The inherent bias is still UP, so buy on dips may be the strategy but short-term oscillators look over exhausted and hence sideways move likely to prevail. Buyers will take charge on the downside and all rallies should also to be sold for gains both ways. Observe the Percent R indicator in the weekly and monthly chart of Nifty given below. The Percent R is above 80 marks and it suggests that Nifty index is still in strong bull grip, so bias will be UP, try to buy in all dips.

Strong supports exit near 8700. 8800 level is still indecisive as per the open interest scenario. Check the open interest chart given below, selling pressures likely emerge as we move towards 8900 and strongest resistance exists at 9000 zones. We expect halted move towards our target zone fixed at 9150. Hopefully, a dip should come before we move to 9150.

Readers who are new to this blog and do not know the final target of the Nifty index, read my post here What Should Be The Trading Strategy For Nifty At 8750? Your question will be answered, where is nifty headed? It is heading towards 9150.
Now some stocks should be discussed which can be in news next week. Fresh breakout has been seen in GRASIM. Bulls have an eye on that. Few breakout stocks that are taking some hault and can be considered for safe long bets are HDFCBANK and TCS. Bears can keep an eye on LUPIN because any bounce should be utilized for short selling.