"Screener.in" has made fundamental stock analysis easy. the stock screener provides us so many tools which help us to understand the company's current situation and its growth year by year very clearly. If you are a new trader or an investor, it is quite difficult for you to find out the perfect company to put your money into and make a profit out of it. Because there are more than 5000 listed companies in the stock market. Finding out the right company is like finding out a needle in a stack of hay.
Frequently asked questions about "screener.in"- the Best Fundamental Stock Analysing website
Who is the founder of "screener. in"?
Ayush Mittal and Pratyush Mittal these two brothers are the founder of the screener.in.
What is the best free stock screener?
According to my opinion "screener.in" is a very good website because it is easy to understand.
Name an Indian stock fundamental screener?
Screener.in is a very good website to work with. Because it is very easy to understand and you also get every small information here.
Screener.in the visit is really useful?
Thousands of Indian investors use the Screener website to review and assess the financials of Indian companies regularly. In fact, the screener website's tailored financial reports are quite active, user-friendly, and easy to use.
Definition of Fundamental stock screener the screener.in
A stock screener is a combination of tools that helps investors quickly sort through the vast number of accessible companies and exchange-traded funds based on their own criteria. Stock screeners are most frequently sold on brokerage trading platforms (where they are usually free), although there are also some subscription-based fundamental stock analysis screeners. Investors can use stock screeners to find the best stocks for them. Screener.in is one of the best websites to do that. Because investor or trader does not need to pay any extra charges for account opening.
How to open an account on "screener.in" website
It is very easy to open an account on the "screener.in" website. The screener.in makes fundamental stock analysis easier. In the following, the complete guide is provided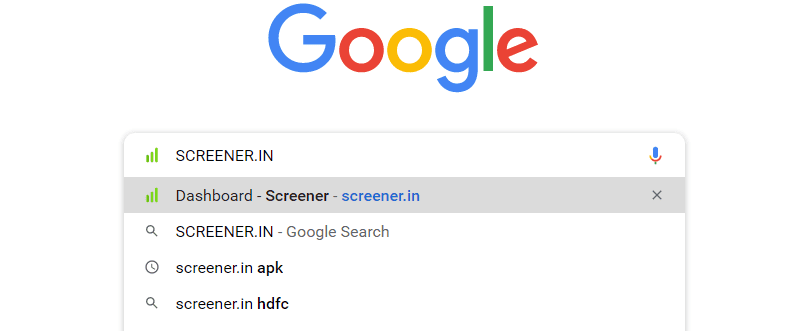 First, we have to open a new tab. There we have to write "screener.in" then the website will open after just one click.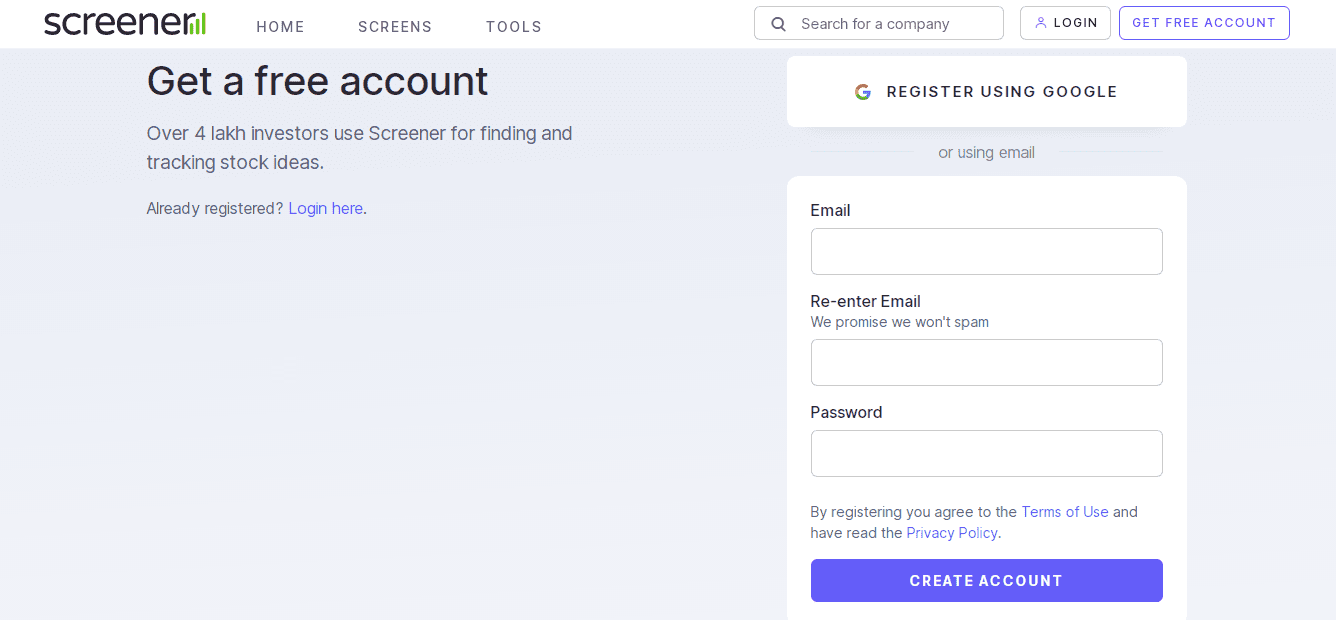 Now, put your email id on the given place then add a preferable password then click on "create account" and your account will be ready. The password will help you to keep your account safe. Otherwise, you can also sign in with a Gmail account. In that case, you do not need to put any kind of password because your Gmail account will be linked with the screener.in website directly.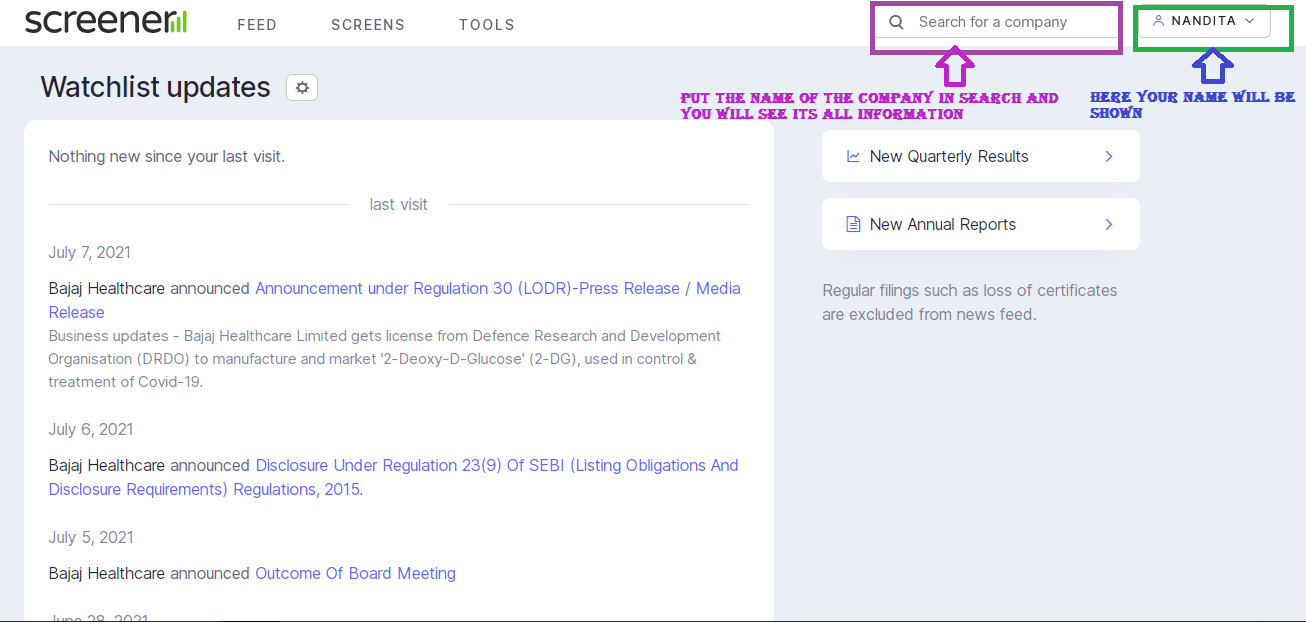 Now you have opened your account successfully. So there will be no problem for you to find any listed company in the stock market. Your name shall be shown no the right-hand corner. That I have painted in green color. There you will also find a search bar which I have shown using purple color. In that search bar, you can put any listed company's name and you will see their annual chart, the company's ROE and ROCE ratio, if the company has taken any loan or not, or any other fundamental access whatever you need to know to do a better trading. The website will provide all the fundamental stock analysis about the company.
How to apply screeners on screener.in
Screener.in the website has the feature of putting any kind of screener according to your choice. There is an option named screens. Click on this feature to utilize the option in a better way.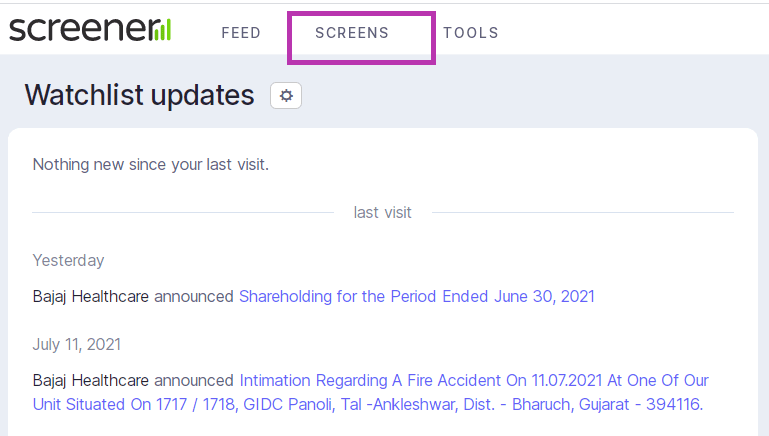 Now suppose, you want to know which companies are holding ROCE and ROE more than 25%. First, open screener.in then went to the screens, after clicking on it. You will find a page opened something like this which I have attached bellow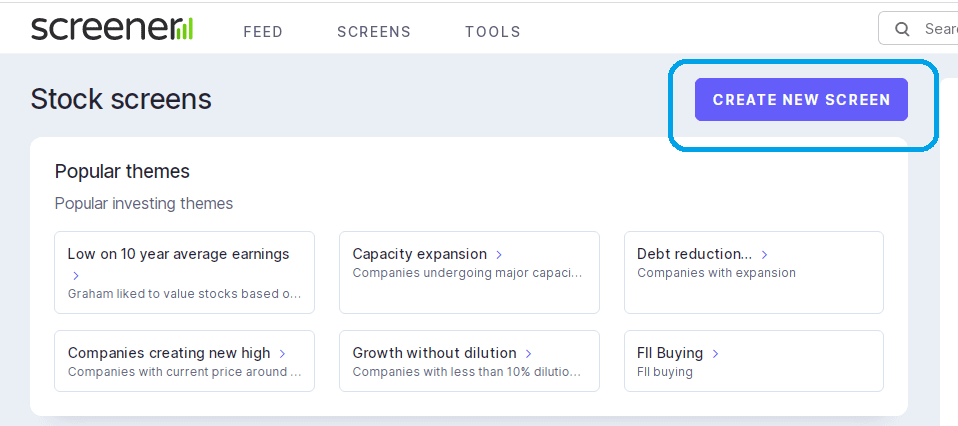 Now, click on the create new screener. You can use these screens to make any kind of screener according to your preference. It is upon you what ratio's information you want to know. After clicking on that you will go to a page looking like in the following.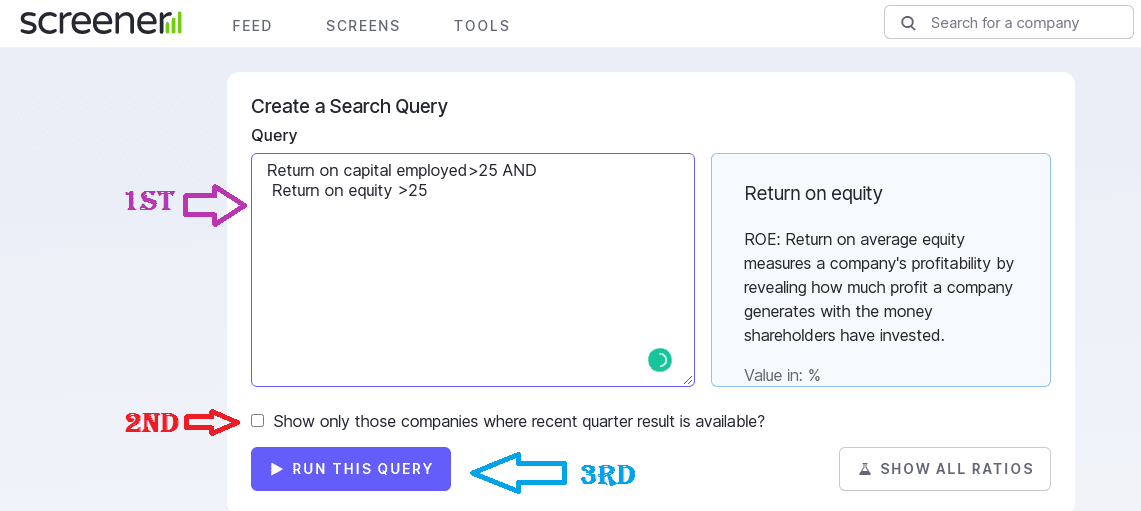 After opening this page, here I want to examine the ROCE/ Return on capital employed and ROE/ Return on equity of those companies who are holding ROCE and ROE not less than 25%. So I write "ROCE>25 AND ROE>25" in the given space which I presented in purple color. In that blank space, you have to write the ratio names according to your preference. Then tick on the part where the red arrow is shown. At last click on the "Run This Query" presented by the blue arrow. The work will start processing. To make you understand that more properly I mentioned the steps as 1st, 2nd, and 3rd.
Now click on the "show all ratio". If your screener has been put properly then your screener will show the result.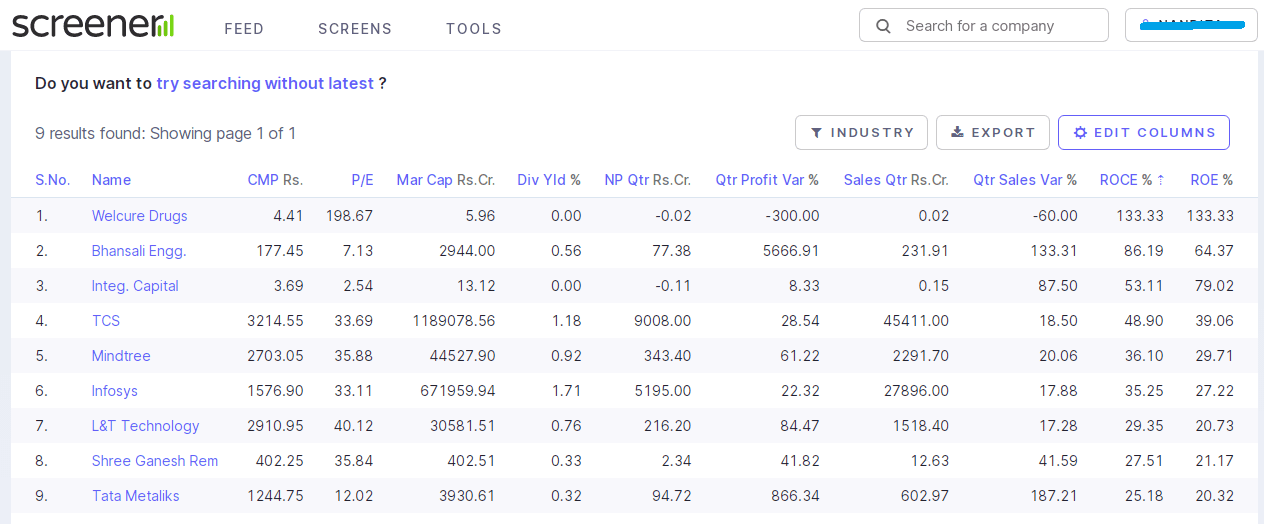 Now, you will find the companies name that will appear on your screen which has the ROCE and ROE of 25% or higher than that. In such a way you will be able to put any kind of screeners or make new and new screeners for your trading purpose.
How to check a company's fundamental using screener.in
First, you need to put a listed company's name in the search bar just the way I did in the following

Now the similar name option will arrive along the search bar click on that purple name. The accurate name has appeared on the screen. Screener.in will take you to that's company's fundamental page. Where you can do fundamental stock analysis according to your need to do better trading.

Here, I have taken the company "Madhucon Project Ltd". As soon as I search the company name the website takes me to the fundamental part of the company. I can check if the company stocks are profitable enough to put my money into it or not. I also find out that the company has to pay an annual interest of 82.2cr and their interest coverage ratio is 1.21% which is not promising at all. the company's book value (-223) is also fallen so much that it is going into the executive invaluable. After doing a fundamental stock analysis, it is quite clear that the Madhucon Project Ltd company does not hold any kind of profitable shares. (though it was a quarterly result) We can only hope that the company will do an overall good business at the year ending.
Analysis chart using screener.in
The "screener.in" also provides us a charting facility in which we can see many time gapping charts such as 1month, 3months, 6months, 1year, 3 years, etc. We just need to put a name of a listed company on the search bar. Then click on the chart and the chart will appear on the screen.

Suppose, there is a company name"Ltt Ltd" the company is going through a rough situation means that company share is not performing well. That can be seen through this chart. But the company was a blue-chip company once that can be also visible through the yearly option. As soon we put the 6 years or 3 years chart the company's record and its fluctuations will be also presented. That the company was doing quite well in the past but due to some reason it is going through a rough phase. Now after checking the chart it's upon you as a trader that you want to trade on that company or not.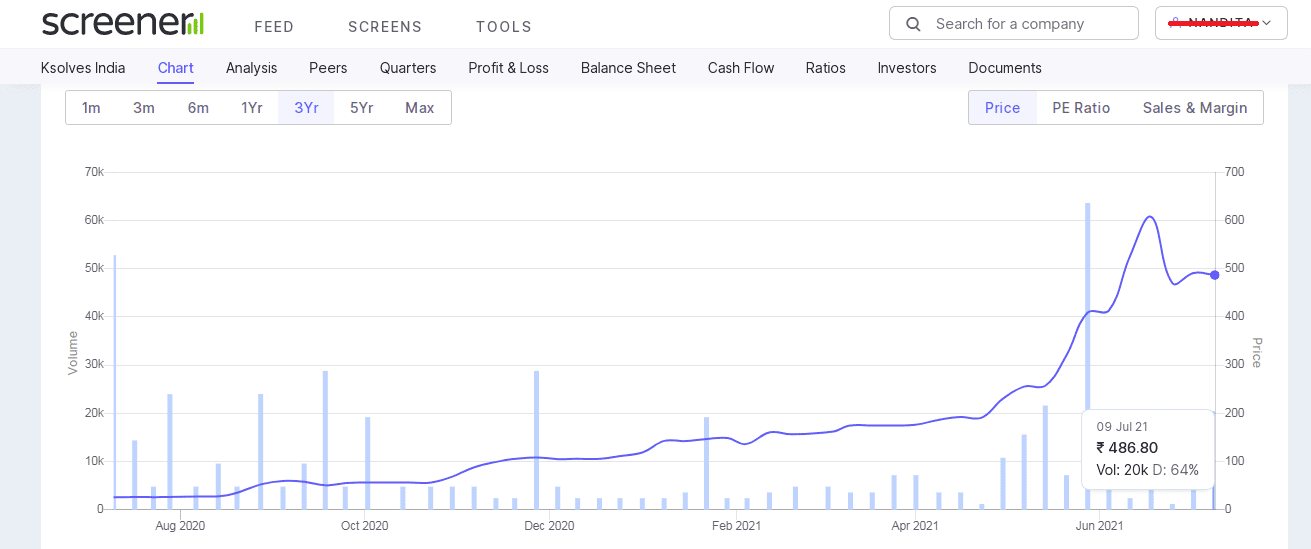 Pros and Cons analysiny of a company using Fundamental stock screener
Pros and Cons mean the advantages and disadvantages. "Screener.in" also provide us pros (advantages) and cons (disadvantages) of any company listed on the stock market. Suppose an investor wants to know the pros of a company. So he used the screener.in. As soon as he saw the fundamentals of his wished company, he found that the cons are more prominent than the pros. That proves, just because the investor uses that website he gets a clear view of that company. The pros and cons are written in very easy words so that even a child could understand that.
Example of a company's pros and cons
Here I have taken the State bank of India(SBIN). Suppose I am an investor and I want to invest my money in SBIN shares. But before that, I check SBIN's fundamentals. So I open that company's fundamental on screener.in where I find that the company only have cors not a single pros are there. After knowing that, now it's on me as an investor whether I want to invest my money in that bank's share or not. The pros and cons are written in such easy words that anyone can understand and make their own decision.

Quarterly Results analysis using Fundamental stock screener/Screener.in
Fundamental stock screener or screener.in also gives us the feature of quarterly result checking. In which we can check whenever a company publishes its quarterly balance sheet.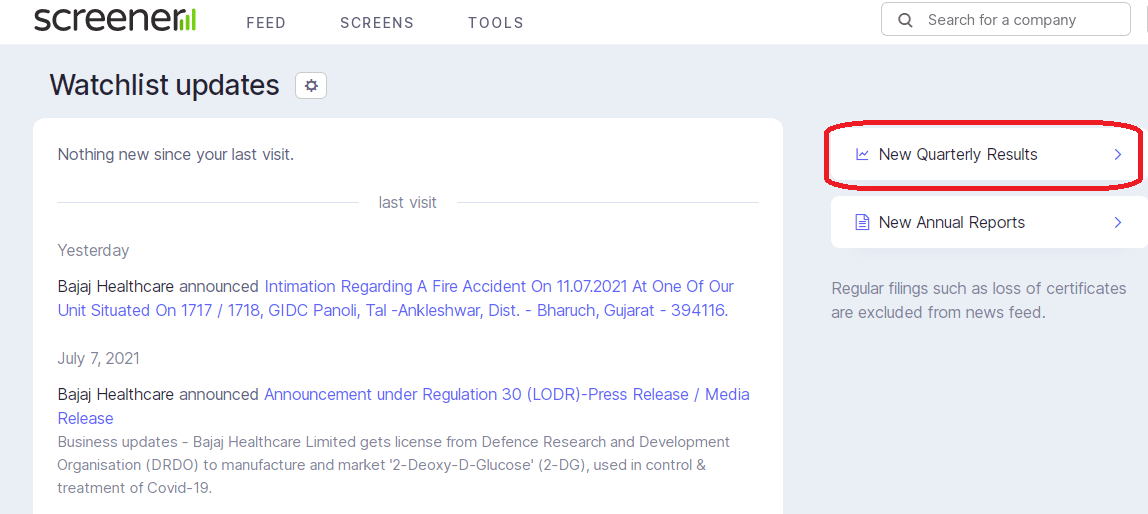 In the above, there is a picture where I marked "New Quarterly Results" in the red box. So whenever you visit screener.in website to check any listed company's quarterly chart. You just need to click there then you will find many listed companies name who has published their quarterly progress report. Now ether you go through or simply write the name of your wishing company to find their quarterly situation.

Here I have taken "Leading Leasing Finance & Investment Company Ltd". On the very first page, the important ratios are presented but we have to keep that in mind that it presents the company's quarterly report not annual. The company's current ROE ratio, ROCE ratio, Interest Coverage ratio, etc all are presented in the quarterly chart. It means the ratios and amounts are presented in the quarterly presentation.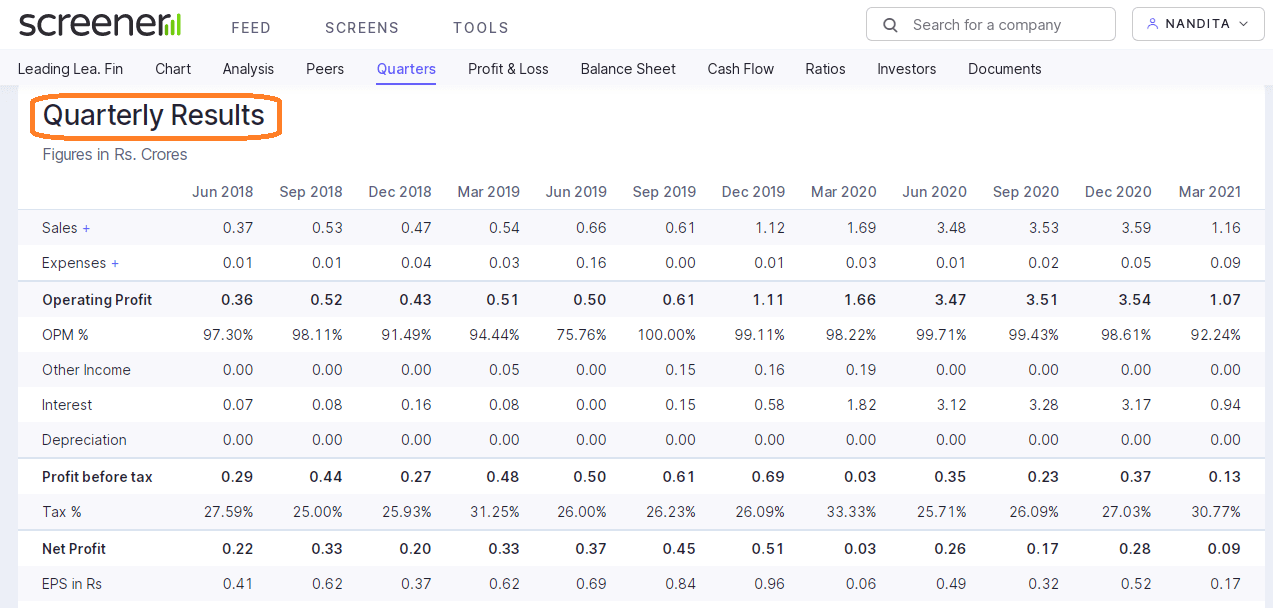 Here in this image, we find the company's all quarterly profit. EBIT or earnings before interest and taxes and all the other numeric figures of the amount. But we have to remember that this is not an annual result.
Peer comparision of screener.in
Peer comparison is a feature in which if you put any company's name on the search bar you will find the company's present situation. Not only that, but the screener.in the website will also tell you which sector does the company belongs to. What are the other company doing well in that sector? which company is more profitable for you to invest your money in. Wether is that company which you have searched or any other.
Peer comparison explained
Screener.in gives you such a great facility of peer comparison. Suppose you want to invest your money in the banking sector so you search Panjab National Bank to check its fundamentals before investing your money. As soon as you open that bank's fundamental, you see that the bank is going through a big loss. If you invest your money in its share, the money may face loss. The screener.in's peer comparison gives you a better idea in the banking sector which bank's share is more profitable for you to invest.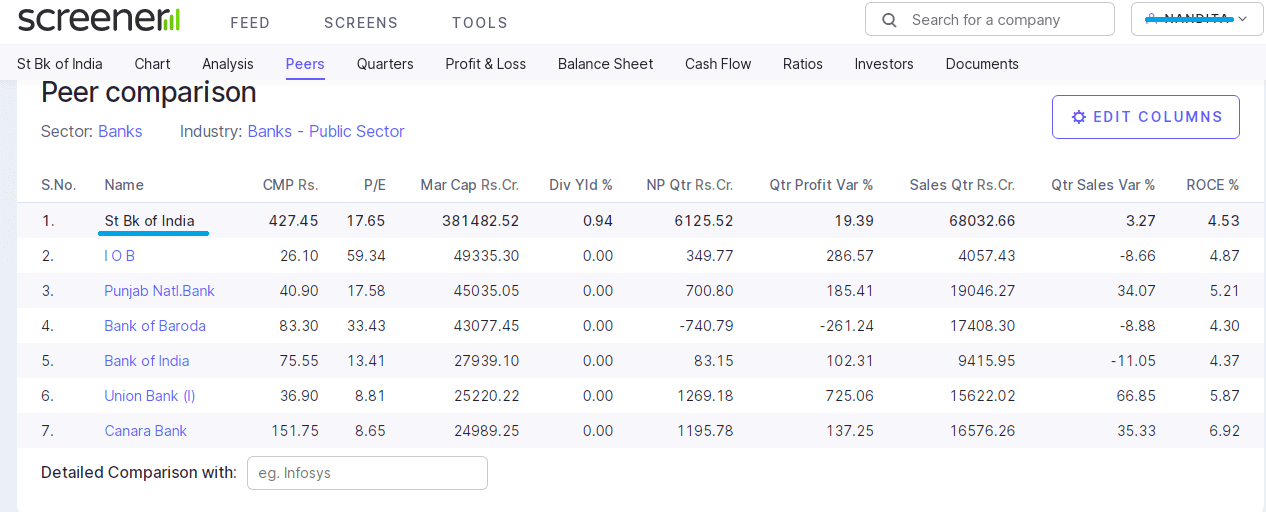 In the above statement, we find that SBIN bank shares are more profitable than Panjab National bank's share. You find that difference because you use that peer facility of screener.in. That means screener.in actually help you to choose the right shares does not matter which sector you choose to invest your money in.
Comparison between different Fundamental stock screeners
There are so many fundamental stock analysis screeners available in the market. It is quite difficult to choose the right one as your preference. To get over that search I would highly suggest you try the "Screener.in" website. The Screener.in gives the easiest way possible to access the information you want for a better trading experience. Capital Cube, Investing.com, MoneyWorks4Me these are some of the names of the other screener website but you will find either the website cost you high charges for account opening. The account opening process is time-taking and lengthy. Sometimes, the website does not charge you anything, but the website starts to make you pay hidden charges after the account opening. But screener.in is such a website where account opening is very easy. It just takes a couple of minutes and the website does not take any charges.
Conclusion
Screener.in is a very useful website for traders. If you know how to use this fundamental stock screener website it will help you to do better trading in the stock market. In the given passage I have told you how to open an account in the screener.in, how can you put different kinds of screens according to your preference not only that you can also analyze any company's fundamentals before investing in their stocks? So I hope you have to understand all the basics of using this website after reading this easily.