The FTSE 100 Index, also called FTSE 100, FTSE, or, casually, the "footsie"/ˈfutsiː/, is a benchmark index of the 100 top companies listed on the London Stock Exchange with the highest business promotion. It is a one of the most actively traded stock indices. In this post we will discuss how to trade FTSE 100 Index.
More about FTSE 100 Index (Footsie)
The google finance symbol code for this index is INDEXFTSE: UKX. The index started on 3 January 1984 at the base level of 1000. Its highest point marked till date is 7,903.50, on 22 May 2018 . In the recession period during the fiscal emergency of 2007-2010 it went below 3500 in March 2009. The index recouped to a top of 6091.33 on 8 February 2011 and again fell under the 5000 marks on the morning of 23 September 2011. However, now it is trading at close to 7500 as on 18th December 2019.
Where to check FTSE 100 Index live?
Though we are from India, still we need to follow all major world indices as indices are inter linked. Many times global factors affect our stock market. So here I am providing few ways how you can check Footsie index rates.
Check Footsie using a Google search
Google is the best source to check the live rates of this index. You will also get its end of day charts in google. But these charts will be basic charts. You can not use indicators or any technical studies here.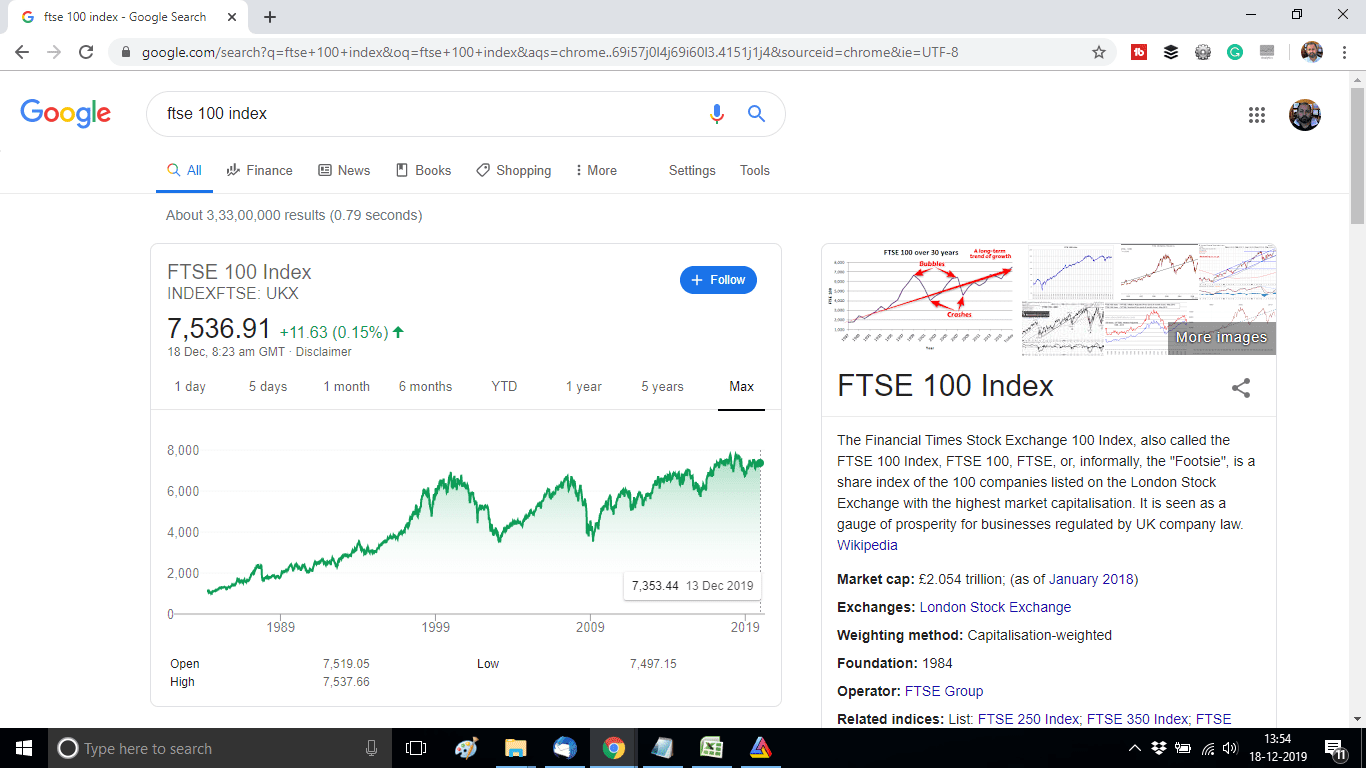 Check Footsie using other charting sources
In our website
Our website has a end of day charts section. Here you can not check live charts, but end of day daily candles are available along with all major studies. You can check the end of day charts of this index here. Go to the page and once the chart loads in the symbol search box write FTSE index.
In the drop down you can check the available symbols. Here you can find a drop down names Z. In this Z1 is the continuous chart of near month futures of Footsie. Z2 is the continuous chart of the next month futures of the index. We have selected Z1.
FTSE 100 Index live chart
You can check Footsie index live charts in Investing.com. Go to this page and you can get intraday 5-minute charts of FTSE Index live. You can use all major studies here and do your own technical analysis. You can also get trend analysis in multi time frames in this website.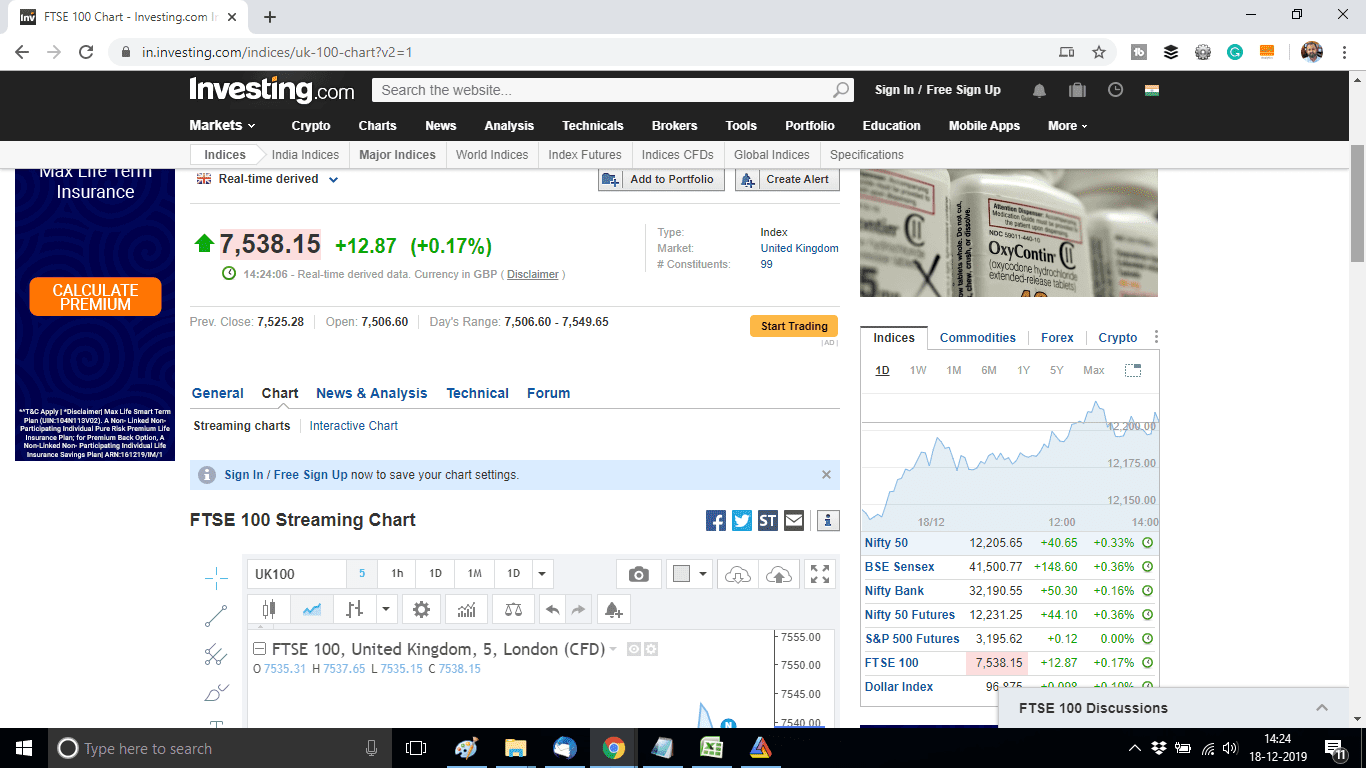 How to trade FTSE 100 Index with free tools?
Now lets come to the point on how to trade FTSE 100 index with a free tool like elliott waves calculator. Open the elliott waves calculator here.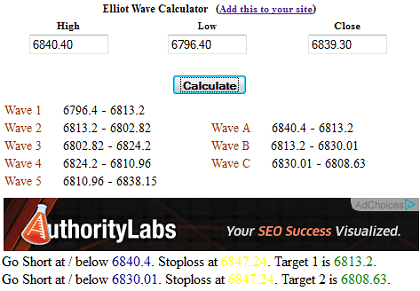 You only need to know today's high, low and close to get tomorrow's trade levels. For instance, today we get high at 6840.40, low at 6796.40 and close at 6839.30. We put the HLC in the text boxes in the elliott wave calculator and click CALCULATE.
And we get levels instantly for tomorrow.
Go Short at / below 6840.4. Stoploss at 6847.24. Target 1 is 6813.2.
Go Short at / below 6830.01. Stoploss at 6847.24. Target 2 is 6808.63.
The system gives very small stop loss and a decent target. However, if you have any questions on how to trade FTSE 100 index with Elliott waves calculator do visit our CONTACT US page.
Not only the Elliott Wave calculator we can trade Footsie using Pivot Points or Camarilla Pivot Points.
Conclusion
Trading the FTSE 100 index or Footsie is the profession of many traders worldside. Mainly traders from Great Britain trade this index. This is a highly liquid tradable index. So it can be traded using charts as well as it can be traded using trading tools like Pivot Point Calculator or Elliott Wave Calculator.