It is one of the commonly asked questions before entering into the intraday trading that how much one can earn in day trading in India. The answer can't be in a single sentence, because there is no limit of earnings in the stock market. In this article, we will answer this question as well as will share my exact method on how to earn 1000 rs per day from share market.
The article will open up factors and tactics. By applying these tactics one can earn a generous profit from the stock market.
How Much One Can Earn in Day Trading in India?
First of all, you need to be clear about one thing, that is, there is no limit on investment here. One can start trading with 1000 rupees or 100,000 rupees too. There are no capital boundaries. And as there are no capital boundaries, there are no earnings boundaries either. Theoretically one can earn unlimited money from the share market.
Here, are some of the most experienced strategies by which earnings money from the stock market becomes easier.
How to earn 1000 Rs per day from share market by Following Simple Rules?
Rule #1: Trade High Volume Based Shares
This is the first and foremost strategy to enter intraday trading. Always look for High volume or liquid shares. Volume means a transaction in a certain period of time. As in intraday trading, the position must be closed before closing the trading hour, more liquid the stock, more possibility to earn a profit.
Intraday trading deals with squaring open positions before the end of the trading session. For the reason, it is advisable to choose highly liquid shares.
Always be sure of the stocks or index you are going to invest in. Do not rely on others' analysis until and unless you have done your own. Only invest in the stocks or index with which you are confident enough. Investors are advised to include eight to 10 shares in the wish lists and research these in-depth. Monitor the price action of those shares prior to investment.
Rule #2: Put Stop Loss Order to Limit the Loss
The next and important strategy is to cut down the losses by applying stop loss. In other words, by putting a stop loss, one can limit the loss. In intraday, stop loss is a golden rule which every trader should follow to avoid maximum loss. Keep your stop loss proportionate to target. In this way, you can minimize the loss portion. We suggest you use semi-automated orders like Bracket Order (BO) or Cover Order (CO) to keep your trading emotion-free.
If the price falls below a specified limit, stop loss is a trigger order that is used to automatically sell the shares. This is too beneficial in limiting the potential loss for investors due to the fall in the stock prices.
Rule #3: Eliminate Greed, Fear
In the stock market, greed and fear are the two main factors which affect traders most. Psychological factors divert the decision of traders most of the time. Therefore, it is advisable to eliminate greed and fear during trading time.
Sometimes, fear and greed lead traders to do over-trading which is not advisable. It is quite important to select some stocks and take the position only in them. Also, one should remember that in trading everyday traders will not make profits. Therefore, (if markets are not supportive ) a trader has taken multiple positions he will have no other option but to book a loss. Thus, the very important rule for profitable intraday trading is to know your limits and trade within it.
Rule #4: Fixed Entry and Exit Point
These are the main pillars of making an unlimited profit from the stock market. Traders need to identify the entry and exit points accurately. Without identifying the entry-exit point, one can't move forward towards profit.
Before placing the buy order, determine the entry and target price. As per a person's psychology to change after purchasing the shares, one may sell even if the price sees a nominal increase. For the issue, one may lose the opportunity to take advantage of higher gains because of the price increase.
Most day traders suffer from psychological influence fear or greed. It is important for investors to not only cut the losses but also to book the profit when the target price is reached.
Rule #5: Follow the Trend
Always follow the trend, it is one of the safest and finest ways of making a profit in the stock market. Trading against the trend can be profitable for sometimes but most of the time it is advisable to follow the trend.
If you want to know how to earn 1000 rs per day from share market, here are the guidelines which you can follow.
First, select limited stocks as per your choice.
Then follow the movement of the stocks regularly at least 15 days prior to trading.
Analyze the stocks with volume, indicators, oscillators. I personally like to use Supertrend or Moving Average, and oscillators as the Stochastics, Moving Average Convergence Divergence or MACD and RSI.
If you follow these stocks regularly in the market hours, your accuracy level will be high enough within a few days on these stocks. You can interpret every single price movement of them.
Based on the applied indicators and analysis fix the entry-exit point which is the most important part of starting trading.
The most important thing is to fix stop loss and target prior to investment.
Move with the Market
The market is not fully predictable, even experienced professionals with advanced tools are not able to predict market movements. There are times when all of the technical factors depict a bull market; however, there might be still a decline. Some of these factors are only indicative and do not provide any guarantees. If the market moves against traders' expectations, it is advisable to exit the position to avoid huge losses.
Stock returns can be hugely profitable, however, earning smaller gains by adhering to these intraday trading tips & strategies must be satisfactory. Intraday trading provides more leverage, which effectively provides decent returns in one day. Being content is crucial to succeeding as an intraday trader. In the stock market, profit and loss come almost simultaneously. One cannot avoid the loss completely. It is a part of intraday trading.
Earning money is not always tough if you have sufficient knowledge and experience.
How to Earn 1000 Rs Per Day from Share Market With Small Profit from Multiple Trades?
Now, let's go ahead and find to do this. Also, let's try to find out the best indicators for day trading which can generate Rs. 1000 daily profits.
Let us try to answer the question theoretically and practically. Nowadays, almost all the broker's company provide leverage on the capital. So, it is easy for investors to make an investment with small capital. For example, the total margin required to trade 1 lot of Nifty in MIS is approximately Rs. 32587. The Nifty futures trading margin for bracket and cover order is even less. It is approximately Rs. 10000.
The share market is driven by some of the psychological factors also like fear, greed. So, try to not fall in the trap. Booking a small profit with multiple trades can be the best strategy to get money from the stock market.
How to Earn 1000 Rs Per Day from Share Market Using Simple Technical Indicators?
Lets first know:
The best markets to trade
How to set up your charts
The 3 best indicators for day trading stocks and futures
How to easily identify the start and end of the trend.
Before I move ahead a piece of small information to share I have over 17 years of trading experience now. I started in NSE stocks and traded NSE / BSE stocks, futures, options, MCX commodities, and currency markets. Now I will only show you stocks and futures markets. Let's keep it simple, No stock filtering or no complex options strategies.
The best markets to trade:
Nifty future
Crude Oil
Gold
USDINR
Chart setup:
Let's use a different chart setup
Many traders are losing money
If you use the same chart setup as other traders you will also lose money
The unique chart setup should be the edge
3 Ways to display charts
Most traders are using either time based (5 minutes, 15 minutes, etc) OR volume-based charts (20 tick or 100 tick, etc). 90% of traders are using these kinds of charts. While we will use a third kind of chart called volatility based charts (eg. Range Bars).
Our range bar charts in Nifty is of fixed points (5 OR 10 points). So if price breaks 5 OR 10 points range then only a new candle will form.
So what are the best indicators for day trading stocks and futures? We will use normal indicators, but our settings will be different. So, this is an edge again. We will see what others can't see.
We will use 3 simple indicators and I feel they can be the best indicators for day trading stocks or futures. Let us use:
Bollinger Band (12,2) 2)
MACD and
RSI 7
How to earn 1000 Rs per day from share market (the trade setup):
Go long when MACD crosses over signal and MACD should be above zero and MACD histogram should be positive.
Ride the trend till the bars touching the upper Bollinger band.
Exit long when RSI 7 turns down OR candle closes below Bollinger bands.
Vice versa for the short trade setup.
These trade setup will work on any market.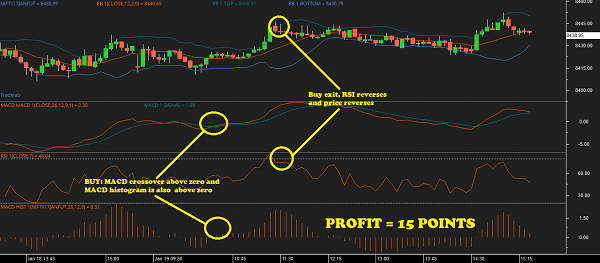 In the example above we have shown a profit potential of 15 points in the Nifty futures. So the total profits are 15 points x Nifty lot size of 75 = Rs. 1125. If we play 1 lot also we make a gross profit of Rs. 1125. The total charges including brokerage and taxes are Rs. 165. So the net profit is Rs. 960 (approximately Rs 1000). Check the sample contract note below.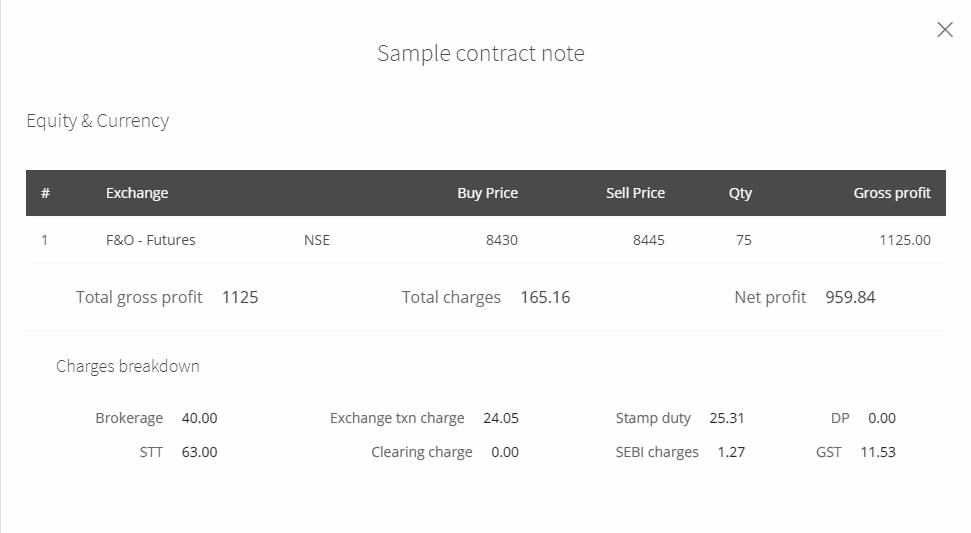 So we have seen that if a trader trades index like Nifty he can earn Rs. 1000 from a bracket order cover order margin of 10000. It is a 10% gain on leveraged capital. Every trade will be unique. So other trades will have more or less profitability. But in general, we have seen that disciplined trades can earn Rs 1000 daily. You can comment on your questions (if any) in the comment section below this post. Your observations and results are welcome. I used the Zerodha Pi platform for the charting. To access Zerodha Pi CLICK HERE.