Though the equity market is quite an uncertain field for investment, last year there were numbers of high performing stocks which have given spectacular returns. The article contains the list of Highest Return Stocks Last One Year.
Highest Return Stocks Last One Year
Over the past year, Nifty gave a return of 13.9%, in Jan 2018, equity market touched a new high. Large-cap, small-cap has grown multi-fold in this year.
The above list is taken from 5paisa.com website. There, you can see the gaining percentage over the last 2 years. The percentages were given. Stocks like Titan, Tech Mahindra, Hindustan Unilever, TCS, Reliance, Tata Steel, BajajFin, Kotak Mahindra, etc gained more than 34% over 1 year.
Now, let's have a look at the financial express website recommendation.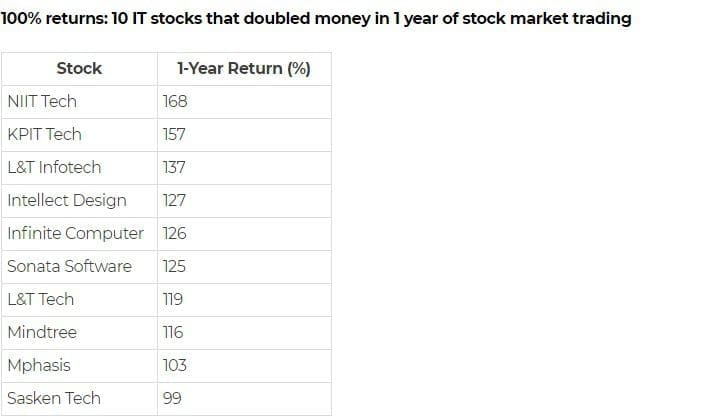 These are some of the IT stocks such as NIIT Tech, KPIT Tech, L&T Infotech, L&T Tech, etc, have returned like 168, 157, 137, 127, etc.
Apart from the data, there are also Dishman Pharma, Essar oil, Chennai petroleum, etc.
Chennai petroleum
Chennai Petroleum is one of the state-owned oil and gas company. Last year performance of Chennai Petroleum was quite good. The stock was able to generate a return of near about 159% in last one year.
Dishman Pharma
Dishman Pharma is engaged in the manufacturing of ingredients in the pharma industry. Dishman has shown a really good boost in last year. This stock was able to generate near 120% return in last one year.
Essar Oil
Essar Oil is such a stock which doubles investor money in last year. Essar Oil could able to generate near 134% return last year.
Indo Count
Indo Count textile is a manufacturing company and constantly making a good profit. Indo count has given more about 192% return in last one year.
Sangam India
Sangam India is next stock in the list. Sangam India is a popular textile company. Sangam India was able to generate return up to 186% over the last year.
These are some of the Highest Return Stocks Last One Year.