Today I will be analyzing one from the glass stocks – Haldyn Glass Ltd. A candidate from the midcap space the company serves various industries. They supply glass and bottles to liquor space, cosmetics, food, and beverages, etc. The production capacity is roughly about 350 tonnes on a per-day basis. They have 2 glass melting furnaces and the melting capacity is 350 T / day. The company can produce 1.5M high-quality containers every day.
The company also supplies 30% of its production to the unorganized space. Some of the clients of the company include United Spirits, Pernod Ricard, Tilaknagar Industries, Dabur, etc. Some more key clients are ADF Foods Ltd, Sosyo, Parle Agro, Bajaj Corp Ltd. Now, take a look at the financials of the company: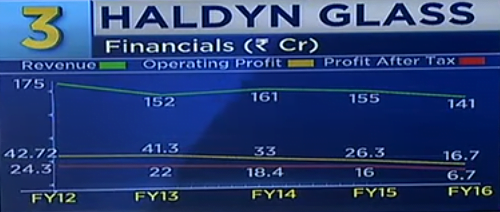 It has seen that the profits are declining since the FY2013. But the first 9 months of this year was splendid for the company. There has been a topline growth of more than 30%. Operating profit has also doubled in YOY basis. And the net profit as per the first 9 months of the year is close to around 10 crores. So it is fairly good.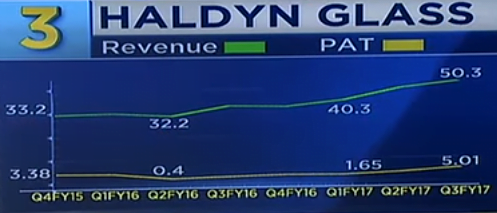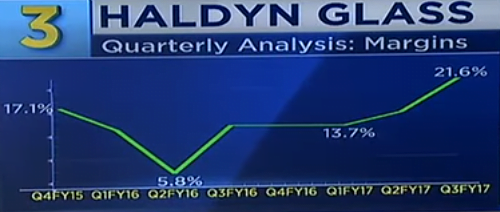 Now, if we take a look at the operational performance of Haldyn Glass Ltd, especially the last quarter was very very good. Check the image below:

And now a look at the operating margins of Haldyn Glass Ltd. It has been seen that the last quarter was exceptionally well for the company.

The company has also managed to reduce its power requirements and that has reduced the cost. This has increased the bottom line. The company is already a zero debt company among glass stocks.
The company has a 50:50 Joint Venture with the German company Heinz Glass. The commercial work of the JV will be starting of Q4 of this FY. The JV will focus on manufacturing glass flacons for perfume and cosmetics industries. Once the work starts FY18 will be even more encouraging.
Haldyn Glass Ltd has a promoter stake of 52.52% while only 28.99% is helping by retaining individuals. 143 corporate bodies hold 8.28% of the equities.
Key-concerns for the company:
1) The threat of substitutes.
2) Pricing power
3) Spike in power and fuel cost
Haldyn Glass also has a good dividend payout history. It's an interesting company in glass stocks and at the current price of Rs. 46 at Bombay Stock Exchange we think investors will be benefitted in the long run.