First of all, I need to be clear to you all that this recommendation we've made a long time ago. At that time, the share price of NIIT Ltd was ranging from 70 to 80 rupees. The stock price is now going on (as of Feb 2020) at 107.50. First of all, we see the previous track record of the company.
Track Record of NIIT at the time of Recommendation
Recently Edelweiss has published their research report on NIIT Ltd, a stock from the education space, Recently NIIT has come up with their Q3 results. The results are not impressive. PAT is at 6 crores Vs 13.7 crores YOY. Revenue at 267.3 crores Vs 262.3 crores YOY. EBITDA at 3% Vs
In an interview, the CEO of the company has told that the corporate learning group grew 14% in CC terms, added 3 new clients. He also added that 70% of the total retail business is transacted in cash. So the company has faced difficulties in cash transactions due to demonetization.
The CEO also added that despite bad news their growth story remains absolutely intact. The MTS deal with UK pharma client is extended for 4 years. The international corporate business contributed to 66% to NIIT Ltd 's overall revenue in Q3. The 9-month CLG deal wins at multi-year highs.
Fundamental Record
The company has an impact on the retail business. The CEO confessed that the walk-in to their centers was hampered till one month after November 8, 2016, but now things are shaping once again for the retail and he is optimistic to move into profit in retail business again into Q4. In fact, the DT course, the mail-in retail business has exceeded its plans in spite of demonetization. In fact, the companies' IT business has made an improvement in this quarter on a YOY basis.
So it looks like the worst is over for the company. Edelweiss has published its latest report on the company where they are bullish on the companies overall growth story and they maintain a BUY rating on NIIT Ltd with a price target of 135.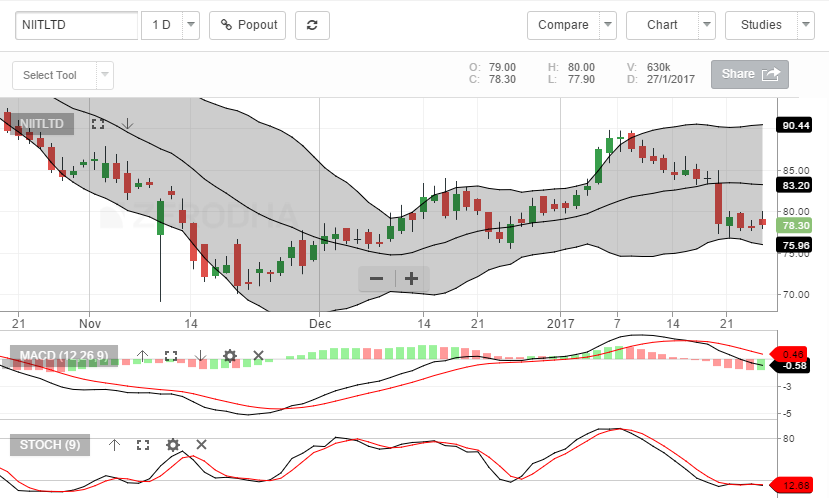 The NIIT Ltd share has closed at 78.30 as of 27th January 2017. Check the above image for the daily charts. BUY the stock as this offers a profit potential of 72.41% from the current valuations. To download the full Edelweiss research report CLICK HERE.