In India, Angel broking is one of the leading full broking companies. After incorporated in the year 1987, the company already become a big full services retail broking house. It has a wide range of investment and trading services like investment advisory services, stock and commodity broking, financial products, loans against shares, etc. The renowned broking house comes with an interesting and eye-catching offer. We will disclose it later in this post. And you will get full information on the login to Angel Broking App. So let's begin with some common FAQ on the company.
FAQ on Angel Broking
How is Angel Broking?
The main offerings of the broking house include Equity Trading, Commodities trading, Portfolio Management Services, Loan, Mutual Funds, Life Insurance, IPO, Depository Services (DS) and Investment Advisory. The company also gives Wealth Management and Ebroking facilities. So, it is full of compact services and facilities.
Is Angel Broking is safe?
Yes, it is safe and secure. At present, Angel Broking is managing a strong neighborhood of 110 branches and 11,000 sub-broker offices in almost 1800+ cities all over India. It provides both online and offline services to their clients. With multiple trading and investment facilities, it has become one of the leading companies.
Which Demat account is best?
Nowadays, some of the broking companies come forward and provides the best of their services. Among the companies, two companies come first, Zerodha and Angel Broking. Currently, Angel Broking offers Free account opening with them. So it is the best offer indeed.
How to Open Account and Login to Angel Broking App from Home?
During this lockdown phase, earning money becomes a serious headache. What if we suggest a profitable solution? To proceed this way, you do not have to spend a penny. All you need is a computer, internet connection, and some knowledge. At the beginning of the post, I was talking about some offers, provided by Angel Broking. They are giving you a FREE Account Opening Offer with them. If you want to open a Demat account at FREE of cost, click the link below: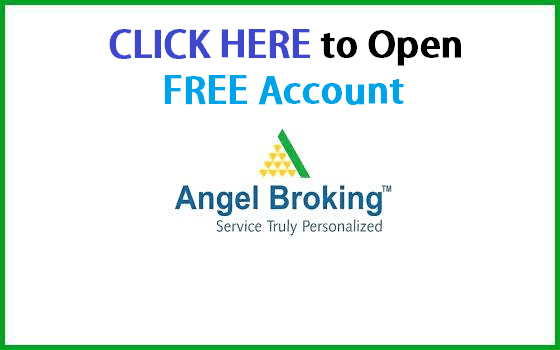 What are the Documents Required for Opening an Account?
For opening an online Demat account you need to keep some original as well as scanned documents with you. As we know for opening Demat in online for any broker, Aadhaar card linked mobile number is necessary. If you have it, it's all good. But in case, if you do not have Aadhaar linked mobile number, do not worry. Unlike other broking company, Angel broking gives you an extra option to open an account without using Aadhaar linked mobile number. So here, I divide this account opening process into two segments, one is with Aadhaar linked Mobile number and the other is Without Aadhaar linked Mobile number. Apart from this, the compulsory documents are:
Aadhaar card
PAN card
Scanned copies of both the above
Bank Proof, etc.
What are the Steps to Open a Demat Account?
If you have Aadhaar linked mobile number, then this section is for you. The required documents are:
Aadhaar Card: Scanned copy of Aadhaa card
PAN Card: Scanned copy of PAN card
Bank Proof: A cancel cheque or statement of the bank is required and the bank must be linked with your Demat account or broking account.
Steps to Open a Demat with Angel Broking
First CLICK HERE to go to the account opening page of Angel Broking. Once you click on the above link, you will be redirected to their account opening page. Here, take a look.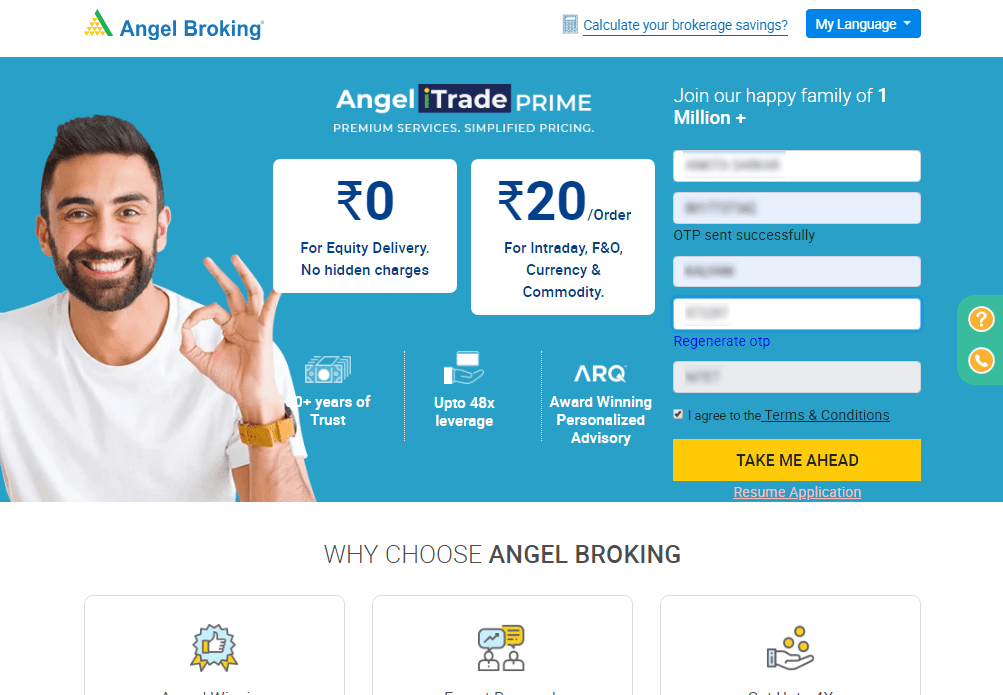 As you can see there you need to fill up the above blanks. Once you put your name and ph number, an OTP will be automatically generated to your mobile number. Then fill the OTP in the given box and click on Take me ahead. Make sure the agree box is on. After clicking there, a new window will be opened.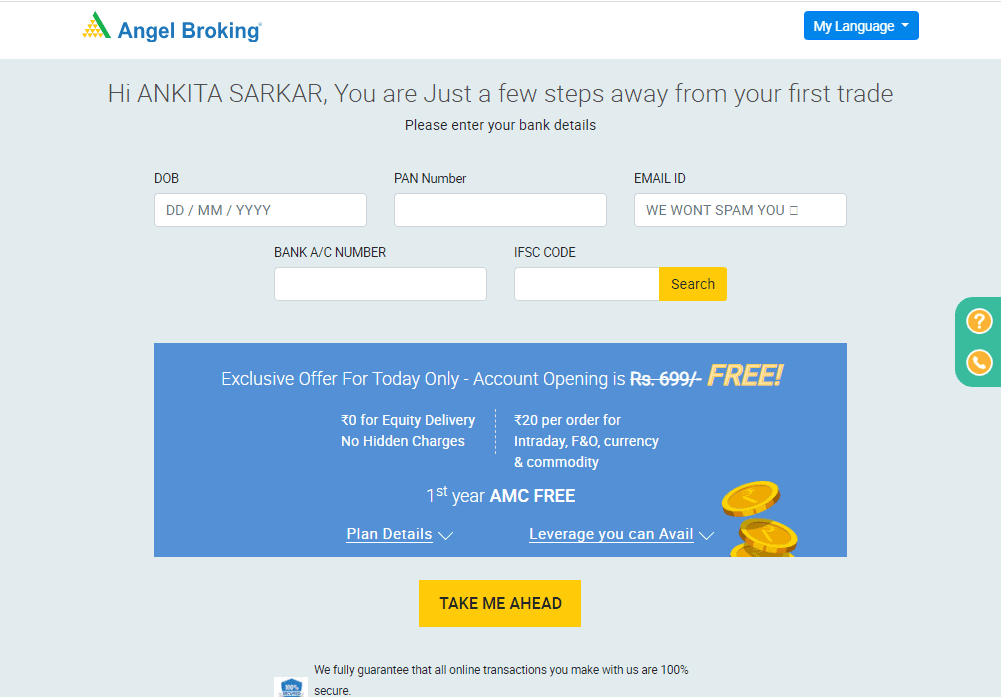 Now, see the window above. First, see the blue box, there no money is required for the account opening process. You can save Rs.699 easily. And their Equity Delivery charges, 1 year AMC (Annual Maintenance Charge) are also free. So, now fill the above boxes. You need to put your
date of birth
PAN number
Email id
Bank account number
Till here, all the processes will be the same either you have Aadhaar linked mobile number or not. From the KYC page, the process will be different.
An account with Aadhaar Linked Mobile Number
After submitting all the information, you will be on the KYC page. The page looks like this: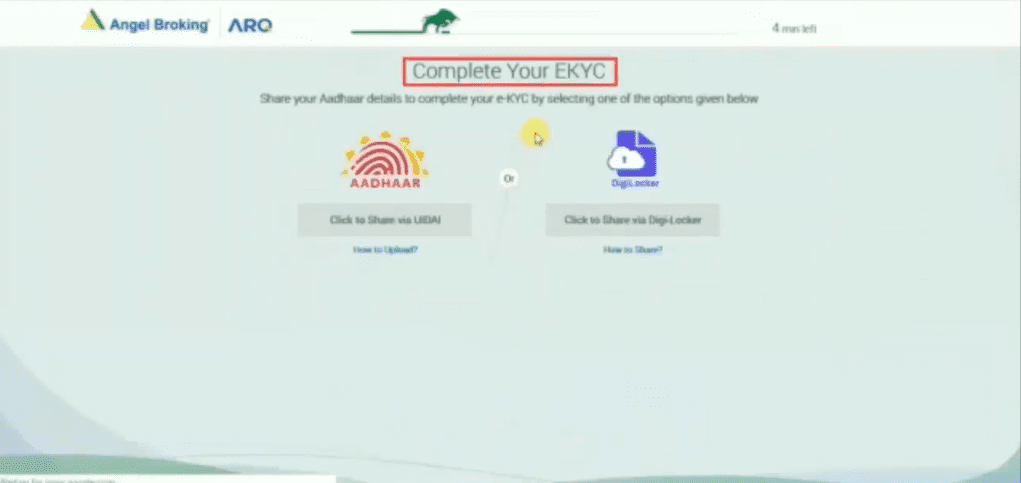 There you get two options. There you get option is for verification with Aadhaar linked mobile number. And after proceeding with the KYC, your account will be opened. This is almost the last step of opening your Demat account.
An account without Aadhaar Linked Mobile Number (Use eMudhra)
Here, on the EKYC (Know your customer) page, if you do not have any Aadhaar linked mobile number, then click on the e-sign via eMudhra.
Now, what eMudhra is.
eMudhra is a licensed certified authority of this country.
This comes under the information technology act and is regulated by the Govt from 2008. eMudhra works under the certifying domain.
It works for tax filling service, digital shining solution, digital certificate authorization system, trusted time-stamping service.
In your account opening process, eMudhra helps to verify your documents by using your signature as your Aadhaar is not linked with your mobile. So for this reason, verification of your signature through eMudhra is the most important step in your account opening process.
Required Documents
Once you select the option, you will get a call from the Angel broking call center. And they will give you instructions for completing the rest of the process.
To complete the eMudhra process, you need to have these documents with you.
Passport size photograph
PAN card
Aadhaar card.
So, wait for the call from the Angel broking call center. And keep all the required documents with you. Angel broking will do the rest of the work on behalf of you. This whole process completion may take some time,
24 to 48 hours. This timing depends on your documents and eMudhra online service. Sometimes, eMudhra services get interrupted because of its excessive traffic. So please be patience.
How to Login to Angel Broking App?
After completing the e-signing process, you will get your user id and password. Then go to the Angel Broking web page.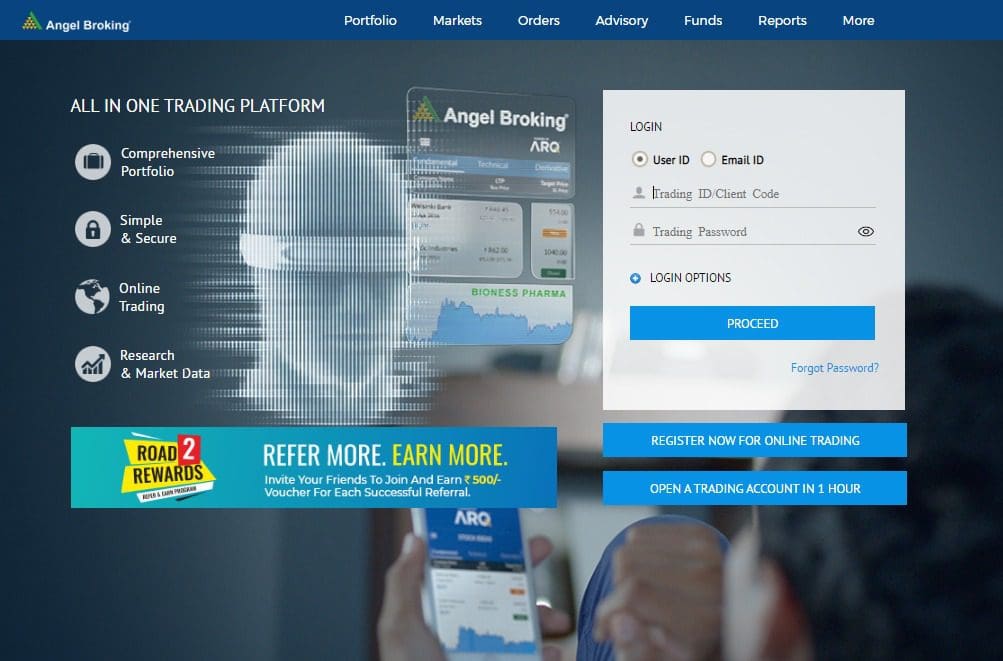 Here, put your email or user id and password. Then click on proceed. After clicking there, you will be on your Demat account. The Demat account is something looks like this.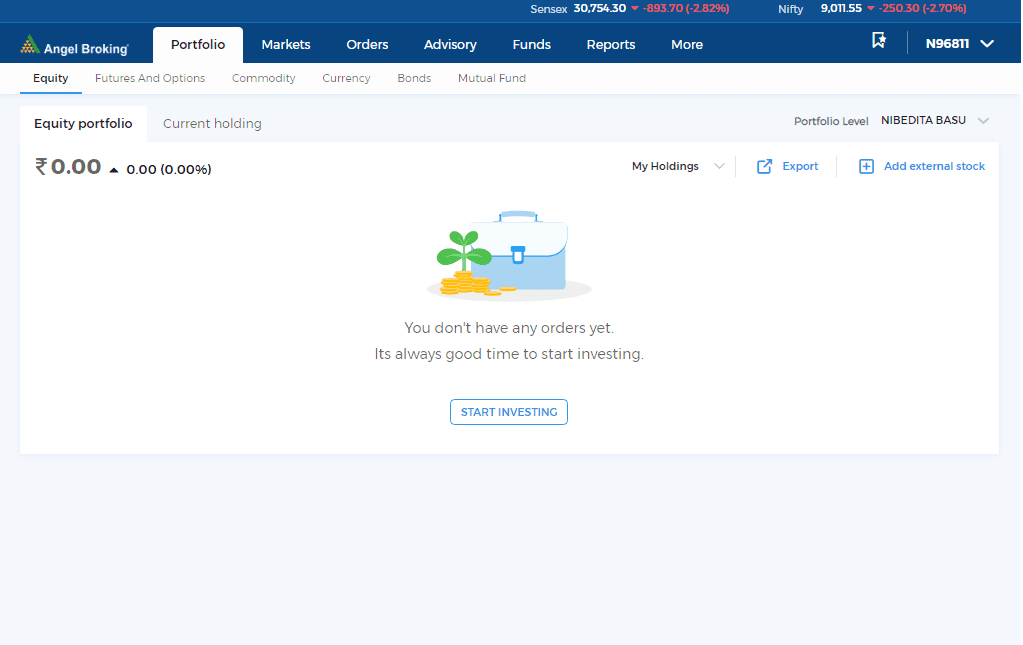 Conclusion
So, I hope now you may find out the way of how to open an account and login to Angel Broking App. This is a golden opportunity for all of us from Angel Broking. So without any delay start trading and earn money from your home only. I have tried to explain every step to you. I hope you will not face any difficulties to open a FREE Account with Angel Broking. Still, if you have any questions regarding it, you may ask me in the comment box below.